Which Type of Carrier is Perfect for Your Baby and You – Find Out!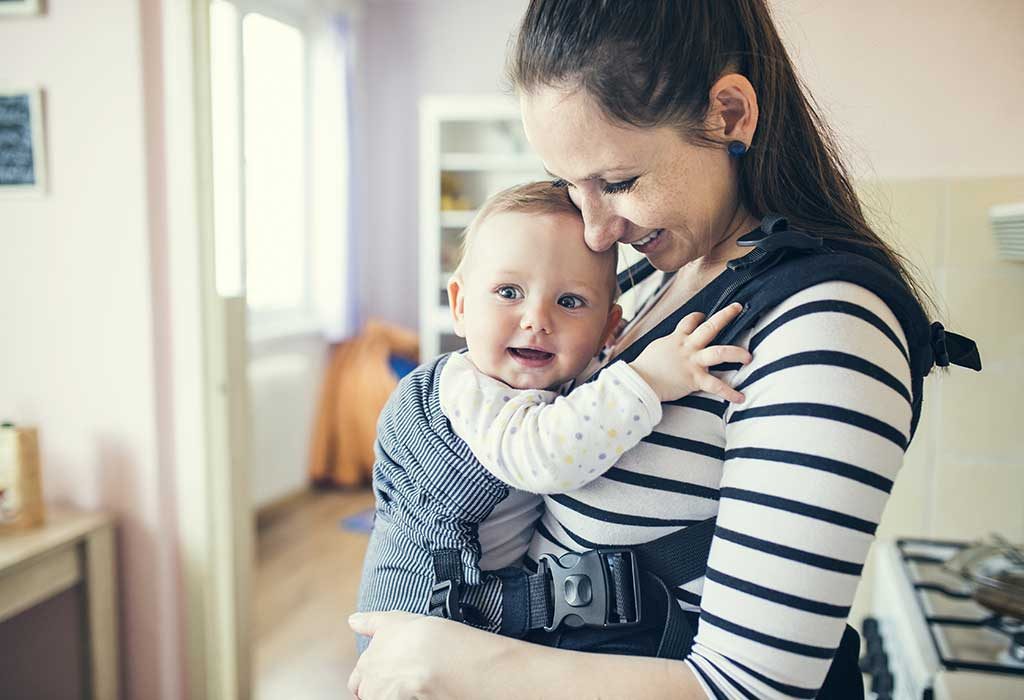 In this Article
Parenting is a game of practicality, as you look for ways to take care of your munchkin while doing daily chores. Keeping your baby snuggled next to you while you do housework, attend meetings or go shopping is beneficial for both you and the baby, as it lets you have your hands free while also caring for your little one. Babywearing will soothe your baby and keep him calm, as he can smell your familiar scent and hear your heartbeat! Plus, it will do wonders for your bond with him. However, many parents wonder how to choose the best baby carrier. Here is how you can pick the perfect carrier for your little one!
Types of Baby Carriers
Here are different types of baby carriers, as well as their features, advantages, disadvantages and more.
1. Wrap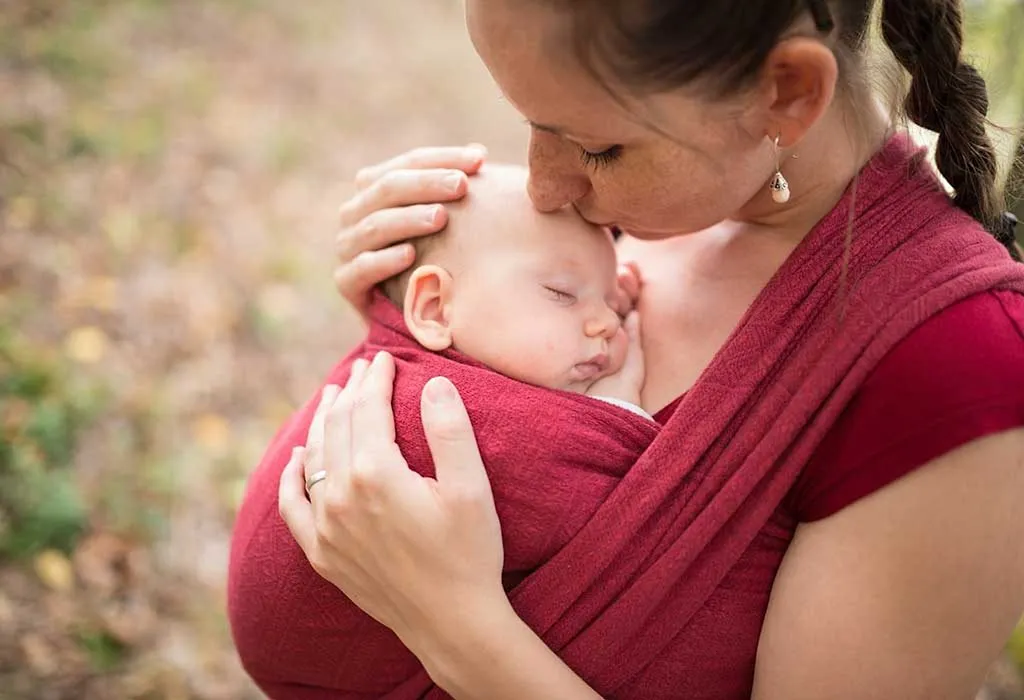 Wraps are the most traditional type of baby carrier, though they require a certain skill and technique to wear. A wrap is a long piece of fabric that you use to wrap around you and your baby. You can pick the best type of fabric based on what you want, whether it's sturdiness, breathability or more. Knit jersey or cotton jersey are elastic, more stretchy fabrics, whereas cotton, linen or wool make for sturdier wraps. Though it may be harder to tie the wrap initially, it gets easier after the first few times, and you'll feel more comfortable and confident wrapping your little one close to you.
Pros:
You can pick from a variety of fabrics, based on what your baby finds comfortable.
Wraps are versatile, as you can wrap your baby up in different styles and positions, whether you want him on your side, at the front or back.
They can be used on newborns and toddlers alike, and you can even choose the appropriate length.
Wraps don't strain the back as much as other types of carriers, so these are perfect if you will be carrying your baby for long or have a back issue.
Cons:
Beginners may initially find it hard to wrap the baby, but it gets easier with practice. Try out different techniques to get a snug and secure fit.
Fabrics with low breathability may be too hot, since it's an extra layer of clothing, especially in hot weather.
2. Soft Structured Carrier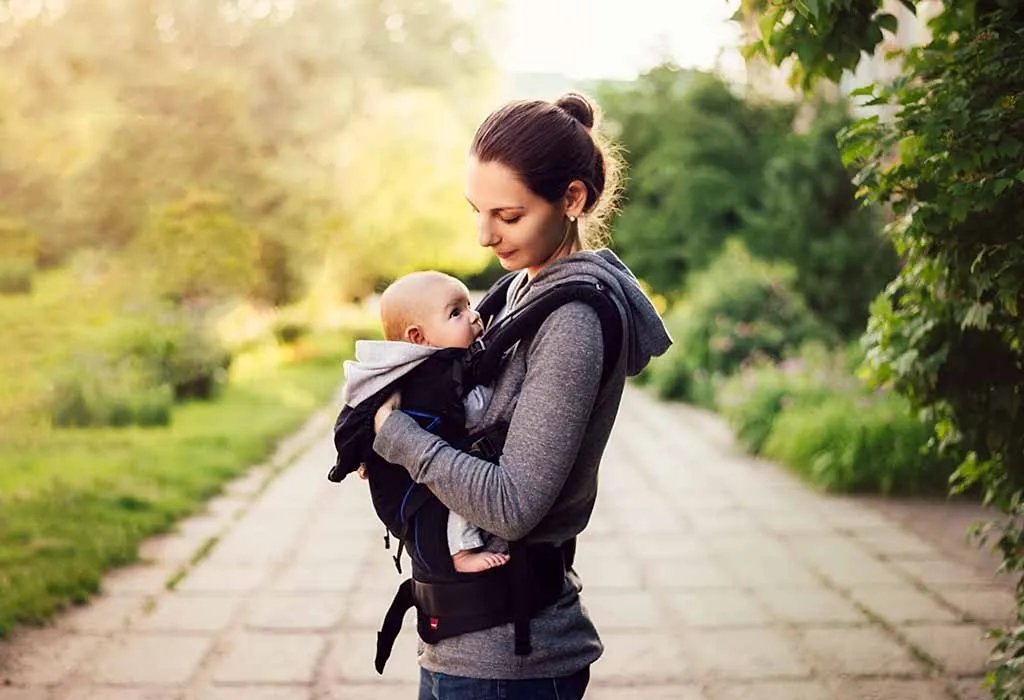 Another commonly available carrier for babies, this has arguably the comfiest fit. A soft structured carrier (SSC) has padded shoulder straps and a waistband that is fastened around your waist, creating a pouch-like space for the baby to comfortably sit in and rest against your body. The best part about soft structured carriers is that they can easily be adjusted for an ergonomic fit. These are easily available in many variants that you can pick to best suit you and your little one, and offer a snug fit, once you secure your baby with the help of the buckle.
Pros:
These are versatile and can be used in the long run, as the straps and buckles can easily be adjusted to suit your growing baby's size.
SSCs can easily be put on, and don't need any specific typing or wrapping mechanism. Hence, they are user-friendly and great for beginners.
The baby sits in a frog position with the hips spread apart and knees bent, which promotes proper hip development.
The waistband and shoulder straps are padded, which reduces the strain on your back and shoulder and makes babywearing easier.
These come in different variants, with a large number of styles and colours.
Cons:
Carrying newborns may require an additional insert until they are able to hold their head up without support.
SSCs are usually more expensive than wraps and other basic baby carriers.
3. Sling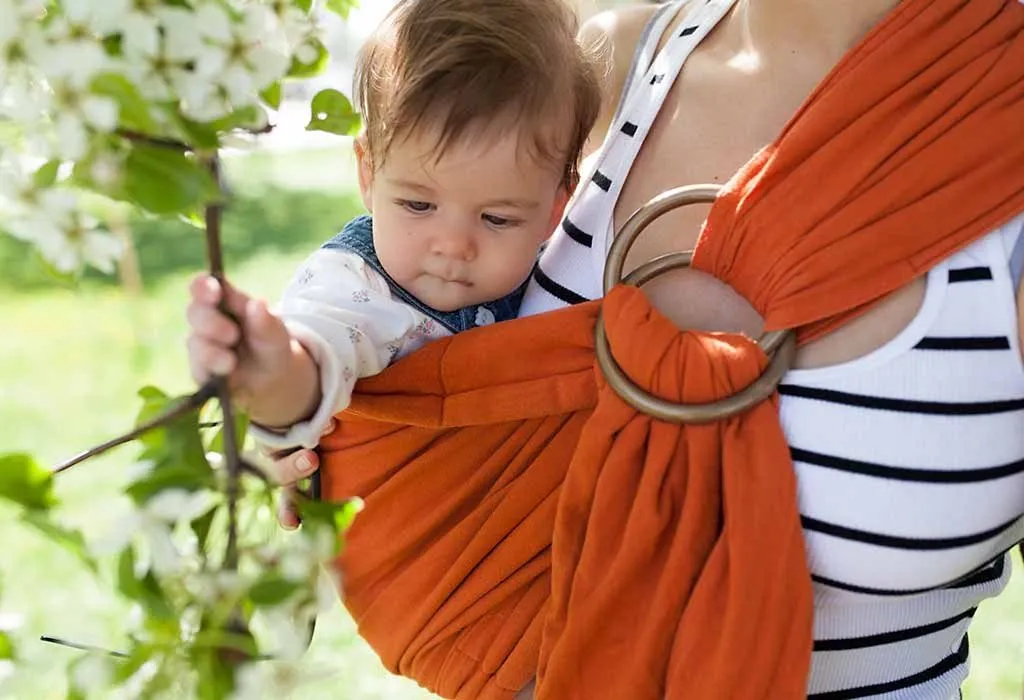 There are two types of slings; ring slings, and pouch slings. A ring sling is quite similar to a wrap, but it has a ring at each end, which is looped and tucked, so your baby can sit comfortably on your front or side. This is a safe baby carrier when tied the right way, as your baby's weight will prevent the rings from slipping or unravelling. Hence, a ring sling is a great option if you want a wrap-like carrier for your baby but are scared about the tying process. Usually, ring slings are made of stretchy fabric and are comfortable for your baby, while you go about your day, hands-free. A pouch sling isn't as popular; It is a long piece of fabric that goes on like a sash, creating a pouch where your baby can sit. Though these are more affordable than ring slings, they lose popularity points as they can't be adjusted as your baby grows.
Pros:
Ring slings are easily adjustable and can be used by different caregivers or as your baby grows.
Slings are a great option for newborns and can be used right from birth.
They are easy to wear and don't require any tying techniques, making them perfect for beginners.
Slings are a great option if you'd like to breastfeed your baby while carrying him.
You can pick slings in a variety of fabrics and colours.
Cons:
The weight of the baby is not evenly distributed, so it is best avoided if you have back or shoulder pain or plan to carry your child for a longer time.
The extra fabric hanging loose can get caught in something or get dirty.
4. Backpack Carrier
A backpack carrier is perfect for outdoorsy parents who plan to travel or walk for longer periods. These are designed for babies who are able to hold their head up and sit unassisted. Backpack carriers have padded shoulder straps that can be adjusted and fastened, and have a framed seat in which your baby can sit. Though backpack carriers are a speciality item, you can buy one if you plan to take your little one to explore the world around!
Pros:
This type of carrier is best for active parents who plan to carry their baby for longer durations or outdoor activities.
The weight of the baby is evenly distributed, preventing back or shoulder pain.
It allows your curious child to explore his surroundings.
Many backpack carriers have stands as well as room for storage.
Cons:
These are more expensive than other types of carriers.
It is quite bulky and heavy.
Mostly used only during outdoor activities and not daily life.
5. Mei Tai Carrier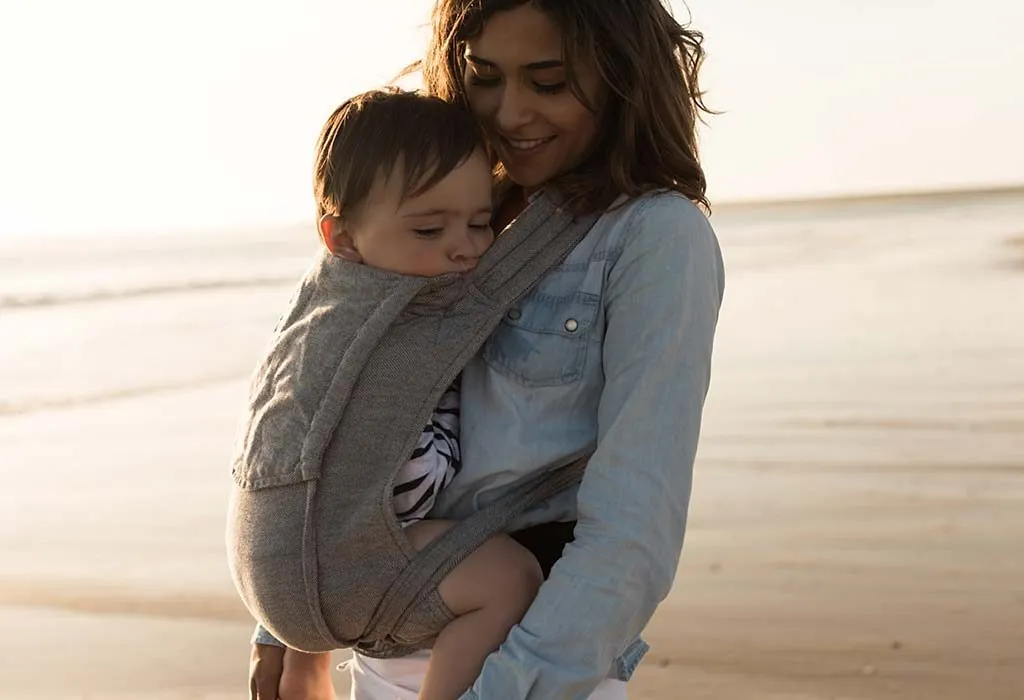 A combination of soft structured carriers and wraps, a mei tai carrier has a seat-like component attached to two long pieces of fabric that are wrapped around your waist. You can adjust the tightness and length, and once you are able to tie it securely, a mei tai carrier will be your favourite!
Pros:
Easily adjustable and can be used by different caregivers.
Though most mei tai carriers are best for toddlers, some variants can be used for newborns.
Some carriers have padding, which eases discomfort, especially if you carry your baby for a long time.
Available in different fabrics, colours and more.
Cons:
It takes some practice to tie the carrier to your waist securely.
When it comes to baby carriers, there's something for everyone. Based on your budget, requirements, and preferences, you can pick the best carrier for your little one. Babywearing keeps your little one snug and close to you while you go about your day, and has a number of benefits. With so many variants of baby carriers available in the market, you're sure to find something both you and your baby love!
Also Read:
Here's How a Baby Carrier is Actually Helping Your Baby
Making Your Own Baby Carrier – Benefits and Things to Remember
Babywearing – Benefits, Types & Safety Tips