Making Your Own Baby Carrier – Benefits and Things to Remember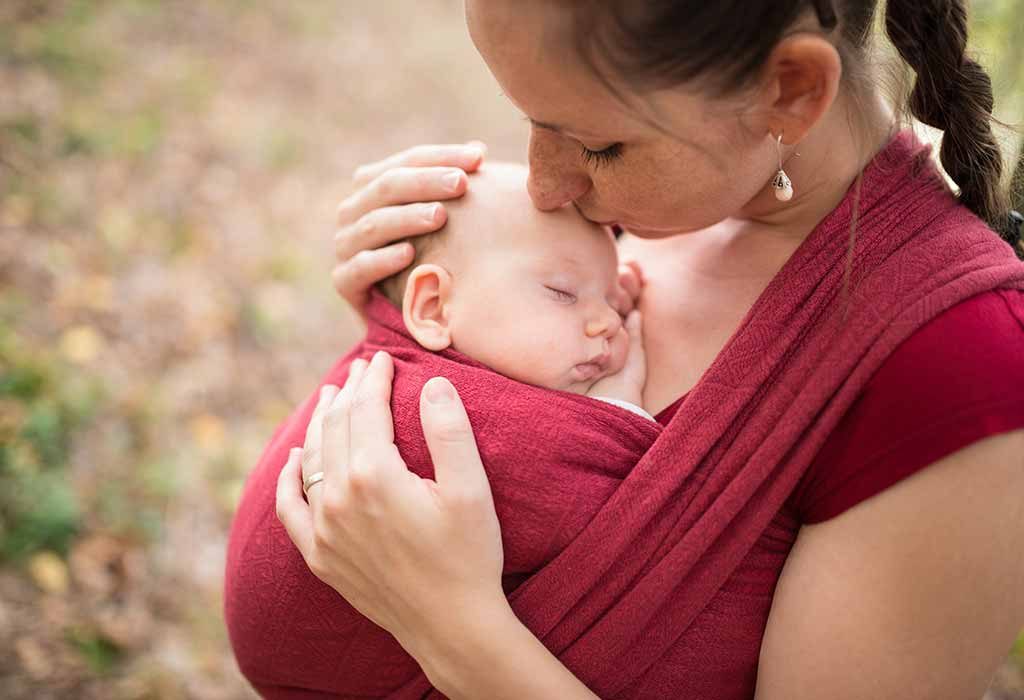 If you have given birth to a baby or are planning to have one, then there are certain things you will have to prepare for in advance. You will obviously want to take your baby out, but carrying him in your arms won't be convenient all the time. Therefore, you will need a baby carrier to carry him around. You could buy one or simply make one. Read this article to learn how to make a baby carrier.
What Is Meant By a Baby Carrier?
A baby carrier refers to a portable item, which is normally worn by an adult for holding an infant close to him and to carry the baby with ease.
Why Should You Use a Baby Carrier?
There are practical reasons for using an infant carrier. By wearing an infant carrier, you can always be with your baby, whether you go out to meet your friends or are simply working in your kitchen or doing some other household work. With the help of an infant carrier, you can always keep an eye on your little munchkin. Also, in the initial months of giving birth, physical closeness with your baby will establish a strong bond between you and him.
When Can You Start Using a Baby Carrier?
You can carry your baby in a baby carrier even on the first day of his birth. However, some parents choose to wait until their babies turn 6 months or older. Whenever you start using a baby carrier for your little one, you will have to pay attention to certain requirements such as neck support, minimum weight, and so on.
Things to Remember When You Start Using a Baby Carrier for Your Baby
Babies are fragile. Hence, it's very important for you to be utmost cautious when you start using a baby carrier. Below is the list of things one should bear in mind while using a baby carrier.
Monitor your baby constantly to ensure that he is in a comfortable situation. Ensure that no fabric, clothing, or a part of the baby carrier is covering his face. At all times you should be able to see his face clearly.
Babies are sensitive to temperature too. Remember not to overdress your little one while carrying him around in a baby carrier as he will feel your body heat as well.
Always carry your baby in an upright position and close to your body to ensure free passage of air.
To ensure neck and back support, all the buckles or locks should be securely fastened whenever you use a baby carrier. A baby's neck and back are fragile, hence require proper care.
Carrying your baby in a baby carrier during sports activities such as cycling, running, skiing, or jogging is an absolute 'No'.
What Are the Benefits of Making a Baby Carrier?
Below are some of the benefits of making a baby carrier at home for your newborn baby.
A lot of money can be saved if you make your own baby carrier. All you have to do is to buy some fabric, ring sling patterns, and other accessories such as scissors, thread, and so on. However, don't go for the cheap quality of the fabric or other accessories just to save money. Your baby's safety should be your priority over money. If you dig deeper, you will be able to find good quality material at reasonable prices.
Once you have learned how to put together the ring sling, it will bring a sense of joy to you. At this stage, you won't just be making a baby carrier but lots of fond memories too.
You don't have to worry about finding the perfect size baby carrier for your little angel, as you can make a customized carrier. You can design it the way you want and have a unique baby carrier. You won't have to compromise with your taste. If you are making your own baby carrier, you can style it the way you want.
It Makes for an Ideal Gift
A handmade baby carrier makes up for an awesome gift. If your friend is expecting a baby, then just imagine the amount of joy your handmade baby carrier would add to it.
Types of Baby Carriers and How to Make Them
There are a variety of baby carriers to suit your need. Below is the list of baby carriers to help you decide which may be the ideal one for you and your baby.
1. A No-Sew Baby Wrap Carrier
These are the easiest types of baby carriers and you can easily make them. Below are the steps that will help you learn how to make a homemade baby carrier wrap.
How to Make
You can use a washable jersey to make this. Usually, 6 yards of fabric is enough but if you cut down the extra fabric to match your body size.
Give it a proper wash and dry before you start with it, and then fold it in half from the middle. After this, the short side of the fabric should be at least 25 inches long.
Then cut down the long, folded edges of the fabric to get two separate pieces.
Try the wrap as you normally would first without the baby and if it comes about correctly then try it next with your baby.
2. No-sew Ring Sling
These are meant to hold newborns 24/7 close to mom's body. It looks like a fabric loop, and are perfect for holding newborns securely. Below are the steps to teach you how to make a baby sling carrier:
How to Make
To start with, you will need a 30 inch wide and 2 yards long stretchy and light knit fabric for this.
Get 2 aluminium rings made especially for ring slings.
Stretch the fabric along the floor to remove the wrinkles.
Keep one end of the fabric in your lap and the other one right up, keep the rings close by.
Gather the end of the fabric on your lap in one hand and pull it through both rings. That should give a length of 6 inches on the short side.
Drop the sling in your lap keeping the wrong side up. Now, lift up the bottom ring and pull the short end through it.
Pull the loop up a bit through the rings and stretch the fabric to ensure that edges are facing outside not in.
Now flatten the rings and fabric back to the original state and ensure that you have a shorter and a longer tail.
Get the long end of the sling and pull it through both the rings, the exact way you handled the short end.
To return the edges to their normal position spread out the fabric once again.
Now, your ring sling is ready to use.
3. Traditional Ring Sling
Unlike the no-sew ring sling, this one requires a little bit of sewing work. Give it a try if you are up for the creative work.
How to Make
Get a stretchy light knit fabric. Smooth it out on the floor to get rid of the wrinkles and then fold it in half from the centre from the long end.
Turn the fabric in a way that open edge goes in your left if you are right-handed, and vice-versa for the left-handed ones.
Put the rings up onto the fabric, keeping them about 12 inches down. Now fold the fabric over the rings to have padding pockets and then pin them.
Put on the sling in a way that ring comes close to your shoulder, where your corsage would normally rest.
To secure the place, sew 3 lines in a zigzag pattern and ensure to strengthen the edges of those lines.
Now it's ready for you to use.
4. Mei Tai Baby Carrier
Mei Tai baby carrier requires more sewing skills, but they are quite comfy and safe and long lasting.
How to Make
Mei Tai baby carrier requires the use of bottom weight fabric such as canvas. Get a 60 inches wide and in about 2-2 ½ inches yards and soft stuffing like quilt batting, soft toys filing, a strong thread matching the other materials.
Get ½ yards of decorative fabric such as 100% cotton printed fabric.
Get ½ -1 yard of soft fabric( mink fabric or fleece) as this will be covering the lining part, and that's going to directly in touch with your baby.
Cut 3 9 inches wide strips and 2 ¼ yards long of the bottom weight fabric. Fold the edges of the straps and iron them to smooth the wrinkles. Now fold the straps in half with the right sides out and iron them.
Keep the short side open and sew each strap single sided. Now, stuff shoulder straps with the choice of your filling.
Do this for your rectangular waist strap of 12"x 28" inches as well.
16" x 19" is the standard size for the panel. Cut this size out of all three fabrics.
Place the straps the angle of 45 degrees on over the top corner of the heaviest fabric. Then sew the straps down to the wrong side of the fabric. Ensure to strengthen the stitching.
Pile the other types of fabric and sew them around the edges except to the bottom to fix them to the heavy fabric. Avoid sewing over the straps yet.
Turn the right side of the carrier out and pull the straps through the holes.
Now turn the raw edge inside where the straps are and hold them down. Now, pin them closed.
Stitch over the straps and carrier once more.
Put the panel of the carrier down into the waist fabric padding strap. Fix it centred in the middle.
Now entirely sew the edges of the waist strap.
It's ready to use now, try it on!
5. Mei Tai Baby Carrier With Hood
This baby carrier is the same as the Mei Tai carrier mentioned above, but this one comes with a hood attached.
How to make
Cut out a piece of bottom weight fabric and decorative fabric measuring 5.75" at the top, 7.75" in the middle and 7" at the bottom when folded.
Cut two pieces of bottom weight fabric measuring 2" x 14" each. Fold them in half from the centre and press them down, followed by topstitching.
Cut out 2 rectangular pieces of 2" x 3" and repeat the above process, i.e. fold, press and topstitch. These will be used as the hood loops.
Put the right sides together and pin the straps to the bottom edge of the back of the hood. Not paste the decorative fabric on top of the bottom weight fabric and straps, ensuring the straps are tucked in.
Sew the layers together and pass them over the straps. Ensure that you don't sew them wrongly. Make sure to keep a hole for turning.
Now turn, press and topstitch the hole closed.
Make sure that you sew the hood to the carrier before you sew the layers of the panel together. Also, enable the hood straps to come out and you don't end up sewing them down.
From here on, you can follow the above steps of Mei Tai carrier.
Is it Safe to Carry a Newborn Baby on Your Back?
Yes, it is absolutely safe to carry newborns on the back of the mother's back. Carrying the baby on the parent's back has been in practice since the dawn of the human race. It is convenient for both mother and child.
Making your own baby carrier is fun and full of fond memories. Ensure that you are careful while selecting the fabric and other materials to ensure safety and comfort to your baby. Carefully think about your and your baby's need before deciding on one.
Also Read:
Checklist for Baby Proofing Your House
What is the Right Age for a Baby to Use Walker?
?>