Best Unicorn Themed Baby Shower Ideas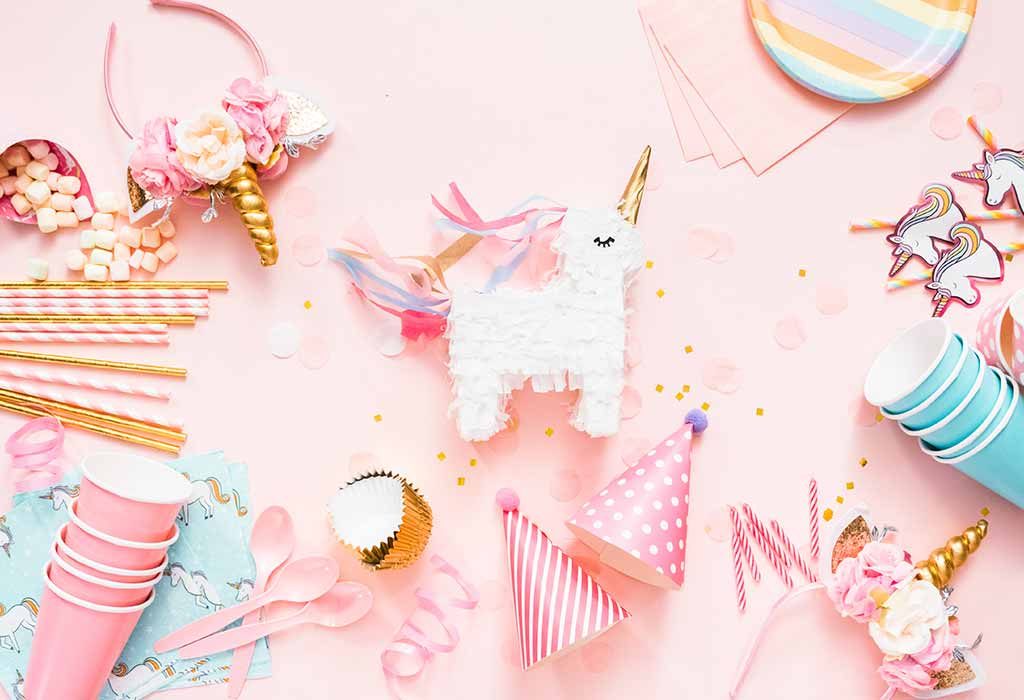 In this Article
Planning a party of any kind is a mix of stress and joy. Baby showers are no exception. In fact, the pressure is even more. It has got to be exciting for the mother, partner and the guests. Baby showers are one of the most magical and memorable moments in one's life. There could definitely be nothing more magical than celebrating the joy of your new arrival with unicorns. Make the most of these mystical, mythical and gorgeous equestrian creatures by weaving them into the theme of your baby showers and tap into their surreal world of purity, divinity, healing, luck and magic. A unicorn themed baby shower will definitely be an unforgettable one!
Creative Ideas to Throw an Awesome Unicorn Baby Shower
A unicorn themed baby shower is probably an apt theme for a mom-to-be. Whimsical, fantastic, dreamy and fun- unicorns are a great pick for the mother, spouse or partner and even the guests. The sheer brilliance of the creature radiates a glow around all and envelopes them into a magical experience. A few ideas that could help to turn your baby shower into an unforgettable experience:
Unicorn Baby Shower Invitation Ideas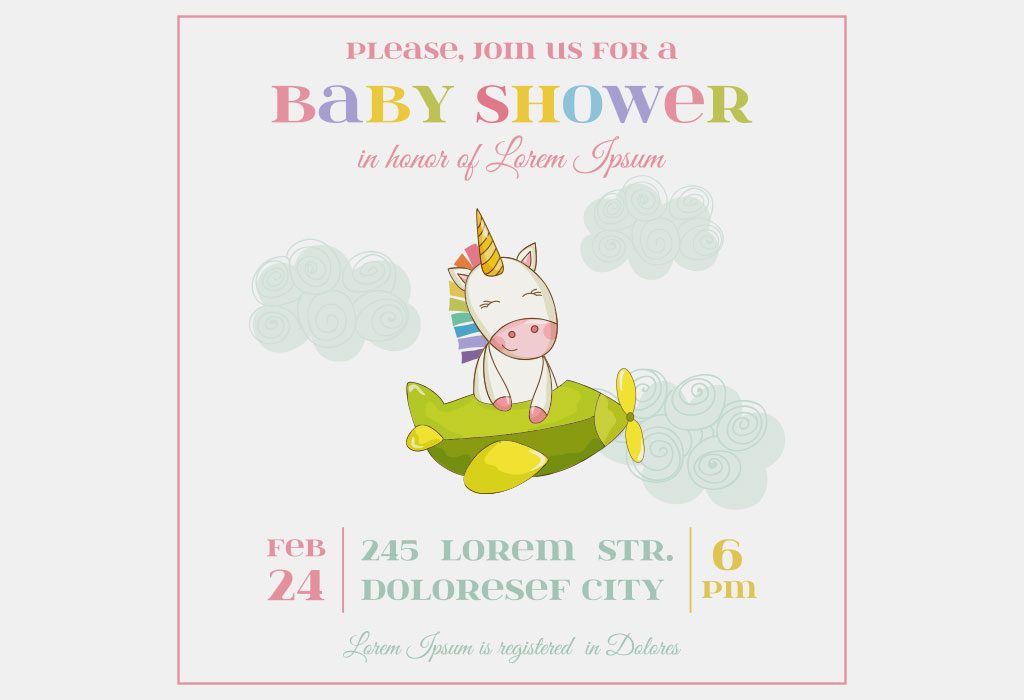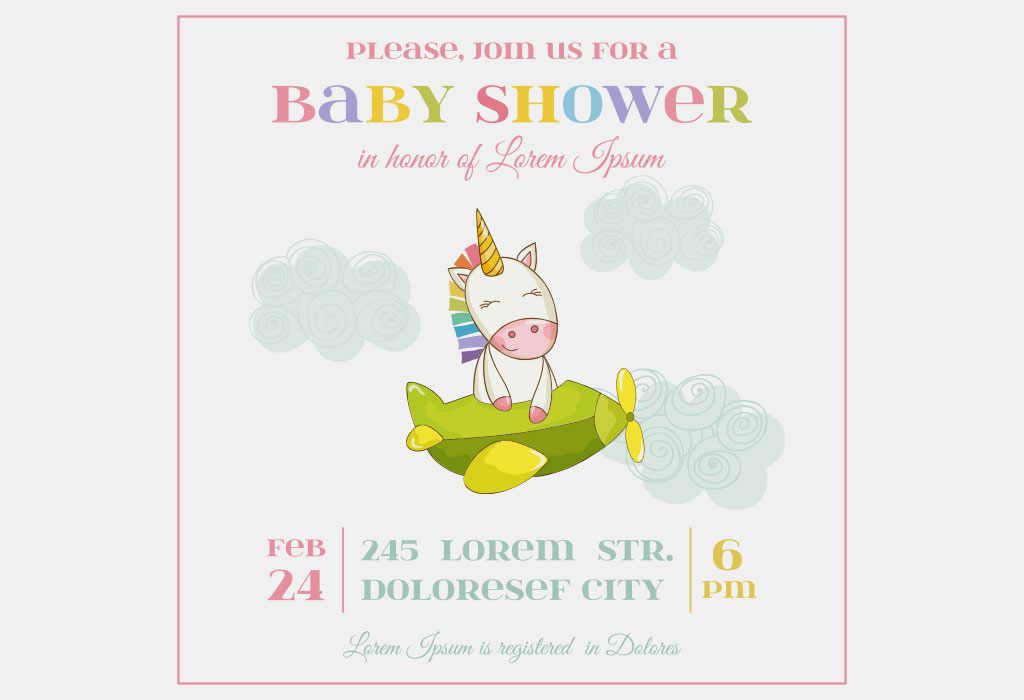 Don't underestimate the power of a good invitation. Give your guests a hint that this baby shower is going to one they will remember for years to come. Send them a slice of the wonder they will experience at the party. Start with the pretty invitation they can hang at someplace in their home.
Watercolour Floral Unicorn Baby Shower Invitations: This pretty design features watercolour shades of purple and pink adorned with blue flowers, unicorn face and faux gold glitter confetti.
Rose Striped Invitation: Trendy yet simple invitation with pink and rose gold roses and adorned with accents of gold.
Blue Floral Unicorn Invite: This could be ideal if you are having a baby boy as the usually pink unicorn is outlined in blue with simple accents around it.
Rainbow Dandelion Invite: This baby invite is a cute and petite invite with a baby unicorn image and writing in rainbow colours.
Unicorn Baby Shower Decoration Ideas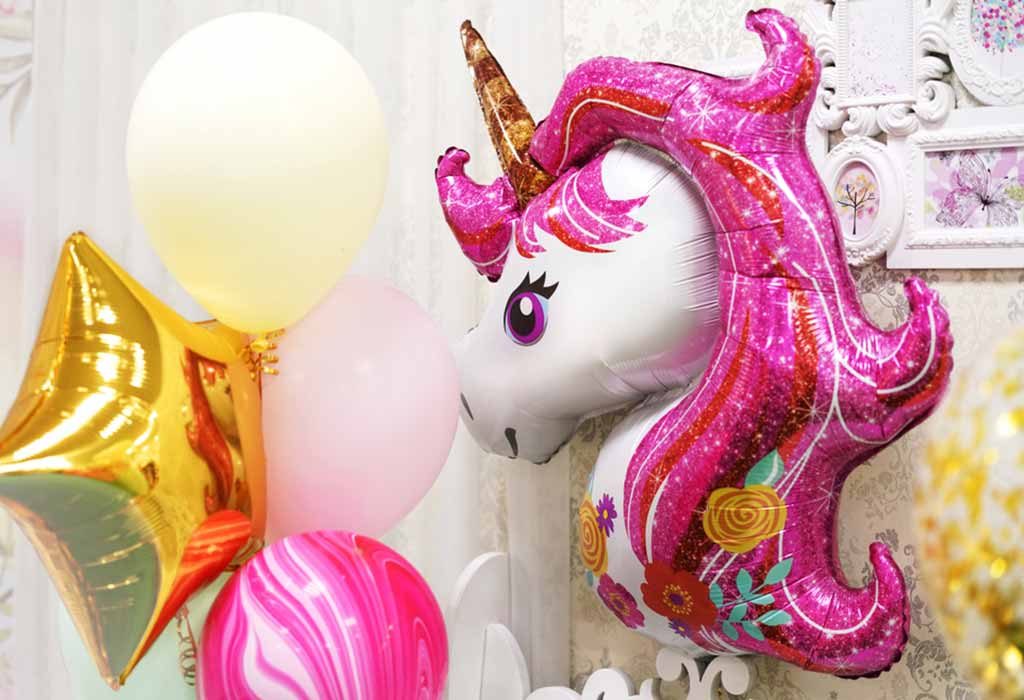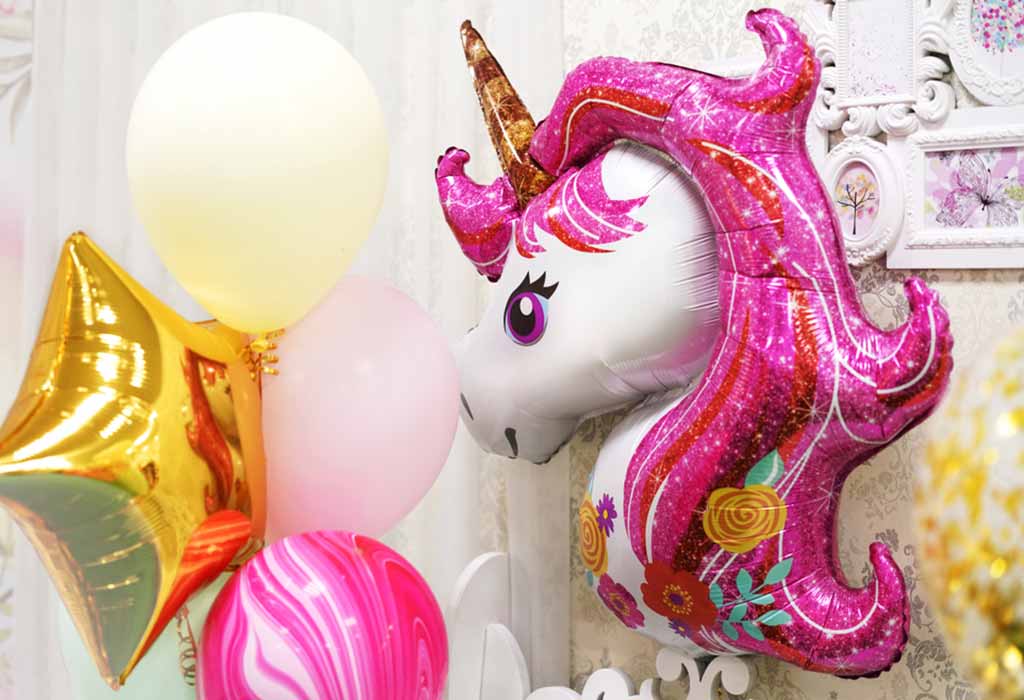 Transform your living room, basement or church hall with these fantastic unicorn baby shower ideas for your guests to experience something truly magical.
1. Purple Unicorn Baby Shower Tulle Table Skirt
Pick this purple skirt that could fit right around your centre table and dessert table. Its flowy look and design just catch everyone's attention.
2. Unicorn Table Cloth
A creative all-plastic table cloth with unicorn sparkle that can be used even for your baby's birthday party after a couple of years. The bright cloth spreads the magic of unicorn.
3. Unicorn Balloons
What is a party without balloons? Pick unicorn balloon in pink, blue and seafoam colours that can be filled with confetti will brighten every corner of the room.
4. Unicorn LED Lamp
This LED lamp offers a warm and light ambience to the room. It adds an elegant glow to the entire party and resonates well with the theme and can be used as unicorn baby shower centrepieces.
5. Unicorn backdrop
Pick pre-cut kits with flowers, ears, eyelashes and a giant horn that you can assemble yourself in minutes. Reusable and easy to mount, they can just for a great backdrop for the accessories in the room. You can also pin up a unicorn baby shower banner that runs across the wall.
6. Unicorn Photo Booth Props
Arrow and speech bubble photo props, these handheld décor items are a great piece for those perfect photographs that you want to capture.
7. Unicorn Party Plates and Napkins
The best way to make sure everyone stays with the theme. Plates with unicorns and paper towels with unicorns ensure that unicorns are floating all around the room.
8. Unicorn Bean Bag and Stuffed Toy
Bean bags and stuffed animals can add to the cosiness of the party. Hang a few tiny stuffed unicorns around a few corners and just wait for the fun to unfold.
9. Unicorn themed pompoms and Lanterns
These paper-based decorations come in pink, blue and aquamarine colours. They can just be hung around or added to the backdrop of the centre table.
10. Unicorn Treat Boxes
If the party is a close-knit affair or food is on a low budget then these boxes are a great way to incorporate the theme. You can serve a slice of pizza, fried snack or popcorn in them.
Unicorn Baby Shower Food and Cake Ideas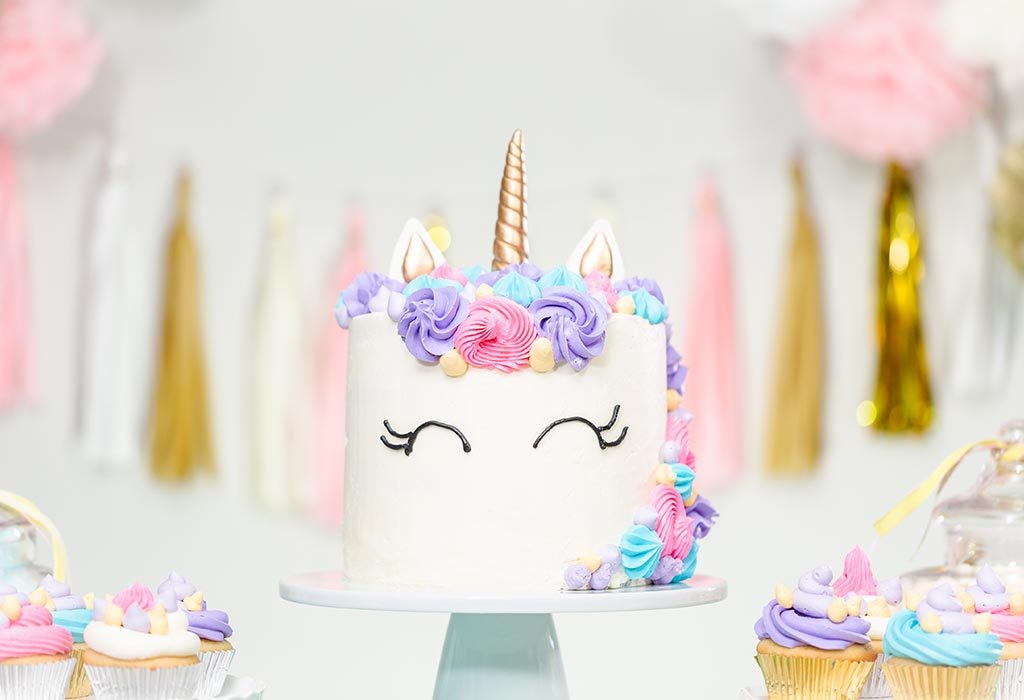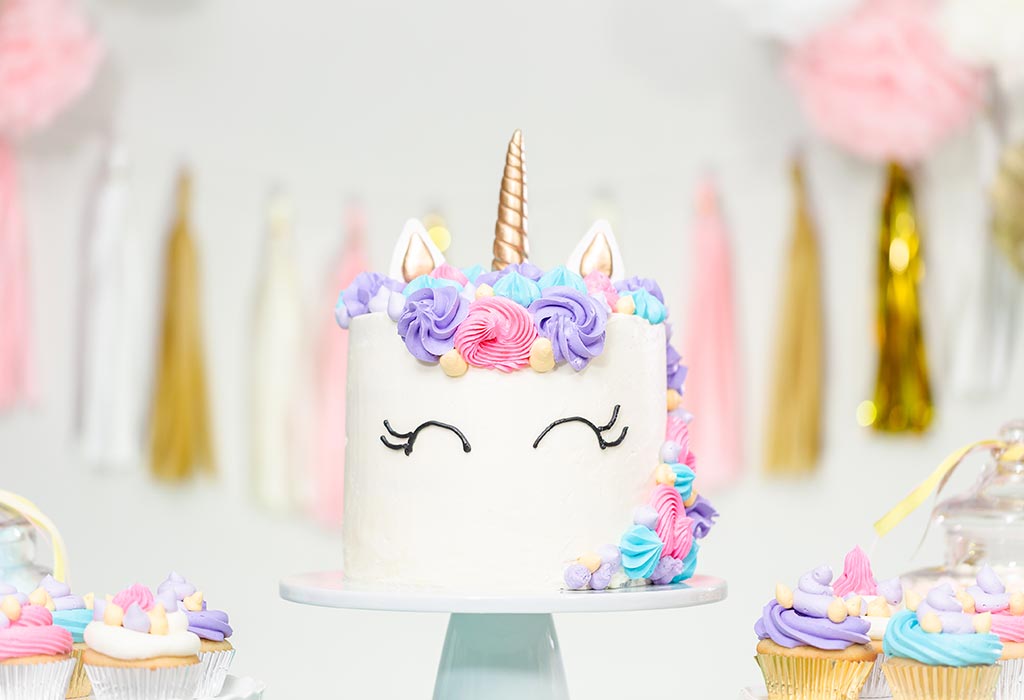 A unicorn themed baby showered cannot be catered. It will great to make the food yourself. From lip-smacking drinks, unicorn cupcakes to bite-sized finger foods, here are some clever food ideas for your party.
Cake with unicorn décor: A unicorn cake for baby shower need not necessarily mean a cake in the shape of a unicorn. You could pick any cake available in the market or bake normal chocolate or vanilla sponge cake and add the unicorn cake topper to it. Ornate with gold glitter, it just adds up to the beauty of the cake. This cake could be the focal point of the shower.
Salt and sweet unicorn mini bites: Grab some pretzels and dip their tips in vanilla cream and throw some pink and blue sprinkles on them. Great finger food, they will be loved by kids and adults alike. Perfectly themed treats, these are ideal to eat and be merry.
Fruit Salad: All you need is marsh mellows, kiwis, strawberries and apples. Chop the kiwis, apples and strawberries and sprinkle a generous amount of marsh mellows (especially in pink and blue colours) to whip up a fruit salad. A food that can sit as a healthy shower snack.
Unicorn Baby Shower Game and Activities
Baby shower games are fun. The mum-to-be trying to be her best and the rest trying to outdo her. Make sure you have games planned out so that attendees have fun when they are playing. Baby shower games can be really fun. Try these, and your party is sure to be a raging hit!
Unicorn Bingo Card Games: These bingo games are available online and can be printed on white card paper too. Bingo is always fun and this unicorn bingo could be just hilarious when you play it.
Pin the Horn on the Unicorn: Everyone would have pinned a tail on a lion or a horse. But pinning the horn on a unicorn is something novel. Blindfolded and desperate to get it right, you might just have a load of laughs at the places the horn is pinned.
Guess the Nursery Rhymes: Print out some picture cards with emojis that represent classic and modern nursery rhymes. Share a lot of laughs as your guests try to decode the emojis to come out with the answer.
What Is in the Purse: Impress your guests by getting them to do some hunting. Well, they do not have to look very far. Just rummage through their purse to see what items they tick off on the list of items listed on the cards. A fun game that will keep your guests engaged for some time.
Predictions and Advice: This could be a good read for you and your partners. Have some pre-designed questionnaires for predictions about the baby and advice as parents for your guests to fill. You will be amazed at the responses you will get.
Unicorn Baby Shower Favors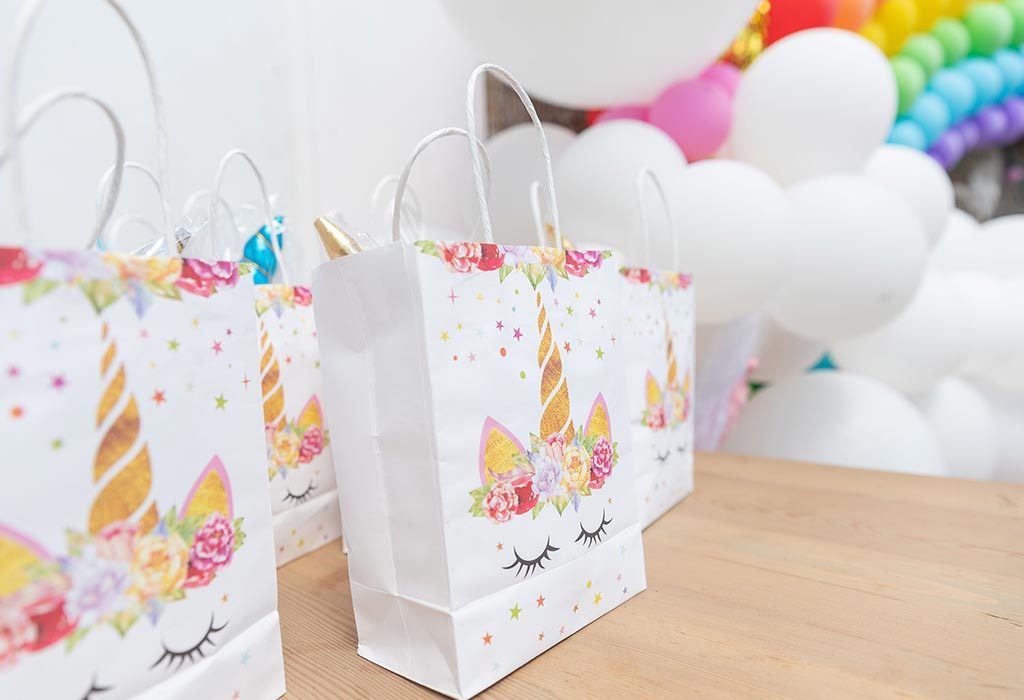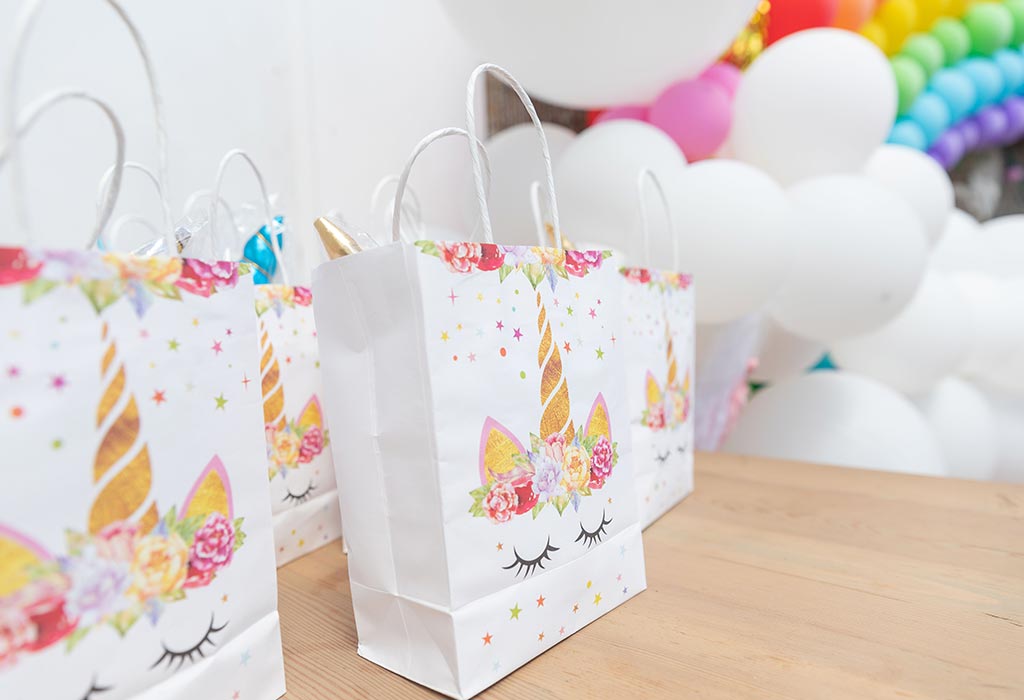 You want your guests to leave your party not with just the memory but something to remember you by forever. You have laughed, taken those Instagram pictures, devoured the food and unwrapped the gifts. Well, it is now time for the guests to leave and these favours will give those finishing touches that will etch the event in their memory forever.
Unicorn Plushies: These plushies are a unique unicorn princess baby shower that you gift your guests. They can be placed by bedsides, floating shelves on hung in car rear-view mirrors too.
Lip Balms: The perfect giveaway to guests for any event, these unicorn lip balms come in different flavours. Your guests can say goodbye to chapped lips and will welcome these tiny favors with joy.
Manicure Gift Set: Manicure sets that can be put in unicorn gift bags could be an ideal gift for your girl pals. Which woman does not want to have her nails done? Well, this gift will send your guest beaming from ear to ear.
Unicorns are the most popular things in the world right now. It is a theme that has caught on the fancy of both adults and kids alike. Unicorns have become a popular theme too and fit perfectly into a baby shower with their novelty and mesmerising appeal. Go ahead and plan your baby shower and theme it a Unicorn one with these wonderful ideas.
Also Read:
How You Can Host A Virtual Baby Shower
Baby Shower Etiquettes You Should Know
Amazing Baby Shower Poems