10 Best Brain-Boosting Puzzles for Kids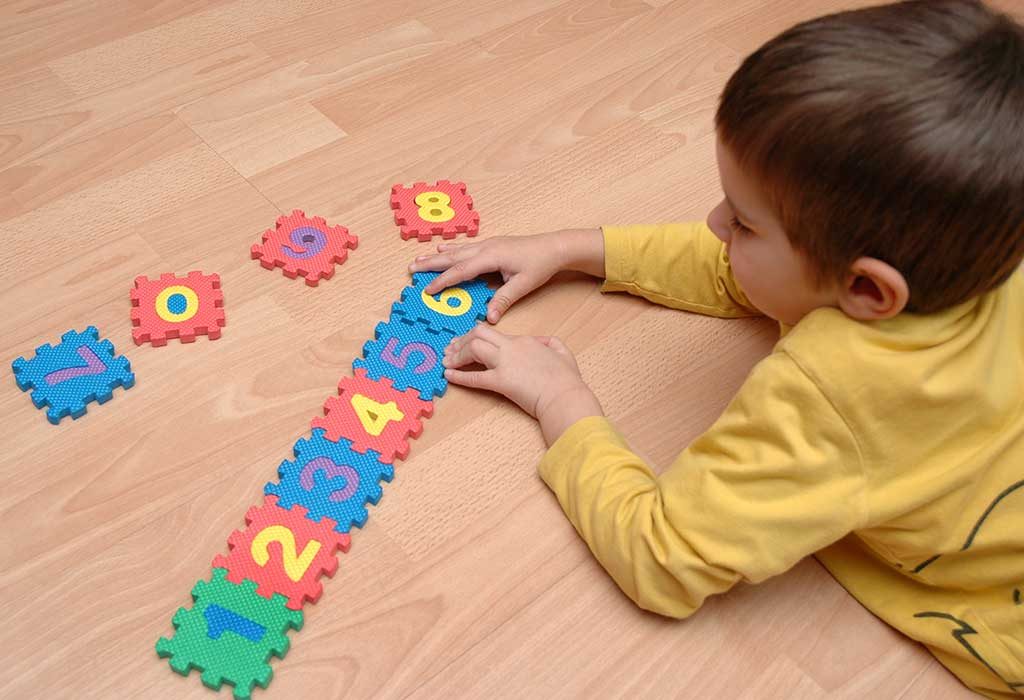 In this Article
Having a child most often means saying goodbye to tasteful home décor and hello to toys and games strewn across the floor every day. Yes, the mess can make your blood boil and yes your back might get tugged and pulled while having to clean up the mess each day but you know those toys keep your little one entertained for hours! But, what if there was more to benefit from these toys than just keeping your child engaged? Your child's motor skills and overall development are getting fine-tuned each time he plays! And you know what kind of games are best? PUZZLES! Puzzles can especially enhance your child's cognitive skills and memory and improve his overall brain function. Let's have a look at some puzzles to see which one your child will enjoy most!
10 Brain-Boosting Puzzles to Keep Your Child Occupied
Develop your child's brainpower, concentration skills, and memory all by means of play! We bring you ten brain-boosting puzzles for children. Get your child the puzzles that are suitable for his age and let him work on his imagination, problem-solving skills, and more.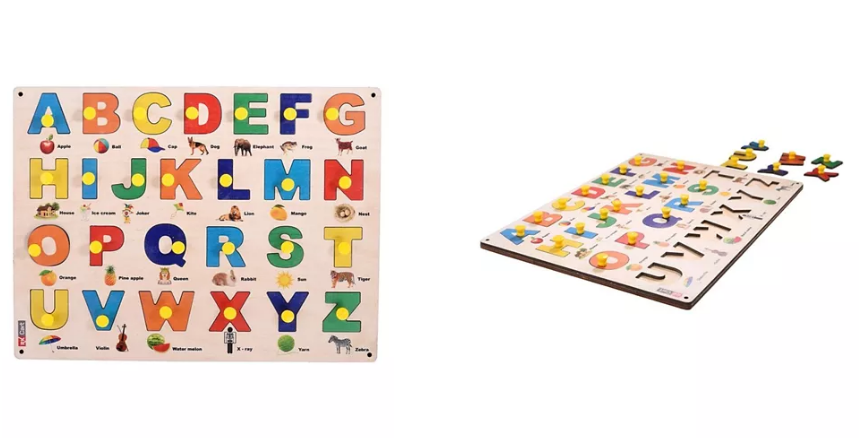 For Ages: 2-5
Teach your child the alphabet in a way that will keep him engrossed for long. This wooden puzzle board has 26 cavities and wooden letters with knobs on them that fit into the cavities. The knobs on the wooden letters will enable your child to hold them easily, thereby improving his fine motor skills. And while placing the different letters in their respective blocks, he will learn to recognize different shapes of the letters of the alphabet too. Oh! He is going to have so much fun with this knob and peg puzzle game. It's a great tool to help your little one learn the alphabet.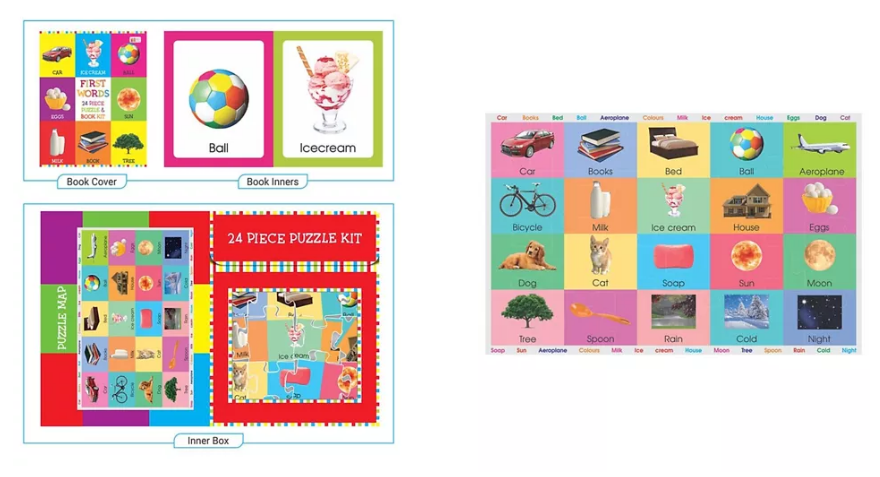 For Ages: 2-5
Teaching the alphabet and words to toddlers has never been this easy. This 24-piece puzzle kit and 20-page colouring book will keep your child happily engaged for hours on end. With this puzzle kit and colouring book by Art Factory, you can teach him simple words like book, milk, car, etc. So what are you waiting for? Get this puzzle and colouring book kit for your child today, and teach him new words in the simplest way possible!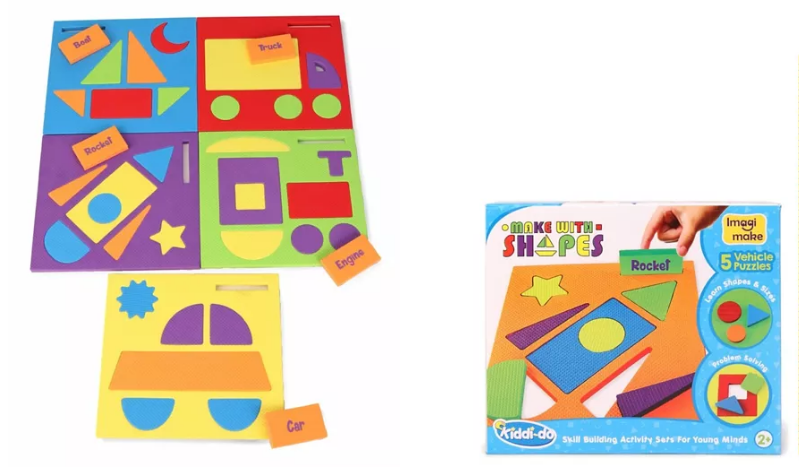 For Ages: 2 to 6
This shape-sorter puzzle game set is developed as per the Montessori style. The Montessori Method of Education has a 'hands-on learning' approach to it, which makes any learning activity fun for kids. This shape-sorter puzzle will help your child identify shapes and improve his fine motor skills and spatial recognition ability. But the fun doesn't end here! Apart from shape sorting, it also comes with five vehicle-based puzzles. If your child is fond of automobiles, he sure is going to enjoy playing with this game set, trying to fit the pieces of puzzles to make a car, an engine, or a rocket. This shape-sorter puzzle will most definitely shape up your child's cognitive abilities!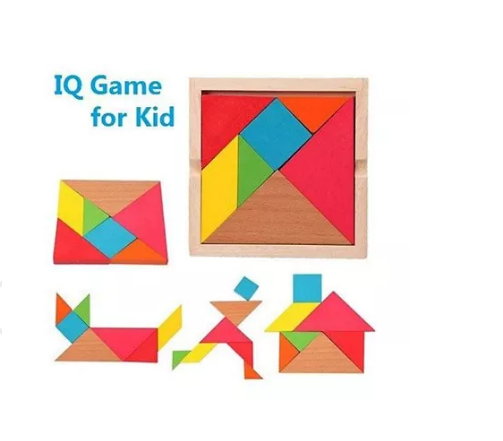 For Ages: 3 to 8
This Chinese geometrical puzzle consists of a square divided into seven pieces which can be arranged to form various shapes. The seven pieces include one parallelogram, one square, and five triangles. With this puzzle, teaching your child the basic terms of geometry and different shapes will become easier than ever. And rest assured, his learning won't just be limited to different shapes – he will also work on his problem-solving skills, hand-eye coordination, concentration, and patience. It's about time that you get one for your child and let him have his share of fun.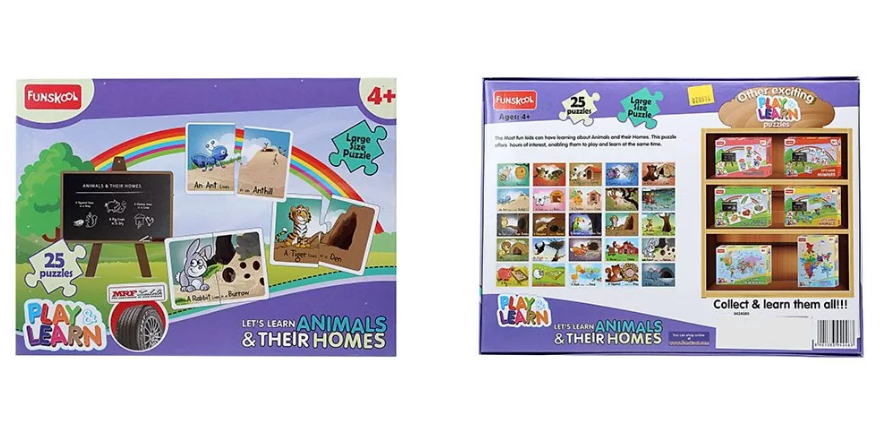 For Ages: 4+
If your child is an animal lover, he is going to spend hours playing with this puzzle. This bright and colourful puzzle will keep your child fascinated and the best part is that he will learn the names of the animals, their spellings, and more while having fun.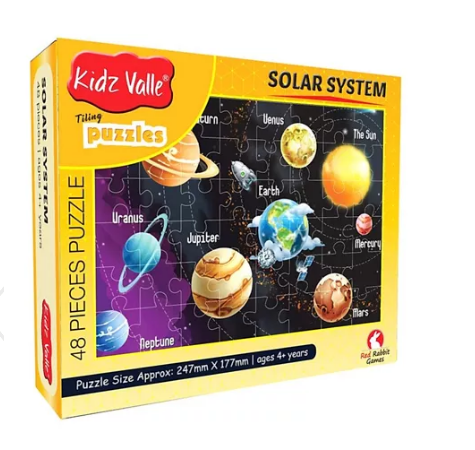 For Ages: 4 to 10
Are you intrigued by the picture on the box? Wait till you see the actual 'Solar System'-themed puzzle inside! It is truly out of this world! Teach your child the names of the planets with this fascinating 'Solar System'-themed jigsaw puzzle. This interesting puzzle will keep your child busy and entertained for hours while improving his problem-solving skills!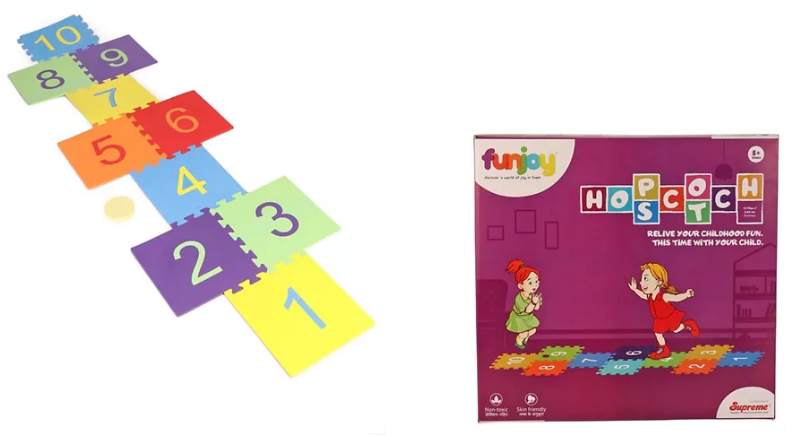 For Ages: 5 to 10
No childhood is complete without hopscotch! Whether you draw your blocks with chalk or choose to pick this colourful readymade one, we can guarantee hours of fun! This hopscotch mat is made from durable EVA foam and can be pieced together for some extra fun! For a game that works not only on brain-boosting but overall physical development, this item is a must-have to make some great memories!
For Ages: 5 to 12
This wooden puzzle set has an old-world charm to it and the minute your child lays his eyes on it, he will love it. This 6-in-1 puzzle set by Desi Karigar contains six beautifully designed wooden puzzles for kids that are sure to improve your child's fine motor skills. What's more, his problem-solving and reasoning skills will get a boost too. The puzzles in this set though seem easy to play with, once your child plays with them, he will take a while to put two and two together to get them right! And the more he plays, the more his patience and concentration will improve. Because this puzzle set is wooden, is it non-toxic too! There are also no sharp or rough edges, so there's no danger of your child getting hurt.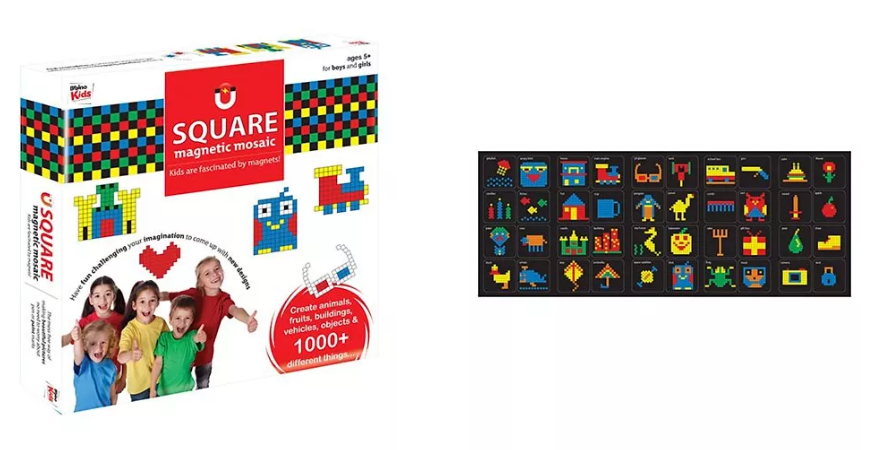 For Ages: 5 to 10
Acquaint your little explorer with magnets, with this colourful magnetic mosaic puzzle! This creative puzzle game by Braino Kids contains 420 square magnetic pieces in five different colours and has one magnetic canvas. The puzzle also comes with a booklet that will guide your child to create unique designs and different shapes. With this puzzle, your child will learn about shapes, colours, and how magnets work. This educational puzzle will boost your child's creativity and problem-solving skills!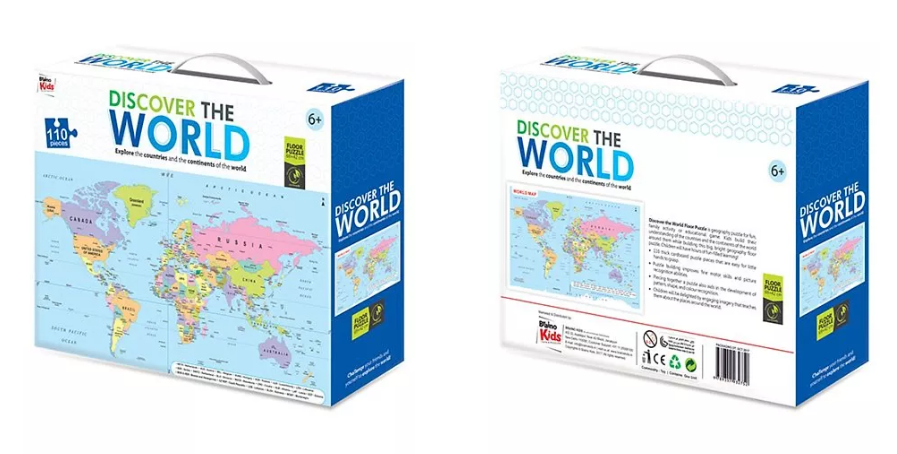 For Ages: 6-14
Do you want to give your little explorer a headstart into understanding the world? Well, one way to do so is to get him this floor puzzle. This big map floor puzzle by Braino Kids comes with 110 thick puzzle pieces of cardboard that kids (yes, even little ones) can hold easily. Through this puzzle, your child can learn the names of different countries and continents in a way that will make geography interesting! His fine motor skills, problem-solving skills, and the ability to recognize shapes, colours, and pictures will improve too. And while working on this big world map project, he is guaranteed to have endless fun!
These are some interesting, mind-gripping puzzles that will keep your child entertained. These puzzles can teach your child about animals, the world, basic concepts of maths, the alphabet, and more. Yes, learning will be a lot more fun for your child with these puzzles. So, get one (or more) for your child and in a matter of days, he will surprise you with his new-found knowledge!