8 Creative DIY Fairy Garden Ideas for Children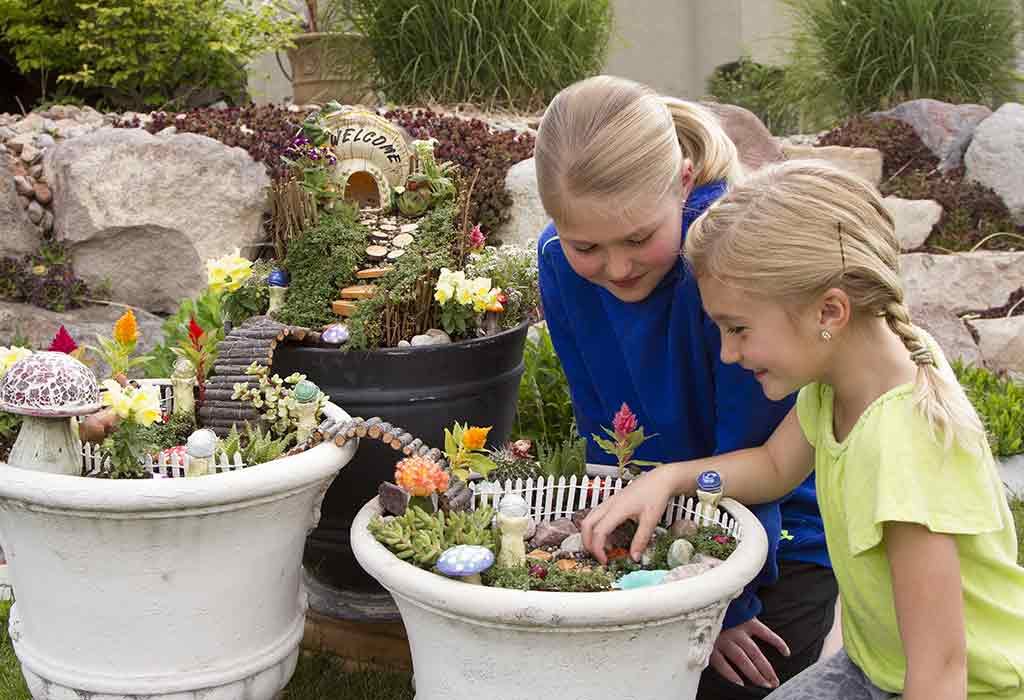 Coming up with fun ideas to keep kids busy these days is a bit of a task for all parents. Kids love role play, acting out reality, and modelling what they watch on TV. Constructing a DIY kids fairy house is an adventure that they will love, and be willingly a part of the project from scratch! DIY projects do not cost a dime, as most of the materials will be available in your cupboard. Even if it incurs any cost, it would be minimal, as you could source materials from the dollar store.
Miniature worlds have an aura about themselves. Fairy gardens please kids and adults alike. All you need to do is just do a quick search around your house and get creative with the stuff you find. Kids always have a collection of rocks, little toys, craft material, gems, and stones that you would need to build a fairy garden. Read on to find out more about the steps involved in building a fairy garden and some fabulous ideas that you will make you fall in love with.
Steps to Build a Fairy Garden for Kids
For children to become skilled and creative problem solvers, it is necessary to make outdoor play absolutely indispensable in their lives. Imaginative play, fantasy play, or role-play in spaces like dollhouses and fairy gardens are great to get children to be more verbal, uninhibited, and adventurous. Children's fairy garden ideas are perfect to set their creative juices flowing. Here are 3 integral steps to build a DIY fairy garden:
1. Location for the Garden
Decide on the space which is easily accessible for the kids. A large pot is a good idea. Choose a corner in the back garden which has some bushes and shrubs surrounding it.
2. Making the Fairy House
Create a fairy house with stuff that you find in your kid's art cupboard or the dollar store. Make sure to add some twigs, moss from logs, and add it to your tiny birdhouse. Get your kids to paint the houses, and add some gnomes. Make a river with some blue colored stone, and a miniature clothesline with some rope. You could make mushrooms and toadstools, or buy them. Fairies could be bought online and just stuck to the houses. Throw in some seashells that your kids have collected from their visit to the beach. You could look online for fairy item décor, too.
3. Landscaping
Plant some ferns, lamb's ear, hellebores to add some texture and magic to the garden. You can line the river bed with some succulents and planting baskets and stones, to add intrigue and variety to space. Some garden stores sell specific plants for fairy houses, and you could check them out.
Gardening helps kids learn the value of patience and also gives them a sense of achievement when they see their plants and flowers blooming.
Tips for Parents to Encourage Their Child to Do Fairy Garden Activities
Spaces in the backyard are perfect for making an enchanted fairy garden, giving children the freedom to express their imaginations and trains their brain to be flexible. It is also a great sensory activity for kids, where they explore their tactile senses. Taking a retreat from reality, horticulture is soon catching up. The kid's corner at the gardening store or dollar store is overflowing with fairy creatures or dollhouse items. Put it to use, and get your children's imagination to run wild! Here are a few tips to encourage your children to participate and wait from their efforts to show.
1. Let kids run the show.
Kids work spontaneously, and adults must cash in on that talent. Adults have the ability to map things, plan, and then execute. Get your kids to decide where they want to place each item. Start with getting them to think about what they wish to include in the garden. Get them to write it, plan what they would need, and then help them build it.
2. Teach kids about architecture.
Ask your kids what kind of house they want their fairy to dwell in. Show them models of Victorian houses, colonial-style buildings, Gothic architecture, and art deco skyscrapers. Encourage your kids to go green and add an element of nature. Moss on the roof is not a bad idea!
3. Get different plants.
Introduce your kids to different kinds of plants, such as ferns, shrubs, flowering plants, and even herbs like rosemary, thyme, and basil that they can pick and eat from when engaging in role-playing. Intersperse the materials with leafier plants with big leaves.
4. Add paths and water features.
Use beads, stones, marbles, and seashells to make paths and shores leading to a pond. You could paint a container green and add some blue-colored water with some leaves around to make it look natural.
5. Build a fairy mailbox.
Even fairies get mail! You could create a tiny wooden one, or just make one with petals of flowers or a single tray from an ice cube. You could add some tiny notes in it from time to time for your kids to get interested.
6. Fence it.
Create a fence with wooden twigs, toothpicks, paper clips or even cloth pegs. Use a flexible wire to tie them together. They look far more realistic and get your children to work with what is found in nature and at home.
Fabulous Fairy Garden Ideas Your Child Will Love
Fairies do not shop at expensive places. They live in harmony with nature and make their own stuff. Check out these fairy garden craft ideas to seek some inspiration when building your own.
1. Whimsical Glowing Lights Fairy Garden
With lights, ferns, gnomes, and wires, this one is sure to light up your back garden and be the place where your kids will spend all summer.
2. Tea Cup Fairy Garden
You must have heard a "storm in a teacup", but this one is a fairy garden in one! Tiny, petite and elegant, it is a pretty little miniature world in itself.
3. Beach Fairy Garden
You miss the beach and the soft breeze of the waves. Bring the shore to your doorstep with this fairy house modelled on the seaside.
4. Gnome Fairy Garden
Gnomes are adorable and lovable creatures with their cute faces and tiny figures. They have a very affable quality about them like elves, and also pass off as best friends of fairies. S,o get your fairy home gnome decorated this season.
5. Broken Pot Fairy Garden
Don't dispose of your broken pot. It could be transformed into a mystical world even with its cracks and broken parts. Create a step garden for your fairy house and make it look like a castle.
6. Flower Fairy Garden
Replete with succulents, flowers, pebbles and sand, this fairy house is the closest you can get to nature.
7. Birdhouse Fairy Garden
Transform your birdhouse into a fairy home with vivid colors and eye-catching flowering plants to feel lively and spirited like fairies.
8. Castle Fairy Garden
Build your own fairy tale with this castle creation that brings folklore into your back garden.
Building a fairy garden needs patience, delicate hands, and passion. It can be built with any accessory as the centre of attraction, and decorated with a horde of handmade or store-bought creations. All you need to do is lay them out in a bright and attractive way, centred around a theme. Fairy houses are for the playful pleasures of kids!
Also Read:
DIY Playhouse Ideas for Children
DIY Woodworking Projects for Children