10 Lovely DIY Dollhouse Ideas for Your Child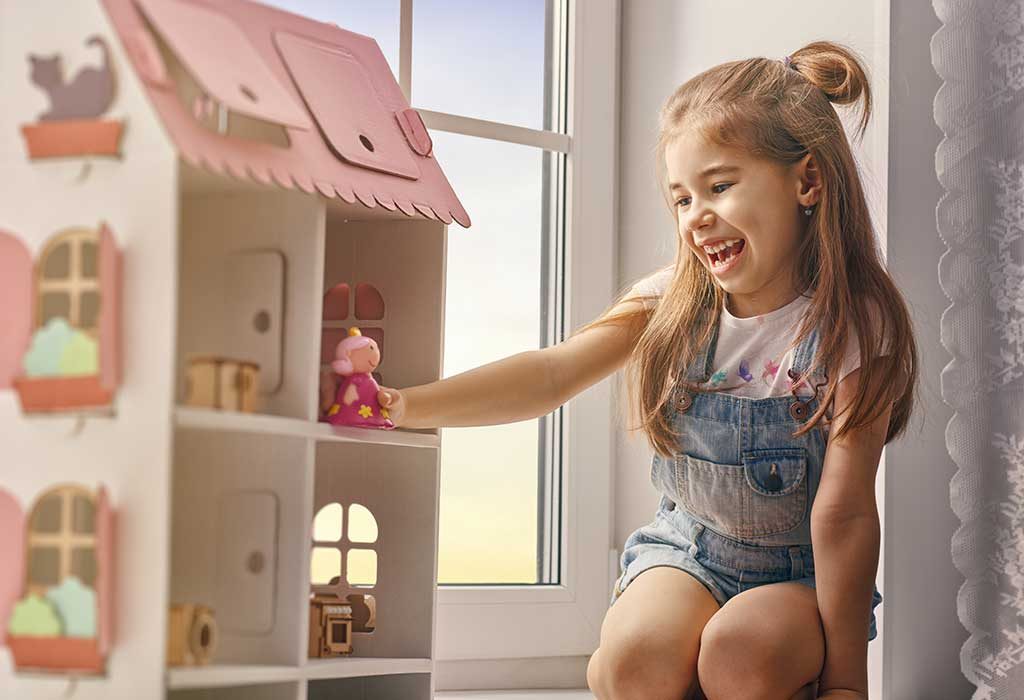 In this Article
Kids love playing with their hands and tiny objects. A DIY dollhouse creates childhood memories since it transports them to a world of fun and imaginative play. If you're trying to keep your kids busy, these ideas will help.
10 Beautiful DIY Dollhouse Ideas for Your Little One
If you ever wanted to make a homemade dollhouse or are simply shopping for ideas to gift your loved ones, we have you covered. These can be created using simple homemade materials lying around the house.
1. DIY Wooden Dollhouse
A DIY Wooden Dollhouse consists of two floors and an attic. Usually, this dollhouse is crafted using pine and the surface is polished using flaxseed oil. The dimensions will vary depending on how big or small you want the dollhouse to be. But wooden dollhouses are eco-friendly and are safe for kids as they lack sharp corners.
2. DIY Cardboard Dollhouse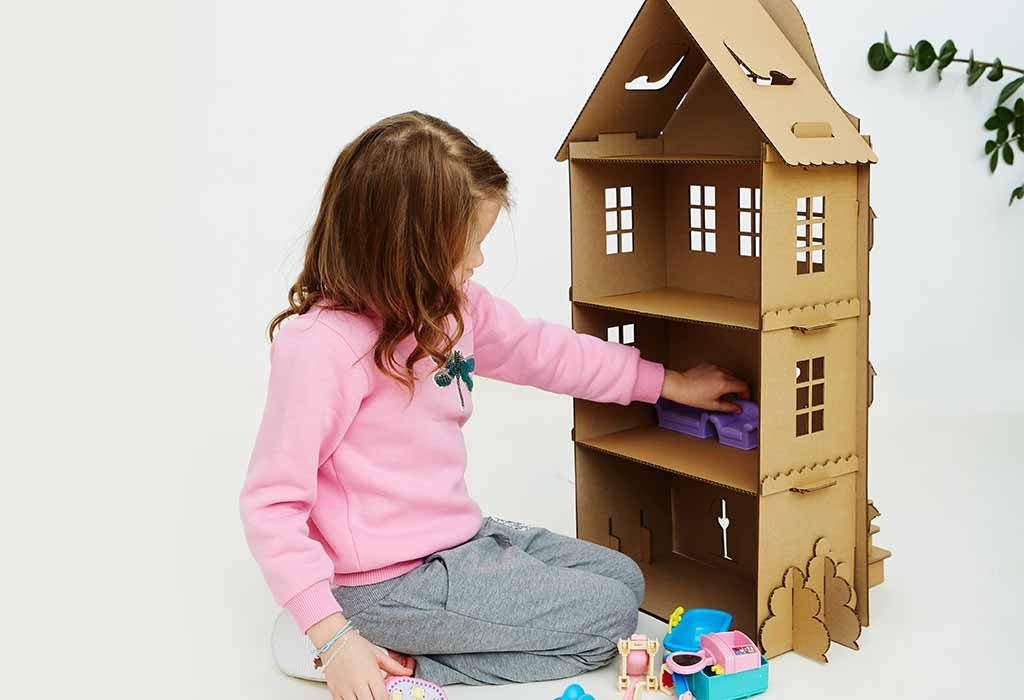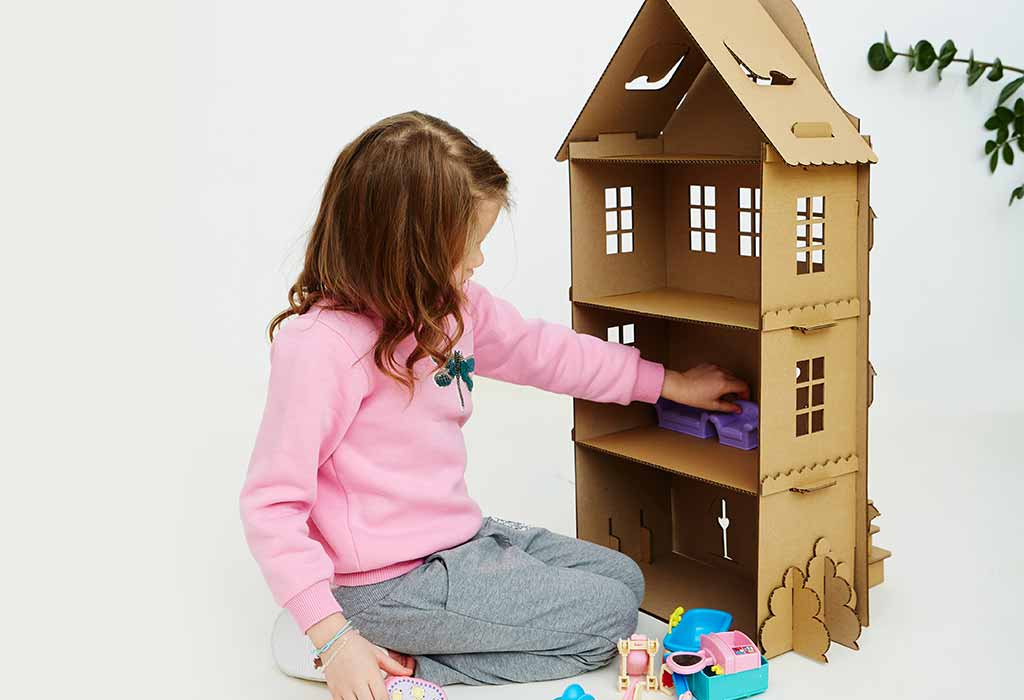 You can make your very own DIY Dollhouse by simply using plain cardboard. Use markers to colour the walls and use scissors to make the window and door cut-outs. You can take it a step further and even make cardboard furniture too for the interior elements of your dollhouse.
3. DIY Fabric Dollhouse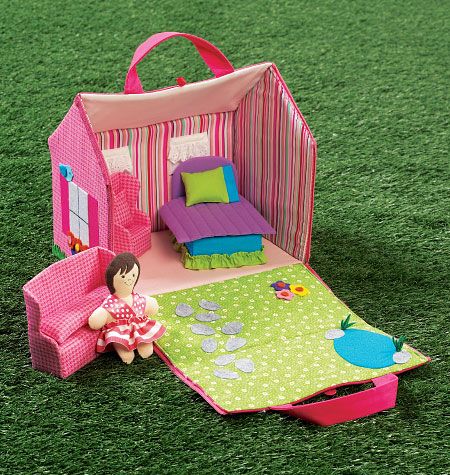 Source: Pinterest
A DIY fabric dollhouse uses coloured garments and embroidery stitched together to make up the structure. You can use a mix of cloth bags and patterned clothing to construct the dollhouse. You can buy dollhouse elements for your fabric dollhouse separately from your nearest dollar or arts and crafts store. Turn this into your own miniature dollhouse!
4. DIY Suitcase Dollhouse
A suitcase dollhouse is exactly what it sounds like – dollhouse elements packed into a tiny and cute suitcase. You can paint the interiors of the suitcase to match the theme of your elements and customize the look. You don't need a lot to get started – just a few dollhouse stickers, some wooden dolls, and dollhouse furniture that you can get from your nearest crafts store.
5. DIY Bookcase Dollhouse
You can turn your old bookcase into a dollhouse. This is a fantastic example of dollhouse décor that's elegant, simple and intricate enough for a child's living room. The storage space provided lets you decorate it using your very own unique dollhouse elements. And if you'd like, you can even add in your own dollhouse furniture on the racks too.
6. DIY Portable Tin Dollhouse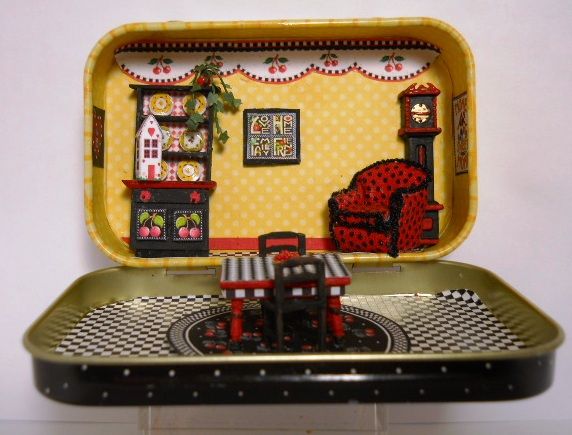 Source: Pinterest
You can make your own dollhouse using a portable tin case. For this project, you will require dollhouse furnishings, some paints, and stickers. You can use miniature grass and pebbles to make the backyard for this dollhouse. For making the compartments, use cardstock paper or small strips of metal and paint the walls of the house using acrylic paints.
7. DIY Loft Dollhouse
A loft dollhouse reminds us of a Barbie dollhouse simply because of how cute it looks. You can place 12' dolls inside this and use various accessories to decorate the interiors. The construction is sturdy and made of wood which makes it safe for kids. What we love about this project is the level of detail. Out of all modern dollhouse ideas, we think this one wins the day.
8. DIY Tree Dollhouse
Building a tree dollhouse is a nature-friendly way to do a creative project. It encourages families to work with their hands and you will be needing a big log of wood along with tree branches to make this. Decorate your tree dollhouse with miniature leaves, rocks, stones and pebbles. Place the dolls on the branches and add vines/creepers to really mystify the look. If you're wondering how to make a dollhouse that's easy and takes a few minutes to prep, this would be it.
9. DIY Nested Boxes Dollhouse
A nested boxes dollhouse is made by placing boxes inside a dollhouse. You put miniature boxes inside boxes or stack them on top or beside each other to create a unique look for the rooms and compartments. You can use everyday items lying around the house to build it.
10. DIY Pastel Hued Dollhouse
It's a dollhouse designed using pastel hues. The light coloured textures complement the beautiful interiors, thus making it an eye-catching addition to any living room.
And that's how you create your very own DIY dollhouses. These are great for beginners since the ideas are simple yet easy to follow.
Also Read:
DIY Playhouse Ideas for Children
DIY Shoebox Craft Ideas for Children
DIY Plaster of Paris Craft Ideas for Kids