10 DIY Woodworking Projects For Kids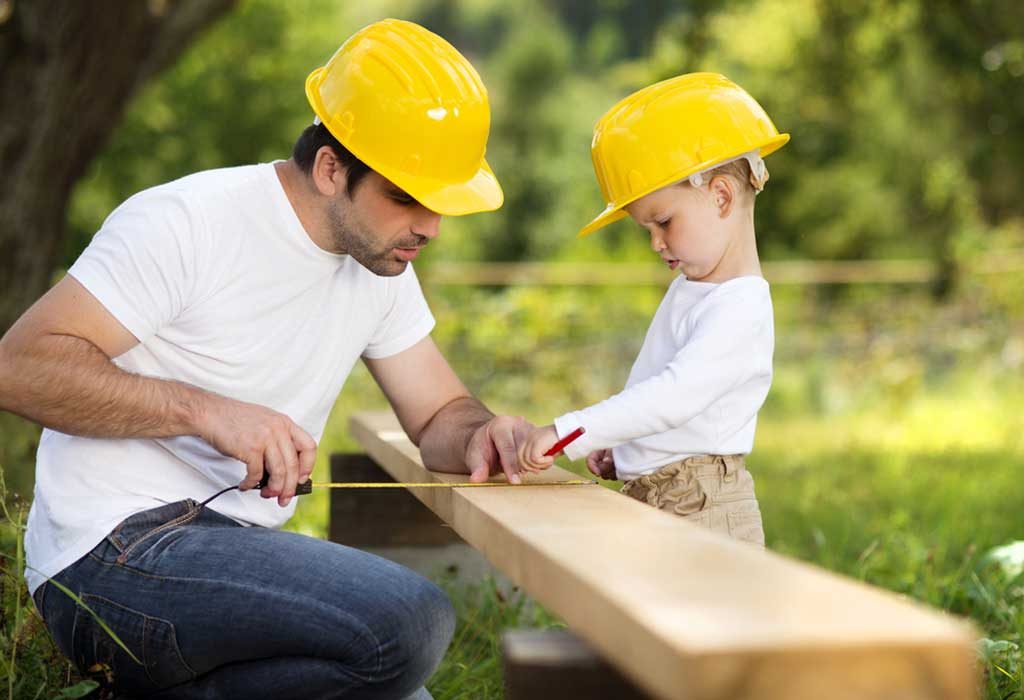 In this Article
With summer break in progress, parents may be looking for fun and exciting DIY activities for kids that can keep them fruitfully occupied during the hot scorching summers! We're sharing some easy woodworking project ideas that will not only help your kid in mastering new skills, but also keep them engaged during vacations. Read on to learn amazing wood crafts for kids!
Easy Wood Projects For Kids To Make
Spending time with your kids in doing something constructive and creative is always a satisfying experience for parents. So, here are some easy wood projects for children that will not only trigger creativity in kids, but also give you some enjoyable and joyful moments with them!
1. Bird Feeder
Making a bird feeder is an activity that requires just a handful of material!
What You Need
A branch or log of wood (5-6 inches wide and 15-16 inches long)
Drilling machine
Rope, 8-10 inches long
Marker pen
Bird feed
Peanut butter
A butter knife
How to Make It
Keep the branch in its rugged state. Make random length-wise marks on the log for drilling holes.
Drill 10 to 12 holes of 1 by 1 inch on the log using the drilling machine.
Drill two small holes on top of the log and run the rope through them for hanging the feeder.
Ask your kid to mix peanut butter and bird feed.
Using the butter knife, fill in the holes with the peanut butter and bird feed mix.
Hang the feeder out in the open to attract some feathery buddies!
2. Texture Stamps
One of the most exciting kindergarten woodworking projects ideas, this activity involves creating personalized stamps that will interest young minds!
What You Need
A branch (preferably 4 to 5 inches thick)
Few screws
Few nuts
Few nails
Sand paper
A saw
A hammer
How to Make It
Cut the branch into sections of 3 to 4 inches.
Scrape the rugged ends with the sandpaper to smoothen the surface.
Place the nuts on the top of the wood and strike them hard with the hammer to form the indents. Deeper the strike, better the indents. Repeat hitting until you get the desired pattern.
Do the same with nails, screws or other metal objects to make different stamp designs.
Once done, scrape the area once more. The stamps are ready to be used!
3. Flat Boat
A fairly simple woodworking activity for preschoolers, you can involve your little one in this activity to create an adorable flat boat!
What You Need
A thick branch
A saw
A drilling machine
A stick, 6 inches in length
Glue
Colourful cloth
Scissors
How to Make It
Cut 2 inch-flat roundels from the branch using a saw.
Drill a hole on the roundel, big enough to fit the stick vertically.
Cut the cloth in a triangular shape and use glue to paste the broad end of the cloth to the stick.
Also, use glue to secure the stick on the flat roundel.
The flat boat is ready to sail!
4. Address Sign
Another interesting carpentry project for kids is making an address signboard for the house!
What You Need
A flat wooden board (7 inches by 15 inches)
A branch (4 inches by 10 inches)
Sand paper
Nails
Hammer
Wood polish or varnish
Paint (any bright colour)
Paintbrush
How to Make It
Take the sandpaper and scrape the flat wooden board to get rid of any ruggedness.
Write the address on the board using the paint and paintbrush. Alternatively, use ready made stencils for neatness. Let the paint dry.
Secure the painting by coating it with the polish.
Use nails to join the board to the branch.
Dig a hole in your front yard and bury the signboard in it.
Voila! Your address sign is ready!
5. Wooden Coasters
A fascinating woodworking idea for kids, you can engage your kiddo in making some trendy and easy-to-make wooden coasters!
What You Need
A thick branch (4 to 5 inches in width)
A saw
Acrylic paints
Paintbrushes
Varnish
Sand paper
How to Make It
Use the saw to cut small roundels of half an inch thickness, from the branch. Cut out 6 roundels to make a set.
Scrape both the sides of each roundel with the sandpaper.
Use acrylic paints to make patterns or simply colour the coasters in solid colours. Let the paint dry.
Coat the coasters with varnish to secure the colour. Let them dry before using it!
6. Pencil Holder
There are many simple wood projects that you can try with your kindergartener, and this is one of the simplest!
What You Need
A wooden board (12 inches by 12 inches)
A saw
Any strong adhesive
Paint
Paintbrush
Sandpaper
How To Make It
Using the saw cut the wooden board into four same sized planks (4 inches by 3 inches) and one (3 by 3 inches) for the base.
Use the sandpaper to scrape off the rough edges.
Now, the strong adhesive to stick all the four same sized planks to form a hollow rectangle.
Stick the rectangular structure on the smaller plank as the base.
Paint the holder after the glue dries. Use as pencil holder after the paint dries off!
7. Wooden Paper Weight
Sometimes small wood projects are fun and exciting too, just like this one, where we will be making a paperweight with a wooden block!
What You Need
A wooden cube (3 inches by 3 inches)
Bright acrylic paints (3 to 4 shades)
Black paint
Paintbrush
How to Make It
Paint all the sides of the wooden block with bright contrasting colours. Let it dry.
Using the black paint, draw dots on each side. You can take reference from any play dice that you already have.
Let the paint dry before using this beauty as a paperweight!
8. Wooden Box
A perfect way to store your kiddo's knick-knacks or keep some trinkets safe!
What You Need
4 wooden planks of the same size ( 3 inches by 5 inches)
2 wooden planks of the same size (3 inches by 3 inches)
1 round wooden bead
Strong adhesive glue
Golden paint
Some decorative stones
How to Make It
Make one long plank as the base and stick two long and two short planks horizontally on it using the adhesive.
Use the last plank as the cover of the box. Stick the wooden bead in the centre to make the handle.
Let the glue dry up completely before painting the box with the golden paint.
Stick decorative stones randomly to accentuate the beauty of the box.
9. Cap Rack
This is an innovative way to create an amazing home décor idea for your kid's room!
What You Need
A rectangular wooden plank (10 inches by 4 inches)
6 to 7 metal pegs
Nails
A hammer
White spray paint (or any colour of your choice)
Black spray paint
How to Make It
Take the plank and place the metal pegs randomly or in order and then nail them on to it.
Use white paint as a base paint to color the plank. Let the paint dry.
Spray black paint randomly on various places to give a shaded effect.
After the paint dries off, nail the board in your kiddo's room to hang his caps!
10. Bookends
If you are looking for ways to keep your kid's books in perfect order, you can try this project idea. This is a perfect way to help kids keep their books neatly arranged!
What You Need
Two heavy roundels of woods (5-6 inches in diameter)
A saw
Sand paper
Varnish
How to Make It
Take one side of each roundel, and cut it to make the side flat.
Use sandpaper to scrape the rugged ends of the wood.
Varnish the wooden roundels to give them natural shine and lustre. Let them dry.
You can also colour the bookends if you wish, or use them in their natural form!
These are some easy-to-make woodworking activities that you can try with your kids. It is also important that you supervise your kids in doing these activities, as they may find using a hammer, nails, a saw, and other equipment a bit tedious!
Also Read:
DIY Mask Making Ideas for Children
Easy Plaster of Paris Craft Ideas For Children
Creative Paper Plates Crafts for Children