11 Easy Summer Crafts for Preschoolers & Toddlers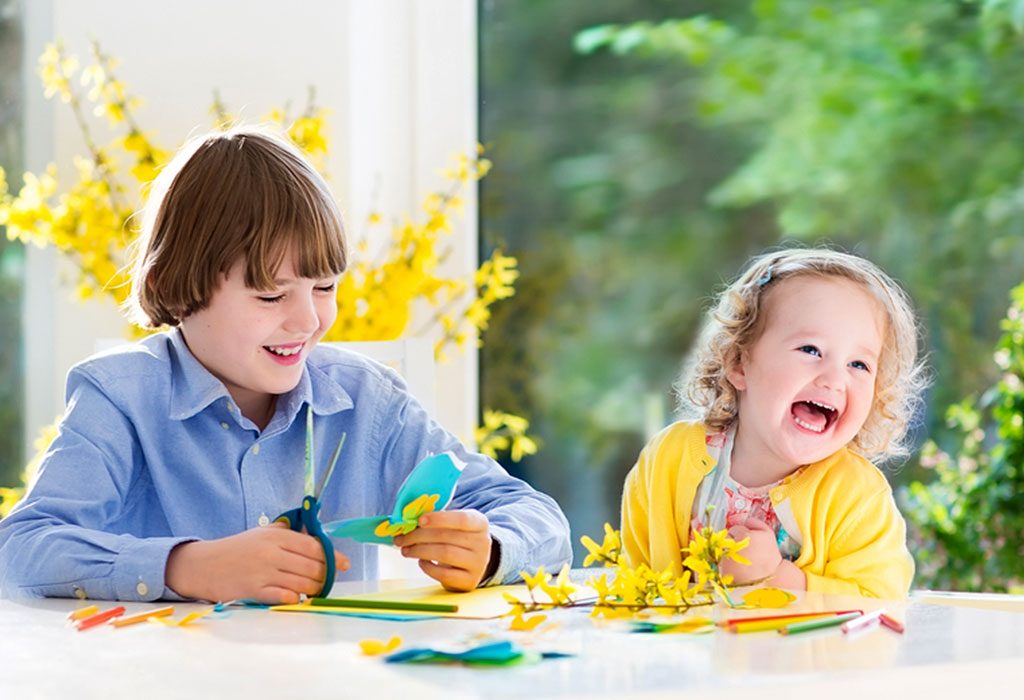 Your little champ likes to keep you on your toes all through the day. This is because your toddler or pre-schooler gets bored too soon and this happens more during the summer time. You may run out of ideas or ways to keep your kid engrossed in some fun learning activity. Here we shall discuss various creative and interesting summer craft ideas for your toddlers and pre-schoolers, which will keep them fruitfully occupied and spike up their creativity.
11 Interesting Summer Craft Ideas For Toddlers & Pre-schoolers
Pre-schoolers or toddlers are filled with a bundle of energy, and as a parent, you may want your child to utilise this energy in fun and creative way. Following are some fun summer craft ideas that will engage your child in constructive ways and keep them away from boredom:
Also Read: Outdoor Activities for Kids in Summer
1. Hand Painting
Children get attracted to vibrant colours and images and making them involved in a painting activity will surely make them ecstatic.
What Do You Need?
Six to seven non-toxic poster colours (or more)
A thick chart paper or drawing sheet
A half cup of corn flour (for thickening the colours)
Keep old newspaper handy (for securing your table or floor from the colours)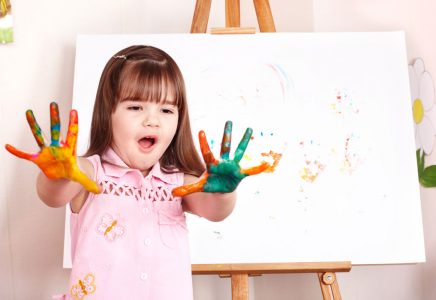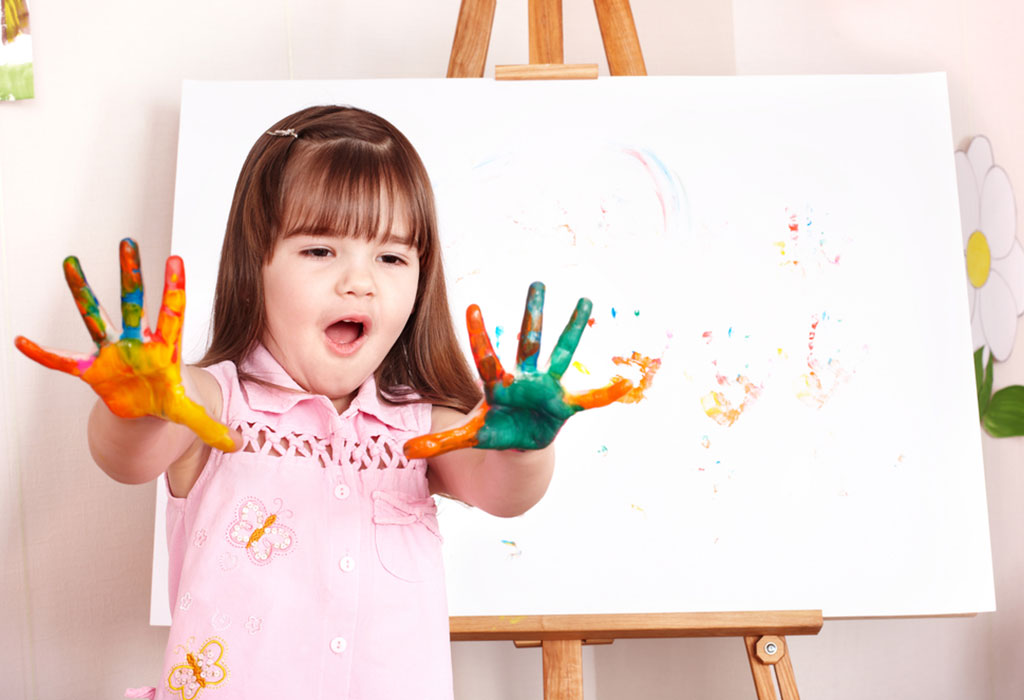 How To Make It?
Take the corn flour and make it into a paste-like consistency by adding some cold water.
In a heavy bottomed pan take 4-5 cups of water and bring it boil.
Add the cornflour mixture to the boiling water while stirring continuously; you may add more cornflour to achieve the desired consistency.
After the mixture cools down, divide it into different parts and add poster colours to it.
Spread the newspapers on the floor and place chart papers on it.
Now help your child dip hands into the colour mixture and make different coloured handprints on the chart paper.
2. Bake Cookies Together
Children love to cook with their parents, and you may engage them in baking with you. Children like to touch, mould and make new things; baking cookies involves all of these.
What Do You Need?
Cookie dough
Some cookie decorations such as sprinkles and chocolate chips.
Cookie icing
Cookie moulds
Some old newspapers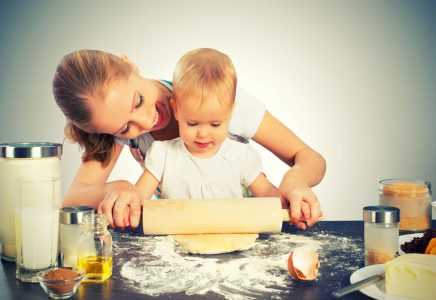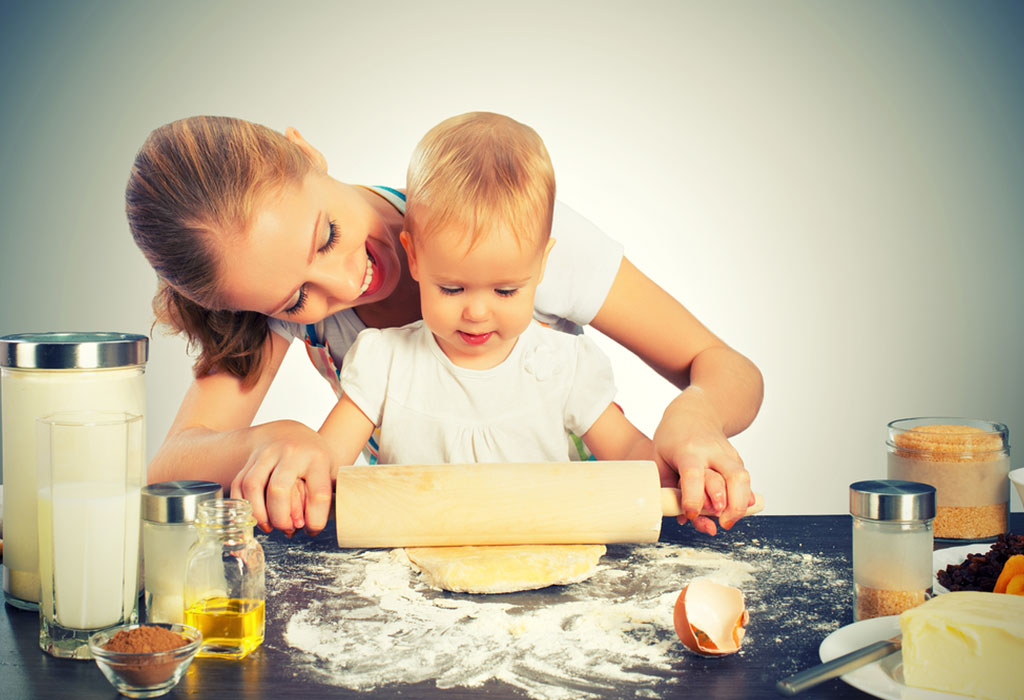 How To Make It?
Place newspaper to cover the kitchen table or shelf.
Help your kids roll the cookie dough and cut into exciting shapes using the moulds of their choice.
Once the cookies cool down after baking, let them decorate their cookies with icing and sprinkles.
Be attentive and careful when working in the kitchen with small children.
Try using healthier cooking ingredients.
3. Teach Them To Make Paper Flowers
Children love flowers, and thus this crafty activity will be a hit with young children. This activity is good for your kid's gross motor skills.
Also Read: Summer Camp Activities for Children
What Do You Need?
Different coloured crepe papers
Glue and scissors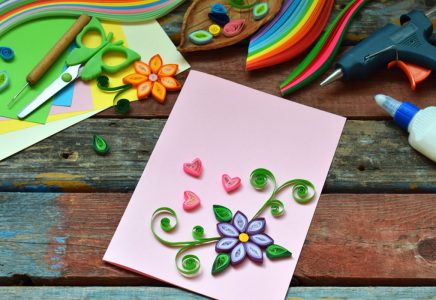 How To Make It?
Take the crepe paper and cut them into long strips.
Ask your kid to roll the stripes neatly.
After all the different coloured strips are rolled up, stick them together with the help of glue.
Make a bouquet of different coloured flowers and place it in your kid's room
4. Make Stamps
This fun activity will help your kid know about shapes and colours, and you may also use the stamps to decorate your kid's t-shirt or a handkerchief.
What Do You Need?
Some vegetables and fruits for stamping shapes (okra, capsicum or cauliflower florets)
Non-toxic paints
Thick chart paper or a piece of clothing
Old newspapers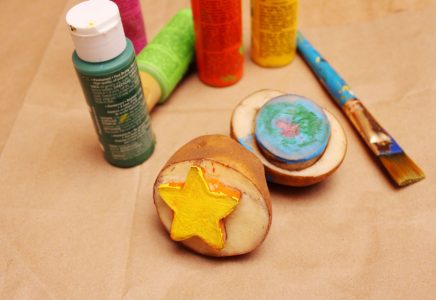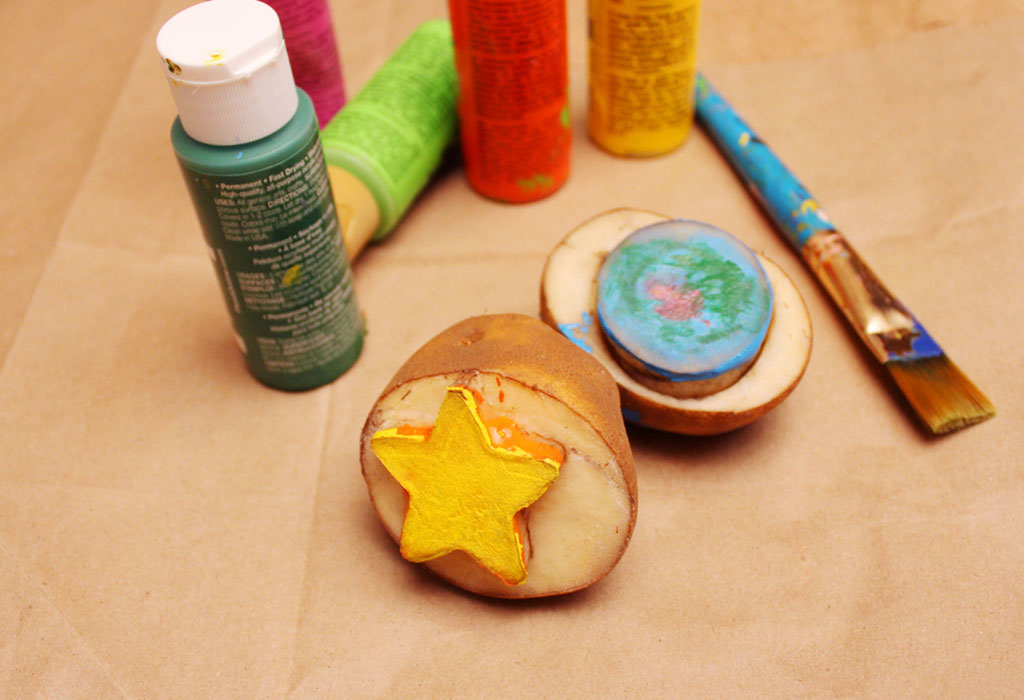 How To Make It?
Spread newspaper on the table and place chart paper on it.
Take the desired vegetable and cut it in a manner that it exhibits an interesting pattern.
Dip the vegetable into the desired colours and make patterns on the chart paper.
Alternatively, you may help your child to decorate their t-shirts or pillow covers too (for this use fabric colours)
5. Bubble Painting
This is one of the most creative summer crafts for toddlers age 2, and this will help your kid learn about colours and patterns creatively. You may even frame one of the bubble paintings of your kiddo as a memento.
What Do You Need?
Some liquid soap and water
Corn syrup
5-6 non-toxic poster paints
Straws
Thick chart paper/drawing sheets
Scotch tape and scissors
Newspapers
How To Make It?
In a plastic mug add some soap and water and mix it well.
Add some corn syrup and paints into the soapy mixture
Make a long straw by inserting into them into each other and secure them at the joint with some scotch tape.
Place newspaper on the table and spread chart paper on it.
Help your kid to blow bubbles in the soapy mixture and gently bring the bubbles on the chart paper.
Once the bubbles disappear, it could leave an interesting pattern on the chart paper.
6. Treasure Hunt With A Twist
This is one of the most exciting crafts for toddlers age 3. This activity helps in developing their sensory skills.
What Do You Need?
Sand or water
Some exciting things for hiding (preferably different colours, shapes, sizes and textures)
How To Make It?
Take all the collected items and hide them in a bucket full of sand or coloured water tub.
It can be made exciting by asking your child to find out objects of the same shape, colour or size.
7. Create Chalk Shadows
This activity is a twist to the usual drawing and painting. With this craft activity, your child would be making their drawing.
What Do You Need?
A pack of different coloured chalks
How To Make It?
Take your kid out when the sun is mid-height in the sky. Now trace their shadows using the coloured chalks. Let your kid colour the rest of the shadow. You may help them in drawing the details.
8. Make An Ice Candy Stick
Help your kid learn some culinary skills and add a healthy twist to it. You may teach them the importance of eating healthy.
What Do You Need?
Some freshly squeezed fruit juice (orange, pineapple or any other juice)
Freshly cut fruits and berries
Ice-cream moulds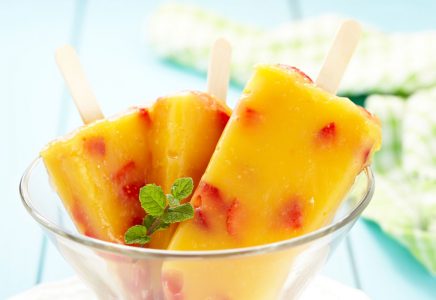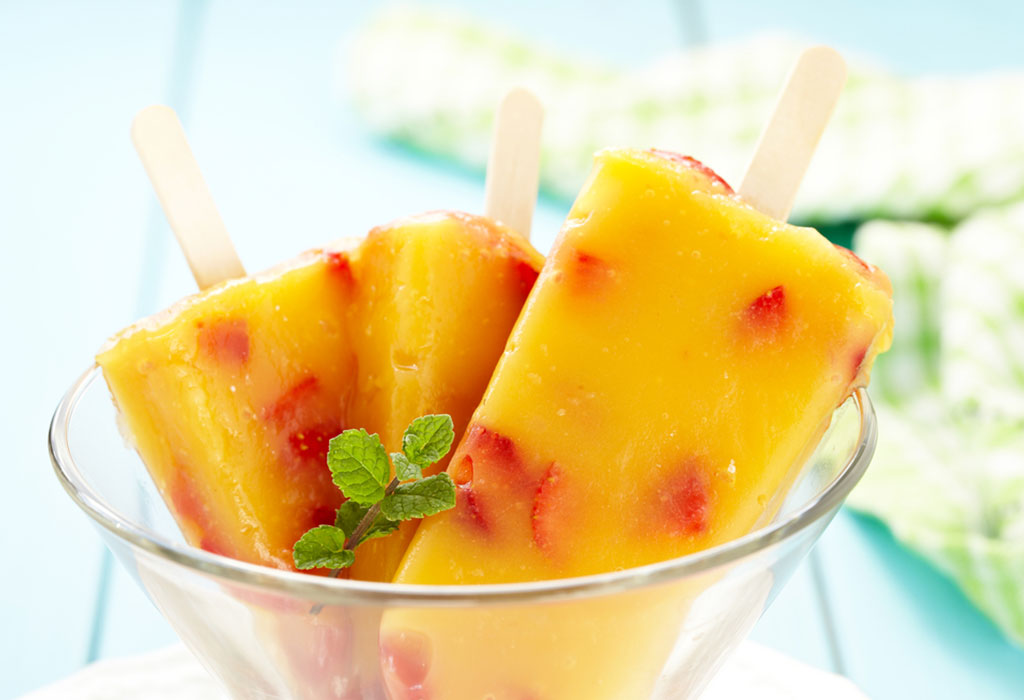 How To Make It?
Help your help you add juice to the ice cream moulds and add the fruits of their choice. You may add a little sugar to enhance the taste.
Let your kid enjoy the healthy treat which your kid made from a scratch.
9. Make Summer Collage
Kids get fascinated with vibrant colours, pictures and patterns. This exciting activity will not only keep them occupied constructively, but they will create an art piece for their room.
What Do You Need?
Few recent editions of kid's magazine
Glue and scissors
Colourful glitters and tapes
Thick chart paper
How To Make It?
Help your child to cut or tear colourful summary pictures from the magazines.
Make them stick these pictures randomly on the chart paper.
Throw some glue on the empty areas and blow some colourful glitters on it.
For a neat look, stick coloured tape around the all four ends of the chart paper.
10. Painting with Fruits and Vegetables
This messy craft activity will be an instant hit with your kids. Kids love to do messy things, and this activity helps them get creative in a messier way.
What Do You Need?
Blueberries or beetroots (any fruit or vegetable with vibrant colours)
A big bowl and a fork
Chart paper
Old newspapers
How To Make It?
Take blueberries in a bowl and add little water to it.
Put this mixture in the microwave for a few minutes.
After cooling down the mixture, help your child squish the berries using a fork or hands.
Ask your kid to dip hands and feet in the mixture and make patterns on the chart paper.
Make sure your kid is wearing old clothes as blueberries or beetroots can leave bad stains on the clothes.
Help your child wash thoroughly; you may even use lemon to wash off the stains from the hands and feet.
Also Read: Benefits of Summer Camp for Kids
11. Make Multi-Coloured Bubbles
You can involve your kid and your kid's friends also in this entertaining activity. You can make it into a competition, by asking them to make the biggest bubble.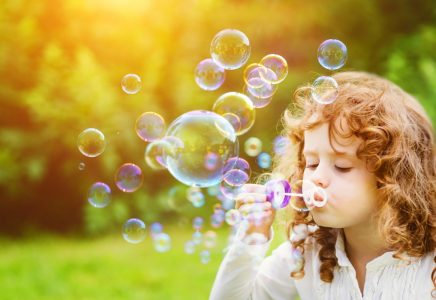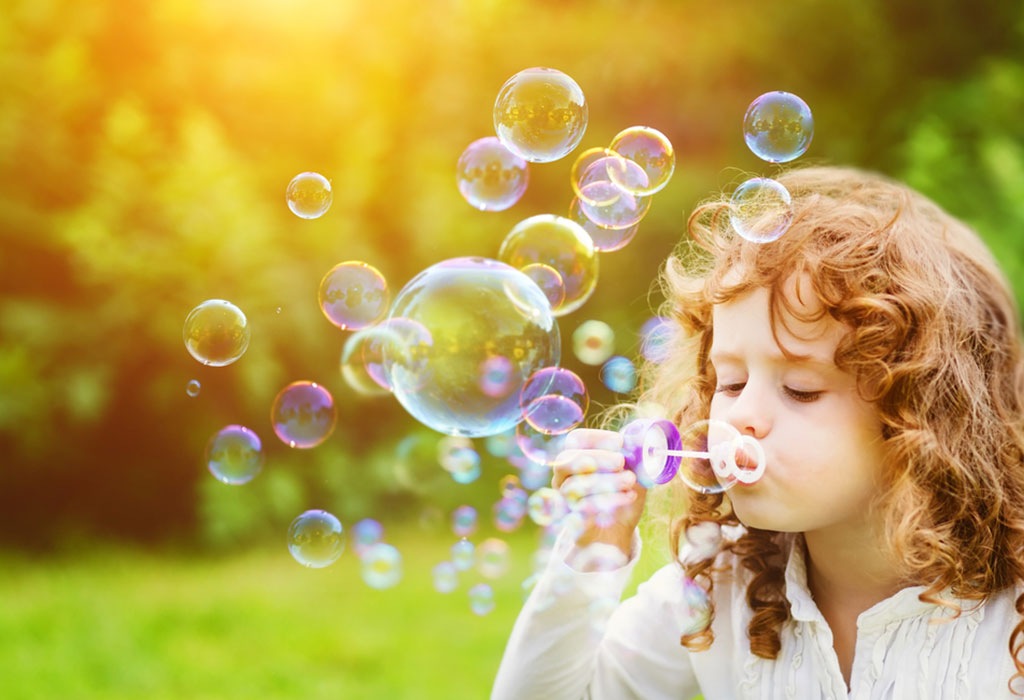 What Do You Need?
Soap
Some non-toxic poster colours
Straws
How To Make It?
Take soap and water and mix well.
Add desired poster colours into the soapy mixture
Take this soapy mixture and help your kid to make bubbles
Take care that your little one does not swallow the soapy water
Above mentioned are some of the easy and exciting summer craft activities for your pre-schoolers and toddlers. You can encourage your kid to have some indoor or outdoor fun during the summer time and learn new skills.
Also Read:
Best Learning Activities for 20 Months Old
Interactive Learning Activities for Toddlers