Scavenger Hunt for Kids – Benefits and Ideas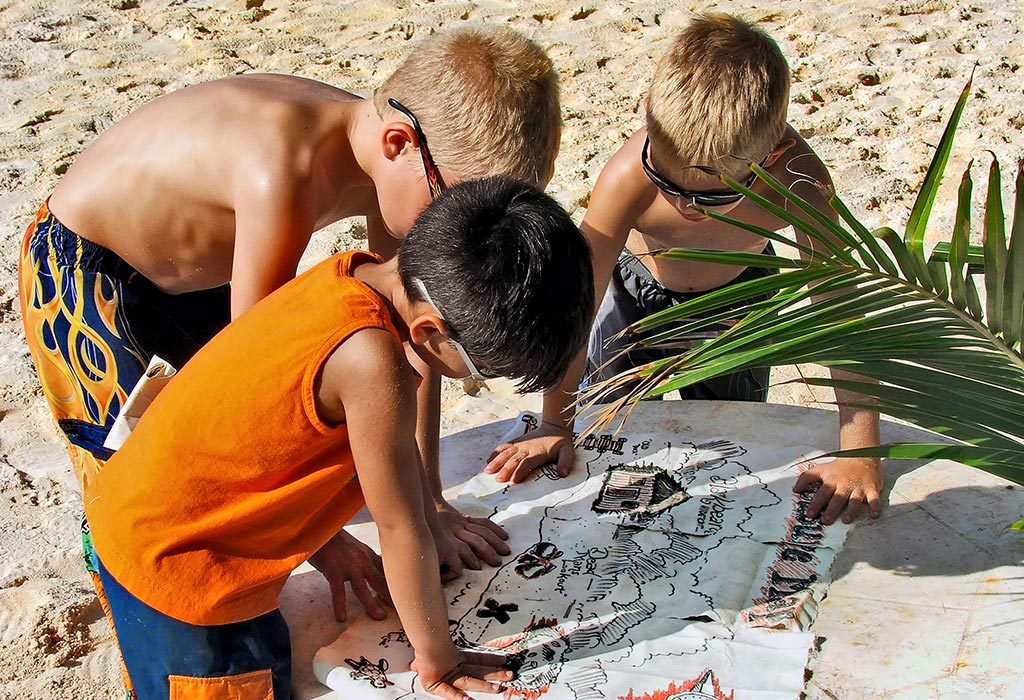 It is always fun teaching kids through fun and games, and one of the best and most fun ways of helping your child develop some much-needed life skills such as problem-solving, reading, building teamwork, and getting some good exercise for both the mind and body is through a scavenger hunt.
What is a Scavenger Hunt?
A scavenger hunt is a famous and most loved game that can be played by either teams or individuals where they compete to see who can gather all the items from a list. The first team or person to collect all the items on the list is pronounced the winner.
Benefits of Scavenger Hunt for Children
Scavenger hunts have many benefits for children that are hard to ignore. Here are a few to think about:
1. Easy Customisation
The liberty one has with this game is quite pleasing as you can literally customise the game to suit your child's interests. If you have a child who is really into math, you can always include math on the list by asking them to find "2+3 pink ribbons" or "10-7 dog biscuits." The place of the game is another area where you have freedom in customising. Take your kids to the beach for a summer scavenger hunt.
2. Teaches Teamwork
Whether it is for a competition with a prize or whether it is just for fun, the game teaches children to work together in order to solve the clues and find their next item. Learning how to work in a team is a very important life skill and often encourages socialising in children.
3. Builds Problem Solving Skills
One of the most beneficial ways of teaching a child something is through hands-on learning. Practical learning is always the best way to teach children things in a way that ensures it remains in their memories for much longer.
4. Exercise for Body and Mind
While we have seen how it exercises the mind during problem-solving, scavenger hunts also have a way of exercising the body. After all, your child will be climbing over things and running hither and thither trying to solve the clues and find the items on the list. Whether the game is played indoors or out, the challenge it presents for your kids will be in your hands.
5. Educational
Help your child to identify colours, shapes, textures and even get them to count by getting them to find a pair of woollen socks. Here you have a chance to teach your child what a "pair" of things are if they do not already know.
How is a Scavenger Hunt Different from a Treasure Hunt?
Though the two games are often similar, they have some major differences. A Treasure hunt usually consists of a series of clues, one leading to the next until eventually, they find their "treasure" which is something that is of more value than the items used for scavenger hunts.
Scavenger hunts, on the other hand, are about finding different items on the list. The items are often very simple things such as a pebble or a cup.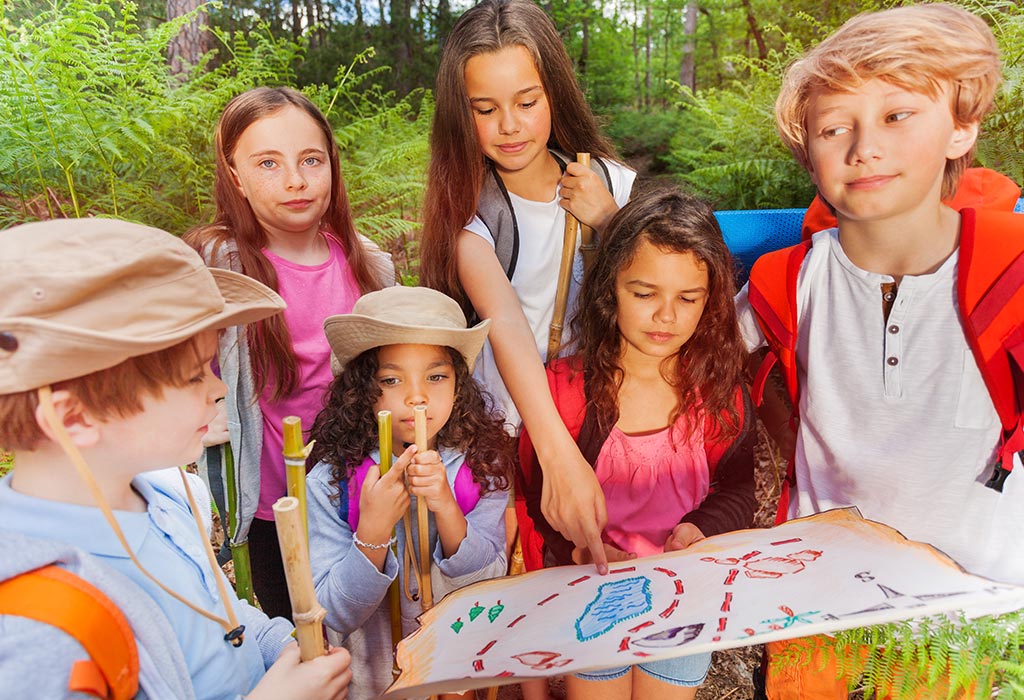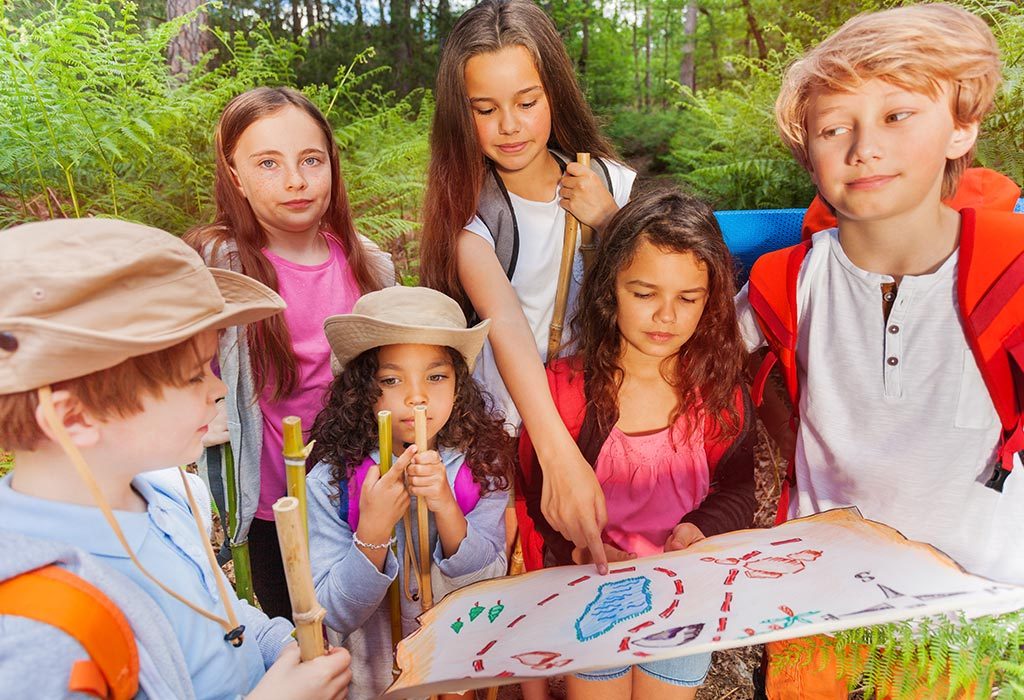 8 Fun Scavenger Hunt Ideas for Children
If you feel like a scavenger hunt is just what the doctor ordered, but it can be difficult thinking of what to add to a scavenger hunt list for kids. Don't worry; we have your back! Here are scavenger hunt ideas for kids to inspire you:
1. Rainbow Hunt
This one is a fun hunt idea for young children who have not really learned how to read yet.
What You Will Need
Paint swatches from a paint store
How To
Staple your paint swatches together to make your list. Your toddler needs to find objects in her surrounding that is match the colour of the swatch at hand. For example, if your first colour is blue, your toddler only needs to bring you any blue item that mostly resembles the shade you picked.
2. Numbered Hunt
A fun way to teach the little one how to learn numbers.
What You Will Need
An empty egg carton
Plastic numbers
How To
Number an egg carton and then have your little one find the numbers that you hid around the house. Once they are found, all he has to do is put them in the correct spot. The plastic number 4 goes into the egg spot number 4.
3. Letter Hunt
This game will help your little one to learn to recognise the alphabets.
What You Will Need
A sheet of paper with lower case alphabets
Capital plastic alphabets
How To
Similar to the numbers hunt, this one will require your child to find an alphabet and match it to the small letter on the sheet of paper. It helps to place the paper on a table or floor and have your child place the letters on top of the corresponding small case letter.
4. Nature Scavenger Hunt
Another one for the toddlers who cannot read yet, this one includes pictures.
What You Will Need
Create a list on Word by copy-pasting some simple images and caption them. They could be of a leaf, a flower, a rock etc
Marker
How To
Ask your little one to find the items on the list and then circle it with a marker. This is great for an outdoor scavenger hunt where children will learn to identify objects and learn the names for what they don't know.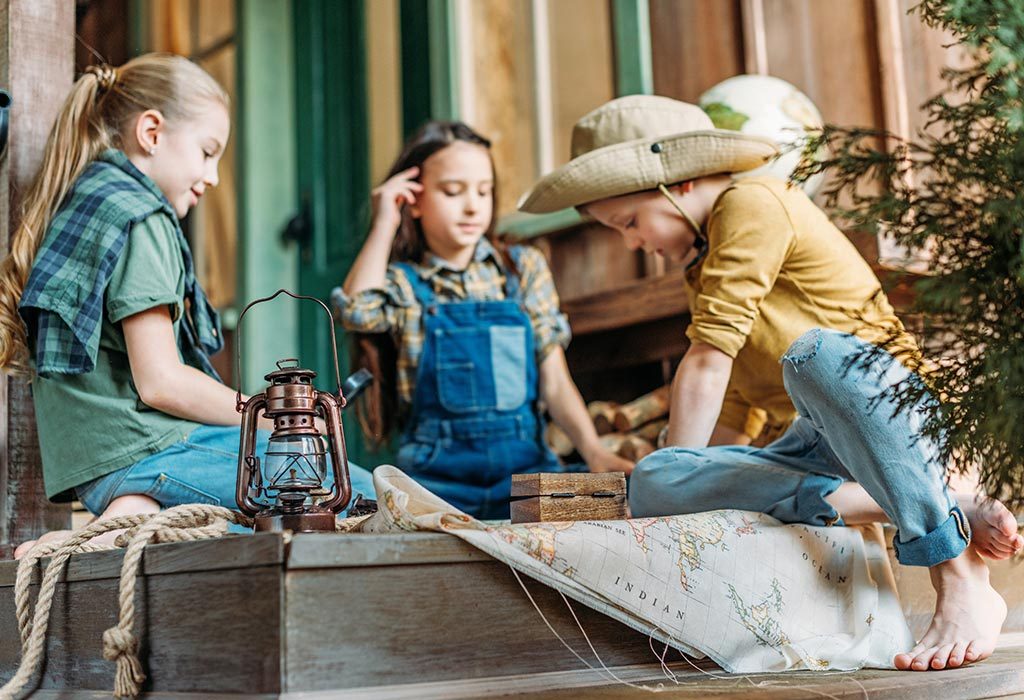 5. Grocery Scavenger Hunt
A game that gets your child to help you shop for groceries is fun and makes chores more bearable for both of you.
What You Will Need
How To
Your kids only need to tag along to the grocery store and help you find all the items on the grocery list. To make it more interesting, set a time limit.
6. Neighbourhood Hunt
Your children and their neighbourhood friends can have a lot of fun with this.
What You Will Need
A bag to collect items in
How To
This version of the game requires your child to visit the neighbours and ask to borrow items such as a safety pin or a pen
7. Animal Hunt
This game is for slightly older children who can solve riddles. Make the game more challenging for them by adding indoor scavenger hunt riddles for kids rather than simply adding the names of the items.
What You Will Need
How To
Hide the plastic animals around the house and then give your child the list that contains simple riddles like "I like to eat grass, I like to say moo. I am in the place you go to make poo" which will make your child have to figure out the animal and where to find it.
8. Party Scavenger Hunt
This kids party scavenger hunt is fun and informative for the kids.
What You Will Need
Ingredients for a simple treat such as a sponge cake
How To
Give the kids the list of ingredients and ask them to assemble them all on the kitchen counter. When the excitement of getting the ingredients together is over, you can delight the children by showing them how to make the sponge cake and letting them eat it when it is ready.
It is very easy to customise scavenger hunts according to the occasion and what skills you want your child to practice, so go on and get creative. Your children will find doing and learning many things interesting if you find ways to make a game out of it.
Also Read: Best Games to Play At The Park for Kids
?>