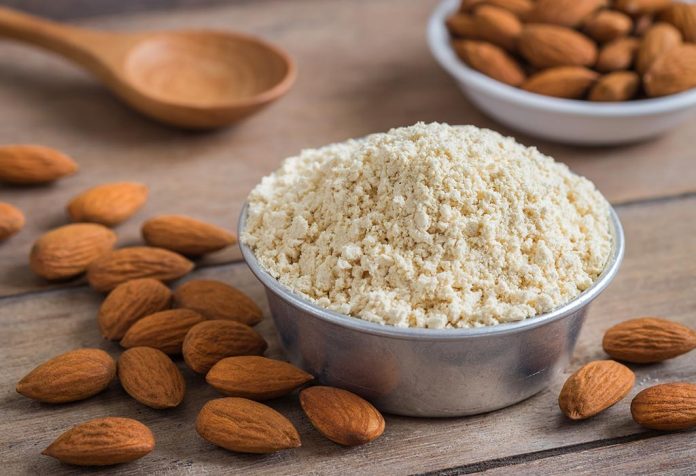 Almonds are power-packed with many vital nutrients, and if your baby has reached a stage where he relishes solid foods, then you may consider including almonds in your baby's diet. However, you may wonder how you can add this wondrous food to your baby's diet. Well, one of the ways of adding this nut into your baby's diet is in a powdered form. Have you heard of giving almond powder to babies and toddlers? Moreover, if you need to know more about this powder, we suggest that you take a quick look at the following article and know everything related to almond powder, its various benefits, recipes and more.
Benefits of Badam Powder for Babies and Toddlers
Almonds are considered a super food and thus may prove to be very beneficial for babies and toddlers. Take a look at how almonds may benefit your little munchkin in more than one way:
Almonds are loaded with vitamin E and may help in making your baby's skin soft and supple.
Almonds are alkaline and thus very effective in strengthening your baby's immune system.
Almonds are beneficial in better brain development in babies and toddlers.
Almonds help in strengthening your baby's bone as they are a rich source of calcium.
Nutritional Facts of Homemade Badam Powder
Almonds contain many vitamins and minerals which may prove to be effective for the growth and development of babies and toddlers. Here are some of the highlighted nutrients present in almonds:
| | |
| --- | --- |
| Nutrient | Values |
| Carbohydrates | 22 grams |
| Protein | 20 grams |
| Fats | 50 grams |
| Dietary Fibre | 12 grams |
| Vitamin E | 25 milligrams |
| Potassium | 700 milligrams |
| Calcium | 250 milligrams |
| Magnesium | 258 milligrams |
| Phosphorus | 480 milligrams |
The above values are approx amounts of nutritive values present in 100 grams of almonds.
Table Source:  https://www.nutritionvalue.org/Nuts%2C_almonds_nutritional_value.html
When to Introduce Almond Powder to Infants?
Solid food should be started anytime after the age of six months. However, you should wait for a little while to add almonds to a baby's diet. Ideally, you may begin giving almond powder to your baby anytime after nine months of age. You can begin by giving small amounts, that is a spoonful of this powder. You should wait for a few days to see how well your baby responded to it. If you do not notice any kind of allergic reaction or any other problem, you may slowly increase the dosage to three spoons a day or as your baby likes.
Why Is It Good to Peel the Almond Skin for Making the Powder?
Peeling the almond skin can be a tedious affair, but we recommend that you discard the skin before making the powder. This is because the almond skin may lead to toxicity in babies and toddlers and it may also be difficult for babies to digest it. Peeling the almond skin may make the almonds not only safer for babies, but your baby may be able to digest it easily too.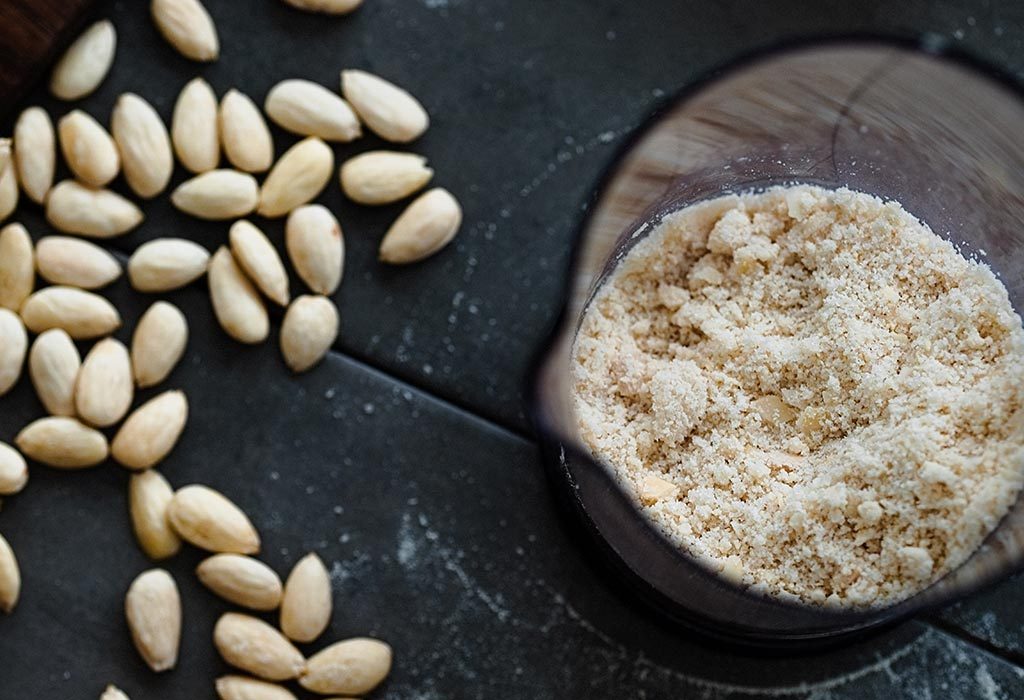 How to Make Almond Powder for Babies and Toddlers?
Thinking about how to make badam powder for babies at home, well, here we have no-fuss and easy to make almond powder recipe for all you doted mommies:
1. Ingredient
 You may require the following ingredients to make the powder:
1 cup almonds (any variety)
¾ cup sugar (you may use rock sugar or mishri too)
1 teaspoon green cardamom powder (optional)
Few strands of saffron (optional)
2. How to Prepare
Some of the prep steps may include the following:
Take 3 to 4 cups of boiling water and soak the almonds for 5 minutes.
Drain the hot water and put the almonds under running tap water.
Remove the skin and place them on a clean cloth for drying.
Once the almonds are nice and dry, roast them in a heavy bottomed pan on a low flame.
Make sure you do not turn them extra brown, just roast them enough to get rid of the moisture.
3. Points to Note
You may need to keep in mind:
Grind the roasted almonds in a mixture, into a fine powder.
Make sure you do not churn the contents for more than 20 to 30, as almonds may release its oil from extra churning and make the powder turn lumpy.
Sieve the powder and store the powder in an airtight container.
Use a dry spoon to scoop out the contents every time you require the powder.
The homemade badam milk powder for babies can be stored for a few months.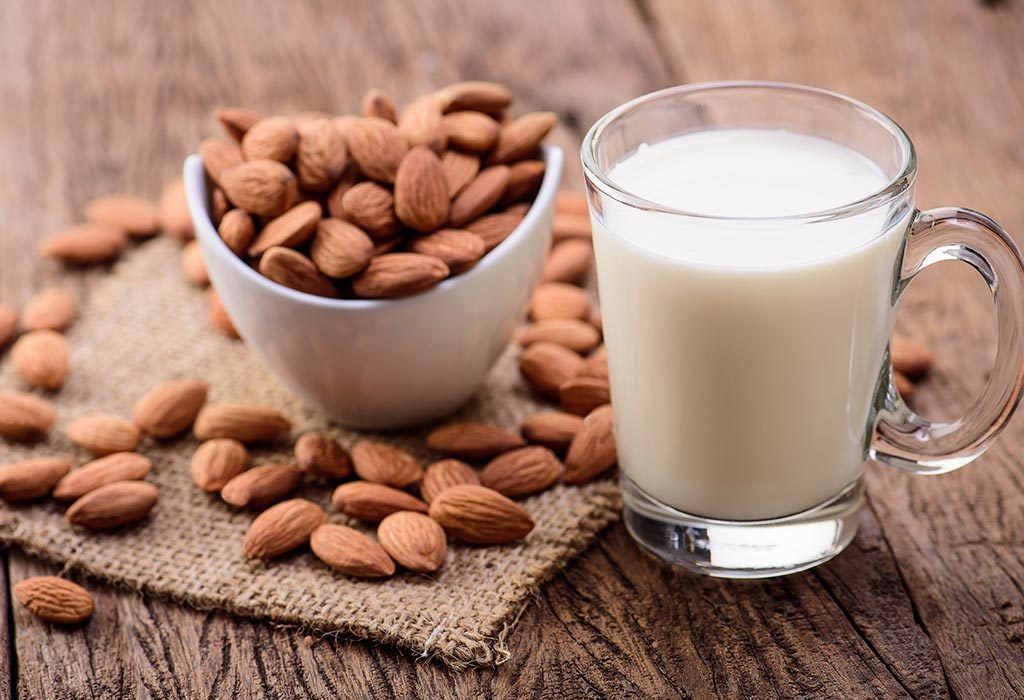 How To Include Badam Powder In Your Child's Diet?
Badam or almond powder is a versatile food option that can be used in many ways in your child's diet. Here are some ways you can give this powder to your kid:
Almond powder can be sprinkled over your child's cereal, cornflakes or porridge to add that extra power punch to the morning meals and also to add the nutty flavour.
You may simply mix a spoonful of almond powder in your kid's milk. The powder can be added to both hot and cold milk to enhance the flavour and also to increase its nutritive value.
You may add this powder to your baby's mashed or pureed vegetables or fruits.
You may also add the almond powder to make yummy ladoos, cakes, cookies or puddings for your kiddo.
Almond powder is a great option that you try for your baby or toddler. However, if your baby may be allergic to nuts, then you may need to exercise caution. Get more information from your medical practitioner about giving almonds to your baby.
Also Read: Introducing Walnuts to Babies