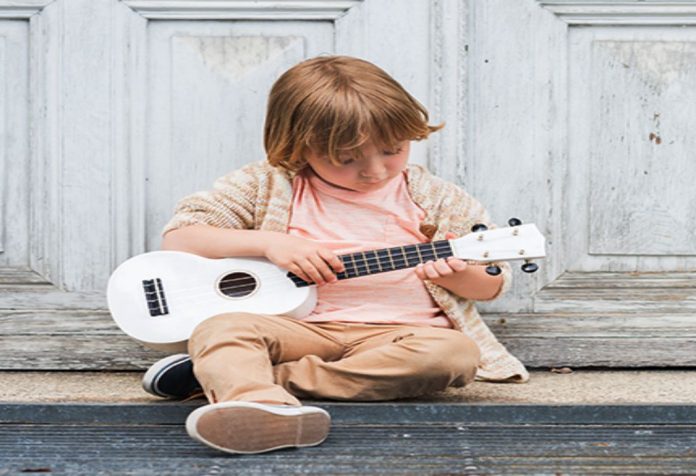 Last Updated on
Signs of music talent in toddlers can seldom remain hidden for long. Be it ways in which they listen to music or dance to their favorite songs, the signs that give away future musical geniuses are many. Here's how to gauge the music ability in toddlers in your life too.
Normally, toddlers love to jive and shake a leg when they hear their favourite notes. As soon as they hear their kind of music, like "Four Little Monkeys", you'll find them tapping their toes or shaking themselves cutely. However, the less musically inclined kids lose their tempo soon. You will find them stopping midway, crashing into others, or making funny moves in the name of dance. The ones who're inclined towards music will showcase a different, totally musically engrossing demeanour. So, how can you tell that your little brat, who's so fond of beating pots and pans, would be a future rock star? Take a look.
Top Signs of Musically Talented Toddlers
Presence of Rhythmic Movements

Watch for rhythmic movements in your toddler's dance steps. Musically advanced kids would sway to music in time, tap their toes correctly, and make some right moves. In most cases, toddlers who love music would tap a tambourine or play the drums naturally. These abilities are usually demonstrated before they are 3 years of age; and sometimes, a little later.

Awareness of Sounds

You need to listen to your child's conversation carefully, especially on subjects related to all that he hears around him. As per experts, musical ability in toddlers can be assessed to a large extent in the way they are aware of the sounds of other children, flowing water, noisy cars, music from your car's stereo, and so forth.

Catching what's out of Tune

One of the telling signs of musical talent in toddlers is when he takes notice of music that's played out of tune? Try playing a song of his choice and make a mistake in its melody or tune. If your little one is musically gifted, he would notice that something's amiss. Also, such kids would catch onto songs easily and are likely to mimic the sounds of musical instruments heard earlier on, that too in tune.

Reproduction of Beats and Melody

It's a good idea to encourage your 16-months-old to play instruments. For instance, try playing a keyboard or piano and see whether he's able to reproduce a beat or a melody. You may be surprised to hear something that's absolutely original or close to what he's heard!

Positive Evaluations by a Music Professional

Music talent in 16-months-old kids can be best evaluated and honed in by a music teacher or a professional. So, if you happen to reside near a school that has a music program, find out if there's more to your kid's musical talent than what meets your eyes.
Remember, if your baby is particularly talented you can always enroll him in structured music lessons. In due course, he can apply to a school that supports gifted children too.