Beautiful Bohemian Theme Baby Shower Ideas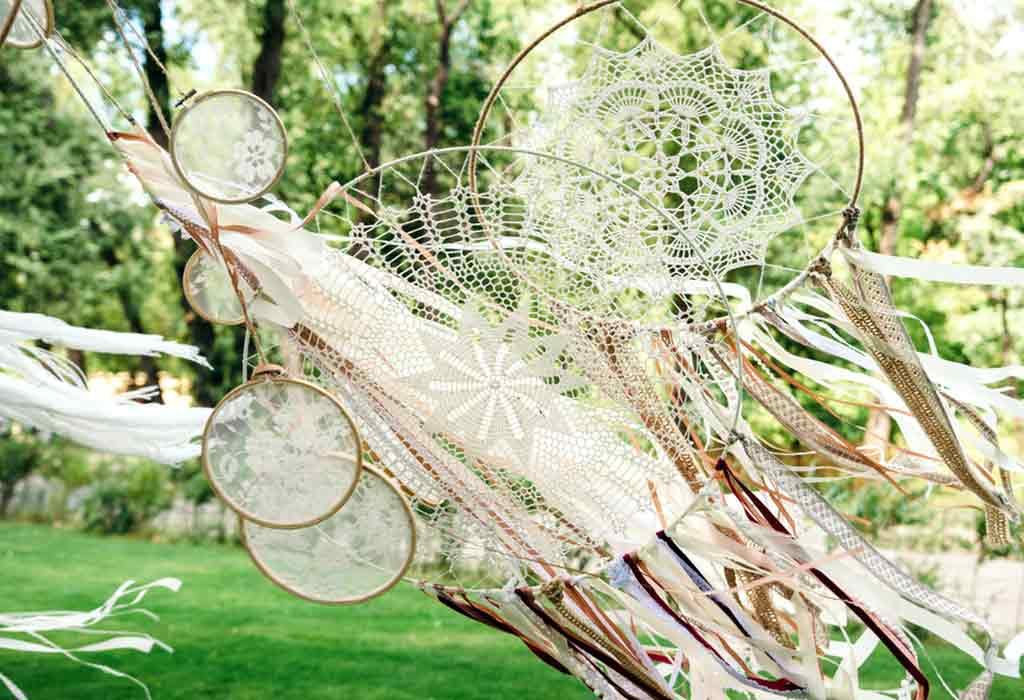 In this Article
There are many baby shower themes out there, but very few are as relaxed and fuss-free as a Bohemian-themed one! Surprise the mom-to-be with an earthy and chic baby shower that is set amidst beautiful décor and has all the treats and goodies to go along with it. Plan a baby shower that is truly Bohemian with these great baby shower ideas, and you'll not be disappointed.
Amazing Ideas to Throw a Great Boho Baby Shower
Are you looking for inspiration for your besties baby shower? We've strung together a great set of ideas for a boho baby shower for you to pick from. We're sure there are a bunch of ideas here that will make it to your party! Scroll through these ideas and plan the perfect boho baby shower for your friend or family member.
Boho Baby Shower Invitations
Send out an invite like no other with stunningly simple boho-themed baby shower invitations.
Floral invitations – Write your message against a floral background for a colourful invitation.
Watercolour invitations – Personalise the invite with a watercolour invitation with pretty blues and pinks or a gender-neutral colour.
DIY custom invitations – Add a picture, write your message, use decorative items, the possibilities here are endless!
Boho Baby Shower Decorations
Set the stage for a perfect boho theme baby shower with soulful décor that will only get praises.
1. Boho Table Runners
If you're having a proper sit-down meal at the baby shower, then you have the perfect arena to add a little extra Bohemian touch. Choose a macramé table runner or floral printed paper table runners that go well with your colour scheme.
2. Floral Table Décor
Real flowers in vases, decorative paper flowers, macramé, leafy décor, and more, there are multiple ways to go about to get the boho baby shower table décor right. You can also make floral hangings for your wall backdrop!
3. Flower Crowns
Make your mom-to-be feel like the queen she is with a beautiful floral crown. You can also make an elaborate fit-for-a-queen crown for the guest of honour and have simple ones made for the rest of the invitees!
4. Peacock Chair
Your mom-to-be is the centre of attention; make her feel like one! A peacock chair is one of the best boho baby shower centrepieces you can get. It's perfect for when she has to open gifts too. You can add a vintage blanket or leaf and flower décor for an added touch.
5. Dream Catchers
From walls to teepees, a boho dream catcher gets the boho vibe just right! Make custom dream catchers, or get your favourite ones. You can make a dream catcher wall backdrop and put it nicely against the food and dessert tables for the guests to admire.
6. Teepee
Teepees undoubtedly bring in the boho vibe. Decorate the teepee with beautiful flowers on the outside, and DIY chandeliers on the inside for the perfect look. You can even follow a colour scheme for a boho girl baby shower.
Boho Baby Shower Food Ideas
Depending on whether you're going for a handheld food spread or an informal sit-down meal, you have many food options to choose from.
1. Grazing Tables
Finger foods are quite popular for a boho-themed baby shower. Get an assortment of nuts, fruits, cheese, olives, etc. and a choice of meat for your guests. The food can have a good mix of sweet and savoury dishes. Add some sprigs of herbs like rosemary or basil for a pop of green.
2. Hors D'oeuvres
The choices are endless here. You can go for veggie dip cups, tacos, mini veggie pizzas, tea sandwiches, mac and cheese cups and more! Find something that can be easily carried or is bite-sized, and you're good to go.
3. Sit-Down Meal
If you're opting for a sit-down party, you've got your trusted pasta salad, meatballs, sushi, meat roll-ups and the like. You can have easy-to-serve food that can be picked off the plate as it goes around the table.
Boho Baby Shower Cake and Dessert Ideas
What's a baby shower without cakes and desserts? Set up the perfect dessert table with an assortment of desserts for your guests to gorge on!
1. Naked Cakes
Naked or natural cakes render an earthy look to your dessert table and are delicious, no doubt. The simple cake, dressed only with butter frosting is just the thing you need to entice your guests. Display the cake on a heightened cake stand and leave plates next to it on the table, along with some floral décor.
2. Mini desserts
From cupcakes to doughnut holes, there is nothing like mini desserts to make the dessert table appealing. These are perfect for boho baby showers and will have your guests reaching for more. Make it more decorative with succulent cupcakes or decorated cupcakes and cookies.
3. Sugar Cookies
Who doesn't love cookies? Bake some homemade cookies and decorate them with beautiful icing. You can have boho-themed art on it like teepees, leaves, blowers or even write messages on them. If you don't have the time to bake cookies, you'll easily find them at the bakers!
Boho Baby Shower Favour Ideas
If you want to throw a boho chic baby shower, you've got to have party favours. The best option is to stick with the theme for your party favours, too. Here are some ideas for Bohemian baby shower party favours.
Seed packets – Let your guests take home something to remember your baby shower by. Seed packets are practical party favours for a boho baby shower.
Succulents – Succulents are small, beautiful, and can make for stunning home décor. Your guests will love it!
Jewellery – Beautiful boho bracelets, earrings, and necklaces can be great party favours for your guests. You can also go a different way with temporary metallic tattoos!
Candy and desserts – Candy jars and chocolates also make for delicious party favours for your baby shower.
These are just a few ideas from the hundreds out there for a beautiful boho baby shower. You can also look at the many other options available, such as colourful throw pillows for floor seating, vintage blankets for outdoor seating, boho-themed photo booths, the perfect drinks and mocktails, etc. to get the party going and more!
Also Read:
Amazing Baby Shower Theme Ideas
Fabulous Nautical Baby Shower Ideas
Harry Potter Themed Baby Shower Ideas To Have