Salads during Pregnancy – Which are Safe
When you are pregnant, it's a period of great celebration, and also of great change! You have to prepare yourself to deal with plenty of upcoming changes in your body, emotions and moods, and lifestyle and diet. Pregnancy comes with numerous food cravings, and you have to know what is safe to eat, and what isn't. If you are a fan of salads, you know that there is almost nothing more refreshing than digging into a cold and crunchy salad. However, pregnant women need to be careful about the salads that they choose to add to their new diet.
Why Is It Important to Eat Salads During Pregnancy?
Eating salads which include veggies that provide essential nutrients like, iron, calcium, and folate can do wonders for the health of a pregnant woman. If you include legumes, meat, and cheese, you can meet your fibre and protein requirements, and keep your hunger satiated for a long period of time.
What Salads Are Safe to Eat During Pregnancy?
When pregnant, there are some salads that you can look forward to that are safe and healthy for you:
1. Meat and Seafood Salads
No, we don't mean that you can add raw fish, raw eggs, smoked fish, cold cut meats, and seafood high in mercury in your salads. Anything raw, and anything from the sea which is high in mercury, is unsafe to consume during your pregnancy. When making a meat salad, make sure that meat is cooked to perfection. You can include cooked turkey, cooked chicken, or salmon in salads to meet your daily dose of protein in pregnancy. You can also go for light canned tuna chunks, as these are low in mercury. However, take a dietitian's opinion before including this in your diet.
2. Garden Salads
When you are pregnant, you will need more iron and folate in your diet, so go for lettuce and spinach to make some healthy pregnancy-friendly salads.
3. Fruit Salads
Fruit salads are a safe and delicious choice as they are sweet, juicy, and packed with vitamins. A fruit salad is generally safe to consume when you are pregnant, but be careful not to include fruits that are not advisable to consume during pregnancy. For toppings, stay away from anything that is high in sugar, such as whipped cream. You can opt for yoghurt instead.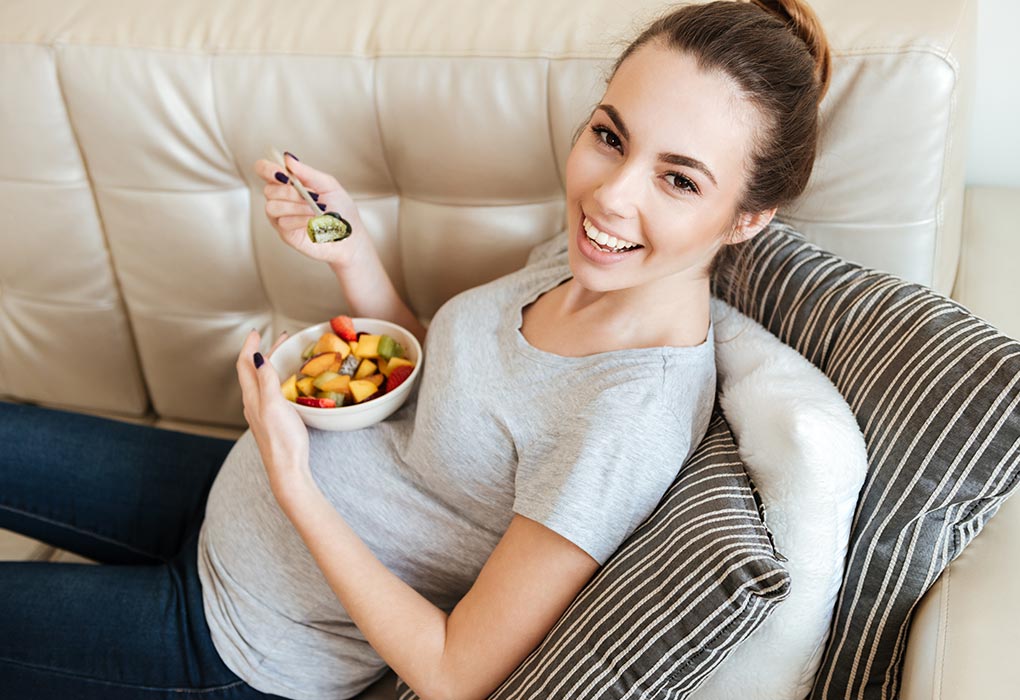 4. Bean and Grain Salads
A bean salad made with boiled and cooked beans is a good source of protein and iron. You can include pasta or whole grains to your bean salad, or make it more scrumptious by adding sweet potatoes, capsicum, and corn. Most pasta salad recipes require eggs, so either use a substitute, or make sure the eggs are cooked thoroughly.
5. Paneer Salads
Cheese is a great addition to a salad, but using the soft, imported cheese may be harmful, as it may contain listeria that can cause a miscarriage. Paneer is a safer choice when it comes to making salads with cheese!
Salad Recipes for Pregnant Women
Here are some delicious salad recipes that you can prepare that are easy, healthy and delicious:
1. Chicken and Arugula Salad
We all love to eat chicken now and then, but instead of eating heavy and spicy butter chicken or chicken tikka during pregnancy, eat a light and fresh chicken salad. You can make a healthy, filling salad with chicken and arugula (also known as rocket leaves).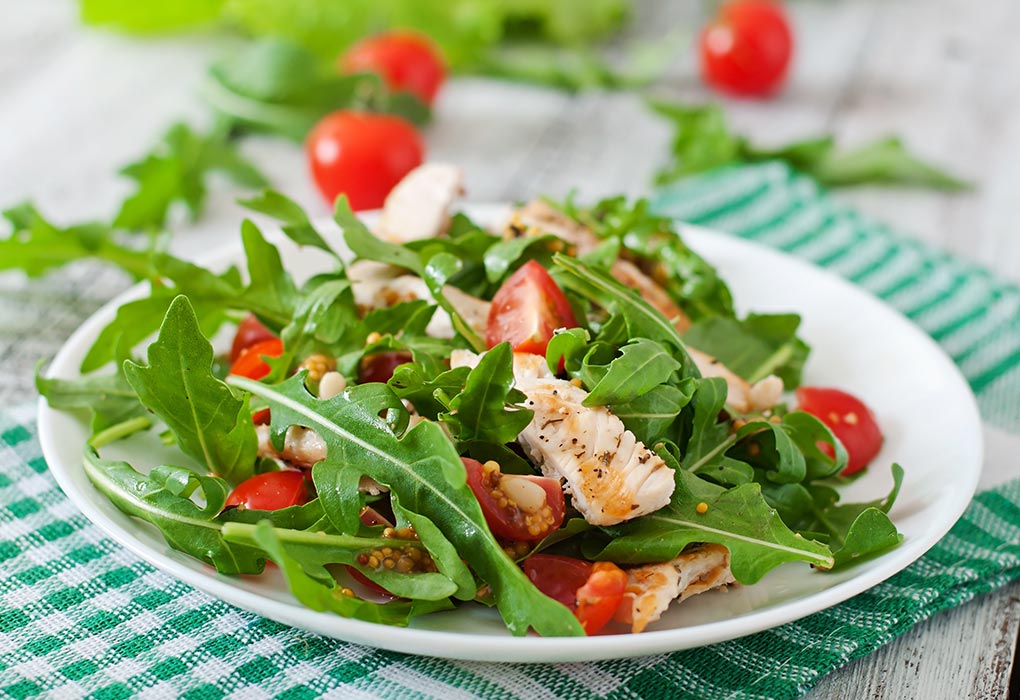 Ingredients
Arugula leaves, 12 cups, rinsed and dried
Cherry tomatoes, one pint, halved
Olive oil, four tablespoons
Chicken tenders, one pound, diced
Balsamic vinegar, three tablespoons
Mustard, 2 ½ tablespoons
How to Make
Mix arugula and cherry tomatoes in a bowl.
Take olive oil in a wok or pan, and heat it on a low flame. Add garlic to it, and saute.
Once its colour changes, add chicken, and cook it well.
Add the cooked chicken to the salad.
Pour a few drops of olive oil, vinegar, and mustard paste on it.
Drizzle salt as per taste and mix well.
Your chicken and arugula salad is ready.
2. Mixed Sprouts and Spinach
Sprouts and spinach make a healthy combination for salads. So, go ahead and try this salad recipe and enjoy! However, make sure that you don't include raw sprouts, as these are not safe during pregnancy.
Ingredients
Chopped and blanched spinach, ¼ cup
Mixed sprouts, cooked, ½ cup
Jeera powder, one tablespoon
Curd, 1 ½ cup
Chilli powder, ½ teaspoon
How To Make
Mix spinach and sprouts in a bowl.
Add curd to it.
Sprinkle some jeera powder, chilli powder, and salt (as per taste) over it.
Mix well and keep it in the fridge.
Serve chilled.
3. Green Salad
This is one healthy and simple vegetarian salad recipe that you can make during pregnancy.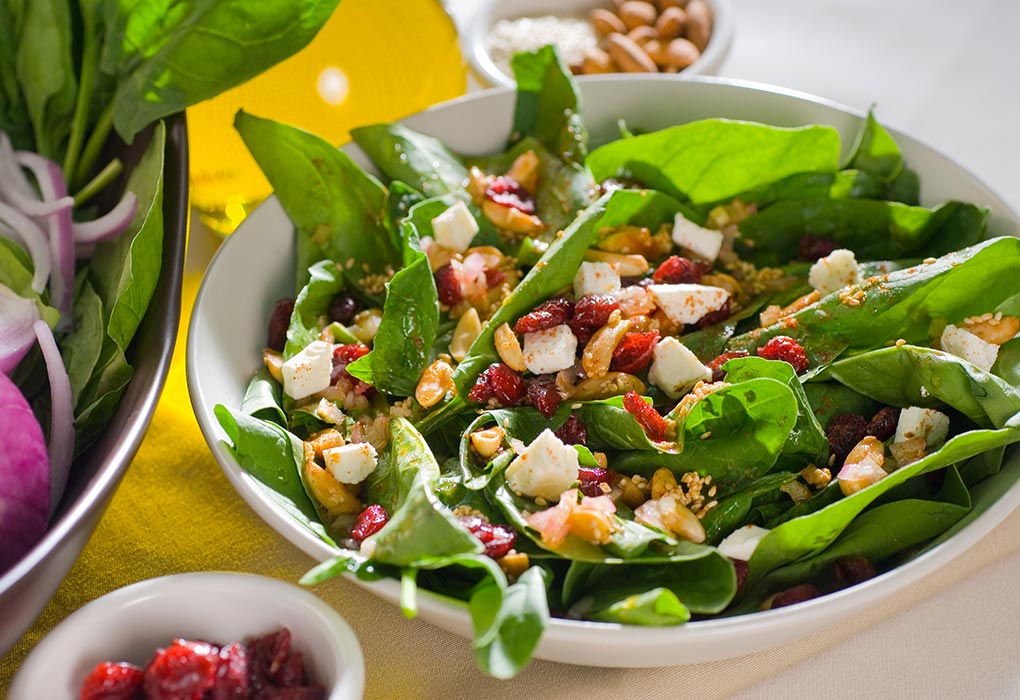 Ingredients
Spinach, two cups
Chopped celery, four tablespoons
Chopped kale, four cups
¼ cup curd
Lemon zest
Basil, finely chopped
Salt and pepper
How To Make
Mix spinach, celery, and kale in a bowl.
Add curd to it and mix well.
Add lemon zest and salt to taste.
Drizzle some pepper over it, mix well, and garnish with chopped basil.
Consume fresh.
4. Paneer and Chana Salad
This low-calorie salad is packed with Vitamin A and fibre.
Ingredients
Paneer, ½ cup
Boiled chana, ¾ cup
Tomatoes, ¼ cup, finely chopped
Lemon juice, two tablespoons
Salt
Pepper
Cumin powder
Coriander, finely chopped
How To Make
Take paneer cubes, chana, and chopped tomatoes in a bowl and toss well.
Add lemon juice to it.
Sprinkle salt, pepper, cumin powder, and toss again.
Garnish with chopped coriander and enjoy.
5. Fruit Salad
Eating a fruit salad can satiate all your sweet cravings during pregnancy!
Ingredients
Apple cubes, one cup
Chopped dates, ¼ cups
Banana cubes, ½ cup
Yoghurt, five tablespoons
Chopped raspberries, one cup
How To Make
Mix all the fruits in a bowl.
Add yoghurt to it and mix well.
Keep the bowl in the refrigerator for an hour.
Eat chilled.
Considerations
Vegetables coated with soil may carry the toxoplasma parasite and cause infections if you eat those veggies. The infection may be mild for you, but it can be harmful for the health of your baby. So, make sure to thoroughly wash your vegetables and fruits, and to peel them well where needed, before adding them to your salads.
FAQs
Here are some frequently asked questions about salads during pregnancy:
1. Can I eat pre-washed/refrigerated salad while pregnant?
As long as the salad is stored in an airtight container, it is safe to eat a pre-washed and refrigerated salad. Storing salads at room temperature can lead to bacteria formations, so avoid storing it at room temperature.
2. Can I eat raw salad during pregnancy?
Raw vegetarian salads can be eaten while pregnant, as long as all the vegetables are washed properly and are fresh. But, avoid consuming salads with raw meat, raw eggs, and uncooked sprouts.
3. Can I eat packaged salads in pregnancy?
It is all right to eat packaged salads during pregnancy, as long as they do not include raw meat or eggs, or heavy dressing. Also, eat it well before its use-by date.
It is said that four to six cups of fruits and vegetables are needed daily during pregnancy. Salads are the perfect choice to add these to your diet. So, indulge in these salads, and eat healthy. Have a happy pregnancy!
Also Read: Tasty & Healthy Indian Diet During Pregnancy
?>