Modern and Mighty Half Bathroom Ideas For Small Spaces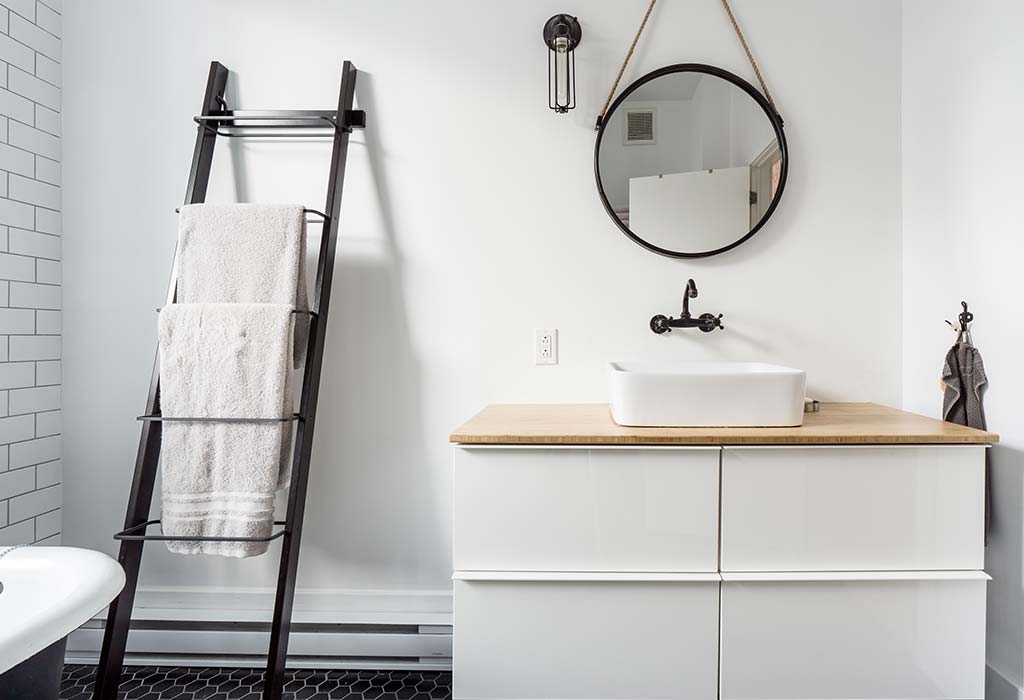 In this Article
Your half bathroom or powder room may be the smallest space of your home. But, it is also the most used room by your guests and you alike, so you need to make it look beautiful and stylish. However, the small space makes you wonder how it can be decorated to make it look unique. Don't worry – the small area of your half bathroom is an advantage as you can effortlessly try something new at a relatively low cost. There are endless possibilities to design your half bath to create a high-impact modern powder room. To help you decorate your half bath, we have listed some unique and stylish half bathroom decorating ideas. You can spruce up your half bathroom with any of these ideas to create a beautiful powder room…
Unique Powder Room Ideas
Here are some stylish powder room bathroom ideas to decorate your small half bathroom:
1. Contemporary Minimalistic Décor
When your half bathroom is tiny, adopt a minimalistic interior design instead of going for architectural changes or decorative fixtures. The black and white décor combination make the powder room look fresh and timeless. A sturdy marble basin with a black iron simple stand provides the storage space beneath the sink.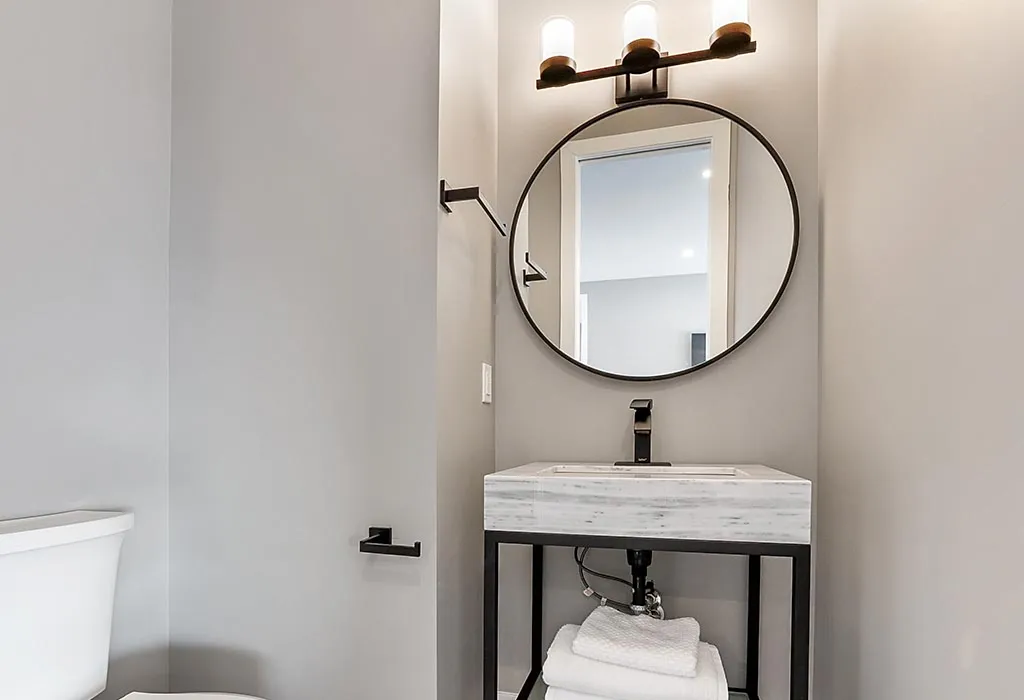 2. Statement Floor
Want to change the look of your half bathroom but don't want to make significant changes? Then, all you need to change are the beautiful tiles on the floor. With neutral walls and a minimalistic black vanity, your floor tiles will stand out.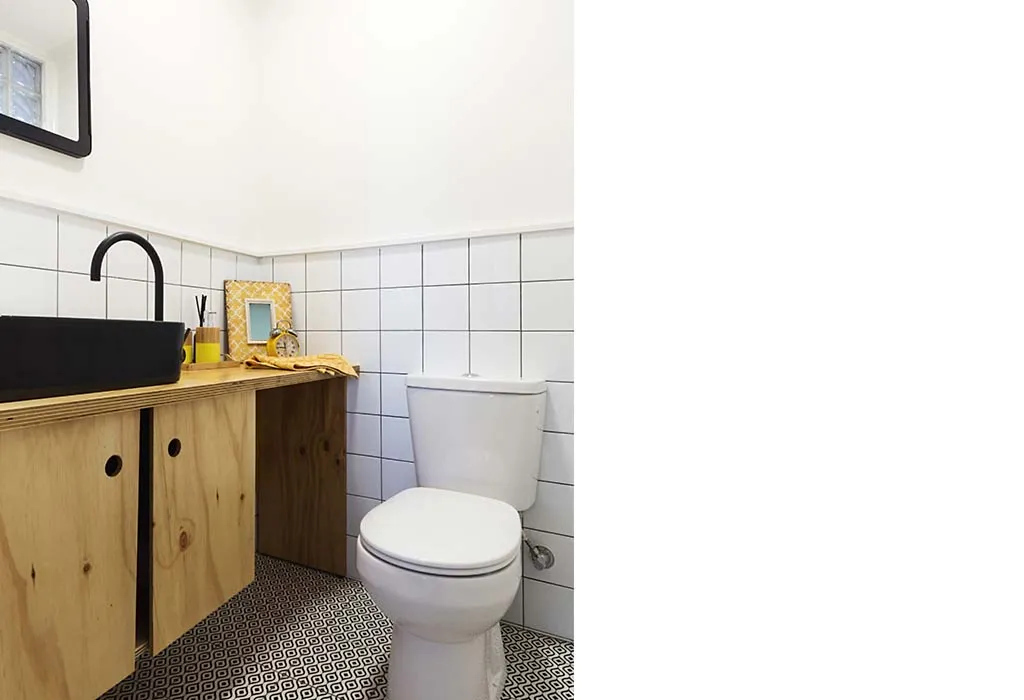 3. Statement Mirror
Mirrors are often unnoticed in large bathrooms, but they can change the décor drastically in a small half bath. A large, stylish mirror will make your simple space seem fancy. The floral-shaped mirror makes a style statement in the modern half bath and makes it look unique.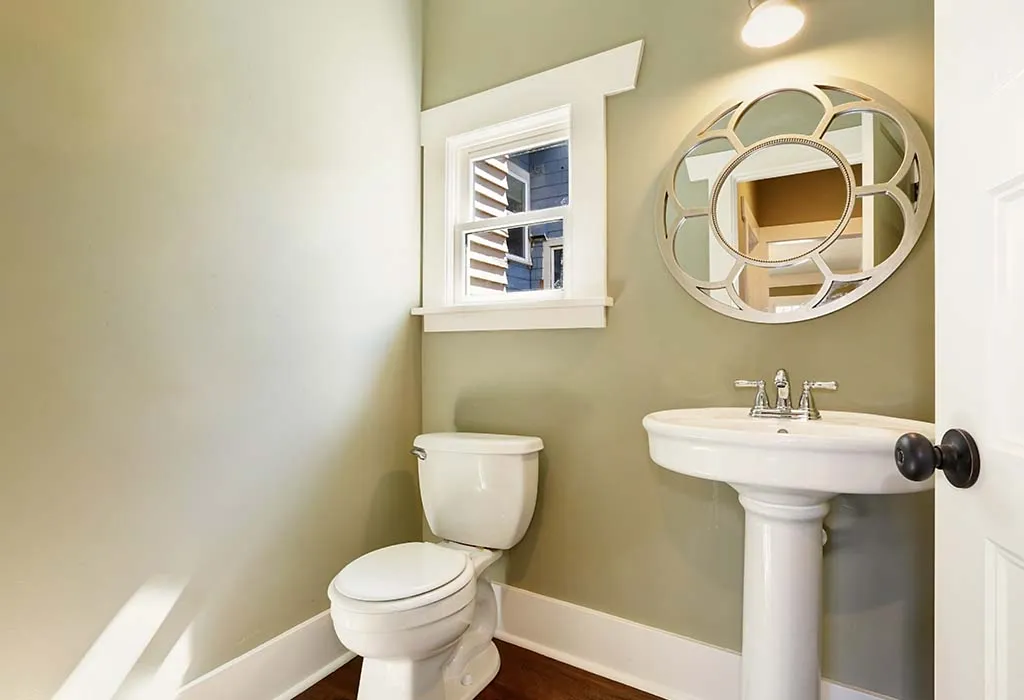 4. Large Window With Leaded Glass
To enhance the look of your half bathroom, install a large window. A large window with leaded glass can drastically change the look of your small space and make it appear larger. A wooden vanity with a small glass basin compliments the modern look.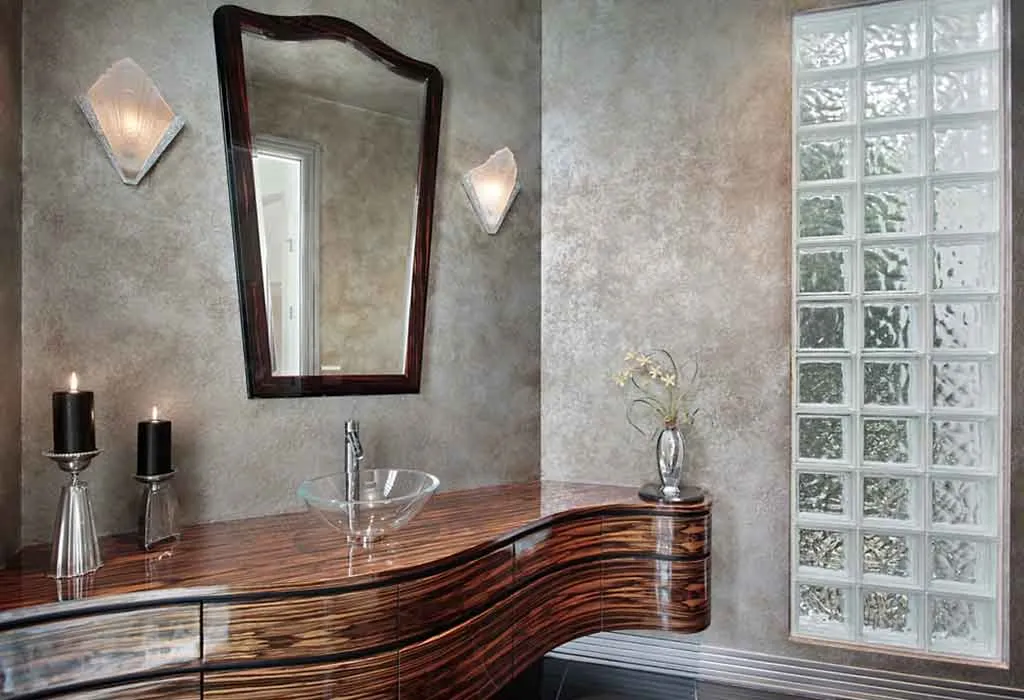 5. Go Metallic
Create a luxurious powder room by adding metallic accents to your half bathroom. The copper bowl sink, metallic faucets, towel hanger, gilded mirror frame, and light fixtures bring another level of dynamism to this half bath. With a red, oriental theme wallpaper and a beautiful chandelier, your half bath will look ultra-stylish.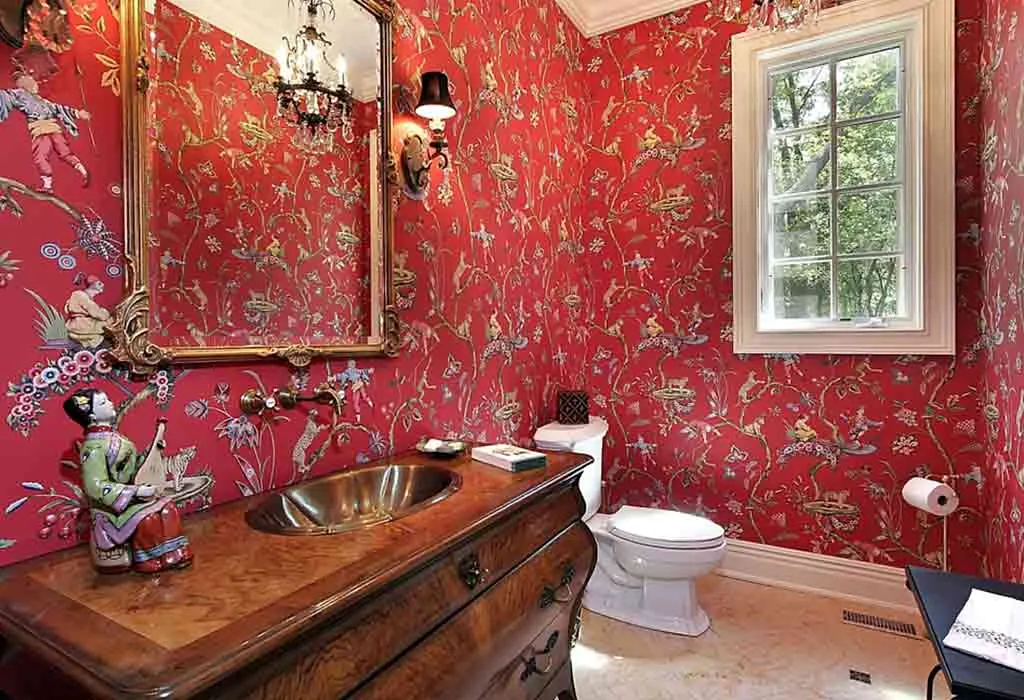 6. Use Stylish Wallpaper
Go for a Moroccan print wallpaper on the wall behind the mirror to add character to your small powder room. Such additions will create a small accent wall in your half bath, highlighting the space to make it look larger. The simple white and teal color scheme makes the half bath look elegant. A half-wall covered with white subway tiles blends well with the white basin.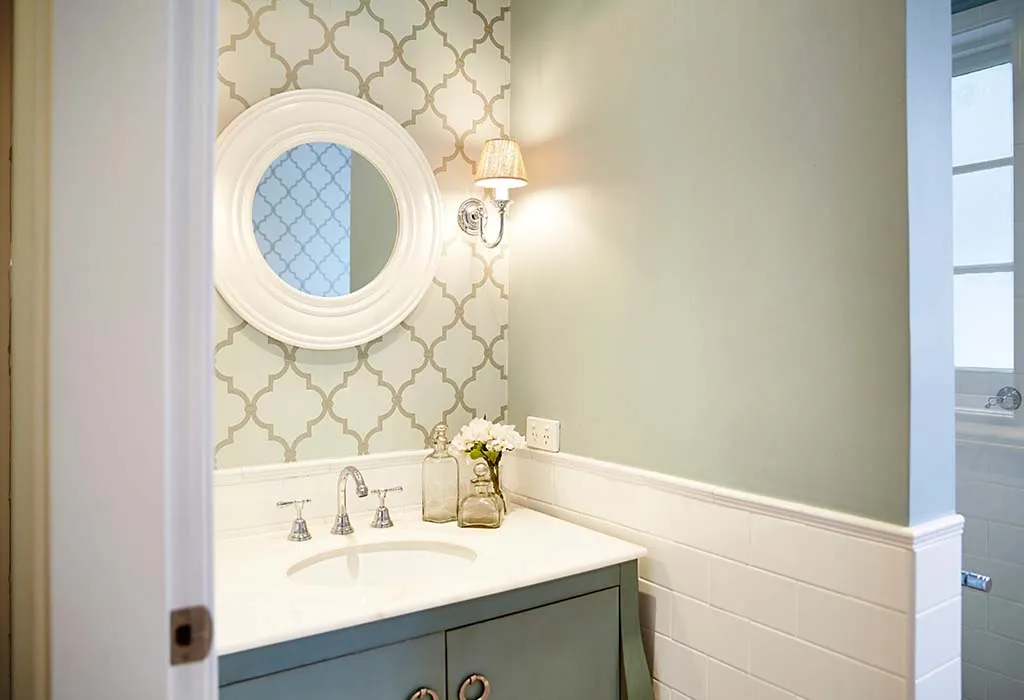 7. Style With Elegant Drapery
Add a luxurious feel to your half bath with elegant draperies in contrast to materials. The dark decorative fabric compliments the transparent cream drapes. Stylish tiles cover the entire walls to add to the classic charm. Ornate antique-inspired under-mount basin with a marble top gives a vintage look.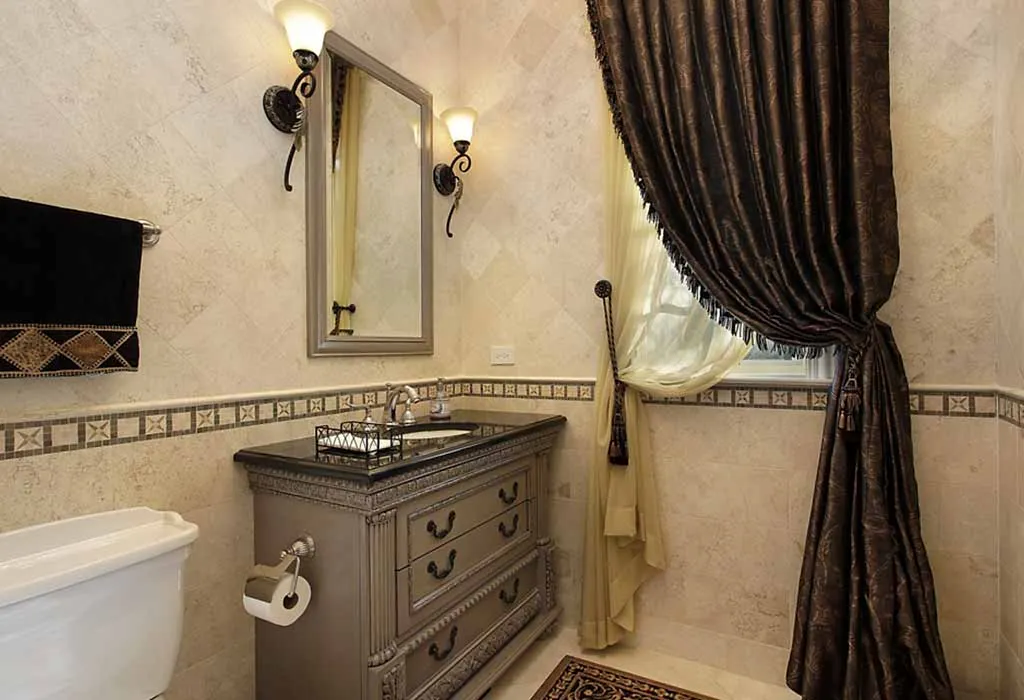 8. Frameless Mirror on Decorative Wallpaper
To make your small powder room appear larger, use a frameless mirror to reflect the decorative wallpaper from the opposite wall. The frameless mirror will not break the look of the wallpaper, making the space look expansive. Complimenting white molding on the bottom half of the wall with a pedestal sink adds to the contemporary style.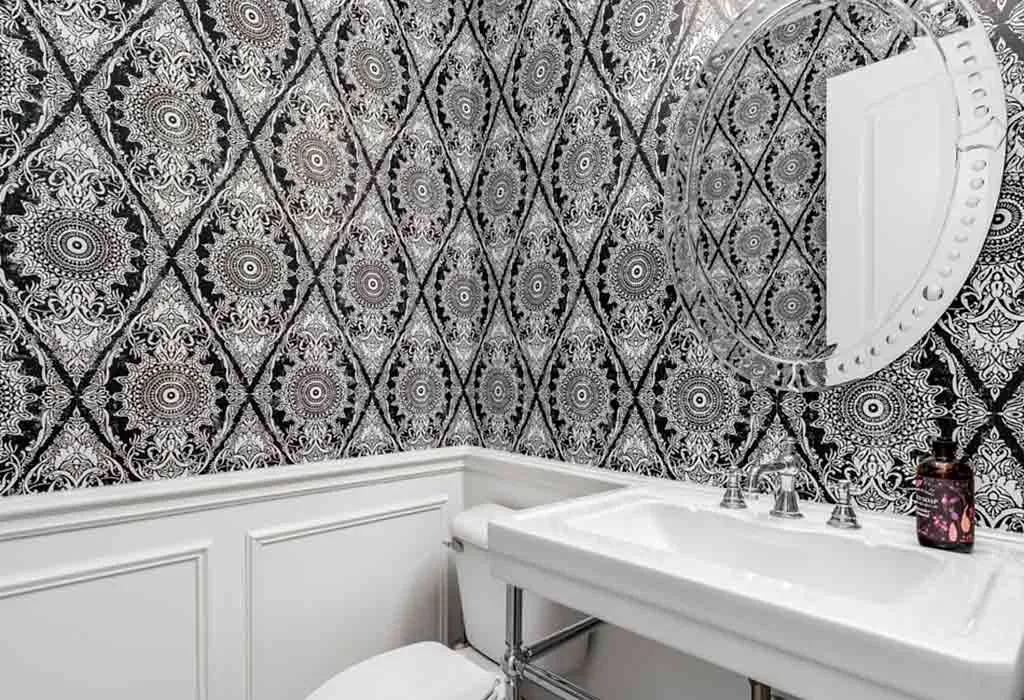 9. Tile it up
Tiles are a great way to give a contemporary look to your half bath. Cover the entire wall in tiles to add a splash to your small space. Use the same tiles in different alignments to visually separate the basin from the rest of the half bathroom. Differently aligned tiles underneath the window will also create an interesting wall. A simple white basin and minimalistic mirror enhance the contemporary look.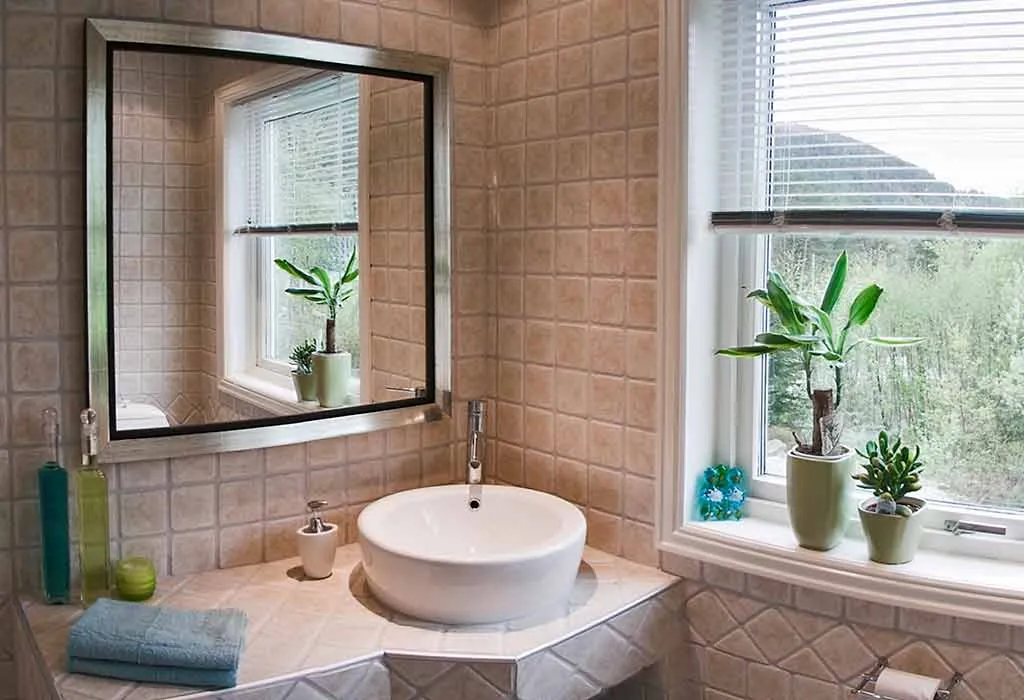 10. Mix Pattern Monochrome Décor
Black and white together create a timeless, elegant look. To add a fun element to the black-n-white half bath, use mixed patterns. Divide the walls in half and use decorative wallpaper on the upper half with the lower half in contrasting striped tiles. In this manner, the solid white basin and solid black rug balance the decorative wallpaper.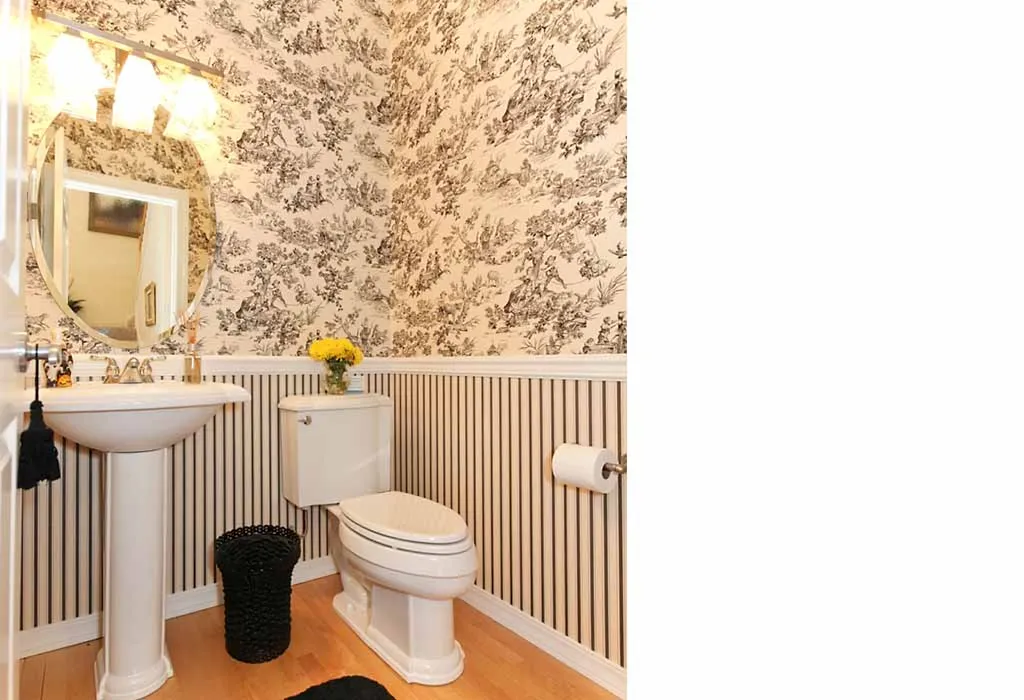 11. Vintage Style
Decorate your modern half bathroom in vintage style for a unique look. Stylish tiles on the walls and floor together create a cohesive look. The simple mirror fitted in the wall is lined with a tiled frame to compliment the look. A simple pedestal basin enhances the vintage look of the half bath.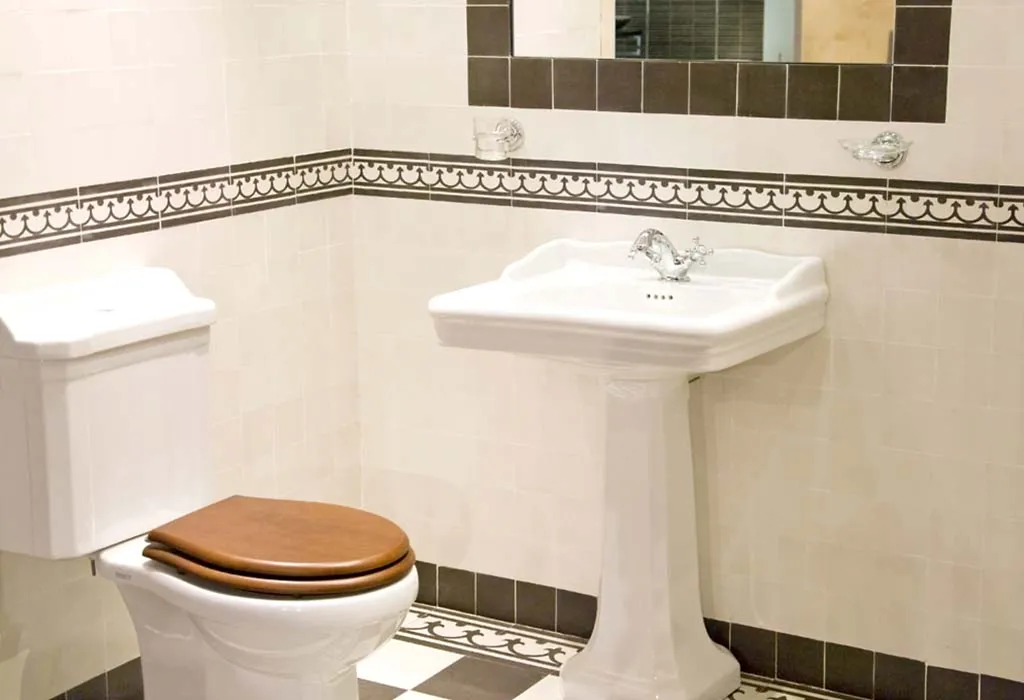 12. Go All White
For a high-impact minimalistic powder room, go all white. The all-white color scheme is more impactful when the space is small. The simple décor with a white ceramic bowl and sink, white wooden framed mirror, and a small white cabinet will make your small space look expansive.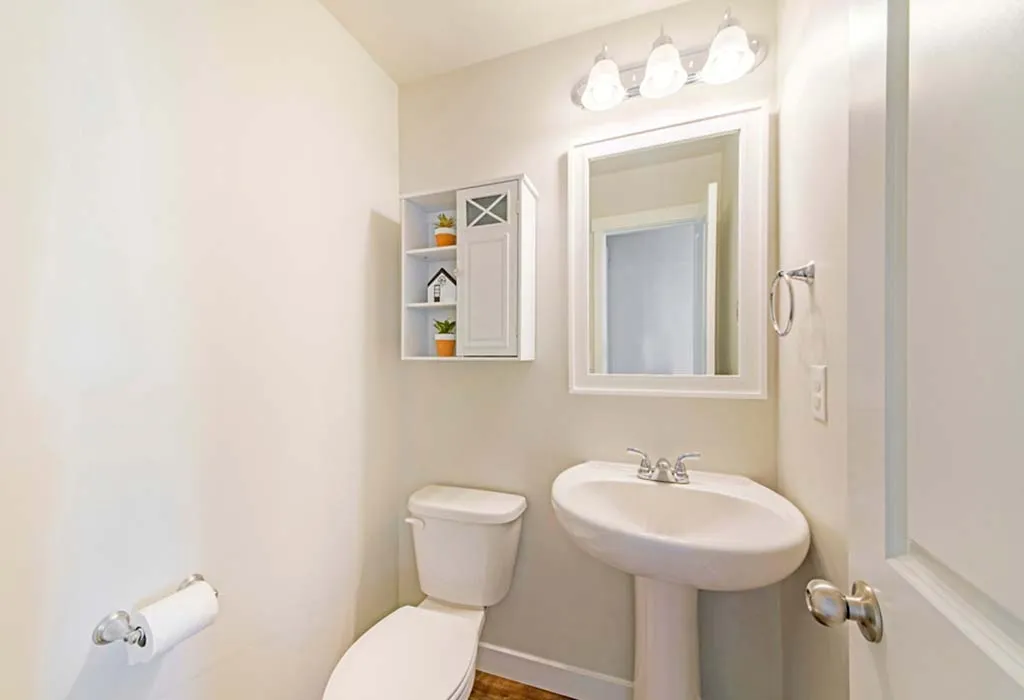 13. Modern Wash Basin
One of the many perks of a half bathroom is that you need not limit yourself to practicality when decorating. Use a modern glass washbasin to add a creative touch to your half bath. This simple washbasin saves space and makes the half bath look larger than it is. Decorate the walls with tiles to amp up the décor. A statement mirror adds to the contemporary look.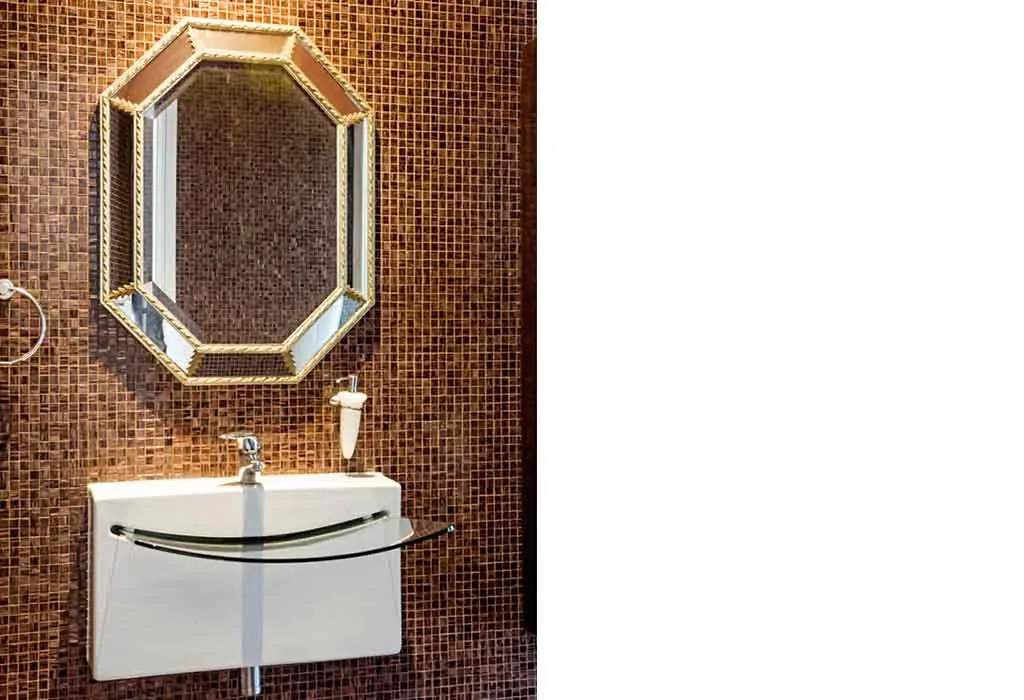 14. Go For Two-Tone Walls
Two-tone walls can visually make a small space appear larger. Use neutral subway tiles on the bottom half, with the upper half painted in a bold green color. You can also go for wooden planks on the upper half.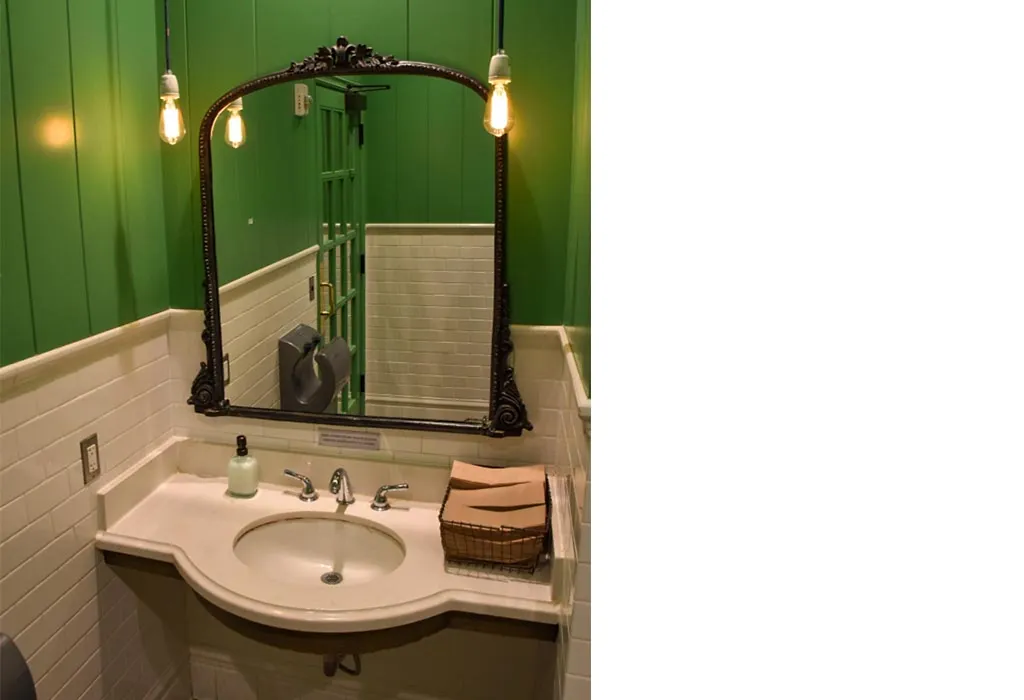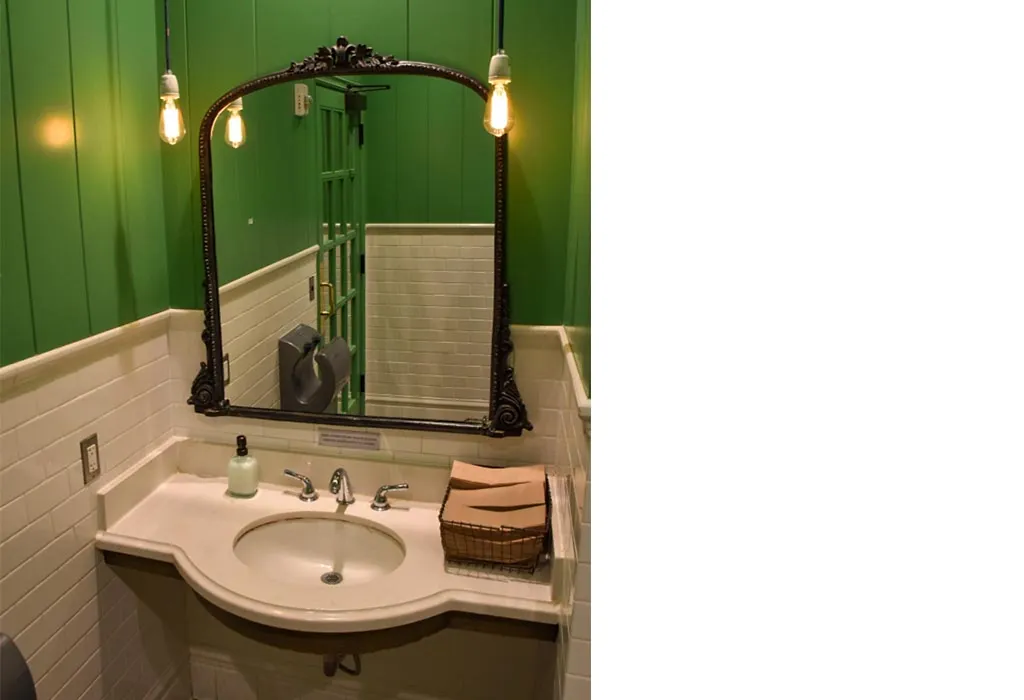 15. Go For Wooden Paneling
To add architectural details to your small powder room, go for wooden paneling. A simple wooden panel feature on the walls will enhance the modern look by many folds. Use wooden panels to a higher level on the wall behind the sink to visually separate the space behind the mirror. A white color scheme will make the small area look significantly larger.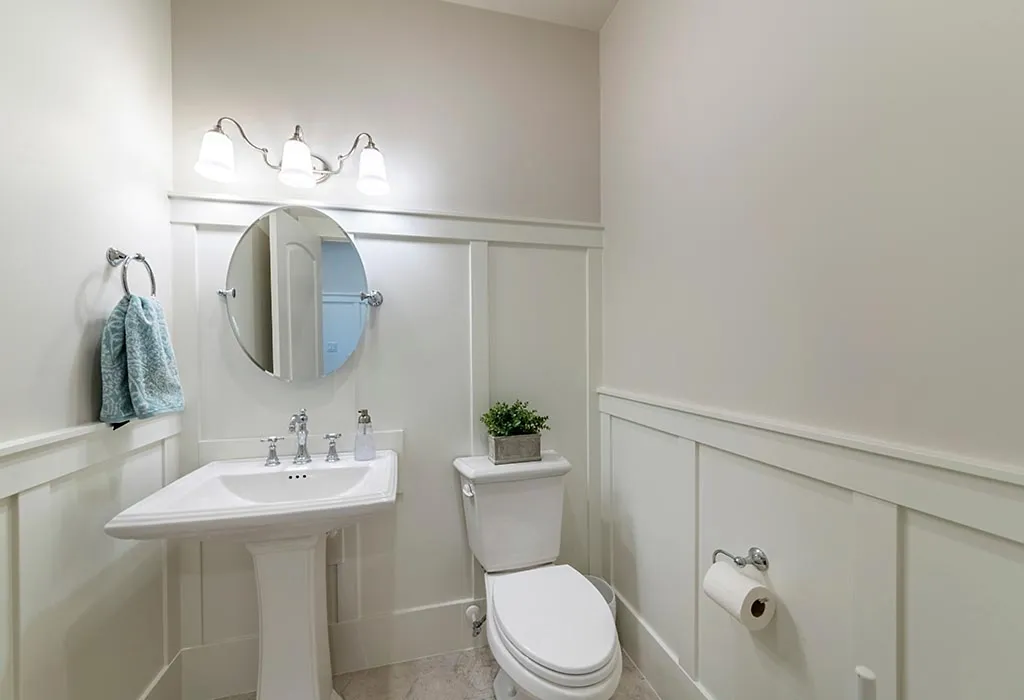 16. The Wooden Cabinet Underneath The Countertop
To add space to your small half bathroom, utilize the basin's underneath space. The contemporary sink with a dark brown countertop enhances the light brown walls.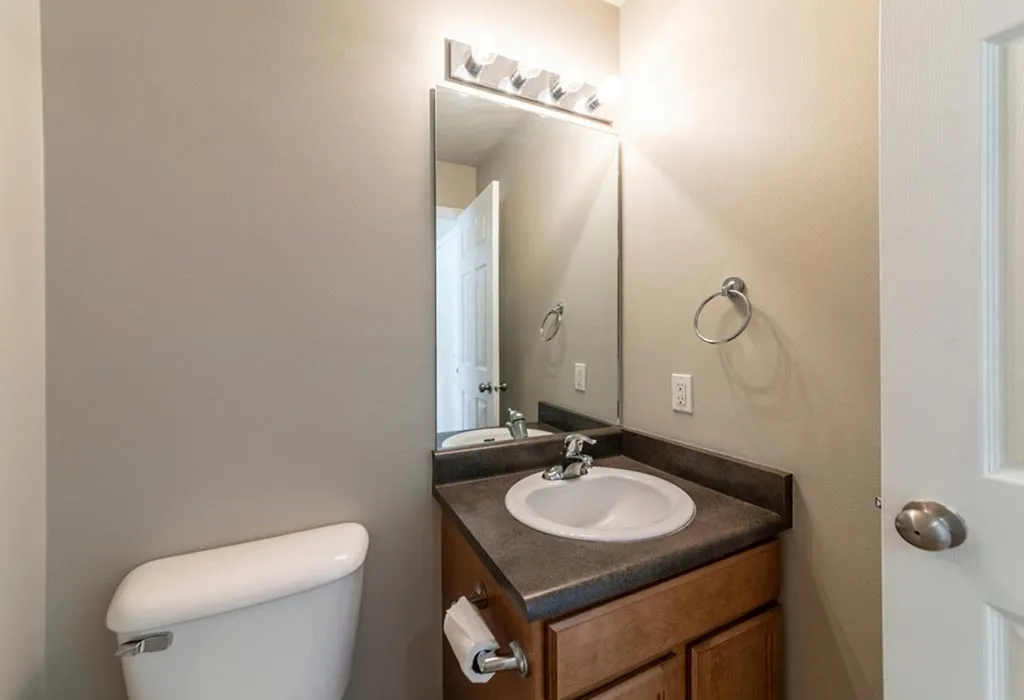 17. Simple Accent Wall
Too much color in a half bathroom makes it look smaller than it is. However, adding a bit of color can make it look stylish without visually compromising the space. Add blue wooden planks on one wall to create a simple accent wall without overdoing it.
18. Go For Gold Hardware
Don't want to drastically change the décor of your half bathroom but still want to give it a modern and bold look? Then all you need to do is change the hardware to gold-colored ones. Gold brackets, faucets, handles, and towel holders will upgrade the decor without any architectural changes.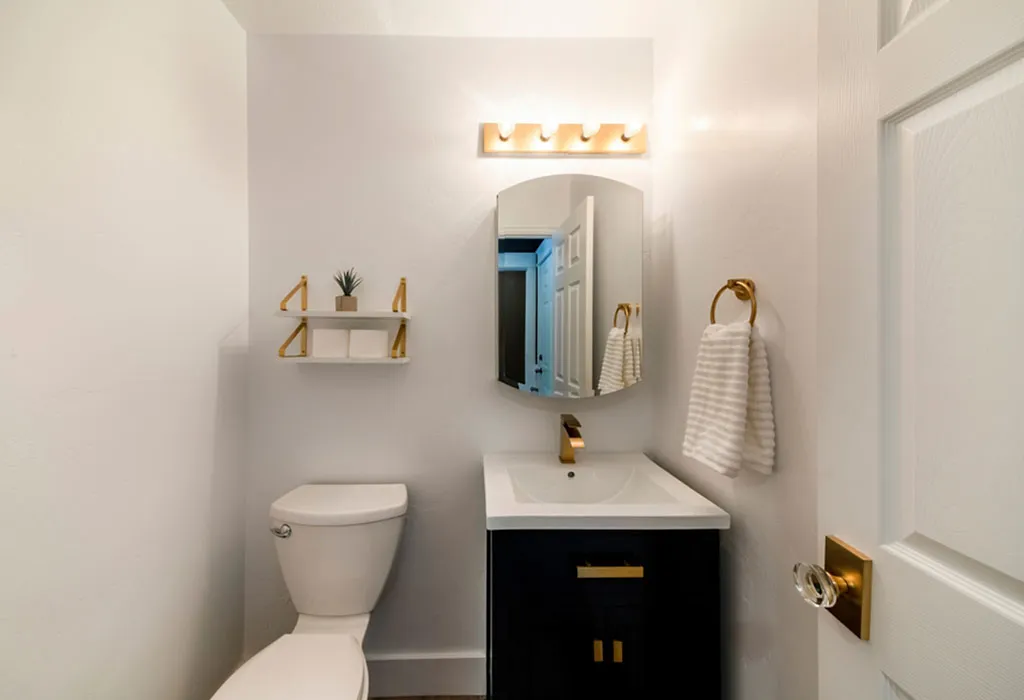 19. Wooden Cabinet
Add a rustic touch to your modern half bathroom by replacing the storage cabinet with a wooden cabinet. The wooden cabinet will completely alter the look of your powder room and add a rustic charm to it.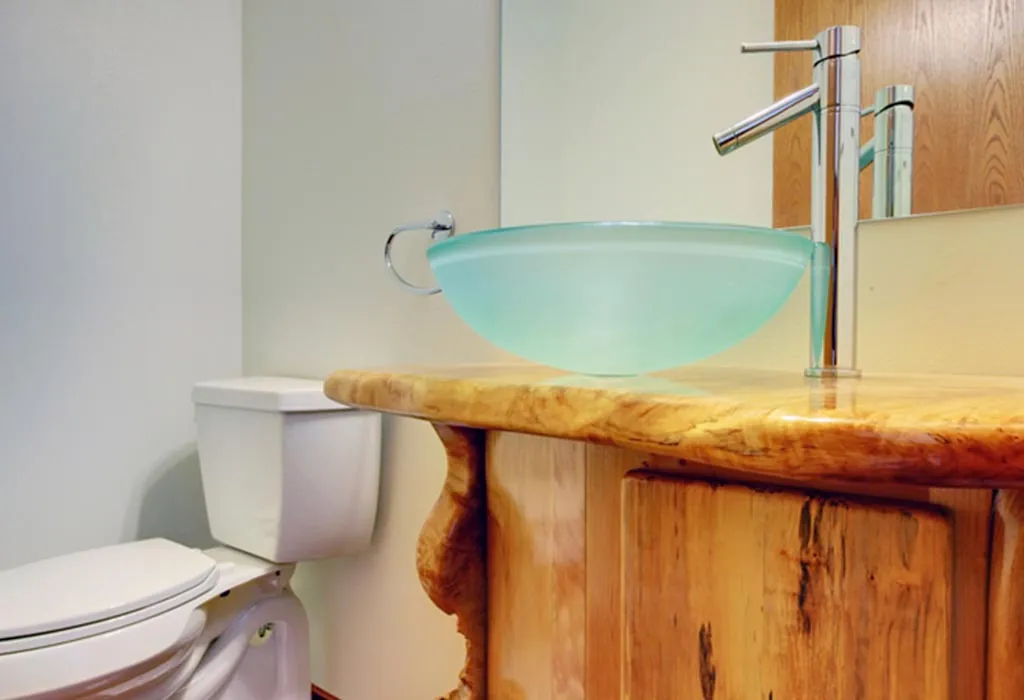 20. Minimalistic Decor With Floating Sink
Adding a floating sink to your half bathroom frees up the underneath storage space and creates more visual space to make your small area appear prominent. Marble herringbone tiles add a clean and stylish look to the half bath.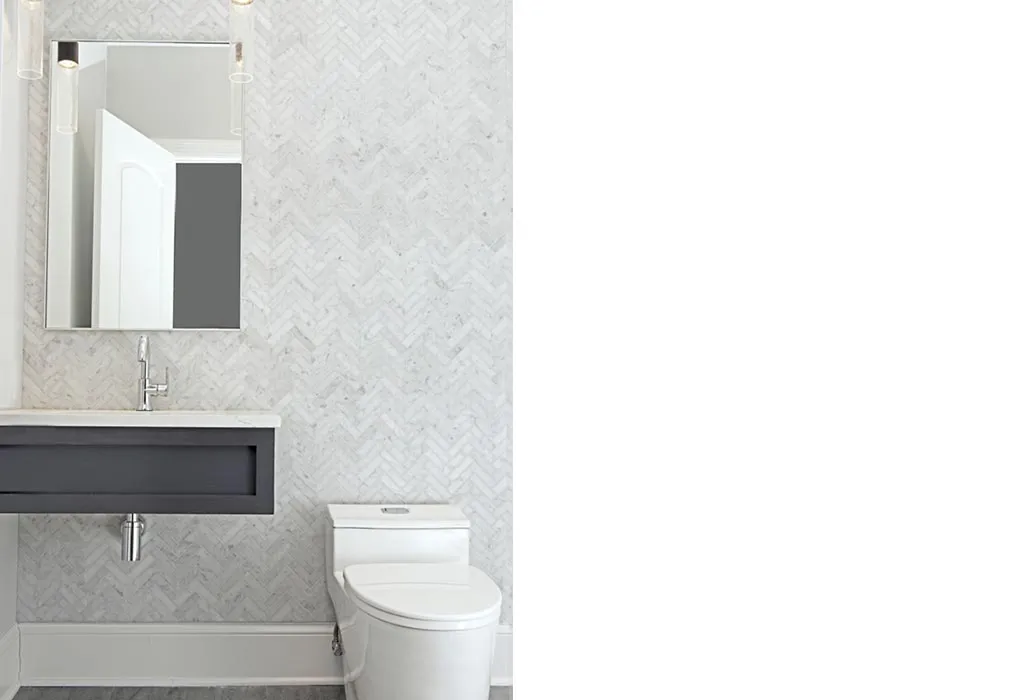 You can make your small half bathroom the focal point of your home by simply changing its décor. Spruce up the small space with any of the above-decorating tips to make your half bathroom look stylish and contemporary.
Also Read:
Best Ways to Organize Your Bathroom
Best Plants To Keep Your Bathroom Fresh
Innovative Bathroom Ideas for Your Moppet