10 Best Ways to Organize Your Kid's Closet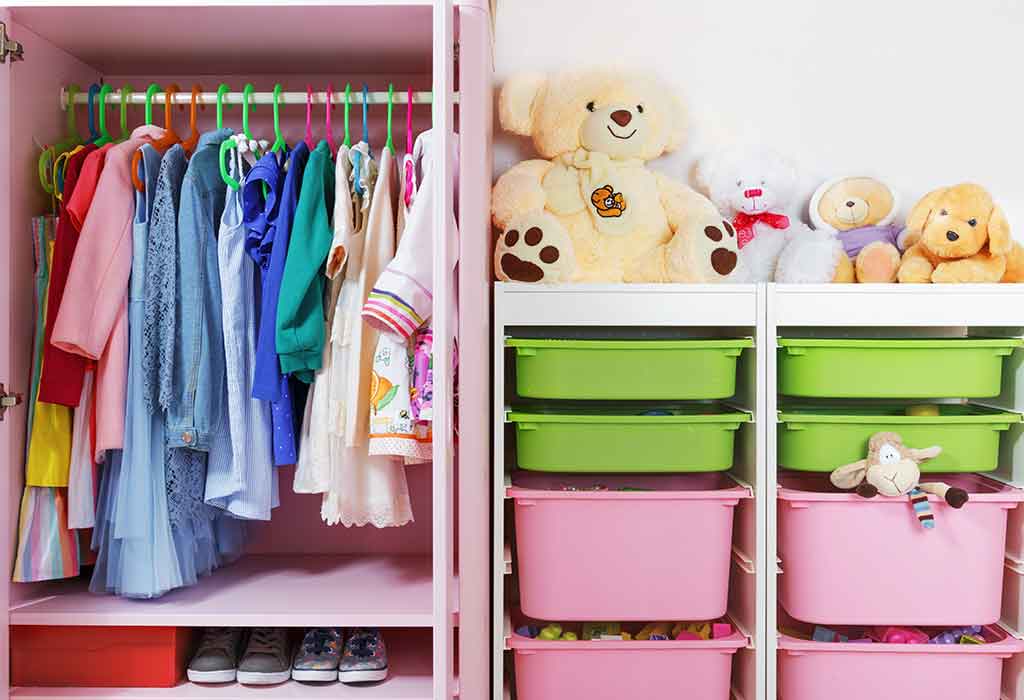 In this Article
A tidy and streamlined closet can keep you from losing your mind, not to mention your child's clothes. Imagine how a peaceful morning would be when you have found every piece of your child's favorite garment and pair of shoes without a meltdown or dress-up battle. Intelligent and creative kid's clothes storage ideas help to achieve that goal in an organized way.
Kids Wardrobe Storage Ideas
Most children's rooms can be in a perpetual state of a mess as they typically leave their belongings strewn around, piled on the floor, cluttering up in the corners or under the bed where they are hidden from sight. Keeping a child's closet organized can be a nightmare and a never-ending struggle for parents who either procrastinate or give up this task as it appears, daunting, time-consuming, and stressful exercise. The ideas of kid's closet organization need to be customized as per their age and requirements. Moreover, they own a wider variety of items to store like a collection of books, stuffed animals, sports gear, clothes, and shoes that need to be kept in accessible places where it is easy to find. You may want to build a wardrobe based on season-specific clothing, the latest fashion trends, and styles. Moreover, smaller rooms need creative ways to find space for each item. With thoughtful planning before your baby arrives, you can create a flexible and smart storage system that can accommodate everything your little one needs with room for a future teenager's specific needs. Spending a little bit of money up front to keep your kid's closet organized will pay dividends in time. Here are some brilliant ideas of how to organize kid's closet to get a balanced home that allows us to spend some quality time with them.
1. Closed Drawers
Large built-in drawers at the bottom for quilts, sheets and smaller narrower ones on top for accessories offer a nice clean look to any closet space. Closed drawers encourage organization as each of them have their own designated purpose. In case there are none, incorporate cubbies that can store essentials for easy grab-and-go. Mark each drawer with clothes-shaped vinyl stickers or for visual convenience of selecting items.
2. Store on the Door
​Store on the door tools creates storage space on a surface that isn't normally used for storage. So if your teenage child has too many hats, purses, scarves, and even stash belts, just hang them up on the hooks, baskets, and even a magnetic bar on the inside of a door. Art supplies, gift wrap, grooming accessories, school stationery notebooks, stored in transparent bags hung on over-the-door pocket organizers to enable them to spot them quickly.
3. Step up Stool
Most closet shelves are at an adult height, making it difficult for children to put things away on their own. By keeping a small up stool next to the closet, children can easily reach their clothes without pulling down from hangers or folded piles of clothes.
4. Clothes Organizer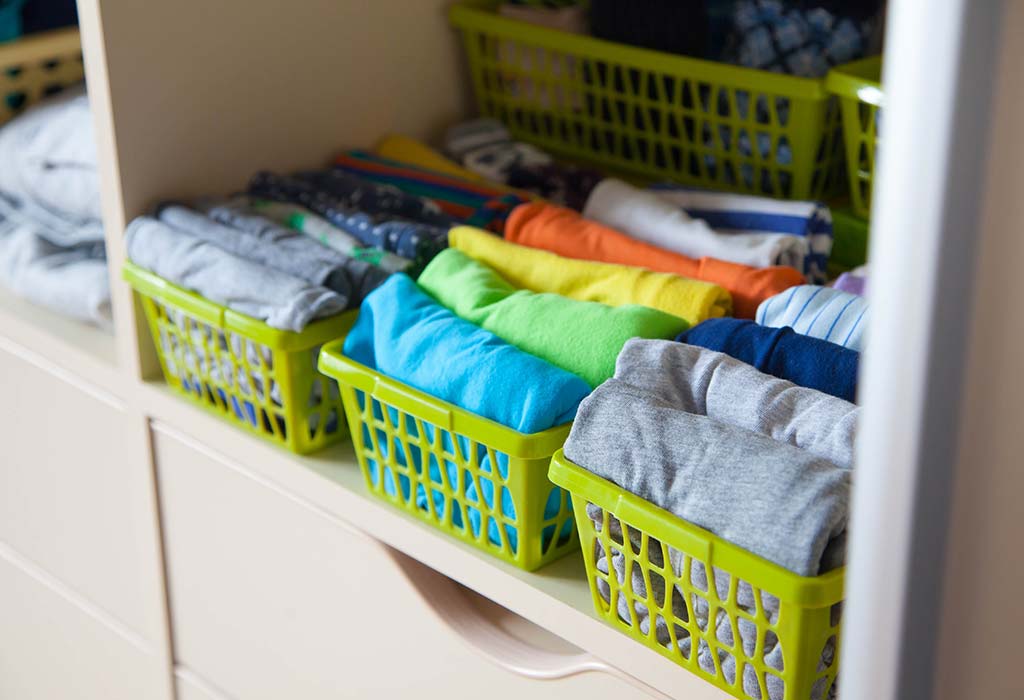 You can get a kid's clothes organizer or a hanging shelf organizer to stock their compartments for organizing kid's clothes. Plan and let your child pick their choice of clothes that they wish to wear through the week.
5. Keep Dirty Clothes in a Hamper
Encourage the habit of putting soiled clothes in a hamper that may have a silly cartoon on it. Kids would enjoy feeding this monster without realizing that they are engaged in segregating cleaned clothes from dirty ones.
6. Shoe Storage
An alternative to traditional shoe racks for kid shoe storage can be open shelves, door hangers, and stackable plastic baskets. Put a shoe shelf or bench in the closet to utilize the floor space. Use storage bins for out-of-season shoes.
7. Second Rod and Rod Extender
An additional closet rod will provide a whole new row of space for hangers to maximize storage and serve the practical purpose of choosing clothes. A rod extender may also help to add hanging space on the side to hang longer pieces of clothing as the child grows.
8. Use Storage Bins, Baskets and Containers
Clear containers with or without lids can be used to store teethers, rattles, bows, and headbands if your child is a baby. The bins can be organized according to similar or seasonal items. Glass jars can be avoided or kept out of reach for toddlers to avoid any accident—store small everyday utility items like socks or undergarments in small plastic crates. Colorful plastic baskets can fill open shelves of your closet so that young toddlers can start segregating clothes as per their color and sizes. Decorative pre-printed labels, labels with pictures of contents assist early readers in word recognition while teaching them the habit of returning things to their proper place.
9. Divide Items Into Categories
Dividing items from the closet into categories can be considered ruthlessness, but it's worth the effort. Use large bins and extra-large trash bags to make separate piles for each item. Consider your child's current size, age, sex, and season. Give away items that too worn out to store the ones in good condition but big for future use, or keep them away as hands-down for younger siblings.
10. Toys
Toys can be heavy and often take up maximum space in the closet. Invest in clear containers of different shapes so that you can sort toys according to their size and type. Mark each bin clearly from the outside and keep the heavier ones at the bottom of the closet so that children can pull them out easily. Decide on a jungle theme activity to hang stuffed animals all around the closet with painted ropes when they aren't being played.
By involving young children in closet organization, you can not only make their room clutter-free but builds on their schedule making and strategic planning skills. This clean-up project can be a part of their weekly routine that they look forward to as you have fun working together. By picking out their choice of bins and baskets and decorating them, they get a chance to give their room a more personal touch while expressing their creativity.
Also Read:
List of Fun Creative Activities for Kids
Useful Tips to Organize Baby Clothes
Tips on Keeping Your Kid's Room Clean