15 Best Book Series For Kids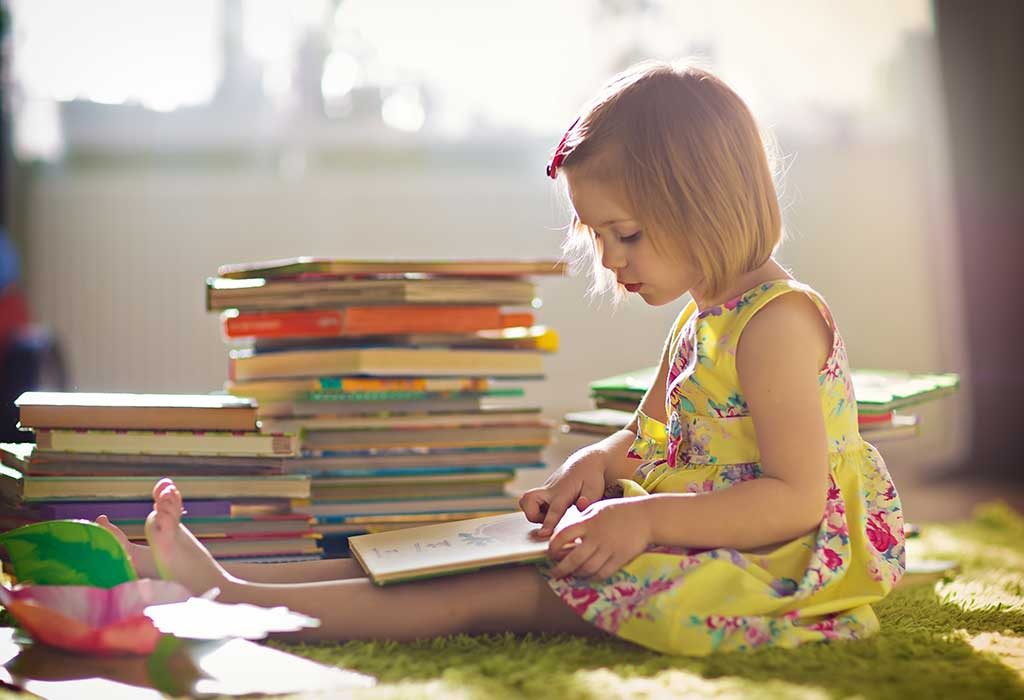 In this Article
Reading is the cornerstone for one's life. Reading skills benefit children academically and also gives them a skill for lifelong success. Reading develops vocabulary, increases concentration and promotes their ability to think analytically.
The key to encourage reading in kids is to read to them at home from a young age. By reading together, kids learn the joys of reading and develop the motivation to cultivate the habit. But, there is something that is better than a book – A whole series of books where toddlers, kids and teenagers can follow the characters and the storyline through a series of adventures from distinct experiences, solving crimes or a life in a school.
With the book series, children can literally live the characters and follow the narrative from one book to another. The curiosity element is what makes book series extremely popular. Children laugh, cry and share the emotions of the characters as they follow the script with careful detail. There are several popular kids book series that your child will love. From the Curious George series to Hunger Games, we present a list of some all-time favourites for kids and teenagers. Read on to find out which one is appropriate for your child to get him/her to go on a reading spree!
Engaging Children's Book Series
A great book series has the potential to turn even the most reluctant reader into a book worm. Just visit the book store or your communal library and pick one of these series.
1. Curious George
Author: H. A. Rey
What Makes It Interesting
Curious George is about a mischievous little monkey who lives his life with his best mate, the Man with a Yellow Hat. Kids will ask why this Man with the Yellow Hat wants to drive George, the monkey from his habitat. But they will also enjoy the quirky antics. It is a classic children's book series that will raise the curiosity levels of kids. The book series is ideal for inquisitive and curious kids.
2. George and Martha
Author: James Marshall
What Makes It Interesting
George and Martha are best friends and hippopotamuses. This kids book series with bite-sized stories is ingenious and sly with a wry sense of humour. Simple yet educational, the stories teach valuable life lessons in a funny manner. They don't seem didactic, and every story stresses the importance of being a great friend. It is perfect for kids who love animals. It is perfect for early readers who have just begun to enjoy reading with their parents.
3. Clifford the Big Red Dog
Author: Norman Bridwell
What Makes It Interesting
When the central character Emily first gets Clifford, he is a tiny puppy. Then, Clifford grows bigger than the house. The series begins with Clifford, the Big Red Dog, and traverses the journey of Emily and Clifford via sleepovers, holidays, school, trips and many more adventures. The series spans over 50 years and consists of 75 books and is a good book series for kids because of its cartoon illustrations and interesting storylines. It is all about a gentle red dog who never fits into a regular dog kennel. The book has been adapted to a movie, too. It is ideal for kids who love pets.
4. Winnie-the-Pooh
Author: A. A. Milne
What Makes It Interesting
Inspired by the author's son and his teddy bear, this adventure tale set in the Hundred Acre Wood has been wooing kids since 1926. The original and its sequel "The House at Pooh Corner" follow the bubbly Pooh, clever Christopher Robin, timid Piglet, silly Tiger and their animal friends through a series of adventures. It's a great book series for reading aloud for children in the age group of 4 to 6 years. And, it is perfect for kids who would love to see their stuffed toys come to life.
5. The Magic Treehouse
Author: Mary Pope Osborne
What Makes It Interesting
A widely popular book series, this award-winning collection of about 47 books and still counting consists of some magical characters. It is about the central characters Jack and Annie who stumble and discover a Magic Tree House where they can pick up any book- about pirates, ninjas, Shakespeare, tornadoes, King Arthur's court and magically, enter that world. It is a book in a book and is a page-turner. An encyclopaedia of information into world literature, culture and history. It will appeal to any child who loves time-travelling to the greatest moments in history.
6. Amelia Bedelia
Author: Peggy Parish
What Makes It Interesting
Amelia Bedelia is a blundering maid who takes everything literally. Started in 1963 by a teacher for third grade, this hilarious book has gone through different illustrators and two authors. It manages to portray the image of a haphazard yet happy maid every time. The casual language will help children gain confidence and learn a lot about literal and figurative speech.
7. Diary of a Wimpy Kid
Author: Jeff Kinney
What Makes It Interesting
The Diary of a Wimpy Kid book series is an adolescent boy's journal of his life. A banal and painful script of the boy's life written at the insistence of his mother. From being forced to wrestle in PE to having his graffiti painted on his house by bullying high-school kids, the series is a simple, humorous yet artfully conceived graphic novel. Children will associate with the dark humour of middle school anxieties and trauma.
8. Harry Potter Series
Author: J.K Rowling
What Makes It Interesting
The first three books of the series introduce us to Harry Potter who discovers he is a wizard at age 11. He goes to study at the Hogwarts School of Witchcraft and Wizardry. As he settles into his school life, he forges new bonds with his peers and a strong bond with his headmaster, Albus Dumbledore. As Harry grows, the series gets more complex, making it interesting and a great series for kids to grow with.
9. Percy Jackson and the Olympians
Author: Rick Riordan
What Makes It Interesting
The central character, Percy Jackson thinks his bad temper and dyslexia have bought ill-luck to his life. However, after his maths tutor turns into a monster and tries to kill him, he learns that his quirky traits are his strength. A demi-God (half-mortal and half Greek God), Percy must use his newfound powers to save the world from mythological monsters. A mystery book series, readers will connect to Greek mythology and get a great thrill out of the new take on heroes and villains.
10. Big Nate
Author: Lincoln Peirce
What Makes It Interesting
Big Nate believes he is destined to become famous for his abilities in middle school. But this 11-year-old adolescent often manages to get himself into trouble. But a stroke of bad luck is not enough to keep this sixth-grader quiet. The eight-book series is based on a comic strip and takes a milder approach to common problems faced by adolescents in middle school.
11. The Baby-Sitter's Club
Author: Ann M. Martin
What Makes It Interesting
The book is about a close-knit group of middle-school girls living in the fictional town of Stoneywale in Connecticut. They start their own babysitting venture, and the series takes the reader through their trials and tribulations which strengthens their friendships. The poignant portrayal of adolescent girls is relatable and emotionally appealing. Suitable for girls over the age of 10 who start to become obsessed with clothes, looks and boys.
12. The House of Earth trilogy
Author: Pearl S Buck
What Makes It Interesting
A Pulitzer Prize-winning novel, this series begins with The Good Earth, and the trilogy depicts the life of Wang Lung. As China experiences a culture shift from ancient dynasties to a modern world, Wang Lung and his family experience peaks and troughs in fortune as they struggle to come to terms with a new way of life. Moving, emotional and memorable, this trilogy is a classic that helps to experience different eras.
13. Tomorrow Series
Author: John Marsden
What Makes It Interesting
The series is about Ellie and her friends who wage war on the enemy soldiers who invade their town and how they regain a normal functioning life after the psychological damage sustained during the war. The series focusses on the rebellious group of teenagers, who begin their fight for freedom as the world around them crumbles. This series sparked the dystopian future craze and is a teen favourite since the first book was published in 1993.
14. Hunger Games Trilogy
Author: Suzanne Collins
What Makes It Interesting
Another series of young adult dystopian novels, the series follows the young Katniss Everdeen. It tells the story of what once was North America, the Capitol of Panem, that maintains its hold on its 12 districts. It forces each of them to select a pair of boy and girl called Tributes to compete in a nationally televised event called "Hunger Games" where they fight for survival. Katniss Everdeen from District 12 relies on her hunting skills and razor-sharp instincts to survive.
15. Miss Peregrine's Home for Peculiar Children
Author: Ransom Riggs
What Makes It Interesting
This series is a contemporary fantasy novel about a boy named Jake, who is fascinated with his grandfather's stories. The grandfather leaves him a clue to a mystery that spans across different times and worlds. He discovers a magical place where he learns the special powers of the residents and their enemies. Jake goes on to discover his own strength that can save him and his friends. The narrative in the vernacular and photographs from personal archives engage the reader and take them to a surreal world.
Reading is the best gift parents can give their child. Gift your little one any one or all of these series, and they will be grateful to you forever.
Also Read:
Sci-Fi Books for Children
Poetry Books for Children
Historical Fiction Books for Children