10 Fascinating Fairy Books For Kids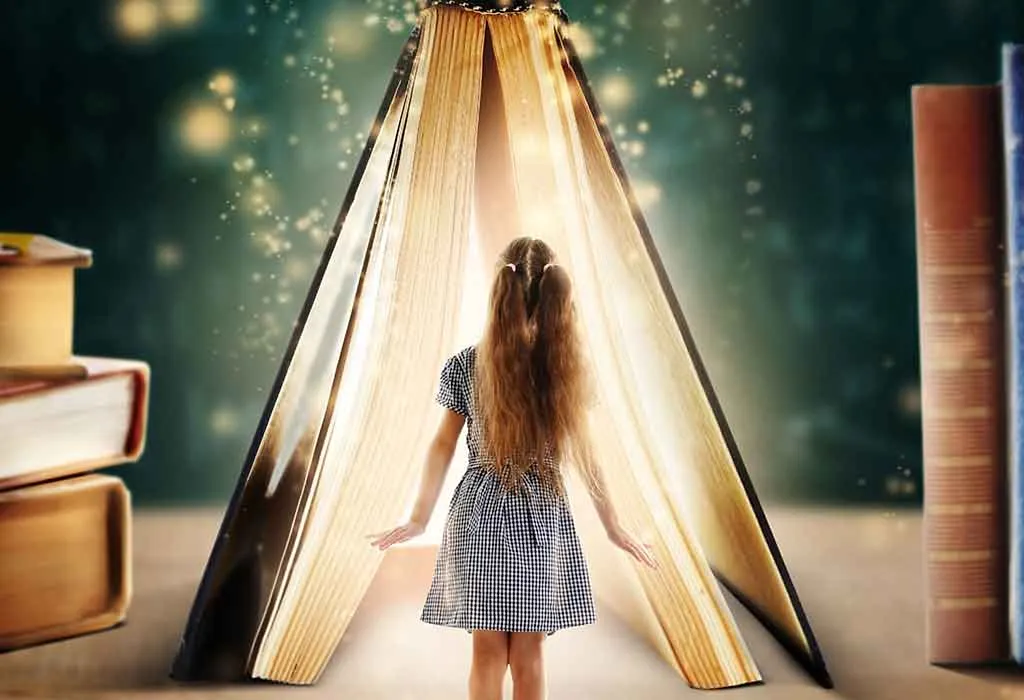 In this Article
Fairy tale books for toddlers are a great way to help develop your kids' habit of reading. The whimsical world of fairies fascinates both adults and kids alike. The fairies and their magic, along with an adventurous plot, successfully captivate children. Kids, whether toddlers or preschoolers, are quickly engaged by fairy tale books. The fairy tale books for kids take them in a magical world and sprinkles a little fairy dust in their imagination, and the best part is these books teach them some valuable lessons in a fascinating way.
Here are 10 of the best children's fairy tale books that will keep your kids entertain and engaged throughout the reading session and have them asking for more.
Interesting Books About Fairies For Children
1. Little Red Riding Hood
The Little Red Riding Hood is one of the classic fairy tales out there and needs no introduction. The story is centred around a young girl named Little Red Riding Hood and her encounter with a big bad wolf.
Author: Charles Perrault
What Makes It Interesting
The story can be traced back to the 10th century with many versions. Charles Perrault's version is the most popular one today. It follows an interesting plot about a young girl with a red cloak who travels through the woods on the way to meet her sick grandmother. The events turn dangerous when she encounters a bad wolf who plans to eat her for himself. The story is a little scary, but a classic one that shouldn't be missed.
2. Fairy Friends: A Colors Primer
The book introduces us to the whimsical world of fairies. Yellow, Purple, Pink, and Orange fairies are the colourful fairies who take you into their artistic world.
Author: Merrilee Liddiard
What Makes It Interesting
The book tells the tale of different fairies that come in different colours. 'Fairy Friends: A Colors Primer' will encourage your child's imaginations and will help enhance their colour identifying skills too.
3. The Complete Book of The Flower Fairies
The book is a collection of all the editions of the author's fairy books, including Garden fairies, Tree fairies, and Wayside fairies.
Author: Cicely Mary Barker
What Makes It Interesting
The book is a complete collection of all the fairy books by the author and combines poems and original illustrations. The book features fairies of all kinds, including Garden Fairies, Tree Fairies, and Wayside fairies, along with a collection of fairy rhymes that your kid will love.
4. The Ugly Duckling
The book tells the story of a barnyard-born bird who suffers because of the way he looks. However, towards the end, the ugly duckling transforms into a beautiful swan, leaving all his sufferings behind.
Author: Hans Christian Andersen
What Makes It Interesting
Written by a legendry author, the book delivers a strong message by teaching the kids about resilience, empathy and self-transformation.
5. The Red Prince
The book tells an exciting story about a prince's adventures as he is on the run from invaders who want to imprison him.
Author: Charlie Roscoe
What Makes It Interesting
When the red pyjama-clad prince gets kidnapped and escapes, the whole kingdom dresses like their prince to confuse the kidnappers. The book teaches the kids about the power of kindness towards other human beings and is filled with colourful illustrations.
6. A Fabulous Fairy Feast
An absolute favourite among kids, the book is about a group of fairies and their pets invited by the Fairy Queen to attend a feast.
Author: Sue Heap
What Makes It Interesting
Among the children's fairy tale books, this one is quite silly and funny. From the assortment of silly foods on the menu to other funny antics of the Fairy Queen's pet monkey, kids will surely have a good laugh.
7. A Dreadful Fairy Book (Those Dreadful Fairy Books #1)
The first in a trilogy of fairy books, this adventurous fairy book, especially for the children who love books and libraries, features a sprite's quest to find a home where her love for books is accepted, not frowned upon.
Author: Jon Etter
What Makes It Interesting
The book may not feature an ordinary fairy tale book but tells a fantastic tale narrated with humour. The story of Shade's quest to find a home is filled with wonderful lessons on friendship, forgiveness, and the value of books.
8. The Lost Stone (The Kingdom of Wrenly #1)
An introductory book to a series, The Lost Stone introduces you to the kingdom of Wrenly, a place full of adventure and fantasy. Lucas, the prince, and Clara, a maid's daughter, teams up to explore the kingdom of Wrenly, a land filled with fairies, trolls, dragons and wizards!
Author: Jordan Quinn
What Makes It Interesting
With easy-to-read language and beautiful illustrations, The Lost Stone is a beginner-friendly book and a great choice if you want your kid to adopt a reading habit. The story focuses on Lucas and Clara as they explore the fascinating kingdom of Wrenly as they search for Queen Tasha's missing emerald.
9. The Night Fairy
In this tale, after losing her wings to a bat, the night fairy Flory resigns to transform into a day fairy and find a hummingbird to obey her commands.
Author: Laura Amy Schlitz
What Makes It Interesting
The book shows a gradual transformation in Flory's behaviour. Her character development from an angry fairy to a soft one after she befriends a hummingbird is an exciting lesson for kids.
10. Chloe the Kitten (Fairy Animals of Misty Wood #1)
The book is about Chloe, a winged kitten who meets a lost and afraid mouse and is determined to help him find his way home.
Author: Lily Small
What Makes It Interesting
The book introduces kids to an enchanted woodland full of animal friends with wings. The book is an interesting read and includes activities too.
Whether your kids love adventure, magic, tragedy, or scary books, there is something for all. Children will enjoy reading these fairy tale books filled with suspense, humour, adventure, and magic!
Also Read:
Amazing Adventure Books For Kids
Popular Non-fiction Books for Kids
Ultimate Funny Books for Kids