I am Proud and Happy Being a Working Mom, I am Not Guilty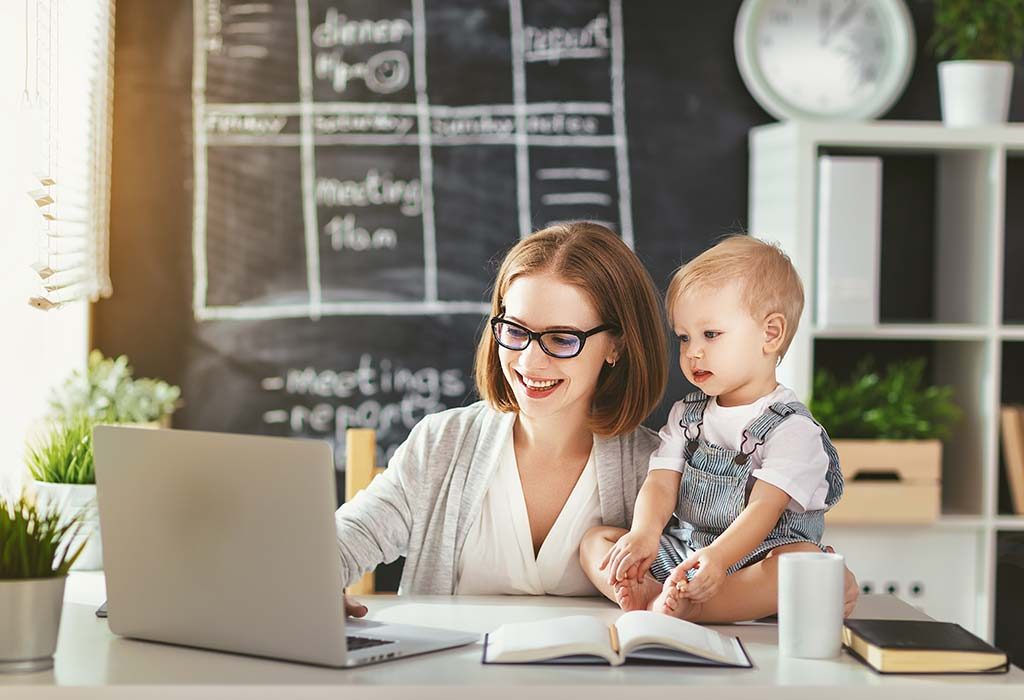 Our life as we know it, is not a bed of roses. It has thorns or hardships too.
Waking up early is hard.
Studying is hard.
Getting good grades in hard.
Maintaining a healthy lifestyle is hard.
Being a responsible worker after graduation is hard.
Finding a good partner and getting married is hard.
Conceiving at the right time is hard.
Bringing up a healthy baby in the womb until delivery is hard.
Let me come to the point.
Being a mom is hard.
Being a stay at home mom is hard.
Being a working mom is hard.
Being a human is hard. Come on that doesn't sound worse.
We can accomplish tasks that are termed hard.
I pushed a little human out of a lemon sized hole in my body. That was hard and yes I did it.
I am doing a great job. And my kid will turn out just fine despite the hours I spend away from her.
So what did I do here?
I was lucky enough that the maternity Bill here in India got passed jus few days after my delivery. So I get to enjoy six months of paid maternity leave. Perks of working in a MNC.
I also made a decision that I would exhaust the Maternity Lop as well since I wanted to be with my daughter in all her monthly milestones. That decision I made gave me immense pleasure that I was there when she rolled over, tried to lift her head up, sat, try to stand, try to walk, say her first words, start taking solids. Me staying back home after paid maternity leave raised eyebrows even among my close circle but to me I chose what is best for me and my daughter. Happy that I had a supporting family who were all ears when I announced I would join back after a year.
I am now a working mom which likely means leave the house every day feeling guilty about my decision to be a working mom. "Am I selfish for abandoning my child?" " "Are all the stay at home moms right?" Wait. Wait. I stopped the second-guessing and gave a pat on my back for making a decision that I very likely know is best for my family.
Instead of being racked with senseless guilt, read along to know why I feel fantastic about being a working mom.
Career Growth and Family Go Hand In Hand
It feels great to be working for a company that values family in conjunction with career. According to me there is no either-or when it comes to career and family. It's both. Professional growth and parenthood are both important and I do not draw a stark line between them. I can't be perfect at both. I learnt this quick, which gave me a peaceful mind.
Being a Parent Makes Me a Better Person
There's another side of me I hadn't discovered if I did not have my daughter—and it's one of the better sides. No other experience in life could have taught me that I'm capable of loving and nurturing another person to such great lengths.
Shout Out for Help and Share Responsibility
Mom and Manger are the same— but different teams. Handling both is a key reminder that running a house isn't very different than managing a team. Which means the moral is that moms are supposed to be 100% in charge of the cooking, organizing, planning, feeding, everything, is not only unfair, but false. Imagine if our manager did ALL the work, or if your supervisor wanted to lead every single project. At office, we need other people to be creative, meet deadlines, and execute on strategy; remember that we are not alone. So why do we constantly think moms should?
Working full-time has been an opportunity to change the usual game and make it level for both genders. Both me and my husband have an equal share of all the work at home and that includes making the baby sleep and not to forget diaper changes.
I Can Afford a Little Luxury
My idea of heaven is an hour-long massage followed by a refreshing bath. The fact that I bring money into the house makes me feel better about the occasional reward I hand down myself. Staying home is no less taxing or tiring than going to work—and probably more so—but when we earn an income, we don't have to ask anybody's permission to indulge ourselves now and then.
I don't have insecurities about working full-time, and I know I'm fully present for the hours I'm with my daughter. As she grows, I want her to witness first-hand what it looks like to fully involve yourself into personal goals and a concrete family life. But if I didn't work full-time, I would still care deeply about teaching her the importance of diligence, dedication, and heart.
So mommies get going, there is a whole new world out there just waiting for you.
Disclaimer: The views, opinions and positions (including content in any form) expressed within this post are those of the author alone. The accuracy, completeness and validity of any statements made within this article are not guaranteed. We accept no liability for any errors, omissions or representations. The responsibility for intellectual property rights of this content rests with the author and any liability with regards to infringement of intellectual property rights remains with him/her.