Does Strict Parenting Make Your Child Disciplined or Hamper Her Confidence?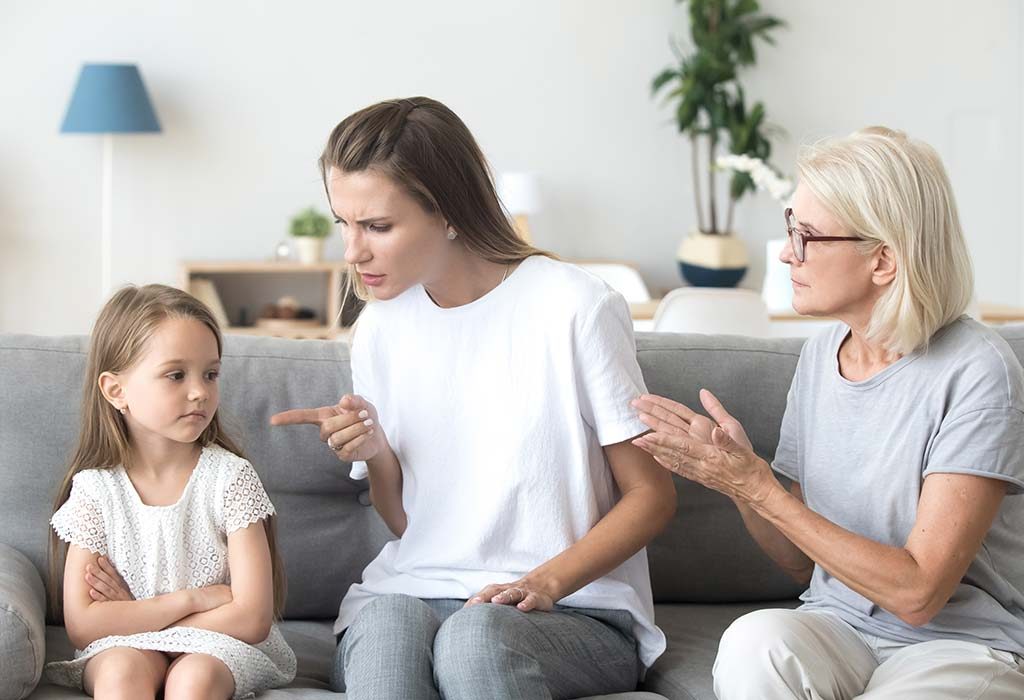 A few days ago, I happened to watch a video on "Stricter parents have disciplined children." I quite liked the video. Having been brought up by a strict mother, I was convinced with the content. When it came to discipline, my mother was a no-nonsense person. Though us siblings used to call our mom 'Hitler' (well not any more?), we could easily point out the difference in our public behaviour vs that of other children around. I'm ever thankful to my mother for the virtues and values she has imbibed in us. Hence when it came to rearing my child, I absolutely concurred the notion of strict parenting.
My kid is a two and half-year-old toddler and an example of 'Troublesome at two!' When she is not busy colouring or watching any screen, she is busy messing around with everything possible- food, toys, newspapers, clothes, even footwear. She loves doing catwalks with my footwear all over the house. This, in turn, makes me mad and I almost suffer a nervous breakdown thinking how to make both ends meet. I hate messy floors, stained sheets and covers and above all, I hate cleaning the mess day in and day out. I hate it when kids throw tantrums in the middle of the road and we (poor!) parents are unable to pacify them. I hate it when kids hit each other and fight over toys. I hate it when kids disobey parents (this is a regular scene at my home). Thus, like any first-time mom, I almost end up feeling that I have OCD, bipolar disorder, depression, and anxiety issues, all at once.
Every time I think it can't get any more worse, it gets uglier. For almost a year now, I have been trying to take up a new work assignment but every time I reach the point of commuting to work, I feel, may be I should wait a little longer. Due to all of this, unknowingly, I began portraying the stricter side of me just so that things might fall in place a little quicker. Initially, out of frustration and dislike for the behavior and later out of habit, I started scolding and behaving sternly when my child displayed indiscipline.
Soon, her tantrums mellowed down. No, she did not stop misbehaving and messing around but there was a remarkable improvement in her social behavior. She is very mindful of people around her. She rarely demands for things (uses her sensory skills that decode my mood), she does not snatch toys from other kids, she does not misbehave on the road, she does not open parcels, and cleans up the mess she does (subject to her mood of abiding to my orders). But wow! That's a lot for a kid of her age! I almost patted my back when I penned down all these things.
It took me two instances to realise that all this was more harm than good! I am trying to help my kid cope with separation anxiety and have tried out quite a few hacks till now. She has responded well but at times she just doesn't want to quit the comfort zone and let me go. However, she is pretty okay with staying with my mom when I am out. On one such instance, after I returned, I noticed concern in my mom's voice when she said that this 'supposed-to-be-naughty kid' behaves exceptionally well when I am not around and it is a matter of concern. Her theory is that kids are supposed to throw tantrums, mess around, and demand for goodies, especially when their mom is not there and they are with their granny! My kid's behavior surprised her as she was very well-behaved and did not trouble granny at all. I shrugged off my mom's concern thinking she is overreacting (especially when she herself had disciplined us and etc etc).
The second instance almost struck me like a bolt of lightening and the actual picture was crystal clear. It is believed that once a kid starts schooling, it is the teacher who is closest to the child along with the parents. My child's development card pointed this fact out. While we were awaiting our moment with the teacher, my daughter was playing with a kitchen set kept for children. Initially, she hesitated to touch it. Only after seeking approval from me and the caregiver from the school did she dare to handle it. This, again, made me feel proud of the fact that my daughter is very disciplined for her age and that she won't embarrass me publicly ever. There was a smile on my face and I was happy with myself.
As a first-time-mom, I tend to be extra observant, extra careful, and extra cautious when it comes to parenting. Yes, it does make me an anxious mother but at the same time, I minutely follow her development and sometimes sheepishly take the credit of it.?
Unfortunately, my pride and glory was short-lived. My kid's development card shattered my false pompous pride to pieces. No, it wasn't significant of any serious observation but it deflated the balloon of this particular belief that "Stricter parents have disciplined children." Sometimes it so happens that in the pursuit of something trivial, we often miss out on the crucial. The card said that there is scope for improvement in the 'Initiative taking' section. Upon discussion with the teacher, I realised that my kid hesitates to touch or open anything new. She herself does not willingly handle anything unless directed to do so.
This felt like a punch in my face! How was I raising my child? I was ruining her confidence and her curiosity. All this while, I was so so wrong! That very moment I understood that in the pursuit of a disciplined child, I was curbing her ability to imagine, to experiment, and to explore. I agree that kids should behave properly but not to the extent that they grow up suddenly.
That day I decided that I will not scold my child on spilling milk, or messing up her recently done bed, or opening a parcel or spreading her food all over the place. It usually takes us just about an hour of 24 hours to clean the mess but it might take the child even beyond 24 years to regain the lost confidence and self-trust.
Ever since I have decided that I want a less-disciplined child but I don't want a less-confident one! I was lucky enough to have realised it sooner. But do we have moms who still haven't realised it? However, there is another side to this aspect. Wanting a confident child does not mean that you need to put up with the adamance. But how do we do it then? I found a breakthrough this mystery. Keep following to know about it in Part 2…
Disclaimer: The views, opinions and positions (including content in any form) expressed within this post are those of the author alone. The accuracy, completeness and validity of any statements made within this article are not guaranteed. We accept no liability for any errors, omissions or representations. The responsibility for intellectual property rights of this content rests with the author and any liability with regards to infringement of intellectual property rights remains with him/her.