10 Interesting Music Books for Kids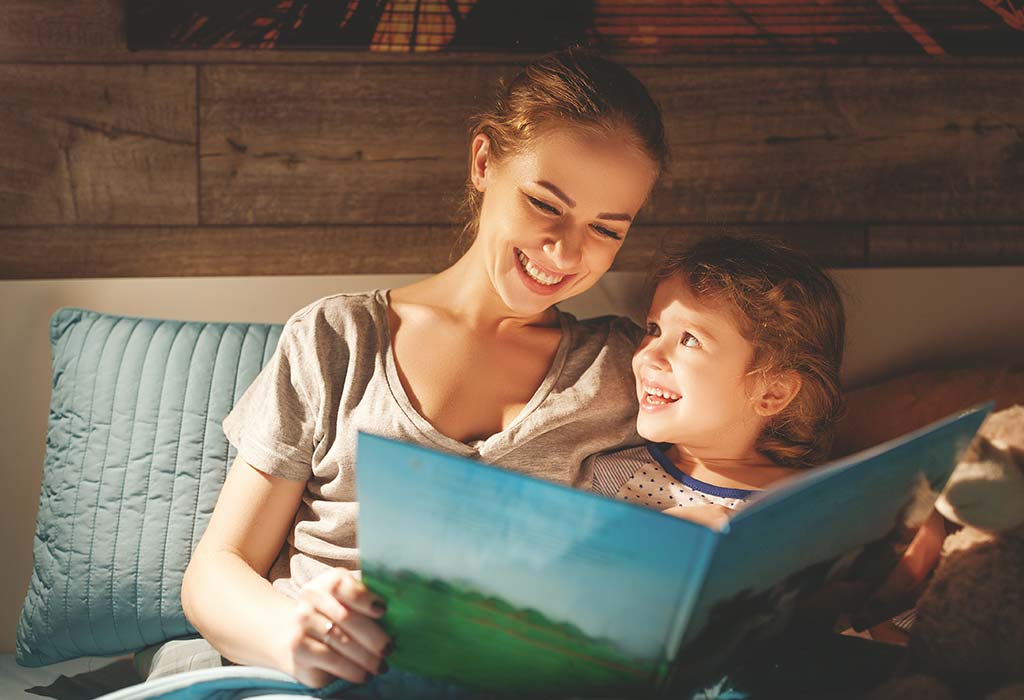 In this Article
Most kids love music and they may walk around humming a song or try to play a musical instrument on their own. Music is much more than entertainment and can be very beneficial for a child's emotional development. If your child is musically inclined or if you want to get your child interested in (and explore) music, we have some suggestions in books for you.
Best Music Books for Children
Nowadays, there are a plethora of preschool books about music available for young children, like books about musical instruments that help children learn a musical instrument and develop fine motor skills and self-expression. There are musical books that promote language development and memorization in toddlers. One can choose from fun picture books about music where the colourful pictures make the music come alive and introduce your child to the fascinating world of sound and music.
1. Jazz Baby
The Jazz Baby book is by Carole Boston Weatherford. This book is illustrated by Laura Freeman and is a perfect book for young ones. The simple rhymes and lively graphics of this book will make your little one instantly connect to it, making them dance with joy. It is an excellent book to develop a love for jazz in your kids.
2. Animal Orchestra
Animal Orchestra, the book written by Ilo Orleans and illustrated by Tibor Gergely, is a rhyming storybook about an all-animal orchestra with a hippo as its conductor. It provides a good knowledge of various musical instruments which are played by the animals. The book has catchy rhymes, which makes it fun to read for little ones.
3. Hush Little Baby
Author Brian Pinkney has made lively sketches of the classic song depicting an African-American family grooving, playing music, and having a fun time. Make up your own verses adding words like granny or Mumma, to enhance your child's language skills. Use it as a soothing sweet song when your child is cranky or sing it making funny faces, to get him to break into a burst of laughter.
4. Sunny
Sunny by Robin Mitchell and Judith Steedman is a book about music that will stimulate your child's imagination. Sunny, the main character in the book, hears music in any type of sounds around him. He can hear music from the vehicles nearby, from his friends who are playing, and anything and everything around him. The book helps kids become creative, develops their concentration, and improves their attention span.
5. 88 Instruments
The book, written by author Chris Barton and illustrated by Louis Thomas, is the story of a little boy visiting a store to buy a musical instrument. But he gets confused when he looks at so many instruments in the store. The boy has 88 instruments to choose from, and the way he explores the instruments to select the right one for him forms the highlight of the story. The story will make your little one experience the musical journey of the little boy and gives a treasure of knowledge about the musical instruments.
6. Music, Music for Everyone
Author Vera B. Williams has woven a wonderful story around a little girl named Rosa, her love of music, and how she helps her sick grandmother. Rosa and her friends are music buffs, and each kid plays a different musical instrument to Rosa's sick grandmother to help her through the illness. Lively graphics and illustrations make a perfect impact on young minds. The book shows how the children's love for the music eventually becomes the reason for their compassion and helps them bond together.
7. Max Found Two Sticks
The book authored by Brian Pinkney is about Max, a child who loves drums and sticks. He can play music with sticks on anything and everything. He finds two twigs and then goes around drumming and tapping them on everything, thus communicating and expressing himself. The boy expressing himself through music is a tribute to the power of music, revealing how music can benefit people having difficulty conveying their feelings. The book is of great help if one wants children to learn various sounds, musical expressions and experience the joy of making music.
8. M Is For Music
This is an amazing book by writer Kathleen Krull and is illustrated by Stacy Innerst where kids are initiated to the musical parlance by using alphabets. The book is a great tool to teach children about music as it plays the musical alphabet to your little one.
9. Ben's Trumpet
The book Ben's Trumpet, written by author Rachel Isadora is the story of a young boy who loves to listen to jazz from the jazz club near his house; he is especially interested in the trumpet. In fact, he plays imaginary trumpet and becomes the laughing stock of his friends. This is when the trumpeter from the jazz club comes to his rescue and helps him learn the trumpet. The book has creative graphics that make the story come alive. The story confirms that passion and imagination are good for the soul.
10. Hip Hop Dog
The book by author Chis Raschka and illustrator Vladimir Radunsky is about a dog who is despondent and forlorn, and how it finds self-esteem through music. If your child loves hip hop or rap, he will fall in love with this cute story.
Music books for children develop their mind and help them learn life skills. Whether your child loves strings or prefers percussion, the above list of books will surely develop a love of music in them and also stimulate their interest in reading and learning music.
Also Read:
Fun and Interesting Music Games for Kids
Amazing Listening Activities for Kids
Best Educational Songs for Kids