40 Best 60th Birthday Wishes and Messages for Parents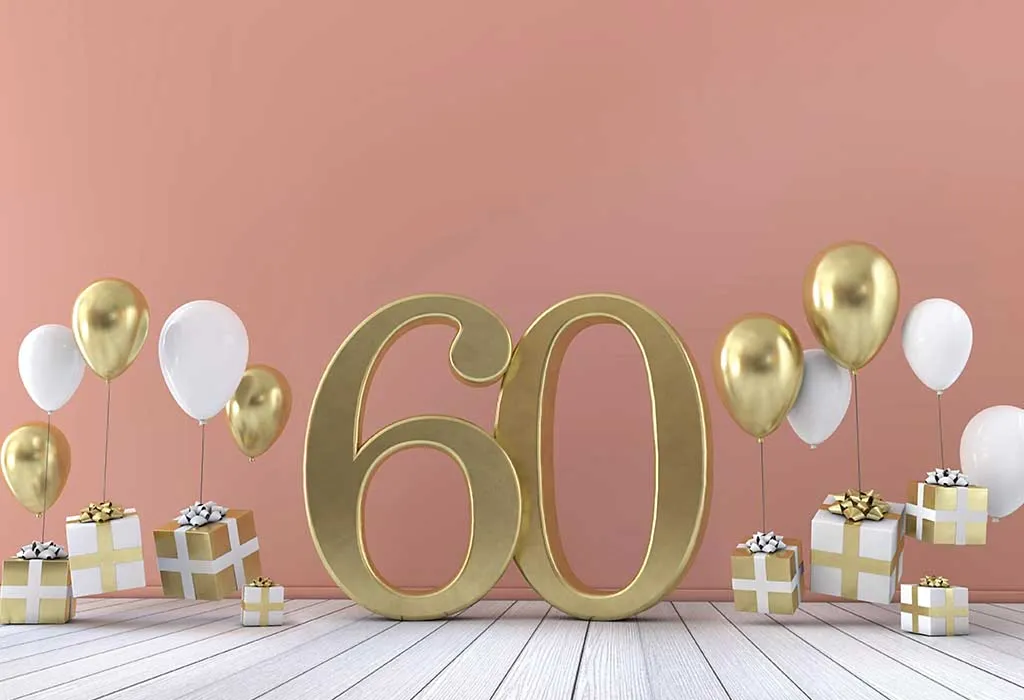 Celebrating a loved one's birthday is fun, more so, when you're celebrating their 60th birthday. 60th birthday is an important milestone in life, and it should be celebrated with full fervour and enthusiasm! Now if you're mom or dad or mother-in-law or father-in-law is turning 60 in a few days, and you're planning a big birthday surprise for them, you must be looking for some heartwarming birthday wishes to wish them on a special day. We can't help with you the surprise birthday bash, but we can help you with words. In this article, we have covered some heartfelt birthday wishes for parents for you. Take your pick!
Beautiful 60th Birthday Wishes for Dad
If your dad is nearing his 60th birthday, and you need a little inspiration on what to write on his card, here are a few birthday wishes for dad that may help.
You are undoubtedly the most loving father that a daughter can have. Have a fantastic 60th birthday, dad! Hope your day brings you joy and fills your life with colours and happiness.

Happy 60th birthday, dad! You deserve all the joy and so much more. Celebrate your special day in high spirits. Have a wonderful day. Lots of love!

Happy 60th birthday dad! My love for you is beyond the test of time and I have immense gratitude towards you for making me the person that I am today!

Happy birthday, daddy! One year older, one year wiser, and undoubtedly 60 years cooler and wittier than the rest of the world.

Happy birthday, dad! You are my superhero and the greatest blessings from Almighty. I love you!

Happy 60th birthday! Kudos to your splendid journey, dad. Fun Fact: You've made 60 trips around the sun! Cheers to the upcoming ones!

Dear Dad, I can't thank you enough for always having faith in me and trusting me. The person I am today is all because of you. Sending you my warm wishes! Happy 60th birthday dad!

Celebrate your big day, dad! You are the best father ever and you deserve all the joy and happiness in the world. Have a rocking 60th birthday! Sending you warm wishes on this day!

I hope to become as wise and wonderful as you are. Enjoy to the fullest, dad! Happy 60th Birthday!

You are an inspirational figure to many of us, and there is no doubt that you will be even younger after your cross 90. Happy 60th birthday dad!
Cute 60th Birthday Wishes for Mom
Here are a few ways how you can say, happy 60th birthday mom!
Happy 60th birthday to the most beautiful lady I know. Mom, I hope to gain your wisdom and energy when I turn 60! Lots of love for being the most amazing mother ever. You are absolutely perfect.

May you have the most memorable birthday Mom! Happy 60th! Your contribution to my fine upbringing is tremendous. I love you a lot. Wishing you all the best for the upcoming years, I hope that those will be joyous, adventurous, and your beautiful smile stays forever on your face!

Mom, I wish to walk in your footsteps and become like you one day. You are a wonderful human being. Enjoy your big day to the fullest, mama. Happy 60th birthday!

To the best mother in the whole universe, Happy birthday! Sending you warm hugs.

Here's to my favourite lady ever on her special day. Happy birthday, Mom.

No amount of praise and admiration can match the level of sacrifices and contribution you have made for the family. All the best from your children and loved ones on your 60th birthday!

My heartfelt gratitude to you Mom for being my best cheerleader on earth and guiding me during all my odds and teaching me to overcome the hardships. Have a blast today. Celebrate this special day on a grand note.

Turning 60 is a privilege only the lucky ones get to experience and enjoy being hale and hearty. May Almighty keep showering his blessings on you and keeping any kind of dejection away from your door. To the most loving mother, Happy 60th birthday!

To my dearest Mom, I know that you are still going to do all the caring you do for us. Undoubtedly you are a supermom. Happy 60th birthday.

A mom knows it all. Thank you for making me learn so much in life and guiding me to endure and overcome the nastiest storm. You have done so much for us. It is now our turn to focus on you. Wishing you a very happy 60th birthday, Mom!
Funny 60th Birthday Wishes and Messages
Add some humour to your birthday wishes and spread smiles all around with these funny 60th Birthday wishes and messages.
Dear mom/dad, don't feel sad about turning 60-year-old. Now you can avail your senior citizenship discount.

You've learned everything by the time you are 60, the only thing is that you will have to remember it! Many happy returns on your 60th birthday. Lots of love!

The best thing about turning 60 is you'll eventually get rid of the memories of all the awkward stuff you had done before. Happy 60th birthday!

Happy 60th Birthday, mom/dad! Even though the world is not slowing down like you, you got this!

You have turned 60? But that's only 16 in Celsius. Lol. Happy birthday!

Happy 60th Birthday! I wouldn't say you have become old… you've just been young for longer than most of us.

Life is too short, you need to smile more often while you still have teeth. Happy 60th mom/dad!

Bravo! It took you sixty long years to look this amazing! Happy 60th birthday!

Fun Fact: The only thing that goes up and never comes down is your age. Not so fun fact: You grow for the good anyway! Congrats on turning 60 mom/dad.

Happy Birthday! Don't worry about turning 60. Because birthdays are good for you. Why? The more you have, the longer you live!
Sweet 60th Birthday Messages for Parents
Here are some inspirational 60th birthday wishes that you refer to, to wish your mom or dad, a happy birthday!
Age is massively a case of mind over matter. If you don't mind, it doesn't matter! Lots of warm wishes on your 60th birthday. Happy birthday, mom!

If things get better with age, then something magnificent is waiting for you! Kudos to your energy. Happy birthday, dad!

One must not count the milestones achieved, because they are supposed to be celebrated. Dear mother-in-law, happy 60th birthday!

Wishing you a great and joyous 60th birthday. May you live a life surrounded by family and friends and all your loved ones.

The older you turn as the days pass by, the sweeter the life is. Happy sixtieth birthday, my super mom!

In the end, it is not the years that count and matter, but the quality of life that you have lived. Wishing you a very happy 60th birthday, my dear mom-in-law!

The best birthdays are those that are yet to be celebrated. So, keep looking forward to the best. Happy 60th birthday, dad!

Happy birthday, mom! 60 never looked so wonderful! Lots of love.

Congratulations on your 60th birthday! Enjoy your special day, you deserve it. Happy birthday, dear, father-in-law!

Fun Fact: You can't avoid growing old, but you can still avoid growing up! Happy 60th birthday to my amazing young-at-heart mom!
So these were some sixty birthday sayings and wishes for friends and family members. Pick the one you like, tweak it, and you will have written a heartfelt 60th birthday message for your loved one!
Also Read:
Happy Birthday Wishes & Quotes for Father In Law
Best Happy Birthday Wishes & Quotes for Mother In Law
Sweet and Romantic Happy Birthday Wishes for Wife