Hazel Name Meaning and Origin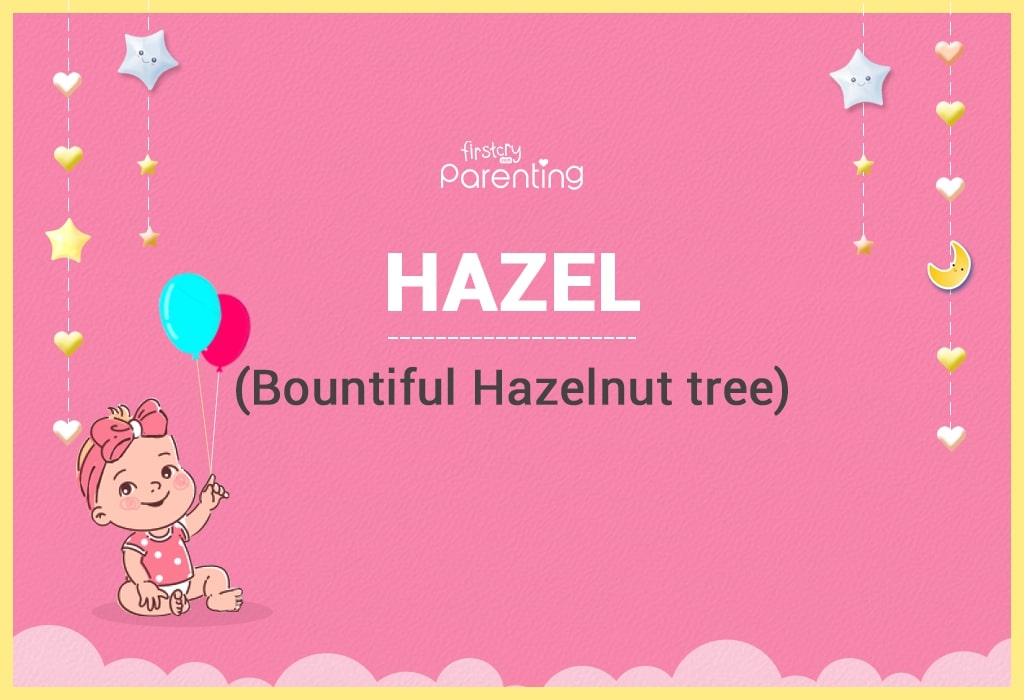 Hazel is one of the few
nature-related names
that are incredibly feminine and are perfect for babies. A perfectly timeless name that exudes a soft and warm feeling can be the perfect name for the little angel in your life. So, keep reading and get to know all about the name before settling on one.
What Does Hazel Mean?
The meaning of Hazel can be incredibly diverse, given the content it is mentioned in. Particularly, it is a type of wood obtained from a nut-bearing shrub or small tree that can be stated to have associations with the Birch tree family. The name can refer to the bountiful Hazelnut tree, which bears delightfully crunchy nuts used in desserts and food preparation. Apart from this, the name can also refer to a warm shade with traces of brown, green, and gold, often used to describe the color of a person's eyes. Considering such varied meaning of Hazel, it can be stated that the name is ideal for a girl grounded in her roots and who exudes inner warmth through her pleasant and kind personality.
Origin
Boasting English (British) origins, the name originates from the Old English term "hæsel." This Old English term also refers to the Hazelnut tree, thus keeping the meaning of the name consistent despite its adaptation from an older and more archaic version. It can also potentially have French origins, originating from the Old French word "hase" or "haise," meaning hedge.
Gender
Female
Pronunciation
Syllables
2 Syllables
Length/Letter
5 Letters
Name Variations/Spellings
There are many Hazel name variations from other cultures and traditions for parents to choose from. These variations and other spellings for Hazel let you know the way the name is used and said in other cultures and expand the choices you have available to you when naming your child. So, the following list mentions some of these variations and their origins for you to consider in your journey of choosing the perfect baby name:
| | |
| --- | --- |
| Name | Origin |
| Hazella | Old English |
| Hazlit | Old English |
| Hazela | Old English |
| Haizelah | Old English |
| Haizelle | Old English |
| Haize | Old English |
| Heize | Old English |
| Hayzal | Old English |
| Hazall | Old English |
| Haslett | Old English |
How Popular Is the Name Hazel?
Hazel is one of those names that used to be incredibly popular in the past and is now on the verge of rising in popularity after a brief period of lull. As per data collected from the Social Security Administration of the US, while Hazel started off the millennium with the dismal ranking of 893, it has gradually but steadily grown in ranking, becoming more popular each passing year. While the Hazel popularity ranking of 105 was its last ranking in triple digits, it made a huge jump the following year, ranking 63 in 2015. This can be attributed to the incredibly popular coming-of-age movie "The Fault In Our Stars" released in the first half of 2014. With continuing popularity, the last recorded rank was that of 31 recorded in 2020, its best ranking ever. In this regard, it can be presumed that the Hazel baby name ranking will only get even better in the future, probably becoming one of the top ten or top five names for girls someday.
Interest in Hazel – Worldwide
The average interest trend for Hazel can be considered to be relatively unremarkable over the last ten years. Despite a sudden spike in interest in June and July 2014, most probably spurred by the movie "The Fault In Our Stars" and with July 2014 recording the highest score of 100, the name has had a consistently stable score within the range of 25 and 50. The lowest score was recorded at 29 in December 2012.
Interest in Hazel – the US
Contrary to the worldwide interest in the name, the interest of the US people in the name was considerably high. This is clear from the fact that the popularity score throughout the ten years has remained within the range of 50-100, with the only exceptions being in March, September, October, and November 2012, with scores of 48, 49, 49, and 48, respectively. On the contrary, the highest score of 100 was achieved in July 2017.
Popularity of the Name Hazel
URL: https://www.ssa.gov/cgi-bin/babyname.cgi
Where Is the Name Most Searched?
Search trends of Hazel – Worldwide
The highest search trends for the name can be observed to have come from Pakistan, which ranks highest among the 56 regions evaluated. Following Pakistan, Azerbaijan, the UK, Ireland, and the Philippines round up the top five countries where the interest in Hazel has been the highest.
Search trends of Hazel – the US
In the case of the sub-regions of the US, Alabama leads the list with the highest search interest over the last decade. This is followed by Michigan, Washington, Idaho, and Illinois, who complete the list of sub-regions with the highest search interest.
Middle Names That Go With Hazel
Choosing middle names is a task that needs excellent contemplation and requires you to carefully evaluate whether the chosen double name will go well with the first name. The same is in the case of the name Hazel, which, being incredibly grounded, earthy, and feminine, deserves an equally feminine and beautiful middle name. So, here are some double names with Hazel you can consider:
| | |
| --- | --- |
| Grace | Marie |
| Elena | Eliza |
| Elaine | Rose |
| Beth | Rue |
| May | Allison |
| Mary | Charlotte |
| Diana | Sarah |
| Ruth | Lisa |
| Therese | Jean |
| Chloe | Karly |
Famous People Named Hazel
Famous celebrities named Hazel, along with popular characters bearing the name, have helped immensely make the name popular, bringing it back from obsoletion and sending it back on the path of rising popularity. In this regard, the following celebrities can also motivate you to choose the name for your daughter, especially if they are your favorite celebrities or adored characters:
| | |
| --- | --- |
| Celebrity Name | Profession/Famous For |
| Hazel O'Connor | English Singer, Songwriter, and Actress |
| Hazel Keech | Anglo-Indian Actress |
| Hazel Mae Clark | American Athlete |
| Hazel Hotchkiss Wightman | American Tennis Player |
| Hazel Brooks | American Actress |
| Hazel Jane Dickens | American Singer |
| Hazel Anne Blears | English MP and Minister |
| Hazel Williams | Character in Gossip Girl |
| Hazel Grace Lancaster | Character in The Fault In Our Stars |
| Hazel Aden | Character in Degrassi: The Next Generation |
Similar Names & Last Names
Names that hold the same or similar meaning also make great alternatives you can choose from. In this regard, there are many baby names like Hazel in terms of meaning and sense, and these other names for Hazel can expand the list of potential names you can choose from. So, as long as you have suitable family names for Hazel, you can consider these names as well:
| | |
| --- | --- |
| Similar Baby Names | Suitable Family Names |
| Ivy | Winston |
| Dawn | Green |
| Olive | Grey |
| Violet | Houston |
| Clementine | Parker |
| Willow | Matthews |
| Ashley | Maples |
| Coral | Clarke |
| Iris | Henstone |
| Honey | Thatcher |
Names That Sound Like Hazel
Along with names that have the same sense or meaning, some names replicate Hazel in terms of its phonetic nature. These names that rhyme with Hazel can be great additions to the list of names you are considering for your little angel. So, add the following rhyming names to your list that imitate the phonetic beauty of Hazel:
| | |
| --- | --- |
| Paige | Paisley |
| Halsey | Daisy |
| Clara | Ghazal |
| Angel | Ariel |
| Avril | Cecile |
| Noelle | Kendall |
| Meryl | Cheryl |
Sibling Names Related to Hazel
As important as choosing the name for your first child, you also need to be wise when selecting their sister or brother names. So, here are some sibling names that go with Hazel and are sure to make the siblings sound adorable when called together:
Nicknames for Hazel
Lastly, you also need to think of a set of fun, adorable and wacky nicknames at the same time as choosing the first name for your child. In this way, you can have fun by calling them embarrassing ones or showing your affection with sweet nicknames. So, here are some nicknames for you to consider:
| | |
| --- | --- |
| Hazey | Haze |
| Hazey Dazey | Hazelnut |
| Nutty | Hazy Lazy |
| Hazey Bear | Hazey Boo |
| Honey | ZelZel |
| Zell-O | Hazell-O |
| Zel | Zelda |
| Zelia | Halle |
| Halzey | Hezzo |
| Hellzo | Hazel Pie |
Hazel is arguably one of the most beautiful names for girls. And even if you don't like the name, there are many alternatives that either replicate its beautiful meaning or the beautiful phonetic nature of the name. So, whatever your likes and dislikes may be, Hazel is definitely worthy of being included in the shortlisted names for your angel.
Sources/References
Social Security Administration: https://www.ssa.gov/cgi-bin/babyname.cgi
Hazel Name Popularity in the United States: https://trends.google.com/trends/explore?date=2012-02-27%202022-02-27&geo=US&q=Hazel
Hazel Name Popularity Across The World: https://trends.google.com/trends/explore?date=2012-02-27%202022-02-27&q=Hazel
Hazel Name Interest in the United States: https://trends.google.com/trends/explore?date=2012-02-27%202022-02-27&geo=US&q=Hazel
Hazel Name Interest Across The World: https://trends.google.com/trends/explore?date=2012-02-27%202022-02-27&q=Hazel
?>