Zane Name Meaning and Origin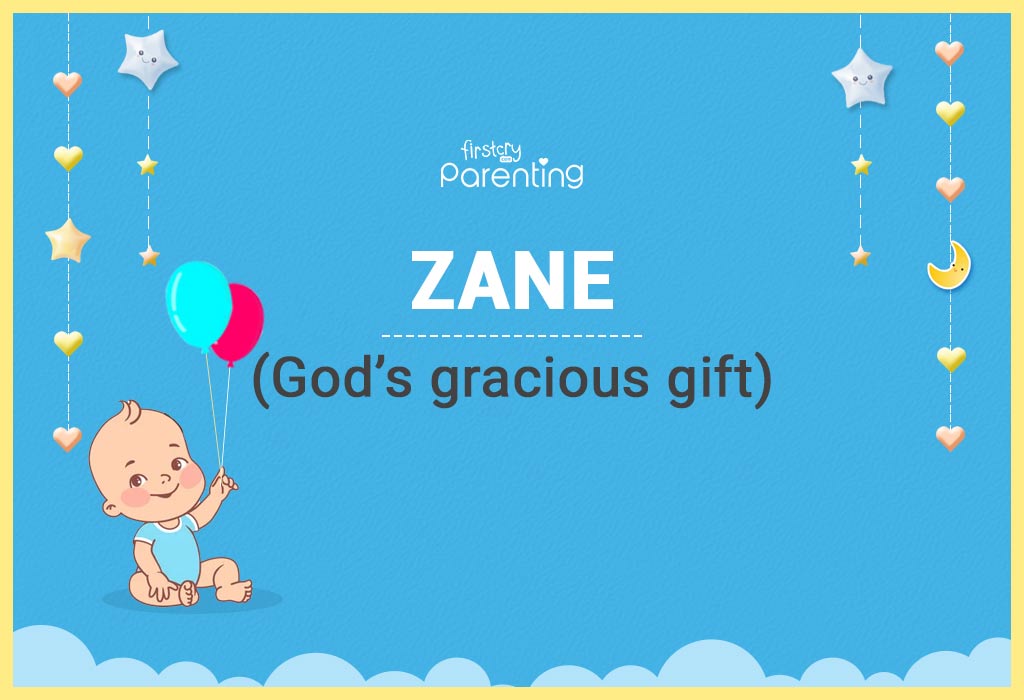 A few names are the perfect combination of a beautiful meaning, a trendy phonetic sound, and a timeless appeal, and Zane is one of them. Staying consistently within the top 300 boys' names since 2000, get to know more about this incredibly stylish and trendy name for your little prince.
What Does Zane Mean?
The meaning of any name is a crucial aspect that determines whether the parents will choose it for their baby. And in the case of this name, which is of Hebrew origin, the meaning of Zane can be translated to "God's gracious gift." This makes the name one of immense religious meaning and significance. As a result, the name can also be ideal for religious parents who also want to christen their child with a trendy name. However, Zane's literal meaning can be understood as a "gift from God," making it ideal for religious parents.
Origin
A notable origin of the name is Hebrew, and as per this origin, the name has a deep and immense religious significance. As per this origin, the name can also mean 'gracious or merciful.' Similarly, the name can also potentially have an American origin. However, the meaning of the name as per this American origin is not yet known.
Gender
Male
Pronunciation
Syllables
2 Syllables
Length/Letter
4 Letters
Name Variations/Spellings
Other spellings for Zane, or any other name, can shed light on the different cultural variations and how the same name may be used differently in different countries. So, here are some Zane name variations that can help you understand how the name is pronounced in other countries and what it means in those cultures:
| | |
| --- | --- |
| Name | Origin |
| Zain | Arabic |
| John | Hebrew |
| Zan | Slavic |
| Zann | Slavic |
| Swayne | English |
| Zaine | Hebrew |
| Eoin | Hebrew |
| Joen | Hebrew |
| Iaian | Hebrew |
| Zayne | American |
How Popular Is the Name Zane?
The Zane popularity index in the USA has been steady and pretty consistent since the beginning of the new millennium. As per data released by the Social Services Administration, it can be seen that the name started with the rank of 246 in 2000 and reached 259 as per the latest data in 2020. In all these years, the Zane baby name ranking reached the best ranking in 2018 at 200. It would be safe to say that while Zane is not an incredibly popular name, it has remained in demand over the years. This potentially hints at the fact that the ranking of the name will remain consistent even 20 years down the line, giving parents assurance that it will not go out of style even in the future.
Interest in Zane – Worldwide
Interest in the name across the world over the last ten years can be stated to have remained pretty consistent. Apart from the score of 100 recorded in March 2015, the name has stayed stably within the range of 91-41, recently reaching 41 in February 2022.
Interest in Zane – US
Much like the global interest trends of the name, the name has stayed consistently popular in the US as well. Apart from the score of 100 recorded in September 2019, the name has stayed between the popularity scores of 88-50 in the last decade, with February 2022 recording the lowest score of 50.
Popularity of the name Zane
URL: https://www.ssa.gov/cgi-bin/babyname.cgi
Where Is the Name Most Searched?
Search trends of Zane – Worldwide
In the last decade, Latvia has recorded the highest search interest in the name 'Zane,' reaching the score of 100 among the 56 regions evaluated. However, there is a massive gap following Latvia, with New Zealand, Romania, the US, and Australia recording scores of 12, 10, 9, and 9, respectively.
Search trends of Zane – US
Among the 51 regions of the US evaluated throughout the last 10 years, Hawaii has recorded the highest search interest within the US. Following Hawaii, the sub-regions of Ohio, Minnesota, Arizona, and Michigan complete the top 5 sub-regions that recorded the highest search interest.
Middle Names That Go With Zane
Middle names and double names have been an integral part of a name since the past many decades, and parents want it to be as beautiful as the first name they choose. In this regard, the following double names with Zane can help maintain the beautiful and trendy nature of the name itself, even in the times to come:
| | |
| --- | --- |
| Levi | Luke |
| Ray | Brock |
| Dave | Rodney |
| Stefan | Matthew |
| Jacob | James |
| Ryder | Axel |
| Nico | Mike |
| Kai | Hudson |
| Hunter | Fisher |
| Eli | Tate |
Famous People Named Zane
Celebrities often play a big role in making a name more popular, bringing it back from the brink of obsoleting. The same can be stated to be applicable in the case of the following famous people called Zane as well, who have helped to keep the name so consistently popular over the years:
| | |
| --- | --- |
| Celebrity Name | Profession/Famous For |
| Zane Taylor | American Football Player |
| Zane (Pearl) Grey | American Novelist |
| Zane Dae Beadles | American Football Player |
| Zane Lamprey | American Actor and Comedian |
| Billy Zane | American Actor |
| Zane (Ray) Brodie Holtz | Canadian Actor and Model |
| Zane Charendoff | Canadian Actor |
| Zane Alexander | American Actress Heather Tom's Son |
| Zane Hijazi | YouTube Influencer |
| Zayn Malik | English Singer |
Similar Names & Last Names
There may be times when parents fall in love with the meaning of the name more than the name itself, maybe since they don't have suitable family names for that name. If you are also stuck with such a dilemma, then other names for Zane, especially baby names that hold the same meaning, can be the perfect alternatives.
Names That Sound Like Zane
While sometimes parents fall in love with the meaning of a name, some may fall in love with the way a name sounds and wish to have more alternatives that sound similar. So, here are some names that rhyme with Zane and can be chosen if your spouse does not approve of the name 'Zane':
| | |
| --- | --- |
| Zena | Zaynah |
| Xenia | Zoan |
| Zeke | Zoanne |
| Zack | Zoah |
| Zenon | Zoya |
| Zion | Zweena |
| Zikomo | Zeno |
| Zinnia | Zander |
| Zeshawn | Zuwena |
| Zhen | Zaina |
Sibling Names Related to Zane
Brother names for Zane should be contemplated and selected as carefully as you choose the name itself, and the same goes for sister names for Zane as well. So, if you are looking for names suitable for your other children, here are some sibling names that go with Zane:
| | |
| --- | --- |
| Sister Names for Zane | Brother Names for Zane |
| Ruby | Oliver |
| Sarah | Robert |
| Amelia | Landon |
| Audrey | Asher |
| Olivia | Victor |
| Lisa | Trevor |
| Taylor | Tristan |
| Amina | Liam |
| Brooke | Declan |
| Scarlett | Olexander |
Nicknames for Zane
Names of endearment are crucial for the relationship between parents and their children to become sweeter and help them come closer to each other. So, if you wish to express love for your little Zane with sickeningly sweet, cringe, and adorable nicknames, here are some excellent options to choose from:
| | |
| --- | --- |
| Z-boy | Zaney |
| Zingo | Zuzu |
| Zoo | Zen |
| Zed | Zeene |
| Zanny | Zazzy |
| Zae Zae | Zan, The Man |
| Ziggy | Zinny |
| Zing | Zonco |
Choosing your child's name is not an easy task – you need to make sure that not only is it trendy by today's standards, but you also need to make sure that he will not be made fun of due to his name by his peers. Choosing a name like Zane is a sure-shot way of preventing that from happening. With the name being the most popular it has ever been, the name is surely on its way to becoming even more popular in the times to come. So, become a trendsetter for other parents and choose this name for your little prince.
Sources/References
Social Security Administration: https://www.ssa.gov/cgi-bin/babyname.cgi
Zane Name Popularity in the United States: https://trends.google.com/trends/explore?date=2012-02-19%202022-02-19&geo=US&q=Zane
Zane Name Popularity Across The World: https://trends.google.com/trends/explore?date=2012-02-19%202022-02-19&q=Zane
Zane Name Interest in the United States: https://trends.google.com/trends/explore?date=2012-02-19%202022-02-19&geo=US&q=Zane
Zane Name Interest Across the World: https://trends.google.com/trends/explore?date=2012-02-19%202022-02-19&q=Zane