Jade Name Meaning and Origin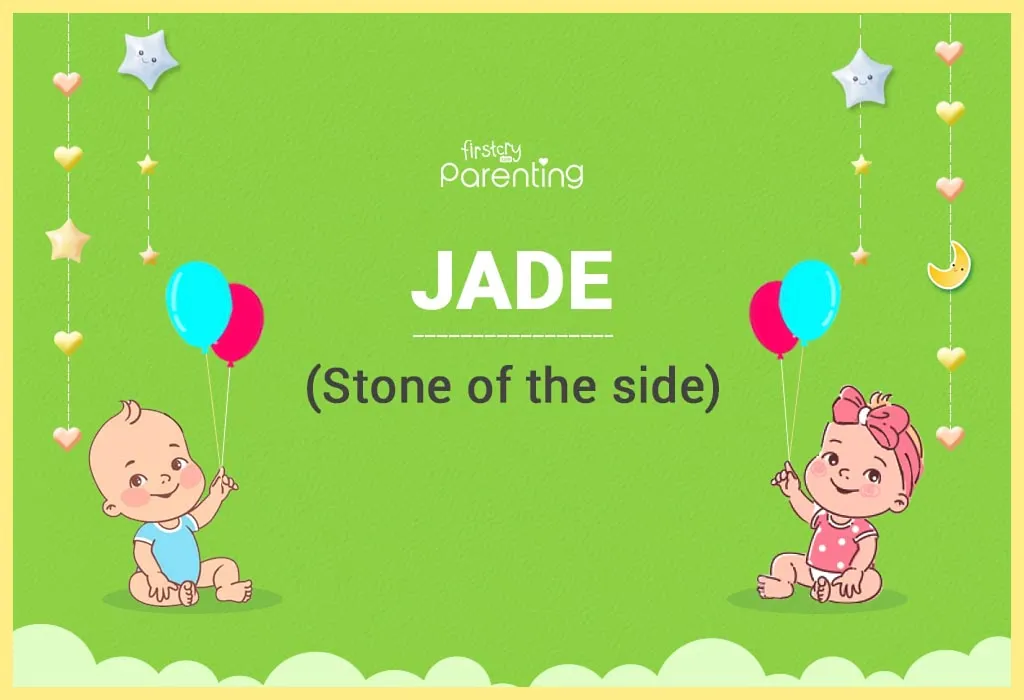 Jade is the name of a gemstone that is typically used in crafting some of the most beautiful pieces of jewelry for women. Their green color has a visual appeal that you can use in some works of art. An excellent name for babies of any gender, Jade can be a common gender-neutral name in the United States.
What Does Jade Mean?
The English word Jade comes from French l'ejade and Latin ilia 'flanks, kidney area' and the Spanish term piedra de ijada or 'loin stone,' from its reputed efficacy in curing ailments of the loins and kidneys. In this regard, the meaning of Jade can be associated with "stone of the colic" or "stone of the side" since Jade was believed to cure colic in babies when placed on their stomachs.
Origin
Jade is a given name of a hard mineral stone used in artwork and making ornaments. The stone has a precious value in Asian countries. Jade was used for symbolic and ideological rituals in Mesoamerica for its rarity and value among pre-Columbian Meso-American cultures, like the Maya, Olmec, and some other groups in the valley of Mexico. Jade artifacts have been created and prized by many Mesoamerican people. The Chinese considered Jade "The Stone of Heaven," as Confucius believed it to have virtuous properties that encourage purity, bravery, and honesty. Chinese emperors were buried in suits made of Jadestone because they believed it would help them achieve immortality. Other variants of the name include Jada, Jayda, Jaida, and Giada used for girls in the United States, and Jaden is used for boys.
Gender
Unisex
Pronunciation
Syllables
2 syllables
Length/Letter
4 letters
Name Variations/Spellings
The other spellings for Jade offer parents a wide variety of choices to pick the right name. Here are some Jade name variations that might sound delightfully appealing to modern parents:
| | |
| --- | --- |
| Name | Origin |
| Giada | Italian |
| Jada | English |
| Jaida | English |
| Jayda | English |
| Zhade | French |
| Jadra | English |
| Jady | English |
| Jadee | Arabic |
| Jaydra | Arabic |
| Jhadira | English |
How Popular Is the Name Jade?
Considered one of the top preferences among French parents, Jade has featured in several popular baby names lists in the United States in the past decades. The Jade baby name ranking stayed within the top 25 most popular names for girls in England and Wales in 1990. The popularity of Jade has steadily risen in the United States over the last two decades. Jade stood at No. 97 among the top 100 most popular girls according to the Social Security Administration's 2020 data. The Jade popularity index has mainly arisen due to Mick and Bianca Jagger, who chose it for their daughter. Even Superchef Giada de Laurentiis chose it as the English variant of her first name.
Interest in Jade – Worldwide
Jade shows a consistent value of over 45 over the last ten years, reaching 100 in Feb 2015 as per the search trends. The lowest score was 49 in March 2012 on the popularity scale.
Interest in Jade – the US
Search trend in the US reached its peak up to 100 in Feb 2015. The lowest record value was 30 on Mar 2012, Sept 2013, Oct 2013, and Dec 2021 consecutively on the popularity scale.
The Popularity of the Name Jade
URL: https://www.ssa.gov/cgi-bin/babyname.cgi
Where Is the Name Most Searched?
Search Trends of Jade Worldwide
As per the global trends, Jade has been searched the most in Singapore, followed by Australia, the United Kingdom, New Zealand, and Hong Kong in the last ten years. Due to a large Chinese population in Singapore who consider Jade a lucky stone, Jade has found immense acceptance in Singapore.
Search Trends of Jade – the US
Among the metro cities in the US, Hawaii has recorded the highest search value of 100 in the last ten years. Louisiana, New Hampshire, Montana, and Maine occupy the top five positions in the US, where search trends for Jade have been the highest.
Middle Names That Go With Jade
A middle name can be commemorative to a senior member of the family. Many cultures don't have the tradition of middle names at all. Here are some double names with Jade that can bring extra attention to a formal name:
| | |
| --- | --- |
| Arielle | Natassia |
| Victoria | Wynona |
| Alessandra | Amelia |
| Rose | Grace |
| Jane | Marie |
| Anne | Joy |
| Jolie | Irene |
| Hazel | Jules |
| Gwen | Alice |
| Adele | Brooke |
Famous People Named Jade
Popular personalities named Jade have influenced the minds of parents down the ages. Here are some fascinating options that may catapult your child to fame:
| | |
| --- | --- |
| Celebrity Name | Profession/Famous For |
| Jade Amelia Thirlwall | English singer of Little Mix |
| Jade Marner | English actress |
| Jade Sheena Jezebel Jagger | Daughter of singer Mick Jagger |
| Jade Nicole Ramsey | English actress |
| Jade Louise Ewen | English singer of the Sugababes |
| Jade Aurora MacRae | Australian soul singer |
| Jade Valerie Villalon | American singer of Sweetbox |
| Jade Kathleen Sharif | English actress |
| Jade Bird | English Singer |
| Jade Chantel Cole | American Model |
| Jade Goody | British Reality Star |
| Jade C.Bell | Canadian Actor |
Similar Names & Last Names
Baby-names like Jade may sound equally gorgeous despite their different meanings. Family names for Jade can help to enhance the overall appeal of your child's personality. Here are some other names for Jade that may have a similar feel:
Names That Sound Like Jade
Despite different pronunciations and meanings, rhyming names for Jade have their poetic appeal that's soothing to the ears. Here are some names that rhyme with Jade:
| | |
| --- | --- |
| Jasper | Jett |
| Jordan | Jess |
| Joshua | David |
| Justin | Ethan |
| Jacob | Mason |
| John | Bradley |
| Jack | Adam |
| James | Dean |
| Josh | Cody |
| Joseph | Ross |
Sibling Names Related to Jade
Sibling names that go with Jade help strike a coordination balance between them. They need to feel cohesive while maintaining their distinct identity. Here is a list of suitable sister names for Jade and suitable brother names for Jade that might build a connection between the two:
| | |
| --- | --- |
| Sister names for Jade | Brother Names for Jade |
| Stella | Austin |
| Ivy | Ryan |
| Lily | Daniel |
| Flora | Aaron |
| Esme | Logan |
| Simone | Kyle |
| Scarlett | Tyler |
| Willow | Matthew |
| Rosalie | Andrew |
| Fiona | Thomas |
Nicknames for Jade
Nicknames are creatively hatched to complement a child's unique personality. Here are some of the funniest nicknames that may uphold your true feelings for your beloved child:
| | |
| --- | --- |
| Jadey | Jay |
| Jadounette | Jadee |
| Jadey Bear | J Nugget |
| Jadey-pooh | Jadou |
| Jadekins | Jadie cakes |
| Jadiebug | Jaaaaade |
| Joel | Jadey Baby |
| Hope | Paige |
Due to the worldwide obsession with Jade jewelry, Jade as a name with a vowel ending has an eternal appeal. Thus, it will give a tough competition to any modern names that may be on trend but may not stand the test of time as Jade.
Sources/References
Social Security Administration: https://www.ssa.gov/cgi-bin/babyname.cgi
Jade Name Popularity in the United States: https://trends.google.com/trends/explore?date=2012-02-08%202022-02-08&geo=US&q=Jade
Jade Name Popularity Across The World: https://trends.google.com/trends/explore?date=2012-02-08%202022-02-08&q=Jade
Jade Name Interest in the United States: https://trends.google.com/trends/explore?date=2012-02-08%202022-02-08&geo=US&q=Jade
Jade Name Interest Across The World: https://trends.google.com/trends/explore?date=2012-02-08%202022-02-08&q=Jade