100 Beautiful and Nice Names for Your Baby Girl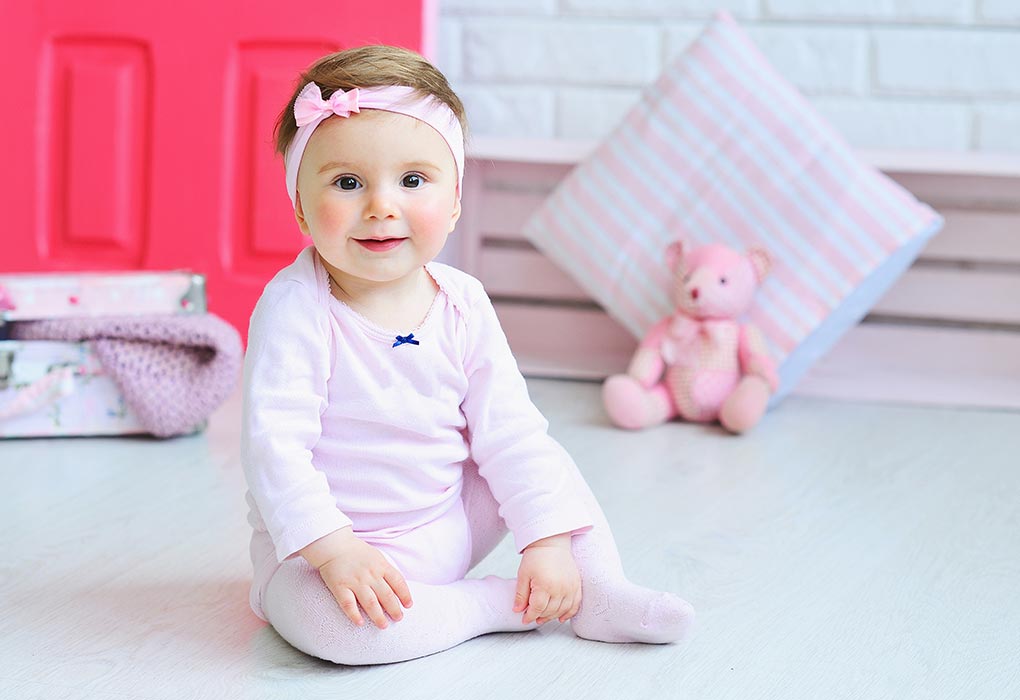 In this Article
We do understand how nervous you are as a parent who is eagerly looking for a perfect name for your little princess. The name you choose for your baby sends a signal to the world about the individuality and personality of the child. Forget the extremely usual and common names that every other child has and think and give your child a refreshing name that she will be proud of in the future. So, we have a great list of the beautiful rare girl names that you should check out.
Most Beautiful and Nice Baby Girl Names With Meanings
Below are some of the beautiful old fashioned girl names along with cool and elegant names:
Adelena is a widely famous name owing to its charming feminine feel to it. It is a variation to the name Adela who was the daughter of a King. Adelena means 'noble.'
If you want her to be able to fight for life, Alessia is a gAdela,ood choice as it means 'defender.' Alessia is a variant of the name Alexis.
For a unique name starting with A try Amada a variant of Amadeus. Amada refers to 'one who is loved.'
Girls are always daddy's baby, so why not name your munchkin as Abigail which means 'a father's joy.'
How about a nice girl name Ava for your cutie pie? Ava is the name of a bird and is a popular name for girls.
6. Angella
Why not name your little angel as Angella which is a variant of the name Angell. Angella means 'a messenger.' It represents a biblical name for the messengers sent by God.
Teaching your child to be noble is admirable, Alina is a wonderful name meaning 'the noble one.'
Let your daughter remember for life that hard work is the way to success. Name her Amelia which means 'a person who is industrious and hard-working.'
8. Aurora
Aurora is a romantic and mystical name meaning 'dawn.' It has Latin roots. An aurora also means the natural light seen in the sky in the form of polar lights. Aurora was also the name of the popular Disney character 'sleeping beauty'.
Bonita is a trendy and cool name for your little angel. Bonita is derived from Latin and means 'pretty.'
Another stylish and modern feminine name is Bella. Your little munchkin deserves a name like Bella that refers to 'beautiful.'
For a pretty and adorable baby like yours, Bellezza is a cool name as it means 'beauty.'
Barbara is a famous name in medieval Britain. Barbara sounds cool and means 'traveler from the foreign land.'
Welcoming a baby home brings in a lot of joy and a ray of hope for every parent. Beatrix is one such meaningful name for your baby as it refers to 'she who brings happiness.'
Catalina is a wonderful Spanish name meaning 'pure.' Catalina is derived from Greek.
A feminine variant of the name Charles is Charlotte and is one of the beautiful long girl names. In French Charlotte means 'petite.'
If you see your daughter shining in her life then an exotic girl name Clara is just great as it refers to 'bright, famous and clear.'
Your little angel is the most loved member of the family and hence naming her Cara which means 'beloved' is a great choice.
We know that you consider your little angel to be the prettiest, then check out the name Caily meaning pretty.
Check out this short and sweet name like Cora meaning 'maiden.'
Carolyn is a baby name with Italian roots. It is a feminine name meaning 'strong.'
Perhaps a unique and cool name from C is Constance meaning 'constant or steadfast.' This name is derived from the Latin word 'Constans.'
If you are a parent looking for a beautiful name then check out Caroline which means 'song of happiness.'
Who knows, maybe one day your daughter might surprise you by becoming a good singer. The name Calliope means 'beautiful voice.'
Dorothy is a famous name in English speaking countries. Dorothy is a wonderful name choice for your daughter as it means 'gift of God.'
One of the latest names from the letter D is Daynan which is a variant of Dana and it refers to 'being kindhearted.'
Originated from Hebrew Davina is a cool and elegant name meaning 'little deer.'
Let your child be a person who leads from the front with a name like Davonna meaning 'beloved one.'
Daviana is another peculiar name starting from D for your little princess. Daviana means 'beloved.'
29. Eleanor
Eleanor has Greek and French roots and means 'light-hearted or shining light.'
Try a unique name like Elsie and let your girl stand apart. Elsie is a pretty name for your beautiful girl. Elsie refers to 'noble by birth.'
It is a famous name and is believed to linked to a Persian word which means 'star.'
If you see your daughter as the ray of light in your life, Evangeline is a beautiful name choice as it means 'bearer of good news.'
Ellen is a short and sweet name and we all know the famous television celebrity by this name. Ellen means 'bright, shining light' and is a popular name in Dutch.
If you are an adventurous namer, then try Esperanza which is derived from Latin word Sperantia meaning 'to hope'.
Elizabeth is a name popular with the queens. Elizabeth was the mother of John the baptist in the Bible.
Ellie is one of those girl names that means beautiful. Let your girl shine bright with a name like Ellie which represents 'shining light.'
Your baby girl must have lit up your space. Elena is an adorable name meaning light. This name is extremely popular with the British and French.
Your little angel makes your family complete. Try the name Emma that is popular in Australia, America, and Denmark. Emma means 'complete.'
38.
Faith
Faith is a beautiful feminine name having English roots that means 'trust and devotion'. This English name was popularized around the 17th century by Puritans.
Fia is an interesting short name for girls. Fia in Italian means 'flame.'
Faye is a wonderful mystical name derived from the English word 'fairy'.
A short and cute name like Farah is a great option for your baby. Farah is derived from Arabic and means joy.
A fun sounding and unique name like Grisell will a choice of an adventurous baby namer. Grisell refers to a grey battle.
Try a majestic name like Grace for your little girl. Grace refers to 'decency and charm.'
Gabriella is a variant and feminine version of Gabriel. Gabriella refers to 'God is my strength.'
Try an interesting name like Gelisa which refers to 'a girl with golden hair.'
Gwyneth is a feminine name with a beautiful meaning. Gwyneth means 'white, blessed.'
We all know that you wish all the happiness for your little one. Halona is an excellent name meaning 'happy fortune'.
Helen is a cool and classy name derived from Greek. Helen refers to a 'shining light.'
Hannah is a cheerful name which is a Latin variant of the name Anna. Hannah refers to the 'grace of God.'
Isa is a wonderful name with Swahili origin. Isa is a short and sweet name and it means Jesus. It is a favorite name with the Japanese, Africans, and Australians.
Isabella is another feminine name with a beautiful meaning. Isabella means 'devoted to God' and is derived from Hebrew.
Jesse is a variant and short form of the popular name Jessica. Jesse means 'gift.'
If you are looking for a beautiful name starting from the letter J then check out Jaymie. Jaymie is a rare name meaning 'supplanter.'
Jessica is the name of the daughter of Shylock in the popular Shakespeare play 'The Merchant of Venice.' Jessica is a classy name meaning 'rich.'
Your daughter not only brings joy into your life but may also keep everyone around her happy with a name like Joyce which refers to 'rejoicing.'
Let your munchkin be young and glowing forever with a wonderful name like Jula which means 'young.' It is a variant of the name Jule and is widely used in Polish, Slovak, and Czech.
Every parent feels that their daughter is the most beautiful. Kaytlyn is a modern name meaning 'pure.'
It's the age of women empowerment and a name like Kellina is so apt for your baby girl. Kellina means 'strong willed.'
Guiding baby girls to be tougher is great for life. Kenina is one such strong name meaning 'born from the fire.'
If you are eager to find a name inspired by nature, then try Lesly which means sacred garden.
Lilias is a wonderful feminine name and a variant of the flower name Lily.
Encouraging children to be content is good in the path of life. Why not convey the same to your daughter often by naming her Luana which means 'content.'
A lovely name and popular pick by modern parents are Linda. Linda means 'beautiful.'
Laura is a stylish name derived from Latin. Laura is an apt name for daughters as it refers to 'victory.'
64. Laurel
Laurel is a feminine name of Latin origin that means 'tree or bay tree'. This name is originally gender-neutral.
65. Madison
Madison has English origins and is popular in the United States too. Madison is a variant of Mathieson and means 'son of Matthew'.
Maya is an excellent choice of name meaning 'water' and is a popular feminine name in Hebrew.
In the old testament, Moriah is a place where Abraham went to sacrifice Isaac. Moriah is also a feminine name with Hebrew origin.
Another lovely name for your daughter is Mia. It is a feminine name meaning 'mine.'
Another interesting pick for your little girl is Noah. It is amazing to stay calm in any situation in life, so remind that often Noah is an apt name as it means calm and relaxation.
Take a look at a stylish and catchy name like Naomi meaning 'pleasantness.' It is a popular variant of the common name Naomie.
71. Natalie
Natalie had Latin origin and means 'Christmas'. It is taken from the Latin maxim natale domini which means 'birth of God.'
Osla is a regal choice of name for your bundle of joy. Osla means a person who is 'God consecrated.'
Olivia is a name derived from Latin. Olivia is a popular feminine name meaning 'olive tree.'
74. Penelope
Penelope is an elegant Greek name that means 'weaver'. It dates back to the popular Greek mythological poem 'the Odyssey'.
75. Quinn
Quinn is a gender-neutral Irish name that means 'wise leader'. It also has a biblical significance.
Rihanna is a popular celebrity name and is derived from Arabic meaning 'sweet basil.'
Ruth is a beautiful name to live up for as it refers to 'a compassionate friend.'
Rachel is the name of the wife of Jacob in the old testament. Rachel means 'ewe' and is a nice and catchy choice for your little princess.
Sophia is an attractive name meaning 'wisdom.' Sophia is a name derived from Greek and is a popular name since ages.
Susan is an extremely popular name meaning 'graceful lily.' Susan is derived from Hebrew and has a cool feel to it.
Sadie means 'princess' and hence it sounds like an ideal name choice for your munchkin.
81. Sydney
Sadie means 'princess' and hence it sounds like an ideal name choice for your munchkin.
Another interesting and fun-sounding name from T is Trixie. It is a famous name these days and it means 'she who brings happiness.'
Tifanny is a stylish and famous name and is a medieval form of the name Theophania.
Having a name from the letter Z makes your daughter stand out. Zuri is a sweet name from Swahili roots. Zuri is an apt name for your daughter as it means 'beautiful'.
If you are an adventurous namer, try a name starting from Z like this one. Another peppy and unique name from Z is Zoe. This name is believed to be of Greek origin meaning life.
It's frustrating for any parent to spend hours over the internet to find the right name for your baby. After all, a name is the most precious gift children get from their parents. So, take time to analyze the cool and pretty names listed above and find a name that you feel connected to and make a wise decision. The name you choose will be carried on for life by your child.