80 Amazing Baby Names That Mean Leader or Ruler for Boys and Girls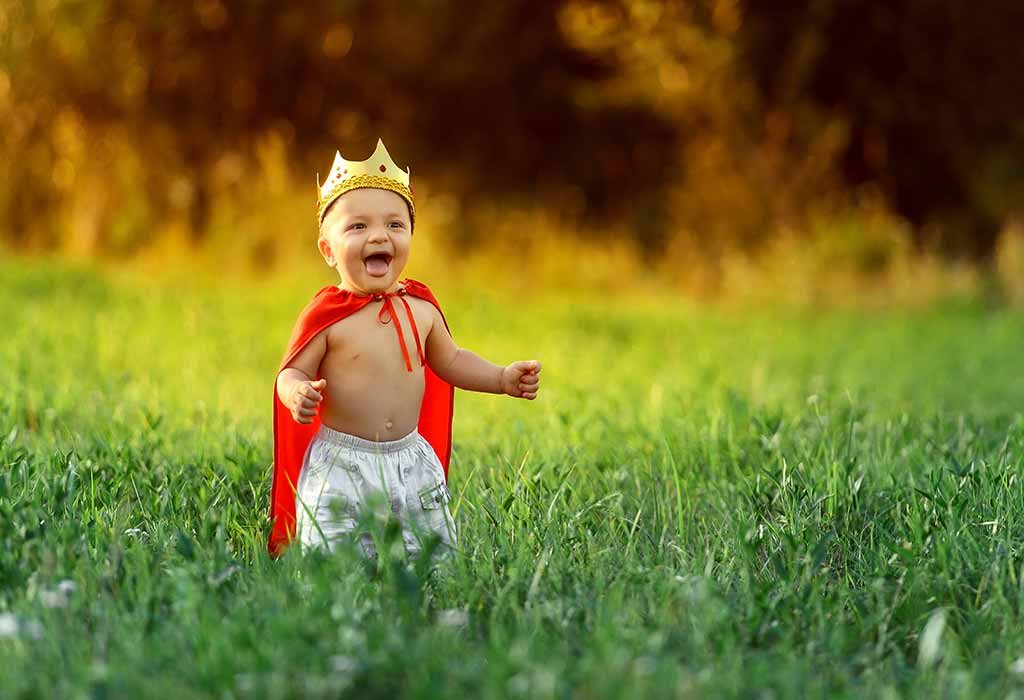 Are you sceptical about giving your baby a name that means a strong leader? Well, don't think twice. Over the years, baby boy names meaning leader, and baby girl names meaning leader have gained popularity among parents. More and more parents are choosing names that directly translate to leader, wise or king. It is a wonderful choice to make. You will be fascinated by the number of names that mean powerful rulers. Let's check on some of the most exciting and rare options that mean leader/ruler/king/powerful.
Baby Boy Names That Mean Leader or Ruler
1. Alaric
Alaric is an ancient name belonging to a Goth king who plundered Rome in 410 AD. The meaning of the name is "all powerful".
Aldrich is an excellent option from the collection of boy names that mean wise leaders. It is an English name that means wise, old ruler.
3. Bardick
In the list of baby boy names that mean wise leader, Bardick is a rare one. It means "axe ruler".
Czar translates to a ruler or Caesar. The name is often known for its superior nature. And, this is a way of triggering your baby boy's superiority complex.
Looking for a name that means kingly and wealthy? Darius is the apt name.
The name "Donald" is much more serious and meaningful than the quacking Donald Duck. It means a proud leader.
7. Douglas
Douglas is a Scottish name with an aristocratic feel. The name belongs to a clan borne by a powerful line of Scottish earls.
It is quite evident that the name Duke translates to the leader.
9. Ethan
Ethan is a popular moniker in Ireland, Wales, Belgium, and England. Ethan Allen is a popular name bearer who was the war hero and patriot of the 18th-century American Revolution.
Are you looking for baby boy names meaning leader? If yes, Enzo could be a choice for you. It is an Italian name that became quite famous in America and Europe.
The name Erick means eternal ruler. You can also write it as "Eric".
The name Eero hails from Finnish origin. It means an eternal ruler.
In the 11th century, the name Friedrich was introduced in England. The name means "Peaceful ruler".
Another name that translates to "Peaceful Ruler" would be Fritz.
15. Geronimo
Geronimo is a stylish version of the Italian name Jerome. It also belongs to the renowned Apache mystic and leader.
The name Harry comes from the name Henry. Harry means an estate ruler. Many people consider Harry as a funky name after the release of "Harry Potter". However, this name has a different meaning and so much value.
Since the 2nd world war, the name Henry became quite famous. It tops the list of leader names for boys. After all, the name Henry means nothing but a state ruler.
Why would you look for a name that signifies ruler/leader, when you can call your little boy "King"? It is a bold choice for your son. Nevertheless, he will be known and called a "King" all the time. And doesn't this sound wonderful?
As cute as it sounds, this name carries a more significant and a bolder meaning. The name Mael means prince or chief. It has been around since the early 5th century.
20. Mircea
Mircea is a distinguished Roman name which means "peace". The name also belongs to a medieval ruler who saved Wallachia with his wit and wisdom.
21. Nestor
Nestor is a medieval Greek name that belongs to a Greek legend whose advice helped the Greeks win the Trojan War.
22. Oceanus
This mighty leader's name has a spectacular aura. This mythological Greek name belongs to the ruler of the oceans.
The name Othniel translates to the Lion of Kings. The name is of Hebrew origin.
Pharaoh speaks and feels the ruler in every letter.
25. Quade
Quade is an uncommon English version of the Gaelic name Mac Uaid, which means "ruler of the army".
For thousands of years, little boys are named Richard. It is a popular name amongst parents. The name Richard means the dominant ruler.
27. Rodrigue
Rodrigue is the stylish French version of the name Roderick, which is quite uncommon in France. If you choose this name for your little boy, this unique name will definitely fit him.
28. Rollo
Rollo is a vibrant boy's name that is associated with the powerful Viking ruler in the Middle Ages. It would also make a cute nickname for Ronald or Rudolf.
29. Ronald
Ronald is a classic spin-off of the English name Donald and is quite popular worldwide.
Ronnie is a variation of the name "Ronald". It means a wise ruler. Some believe that Ronnie is the shorter version of "Veronica".
31. Ruaidhri
Ruaidhri is an elegant Gaelic name once highly popular in Ireland in the 13th century. This spirited name would give a bounce to your child's character.
Are you holding your baby boy for the first time? Isn't he small and beautiful? Aren't there a hundred reasons to name him "Ryne", which means little king?
Looking for an Indian name that means ruler or king? Then, Satish is an excellent option. The name means the ruler of hundreds.
34. Sosthenes
Sosthenes is a Greek name popular in French-speaking countries. The meaning of the name is "safe-strength".
Terry comes from names like Theresa, Theodore, and Terrence. The name means ruler of the people. And, it has been around since the late 1880s.
36. Theodoric
Popular with royals, Theodoric gives off aristocratic vibes. Popular name bearers include Theodoric I and II, Theodoric the Monk, and the kings of the Visigoths.
Do you want to give your baby boy a different name? If yes, choose Thierry, which means the ruler of the people.
38. Truett
Truett is a sassy and friendly surname of the Tru-name family. You can also opt for another variation, Truitt.
The name Vladimir translates to a renowned ruler! It is a name with a solid meaning by birth.
The list of baby boy names meaning leader ends with Zolten. It is a beautiful name from Hungary. The name translates to a ruler or sultan.
Baby Girl Names That Mean Leader or Ruler

1. Ailani
This Hawaiian girl's name means "high chief".
Some say that the "h" in this name is unnecessary. This name is of Arabic origin. And, it means king or ruler.
This name rose to fame in the 2000s. Those who want baby girl names meaning leader, find Aubrey beautiful. The name means "Ruler of the Elves".
There are so many variations of this name. You will come across Adrianna, Arianna, and Audrianna. It is a fancy name that means a strong leader.
Do you wish to hide the meaning strong leader or ruler in your baby girl's name? If yes, choose Belphoebe. As unusual as it sounds, this name means "Beautiful Diana".
It is quite evident that Contessa translates to Duke, royalty or prince. And, if you are naming your little girl "Contessa", it means "countess". People with the crazy for royal names, find Contessa genuinely appealing.
The name Daria is of Latin origin, and it means "Kingly".
Another name that means "Kingly" would be Darya. Of course, this is an exotic name of Russian origin.
Do you wish to make your intentions of naming your little girl a strong ruler evident? If yes, choose Empress. As suggested, this name means a female ruler or empire.
A lot of parents are unaware of the fact that Erica means eternal ruler.
11. Etta
Once high in demand over 100 years back, the name Etta is a popular et prefix, which means "ruler of the home".
Are you prepared to take your craze for names that mean powerful ruler to the next level? If yes, choose Geraldine. The name translates to a ruler with a spear.
13. Farika
This German-origin name means "peaceful leader".
Since the late 1950s, the name Frieda became famous in the United States. Nevertheless, this name is of German origin. And, it means a peaceful ruler. When you look for baby girl names meaning leader, you are bound to come across Frieda.
15. Haddie
Originating in the US, Haddie is a fun spin-off of the name Maddie. The meaning of the name is "home-ruler".
For generations, girls have been named Harriet. Maybe because this is a mighty name that translates to "estate ruler". If you want something classic, and earnest – Harriet is a great option.
Another name that means "Estate Ruler" would be Henrietta. It is a rare and uncommon choice for baby girls.
For many years, people believed that the names of Jamaican and Hawaiian origin could not be powerful and strong. Well, Iolani proved them wrong. This name translates to hawk of royalty. And, isn't this a great name for your little one, a strong leader?
Sometimes, the most obvious and common names might not strike an impact in our minds for its meaning! And, Juno is one such name. You may have come across so many Juno's in your life. And, did you ever know that the name means "Queen of the Heavens"?
Another Hawaiian name that means princess or queen would be Kala.
The name Kendra translates to "wise ruler". It gained popularity in the second half of the 20th century, especially in America. The name is derived from the famous "Kendrick".
Are you a great fan of Miley? But, are you looking for a name that sounds more formal and authoritative? If yes, choose Maelie, which means princess. It could be the French version of the name Miley.
Maelys is a rare name for your baby girl. With French origin, this name means princess or chief.
Undeniably, Malika is a multi-cultural name. You will find the name used around the world. Whether you go to India or Australia, you will find a Malika. And, this name means master.
Another new name that lost its charm would be Mazarine. It is an unusual name that was extremely famous in France. So many leaders were named Mazarine in the 17th century.
26. Nimue
Unique and pleasant-sounding, Nimue is a distinguished name popular in the Arthurian legend as the ruler of Avalon.
The name Orla translates to the golden princess.
28. Piper
Piper is a fancy occupational surname, quite popular as the first name. The name refers to the people who played pipes.
29. Raidah
Raidah is a stylish girl's name of Arabic origin. It means "leader" or "pioneer".
30. Raina
Raina is a wonderful name of Slavic origin, meaning "queen". This could be it if you are looking for a kingly feel to your baby girl's name.
The talk about leader names for a girl will be incomplete without Rona. This name is used in Spain, Wales, and even the United States. The name means "wise ruler". It is the feminine version of "Ronald".
32. Ronnie
Ronnie is the anglicized form of the name Ronald, which originated from an old Scandinavian name Rognvaldr. The name Ronnie stands for "wise ruler".
The name Rory means "Red ruler". This name is of Irish origin. Rory is often mistaken as a name for baby boys. However, the reality is quite different. You can name your little princess "Rory" without any second thoughts!
34. Sadie
Sadie is a cool and sassy name that originated from the name Sarah as a pet name. It means "princess".
35. Sophrona
This cute name comes from Greek and means "self-controlled", the quality which leaders are known for.
36. Suri
Suri is a fancy and eccentric name for girls, which has a delightful meaning – "red rose". Since the red rose is the ruler of all flowers and stands apart from everything, this name could be a perfect fit for your little girl.
Are you looking for rare names that mean powerful ruler? If yes, Vlatka is an excellent choice. This name means a great ruler.
38. Walda
Walda is a Germanic feminine version of the name Waldo and means "ruler".
39. Zo
Zo is an African name which means "spiritual leader".
40. Zora
This wonderful-sounding has its own fan following. If you are looking for a voguish and sassy name, then this could be a perfect fit.
Whether you are looking for names that mean powerful ruler for your baby girl, or baby boy names meaning leader – you are not alone. Every day, millions of parents search for names that are powerful and meaningful for their little ones. We hope our list of baby names that mean leader/ ruler helped you in making a choice.
Also Read:
How to Choose Baby Name
Most Popular Baby Names for Boys and Girls
Indian Baby Boys and Girls Names with Meanings