Emma Name Meaning and Origin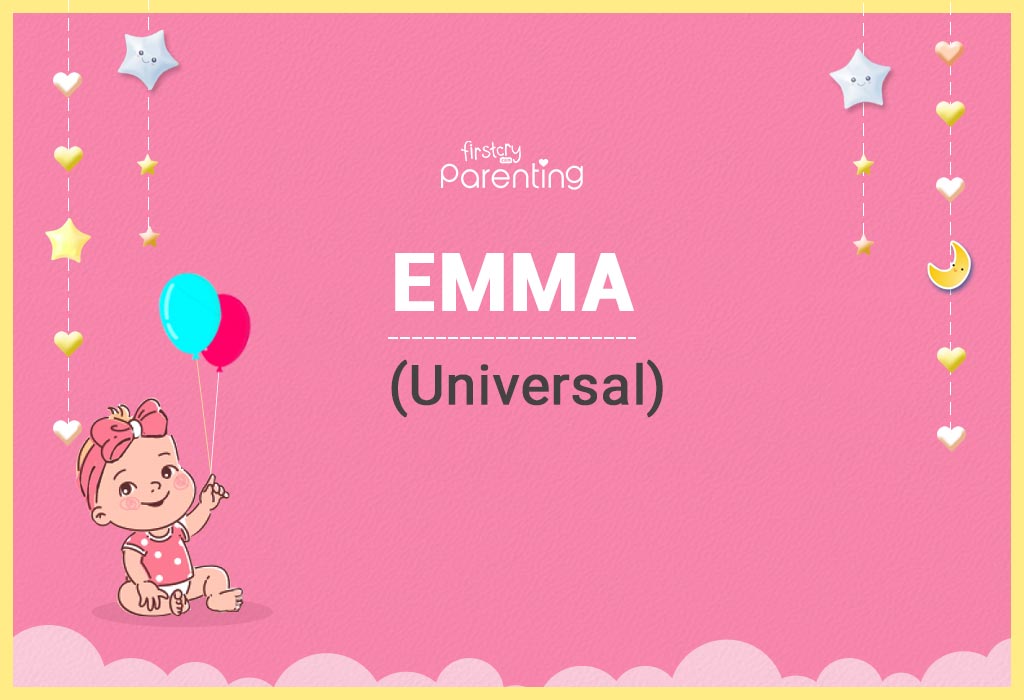 When choosing a name for your baby, it is natural to look for a meaningful one that will stay relevant forever. Thus, it is also natural to turn to celebrities for inspiration. If you wish to name your little girl Emma, keep reading to know the name's background, its many variations, stars with the name, and compatible sister and brother names, and suitable nicknames.
What Does Emma Mean?
Emma is a female name of Latin origin with the meaning 'universal' in most cases. Emma's popularity began in the 1980s in the United Kingdom and extended to the United States in the 1990s. Emma is often used as a stand-alone name or as a diminutive form of Emily. Emmy is one of the most famous nicknames for the name Emma.
Emma is a variant spelling of Erma, and it is often used as an abbreviation for Germanic names that indicate 'strength' and begin with the letters Erm (en) or Irm (en). Emma is often rendered as 'universal' or 'complete.' It may also be a nickname for a girl's given name, such as Emilia, or a diminutive of Emmanuella.
Origin
Emma is taken from the Germanic term "Ermen," which means 'complete' or 'global.' It is an English equivalent derived from an ancient Germanic word that means 'whole' or 'universal,' an excellent match for the child who'll pretty much be your entire universe. So, you can choose this name to denote your love for your child and ensure that your child is beloved of all around her.
Gender
Female
Pronunciation
Em-mah
Syllables
2 syllables
Length/Letter
4 letters
Name Variations/Spellings
Emma is unquestionably a traditional name, as is one of the Bible's most adored heroines. However, you may be looking for Emma name variations to introduce modernity to this classic name. The following are a few other spellings for Emma that you may choose from:
| | |
| --- | --- |
| Name | Origin |
| Emmalyn | English |
| Ema | Spanish |
| Ima | Dutch |
| Ima | German |
| Irma | German |
| Esme | French |
| Ada | German |
| Thea | Greek |
| Eliza | Hebrew |
| Gemma | Italian |
How Popular Is the Name Emma?
Classic naming choices have made a comeback since the early 2000s. When Emma was chosen as the moniker for Rachel and Ross's baby on "Friends," it rocketed to the #2 position in 2003. It rose to the top of the rankings in 2008 before falling back into the top three. As per the data collected by SSA, Emma's baby name ranking was the highest among baby girls for the first time since 2008. The immense popularity of the name resulted in it occupying the top position for five consecutive years before dropping to #2 in 2019.
Interest in Emma – Worldwide
Worldwide interest in the name Emma can be observed across the decade-long search and interest trends. While the name gained the highest place in the popularity scale in March 2017, the lowest recorded popularity in this decade was recorded in July 2019, on a scale of 41.
Interest in the name Emma – the US
The interest trend of the name Emma has been highly volatile over the last decade. While the point of highest interest coincides with that of worldwide interest in March 2017, the popularity scale index of the name fluctuated heavily in the rest of the months within this duration.
The popularity of the name Emma
URL: https://www.ssa.gov/cgi-bin/babyname.cgi
Where Is the Name Most Searched?
Search trends of Emma Worldwide
As anticipated, due to its biblical importance and connotations, search trends for the name have been the highest in Sweden, followed by the UK, Ireland, Italy, and Australia. These countries form the top 5 countries with the highest search trends over the past decade.
Search trends of Emma in the US
The name has been equally as popular in the US as in the rest of the world. While the sub-region of Vermont generated the highest search results over the decade, it is followed by Utah, Hawaii, Massachusetts, and New Hampshire, implying a nationwide increase in interest.
Middle Names That Go With Emma
Emma is a beautiful name due to the profundity of the word. However, if you want to go off on a unique path, you can choose these double names with Emma and give it a touch of modernity and freshness:
| | |
| --- | --- |
| Alexandra | Grey |
| Hope | Opal |
| Raine | Vale |
| Leon | Grace |
| Frederick | Luke |
| Althia | Jane |
| Anita | Kathleen |
| Astrid | Mae |
| Breanne | Nariel |
| Chantelle | Sela |
| Clarice | Sheila |
| Fern | Tania |
| Giselle | |
Famous People Named Emma
As many renowned people carry Emma's name, it has recently risen to the top of the popularity rankings. If you are still unsure about the name Emma, here are some famous people called Emma to inspire you:
| | |
| --- | --- |
| Celebrity Name | Profession/Famous For |
| Emma Thompson | British Actress |
| Emma Stone | American Movie Actress |
| Emma Watson | English Actress |
| Emma Roberts | American actress |
| Emma Mackey | American Actress |
| Emma Swan | Character in 'Once Upon a Time' |
| Emma Pillsbury | Character in 'Glee' |
| Emma Nelson | Character in 'Degrassi' |
| Emma Chamberlain | YouTuber |
| Emma Marie | YouTuber |
| Emma Anzai | Musical performer |
| Emma Andersson | Swedish TV personality |
| Emma Bunton | Singer-songwriter |
| Emma Goldman | Russian-born political activist and writer |
| Emma Hayes | English professional football manager |
| Emma Lazarus | Jewish American writer and activist |
| Emma Raducanu | British professional tennis player |
| Emma Reyes | Colombian realism painter and writer |
| Emma Lahana | New Zealand actress |
Emma in Popular Culture
The name Emma is fascinating and highly popular. Given its worldly demand, here are some worth-noticing characters by the name Emma in popular culture:
| | |
| --- | --- |
| Names/Characters | Famous For in Pop Culture |
| Emma Frost | A fictional Marvel character appearing in Wolverine and X-Men. |
| Emma Geller-Green | A cutesy character from the all-time favourite Friends sitcom. Daughter of Rachel Greene and Ross Geller. |
| Emma Morley | A hardworking protagonist in the movie One Day played by Anne Hathaway. |
| Emma Nelson | A protagonist of the teen drama show, Degrassi: The Next Generation. |
| Emma Peel | A fictional spy character from the British 1960s series, The Avengers. |
| Emma Pillsbury | A popular character from the musical comedy-drama series, Glee. |
| Emma Ross | A friendly 19-year-old character in a comedy television series, Jessie. |
| Emma Swan | A protagonist in the television series Once Upon a Time. |
| Emma Woodhouse | A 21-year-old protagonist in the 1815 novel Emma by Jane Austen. |
Similar Names & Last Names
It is normal to feel that a particular name is old-fashioned and want a more modern name while also protecting the aestheticism of the classic name. In such cases, baby names similar to Emma and other names for this purpose can be helpful. Here are some variations along with suitable family names for Emma:
| | |
| --- | --- |
| Other Baby Names | Suitable Family Names |
| Emily | Crawford |
| Enid | Downy |
| Eva | Langsmith |
| Everly | Lewis |
| Emerson | Edwards |
| Ember | Worthington |
| Elizabeth | Richardson |
| Erica | Carson |
| Elise | Peterson |
Names That Sound Like Emma
While Emma is a beautiful name, it is natural to stray slightly and choose names that rhyme with Emma. This maintains the essence of the name while giving it a modern feel. Here are some names that sound like Emma:
| | |
| --- | --- |
| Alma | Emily |
| Anna | Emme |
| Audrey | Esme |
| Ella | Gemma |
| Elle | Ida |
| Emerald | Imaa |
| Emerson | Rachel |
| Emery | |
Sibling Names Related to Emma
Choosing names for the siblings of Emma is as crucial as selecting the name Emma itself. Selecting suitable sibling names that go with your eldest's name can help maintain the cohesiveness of your kids' names and make for a sweet-sounding set of siblings.
| | |
| --- | --- |
| Sister Names for Emma | Brother Names for Emma |
| Molly | Noah |
| Olivia | Andrew |
| Sophie | Evan |
| Astrid | Ethan |
| Lucy | Luke |
| Grace | William |
| Claire | Owen |
| Ava | Samuel |
| Hannah | Ryan |
| Lily | Liam |
Nicknames for Emma
A child's nickname is as unique as their formal name – you need to look out for names that may embarrass your girl when she grows up but in a good way! Here is a list of adorable ideas for nicknames for Emma:
| | |
| --- | --- |
| Emmy | Em |
| Emms | Emu |
| Ima | Emy |
| Ema | Emmaliya |
| Erma | Emmaline |
FAQ's
1. What Is the Meaning of the Name Emma in the Bible?
The name Emma is also loved by religious people. Emma is a pleasant-sounding name meaning 'my God has answered' in Hebrew. It can possibly be linked with the adaptation of the biblical name Emanuel, which stands for 'God with us.'
2. Which Color Is Associated With the Name Emma?
Emma is mostly associated with orange and green hues, which brighten the spirit of the name.
3. What Are the Zodiac Signs for the Name Emma?
The zodiac sign for the name Emma are: Aries, Libra, Leo, and Gemini. Of all four, Aries rules the most. You will find Emma Watson and Emma Thompson sharing the same zodiac sign, Aries.
4. Does Emma Represent a Royal Name?
Emma is a beloved choice among aristocrats and royals. For instance, Emma of Waldeck and Pyrmont and Queen Emma of Normandy are some notable bearers of this name.
5. Which Personality Does Emma Represent?
Emma resonates with softness and free-spiritedness when pronounced, but the name also carries an awareness and risk-taking streak that could imply being a diligent person.
While choosing your baby's name is a big task, it need not be complicated. You can easily pick from classic names like Emma or the many variations of the same name provided here. This will help you ensure that you have chosen a suitable and beautiful name that is bound to be unique to your child.
Sources/References
Social Security Administration: https://www.ssa.gov/cgi-bin/babyname.cgi
Emma Name Popularity in the United States: https://trends.google.com/trends/explore?date=2011-08-08%202021-08-08&geo=US&q=Emma
Emma Name Popularity Across The World: https://trends.google.com/trends/explore?date=2011-08-08%202021-08-08&q=Emma
Emma Name Interest in the United States: https://trends.google.com/trends/explore?date=2011-08-08%202021-08-08&geo=US&q=Emma
Emma Name Interest Across The World: https://trends.google.com/trends/explore?date=2011-08-08%202021-08-08&q=Emma