Carrot Cake with Nuts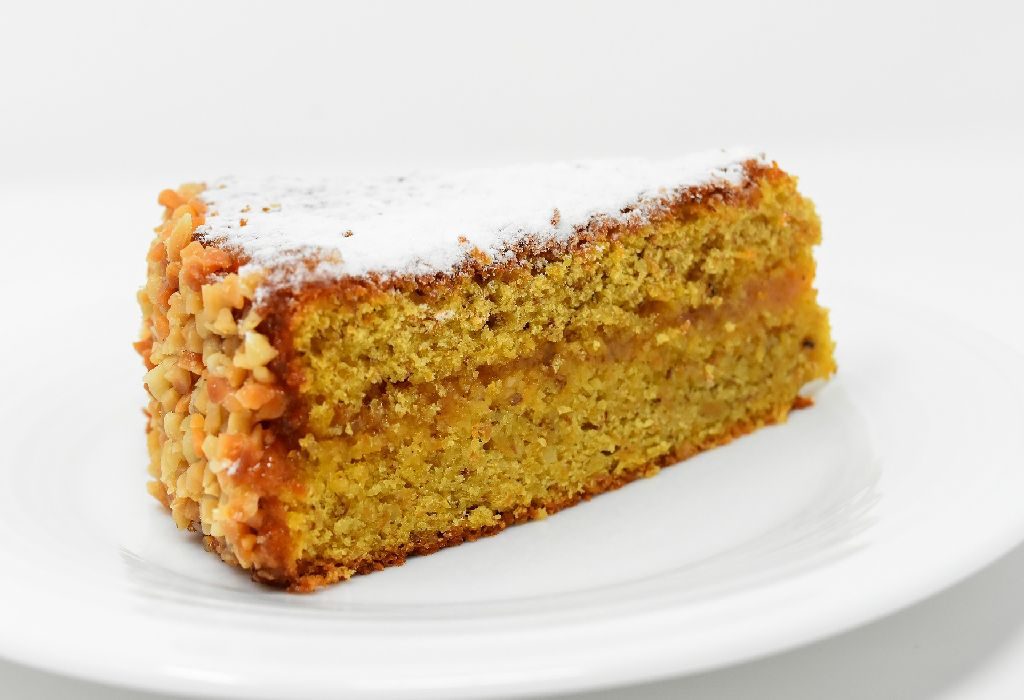 In this Article
The good thing about this cake is its name. It is an exceedingly healthy cake that carries the goodness of carrots, walnuts and almonds. In addition, the icing is decadent and does not become crusty. Enjoy baking and treating your family and friends to this moist, mildly-spiced-carrot-flecked cake this Easter.
| | | |
| --- | --- | --- |
| Serves | Preparation Time | Cooking Time |
| 4 People | 10-15 Minutes | 50-60 Minutes |
Ingredients
350 g carrots, peeled and grated
225 ml sunflower or corn oil
275 g plain flour
1 tsp baking soda
1 tsp baking powder
1 tsp cinnamon powder
4 large eggs, beaten
300 g sugar
2 tsp vanilla extract
100g walnuts, chopped
For the Icing
100 g cheese
25 g butter
250 g icing sugar
1 tsp vanilla extract
Lemon zest
Method
Step 1
Preheat the oven to 180 degree Celsius. Line and grease the base of an eight inch round cake mould.
Step 2
In a large bowl, mix together flour, baking powder and ground cinnamon. Set aside.
Step 3
In another bowl, use an electric mixer to beat the eggs until they become fluffy. Gradually whisk in the sugar and beat for 3 – 4 minutes. Now, add the vanilla extract and the above-mentioned flour mixture. Beat again till it becomes soft.
Step 4
Next, add the carrot shreds and nuts to the batter and give it a final stir.
Step 5
Place the batter into the cake tin and bake for 60 minutes.
Step 6
After 45 minutes, place a sheet of tin foil over the cake to prevent it from browning too much on top.
Step 7
Remove from oven and allow it to cool for 10 minutes. Turn the cake and remove the tin and lining paper.
Step 8
Allow it to cool completely before you begin with icing.
For Icing
Step 1
Beat the cream cheese and butter in an electric mixer.
Step 2
Gradually add the icing sugar while you mix it on low speed. Add, vanilla extract and lemon zest.
Step 3
Slowly pour the icing over the cake and decorate with coloured candy sprinkles.
Nutritional Information
| | |
| --- | --- |
| Calories | 1650 Kcal |
| Proteins | 26.4 gm |
| Total Fat | 85.6 gm |
| Total Carbohydrates | 202.5 gm |
| Cholesterol | 226 mg |
| Sodium | 640 mg |
| Potassium | 709 mg |