#ItalianLove Beet Cashew Ricotta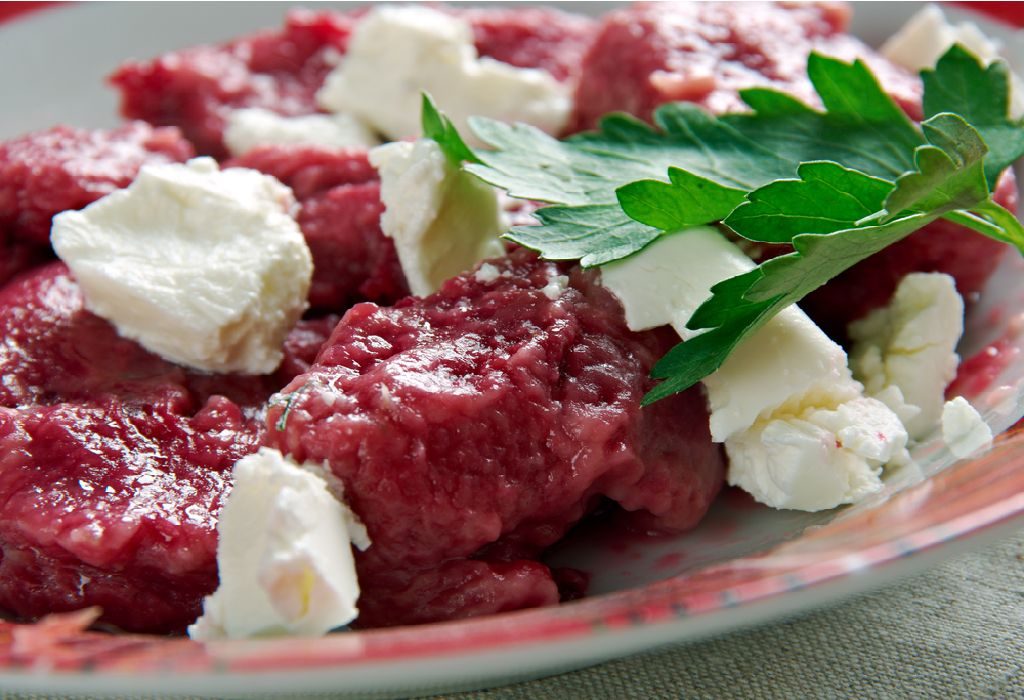 In this Article
A cashew ricotta complements the sweet flavour of beet in this colorful dish.
| | | |
| --- | --- | --- |
| serves | preparation | cooking Time |
| 4 People | 20 Hours | 15 Hours |
Ingredients
Cashew Ricotta
1 large head garlic
4 tsps (teaspoons) olive oil, divided
2 cups raw cashews, soaked 2–4 hours
4 tsps nutritional yeast
2 tbsps (tablespoons) fresh lemon juice
1 tsp sea salt
5 tsps apple cider vinegar
Pasta-Shaped Beets
½ lb. beets, greens removed
1½ tbsp olive oil
1 medium red onion, chopped (1½ cups)
1½ tsp balsamic vinegar
1½ tsp mirin (rice wine)
8 oz. whole-wheat linguine
¼ cup chopped flat-leaf parsley
Method
To make Cashew Ricotta
Step 1
Preheat oven to 400°F. Slice garlic head, drizzle with 1 tsp oil and wrap in parchment paper, then in foil. Roast 1 hour, or until soft.
Step 2
Rinse and drain soaked cashews, and transfer to food processor. Add remaining 1 tbsp oil, nutritional yeast, lemon juice, salt, and vinegar. Squeeze roasted garlic from cloves into food processor, and blend until smooth.
To make Pasta shaped beets
Step 3
Boil beets in a large saucepan with enough water to cover the beets by an inch. Cover, simmer 35 to 40 minutes, or until beets are tender. Drain beets, and slip off skins under cool running water. Coarsely chop beets, and set aside.
Step 4
Heat oil in large skillet over medium heat. Add onion, and sauté for 8 to 10 minutes.
Step 5
Cook 15 minutes more on medium-low heat. Stir in balsamic vinegar and mirin. Cook 2 minutes, or until liquid evaporates. Transfer onion mixture to food processor, add beets, and purée until smooth. Season with salt and pepper, if desired, and transfer to medium saucepan. Keep warm.
Step 6
Cook pasta according to package directions. Drain, reserving 3 tablespoons pasta water. Return pasta to pot; toss with beet sauce, add remaining 1 1/2 tsp oil, and reserved pasta water. Top each serving with 2 tablespoons Cashew Ricotta, and sprinkle with chopped parsley.