Semiyaan / Vermicelli with Veggies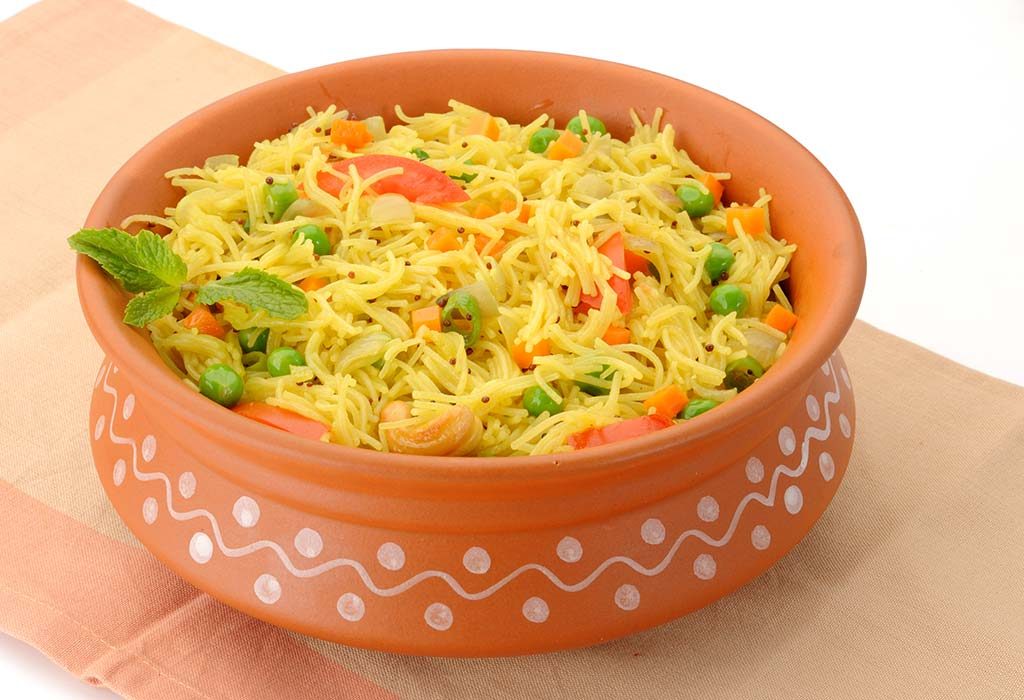 In this Article
Vermicelli is a healthy alternative to the ready-to-cook noodles available in the market. Also, because it takes less time to cook, this dish is a hit with mommies. Load the dish with veggies of your choice, and it will turn out to be a feast for the eyes while being easy on the stomach. Feel free to jazz things up by adding a handful of roasted nuts like cashews or a tablespoon of grated coconut over the semiyaan before serving, and watch your kids come back for seconds.
| | | |
| --- | --- | --- |
| Serves | Preparation Time | Cooking Time |
| 4 People | 10 – 15 Minutes | 10 – 15 Minutes |
Ingredients
200 g vermicelli
20 g carrot, chopped
30 g green bell pepper, chopped
30 g red bell pepper, chopped
60 g onion, chopped
20 g sweet corns, boiled
10 g french beans, chopped and boiled
3 tbsp oil
Method
Step 1
Place a small pan on medium heat and add a tablespoon of oil. Once the oil gets hot, roast the vermicelli until it turns golden brown.
Step 2
Now, keep two cups of water for boiling. Once it starts boiling, pour it over the roasted vermicelli and allow it to cook till it becomes transparent.
Step 3
Drain the vermicelli with the help of a strainer to remove the extra water. Drizzle a little oil over the vermicelli and toss it.
Step 4
In another pan, boil carrot, french beans and sweet corn. Keep it aside once they become soft.
Step 5
Take a tablespoon of oil in a small pan and keep it on medium heat. Add mustard seeds, cumin seeds and curry leaves when the oil becomes a little warm.
Step 6
Add chopped onion and stir fry till it turns transparent. Now, add red and green bell pepper and stir fry it till the pepper pieces become a little soft. Add boiled sweet corn, french beans and carrot in the pan and saute it.
Step 7
Now, sprinkle some turmeric powder, red chilli powder and salt on the vegetables.
Step 8
Lastly, add the vermicelli and give it a good stir. Let it cook for a minute or two.
Step 9
Squeeze a teaspoon of lime juice over it and mix it well.
Step 10
Garnish with coriander leaves and serve.
Nutritional Information
| | |
| --- | --- |
| Calories | 574 K cal |
| Proteins | 15.9 gm |
| Fats | 13.9 gm |
| Carbohydrates | 95.6 gm |
| Cholesterol | 0 mg |
| Sodium | 41 mg |
| Potassium | 1981 mg |