Homemade Protein Bar Recipes – a Healthy Snack for You and Your Kids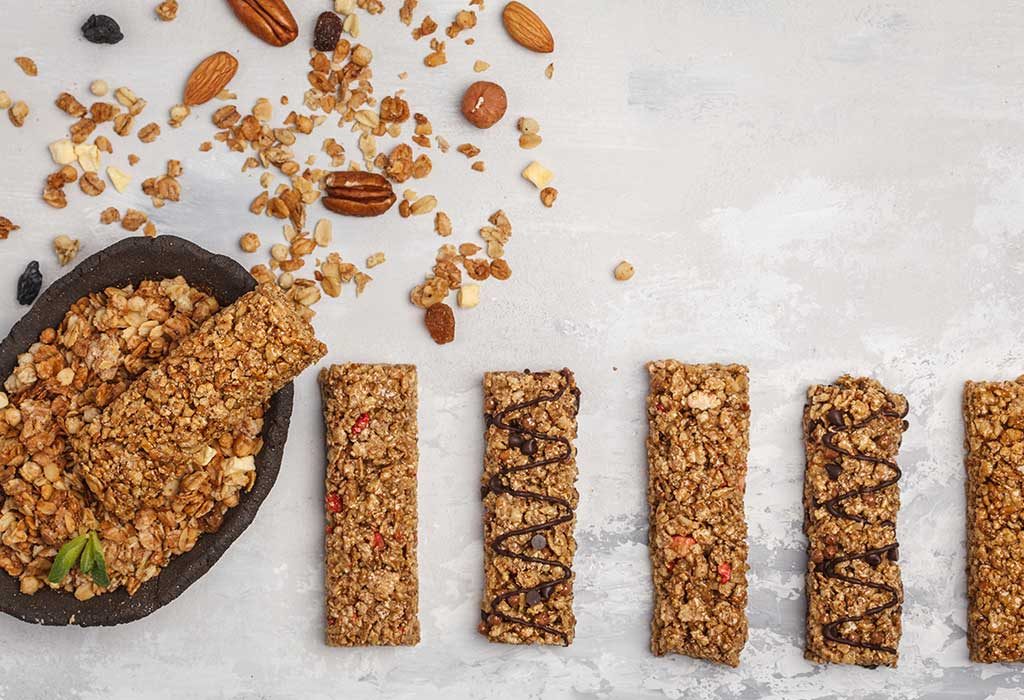 Protein bars have gained popularity with adults and children alike, especially among health-conscious folk. The market has nutrition bars of different varieties, but not all parents are okay with giving protein bars loaded with preservatives to their children. If you are one of those parents who would rather make their own protein bars at home, continue reading to know how to come up with some delicious and nutritious recipes that your kids would love.
Video: Homemade Protein Bar Recipes for Your Kids and You
Healthy Protein Bars Recipes
Here are some easy recipes for nutritious protein bars and protein bars recipe for bodybuilding which you can customise based on your preferences:
1. Vanilla and Peanut Butter Protein Bars
This one is ridiculously easy to make and is loaded with proteins and some calories.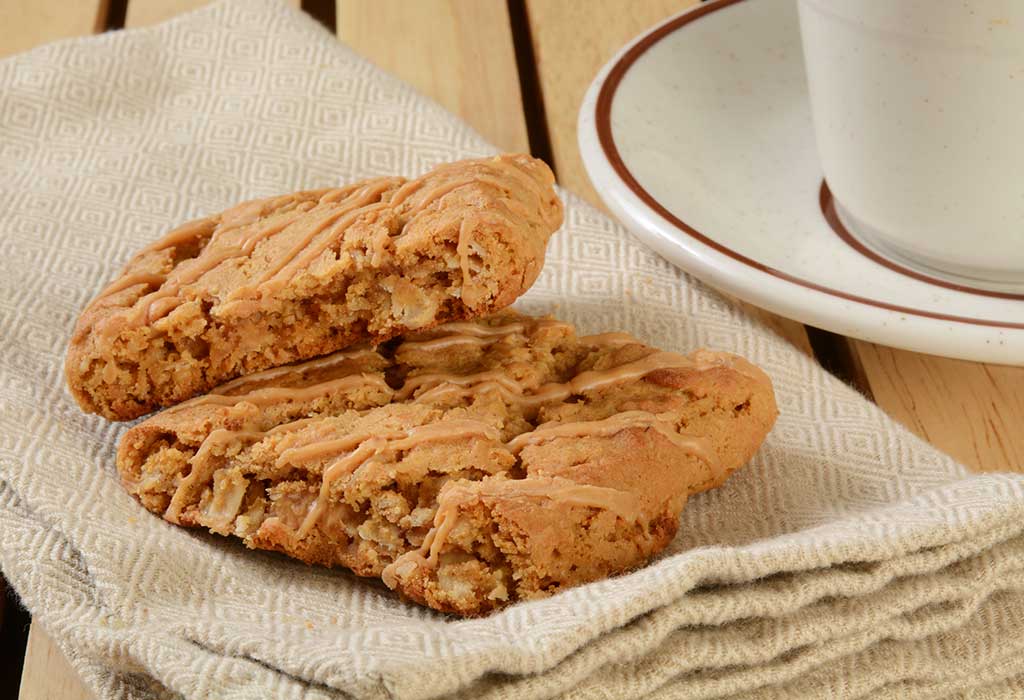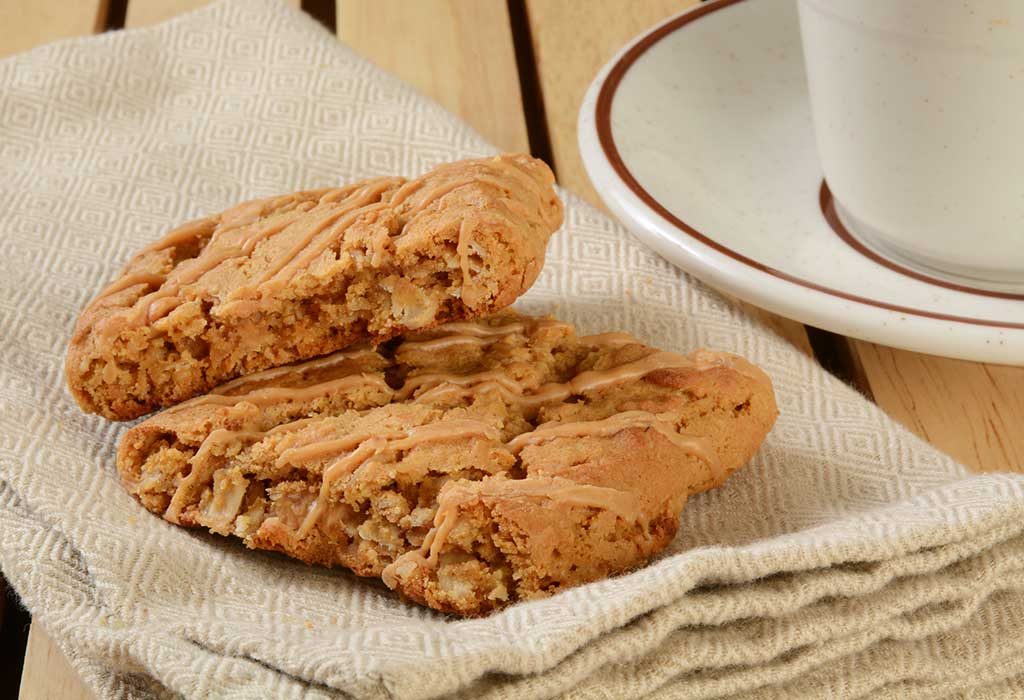 Ingredients
Peanut butter – 1/2 cup
Oats flour – 1/2 cup
Honey – 1/2 cup
Vanilla flavoured protein powder- 2 scoops
Wax paper- 2 sheets
Method
Mix all the ingredients together in a large mixing bowl.
Stir the mixture thoroughly until it starts to form a uniform dough. If some of the powder is still left, use your hands to knead and mix it further until it attains a uniform consistency.
Put the dough blob on a parchment paper and press with your hands or a tool to flatten it out.
Cut the flattened-out dough with a knife into uniformly shaped bars.
Chop up the other wax paper into pieces slightly larger than the dough bars.
Cover each bar with a piece of wax paper and store them in an airtight container in the refrigerator.
2. Coconut, Almond, and Chocolate Protein Bars
This protein bar recipe is loaded with proteins and essential nutrients, plus it's super delicious.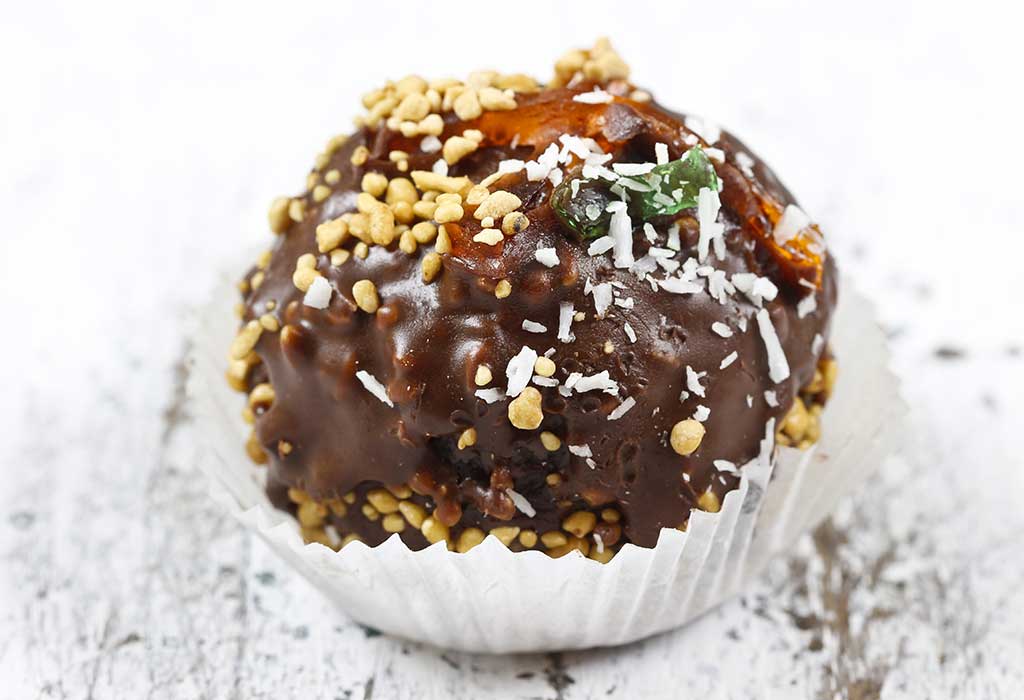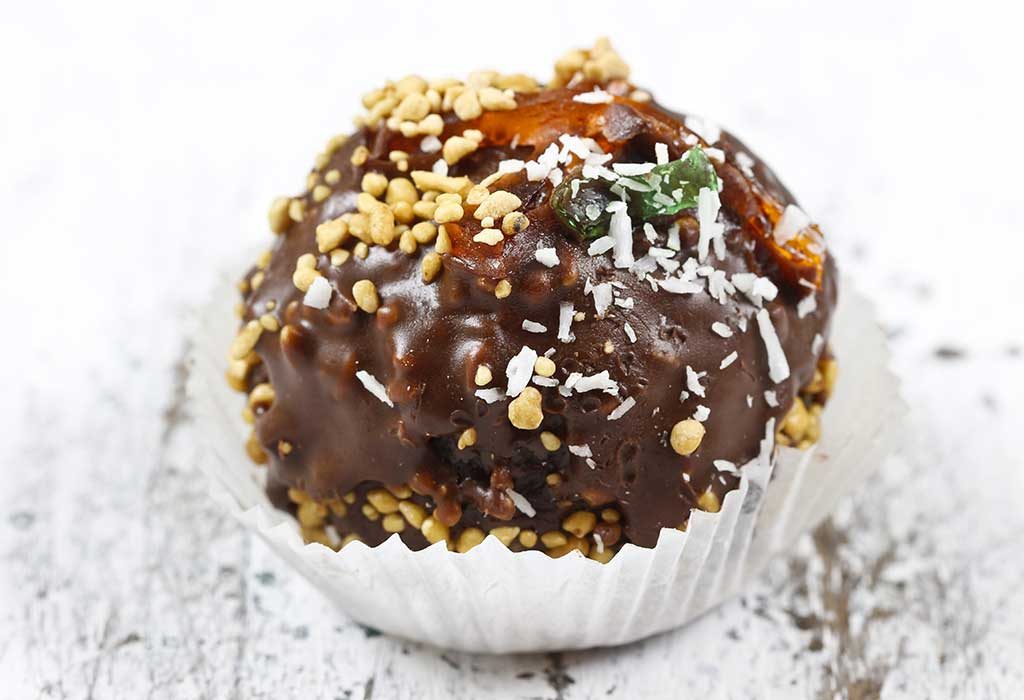 Ingredients
Shredded coconut, unsweetened – 1 cup
Oat flour/almond flour- 6 tablespoons
Vanilla flavoured protein powder- 2 scoops
Unsalted butter/ coconut oil – 1/4 cup
Any sticky sweetener of your choice – 1/4 cup
Almond milk – 1/4 cup
Almonds unsalted – 25 to 30
Chocolate chips/baking chocolate – As needed
Method
Add the shredded coconut, protein powder and almond/oat flour to a large bowl and mix well.
Add the sticky sweetener and the unsalted butter/coconut oil and mix thoroughly.
Incrementally, add almond milk using a tablespoon to the mixture until it forms a thick, consistent batter.
Pull the batter out in bits with your hand and form 10-15 bars or balls and lay them out on a wax or parchment paper.
Press 2 or 3 almonds into each bar/ball and refrigerate until they become a solid mass.
Melt the baking chocolate in a bowl, and using a fork to grip the solid bars, dip them into the chocolate completely.
Refrigerate again to solidify.
3. Sugar-free Cinnamon Protein Bars
This one is a perfect blend of flavour, texture and nutrients, minus the carbs.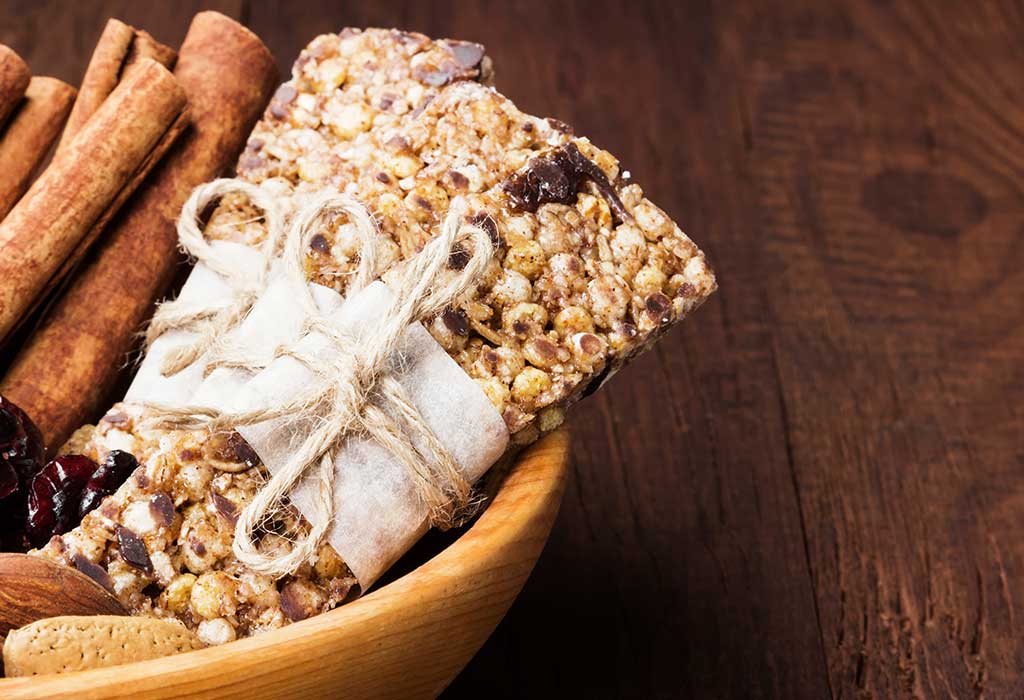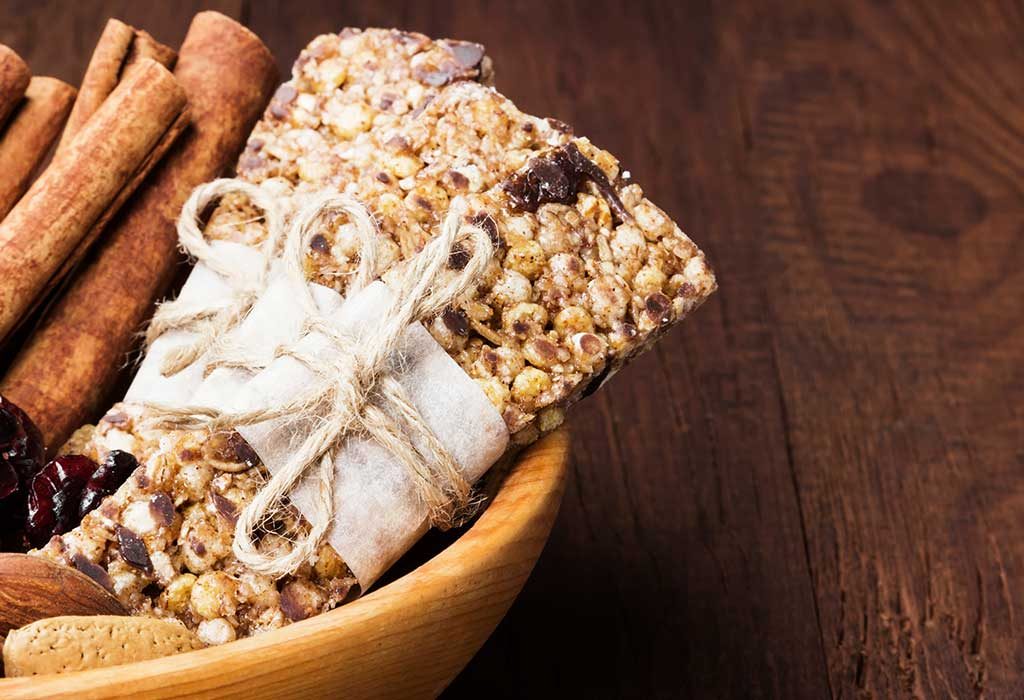 Ingredients
Ripe, mashed banana – 3/4 cup
Chickpeas – 400 grams
Almond butter – 1/2 cup
Finely ground flax seeds – 1/3 cup
Cinnamon powder – 1 tablespoon
Vanilla essence- 1 teaspoon (optional)
Method
Preheat the oven to 176 degree Celsius.
Add the ingredients to a food processor and blend until it is uniform. Alternatively, mash and knead with your hands.
Grease an 8×8 inch baking pan and pour the blended ingredients into the pan.
Bake in the oven for 20 minutes.
4. Chocolate, Nuts, and Sea Salt Protein Bars
This recipe uses simple ingredients and has all the goodness of your favourite nuts; plus the protein, minus the sugar.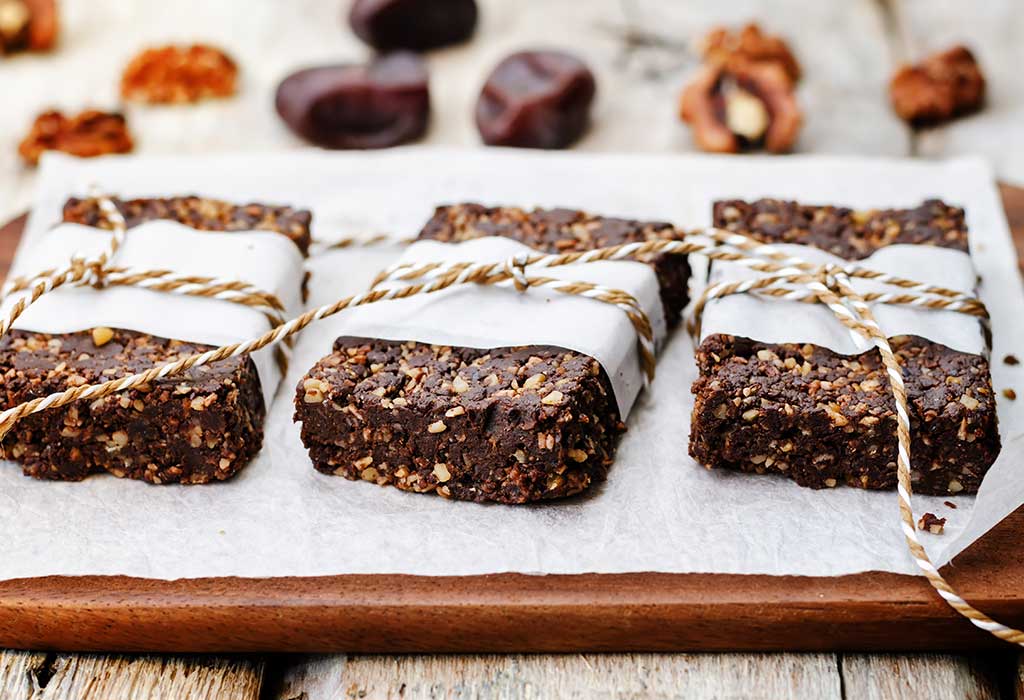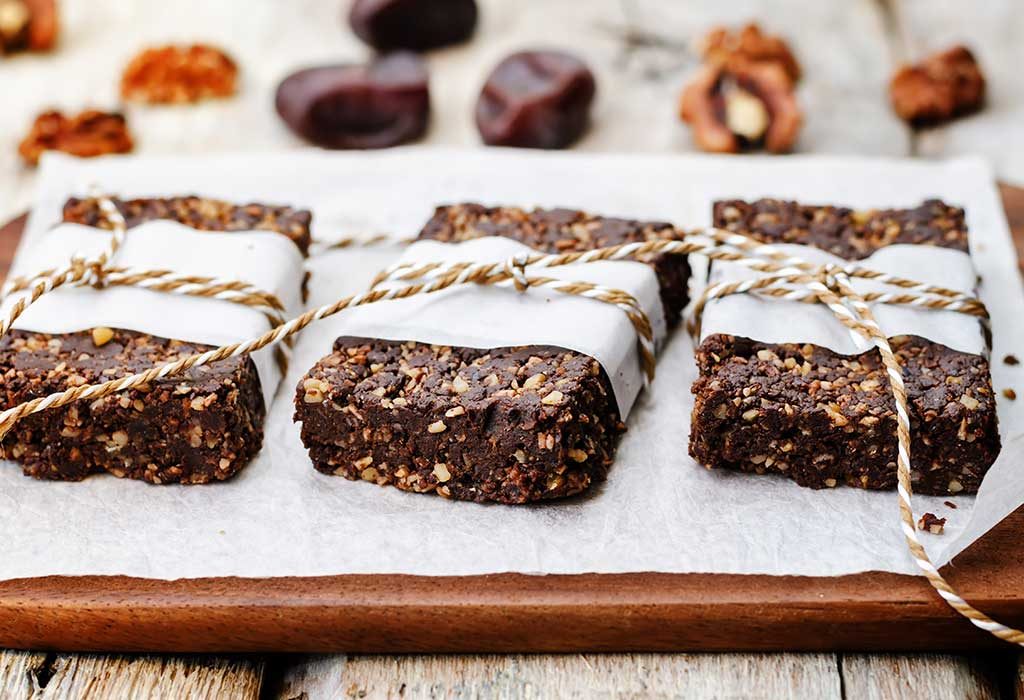 Ingredients
Whole almonds – 1 cup
Raw cashews – 1 cup
Pitted dates – 1 cup
Protein powder of your choice – 3/4 cup
Unsweetened cocoa powder – 3 tablespoons
Sea salt
Cacao nibs or unsweetened chocolate chips
Method
Add the cashews and almonds into a blender and process finely until they turn into a buttery paste.
Now, add dates into the mix incrementally and blend until they are thoroughly incorporated.
Continue blending while you add the protein powder, cocoa powder and a small amount of water until the mixture becomes a crumbly dough. It should have enough stickiness to stay together when you press it between your fingers. If they crumble, add a little more water.
Pour the mixture into a wide baking pan lined with wax paper and press the dough with a flat bottomed pan until it becomes completely flat.
Sprinkle cacao nibs/chocolate chips, chopped almonds and sea salt over the dough. Press the larger lumps into the dough.
Refrigerate the dough until it becomes firm. Cut the flattened dough into bars and wrap individual pieces with wax paper and seal them in a ziplock bag.
Store the bars in a refrigerator.
5. Quinoa, Chia Seeds, and Almond Protein Bars
These protein bars are ideal mid-day healthy snacks.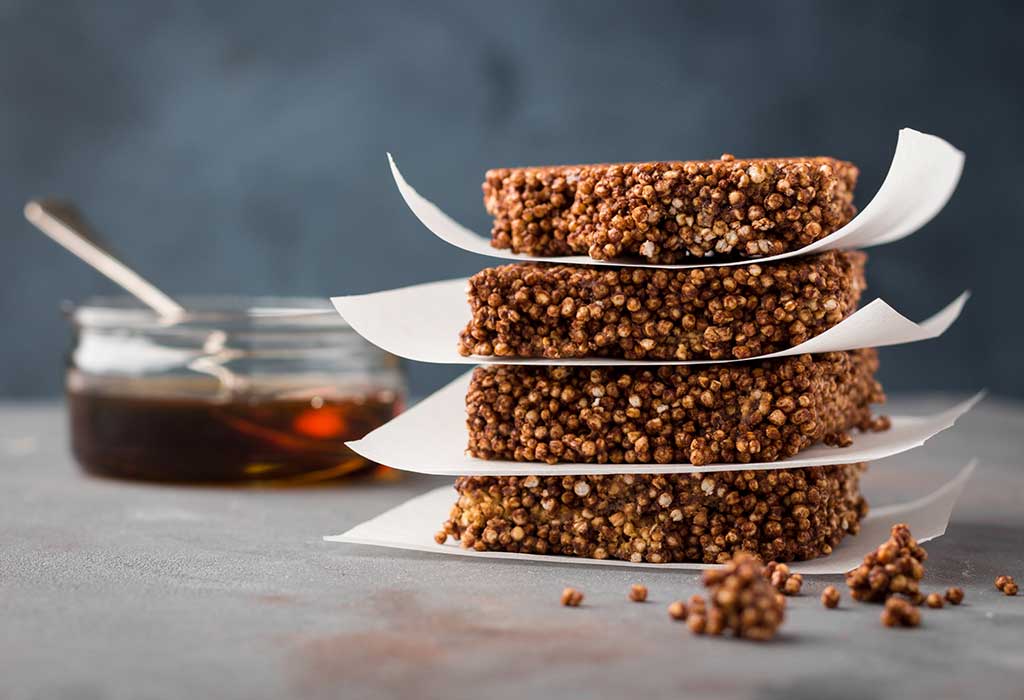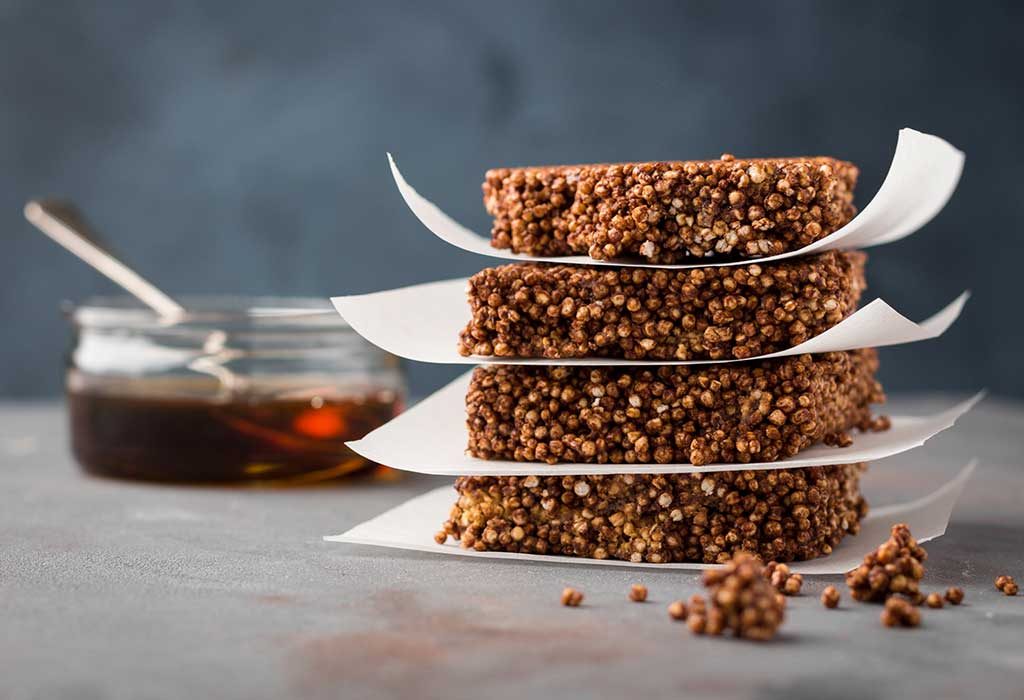 Ingredients
Dry quinoa seeds of any variety – 1/2 cup
Chia seeds of any variety – 1/2 cup
Flax seeds finely ground – 2 tablespoons
Rolled oats – 1 cup
Pink Himalayan salt – 1/4 teaspoon
Cardamom – 1 teaspoon
Cinnamon – 1 teaspoon
Coarsely chopped almonds – 1/2 cup
Honey – 1/4 cup
Brown rice syrup – 1/4 cup
Almond butter – 1/2 cup
Method
Preheat the oven to 176 degree Celsius.
Use a large mixing bowl to mix together the different dry ingredients i.e the chia and quinoa seeds, flax seeds, cinnamon, cardamom, rolled oats, salt and chopped almonds.
Blend the almond butter, honey, and brown rice syrup together in a microwave-safe bowl. Heat in the oven and blend.
Pour the molten ingredients over the dry mix and stir thoroughly with a non-stick spatula. In case they begin to stick together firmly, use your fingers to knead the mixture well.
When mixed well, move the dough to a baking dish lined with parchment paper. Pat the dough until it is flat and even.
Bake in the oven for about 15 minutes and remove when finished, and allow it to cool for 10 minutes.
Separate the slab from the parchment paper and allow it to cool on a wire rack.
Cut the finished slab into protein bars with a pizza cutter.
Wrap cooled bars in wax paper and refrigerate.
Kid-friendly Energy Bar Recipes
Meeting a child's nutritional needs can be tricky especially if they're picky eaters. Your protein bars may be high in nutrients but may lack an appealing taste for the kids. Here are homemade protein bars that your kids would love.
1. Kiddy Whey Protein Bars
These bars are excellent to get your picky eater to consume the protein they need every day.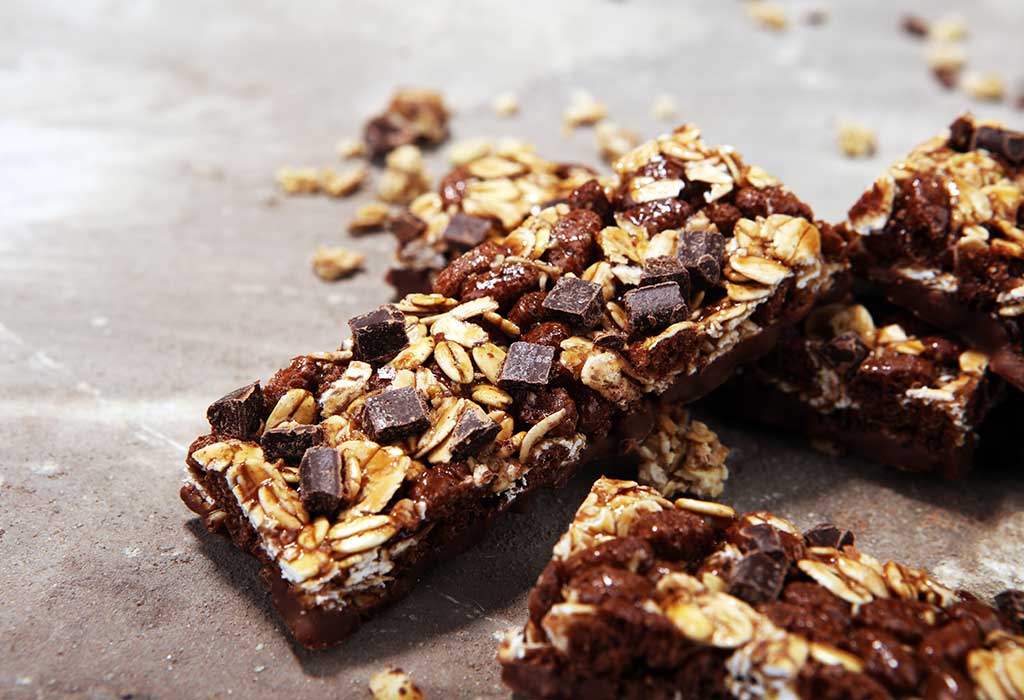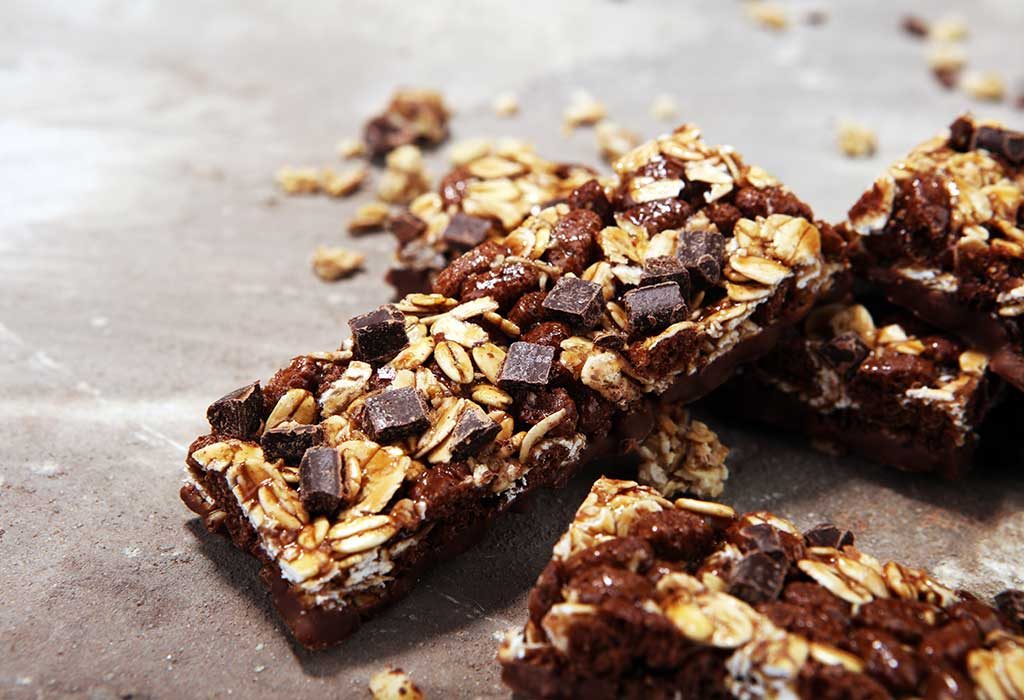 Ingredients
Whey protein – 6 scoops (30 grams per scoop)
Smooth peanut butter – 1/2 cup
Quick oats – 1½ cup
Honey – 1/4 cup
Vanilla – 1 teaspoon
Chocolate chips – 3 tablespoons
Raisins or dried cherries – 3 tablespoons
Unsweetened almond milk – 1/2 cup
Method
Add the oats and whey protein into a large bowl.
Add peanut butter and stir until it forms a uniform mix.
Stir in some honey and vanilla as the mixture comes together uniformly.
Add in the almond milk and continue stirring. Sprinkle in the chocolate chips and raisins.
Transfer the dough into a square pan lined with wax paper and flatten it out until it's thick uniformly.
Use cookie cutters to cut out the protein bars into different shapes and place them all in a Ziploc bag to refrigerate.
Knead the leftover dough into a mass again and flatten it out to repeat the cutting process.
2. Crunchy Nut Protein Bar
These protein bars are a crunchy, delicious, and fun snack that your little one can munch on at any time during the day.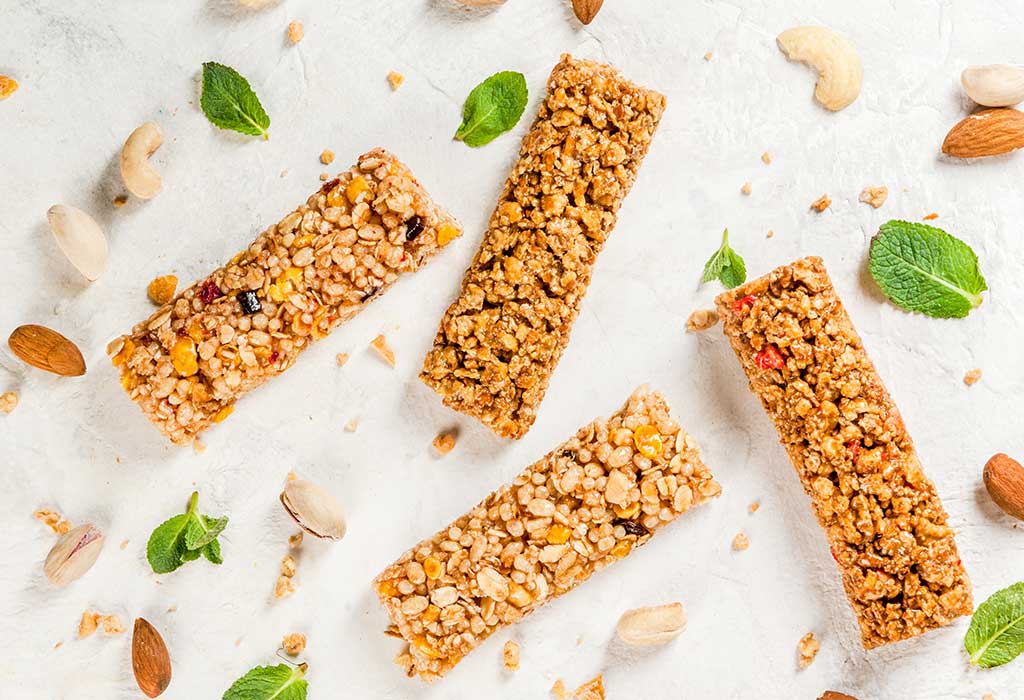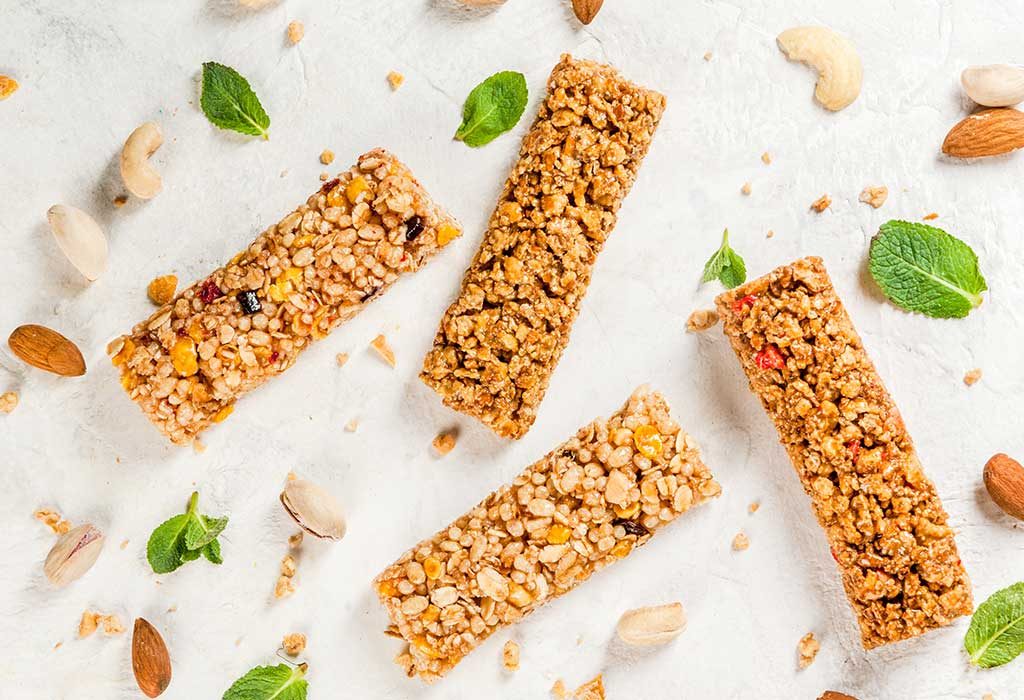 Ingredients
Honey – 1/2 cup
Peanut or almond butter – 1/2 cup
Maple syrup – 2 tablespoons
Canola oil – 1 tablespoon
Light brown sugar – 1/4 cup
Cinnamon – 1/4 teaspoon
Rolled oats – 2 cups
Crispy rice cereal – 2 cups
Toasted wheat germ – 1/4 cup
Chopped almonds – 1/2 cup
Chopped dry fruits (cherries, figs, blueberries, apricots) – 1 cup
Kosher salt – 1/2 teaspoon
Method
Grease a 9×13 inch baking dish and have it ready.
Add maple syrup, nut butter, honey, canola oil, cinnamon, and brown sugar into a small saucepan. Stir the mixture over heat and cook till it just begins to bubble, for about 3 to 5 minutes.
Mix the rest of the ingredients in a large bowl and pour the warm liquid mixture over it while stirring with a spatula. Mix thoroughly and knead if necessary.
Transfer into the greased baking dish and flatten out the dough uniformly.
Allow it to cool before cutting with a cookie cutter.
FAQs
We answer some frequently asked questions about protein bars below:
1. What Should be the Ideal Protein Intake for Adults and Kids?
The recommended protein intake for adults is 0.88 grams of protein for every kilogram of body mass. Therefore, an adult weighing 60 kilograms would need about 52.8 grams of protein every day. For children around 10 years of age, the recommended protein intake is 0.95 grams of protein per kilogram of body mass. Therefore, a child weighing 35 kilograms needs about 33 grams of protein every day.
2. When Can Children Eat Protein Bars?
Since the body doesn't store proteins, children can do well by spreading out their protein intake throughout the day. They are best had during short breaks in school and after physical activities. Space the intake away from meals.
3. What to Look for in a Protein Bar
There are 4 important things you need to look out for in protein bars that you make at home or buy from a store:
Look out for high fructose corn syrup, aspartame, and palm oil. Protein bars ideally shouldn't have these ingredients.
Excess sugar defeats the point of eating protein bars. So watch out for these.
Calorie content is important especially when you're on a weight loss program. Keep it below 400 calories per bar. Protein bars for kids, however, can have more calories as they need more energy during the day.
The sources of protein may differ in bars. Some may be from eggs, some from whey and some from collagen.
Homemade protein bars are excellent sources of all the essential nutrients your body needs along with proteins. What's better is that you know exactly what ingredients go into it, and you have control over its making.
Also Read:
Healthy Fruit & Nut Bars Recipe
Nutritional Dried Fruits Recipes