10 Nutritional Recipes with Dried Fruits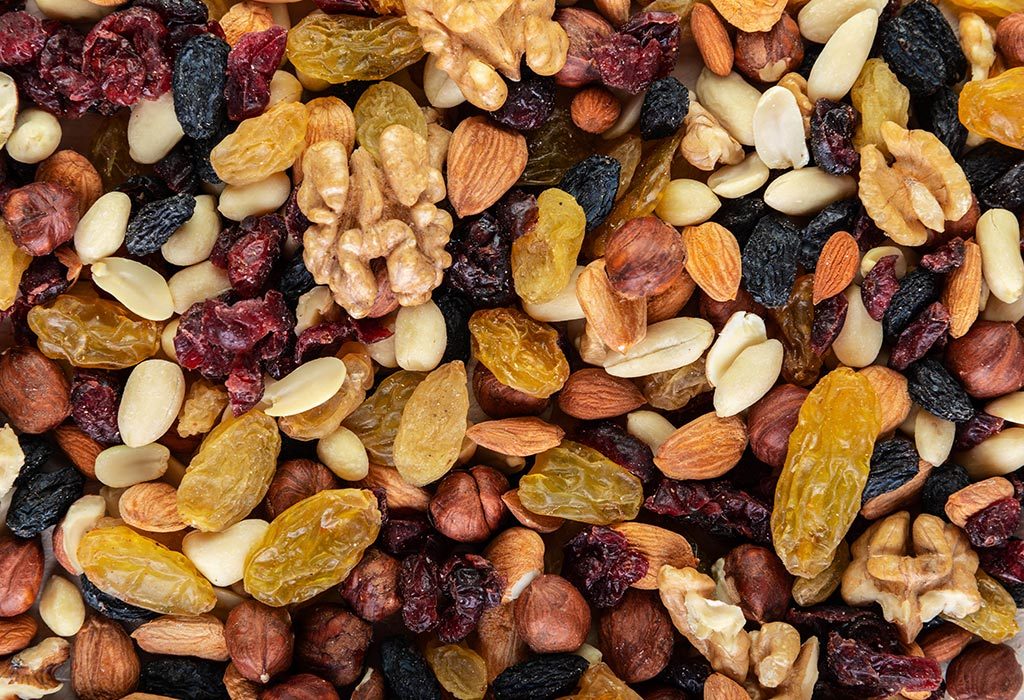 In this Article
Dried fruits have been a part of Mediterranean diet since generations and have a history of being a part of Christmas celebrations and other festivities. It's preferred usage in dishes is due to its excellent nutritive profile and long shelf-life. Conventional dried fruits sold these days include raisins, prunes, figs, apricots, peaches, etc; while other fruits are dehydrated and sold dry, sometimes being infused with sweeteners for added taste. In this article, we'll tell you how to make the most of these amazing foods by crafting recipes that simply take your taste buds for a spin.
Delicious Dry Fruit Recipes
Craving dry fruits and love to cook? Make the best of both worlds by taking a look at our delicious dry fruit recipes below.
1. Irish Soda Bread
Irish Soda Bread is a quick and easy-to-whip up recipe, making it a huge family-favourite and one of the best dried-fruit cake recipes.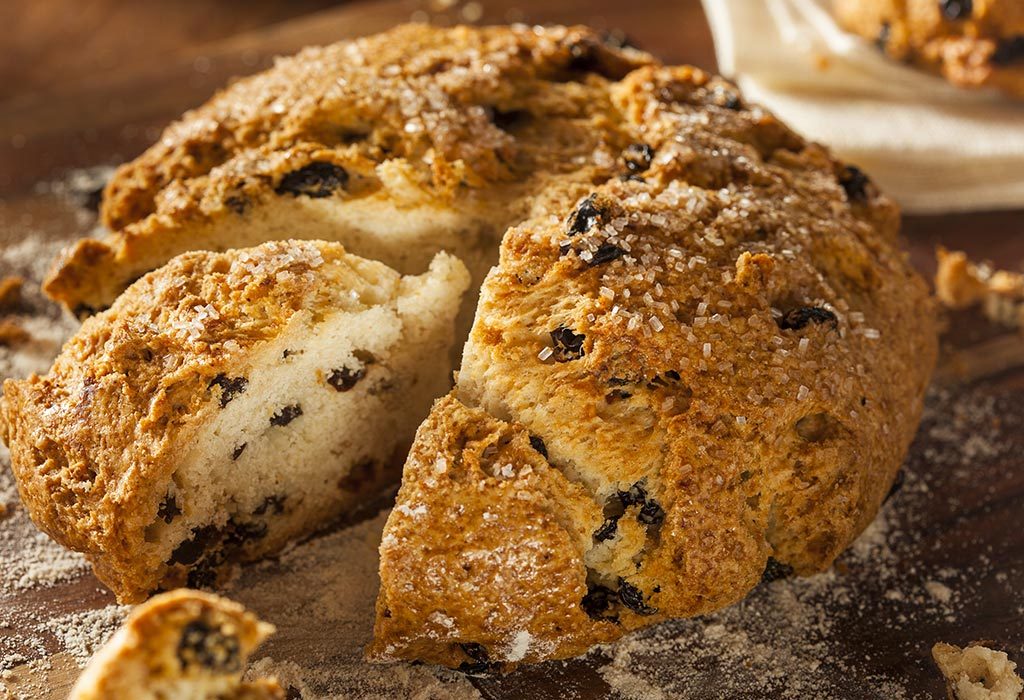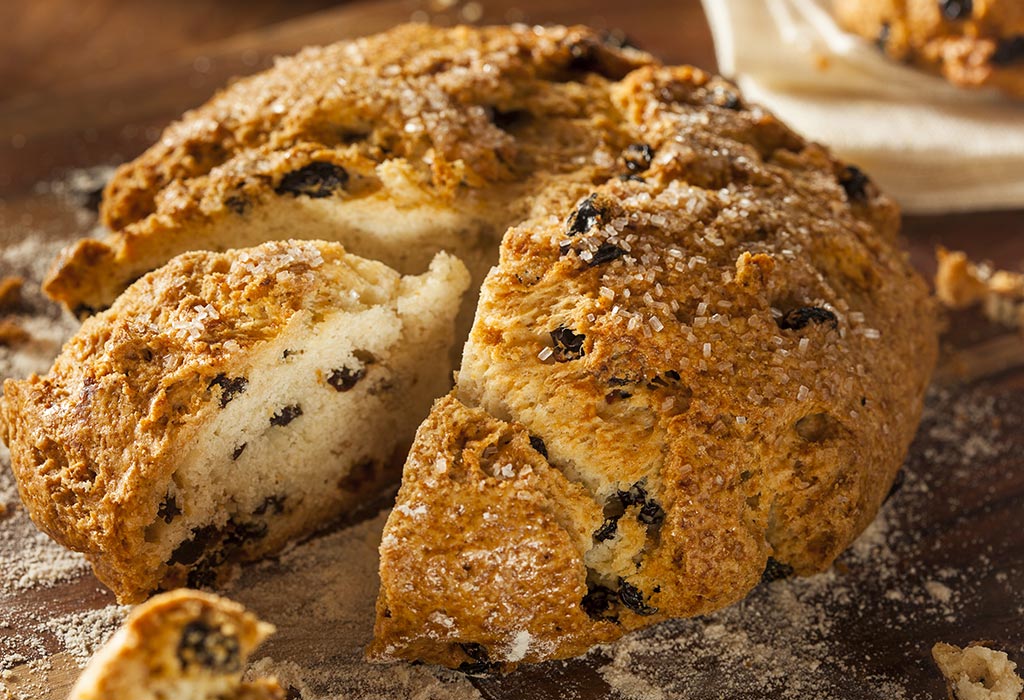 Ingredients
3 cups of all-purpose flour
2/3rd cups of sugar
3 tablespoons of baking powder
1 tablespoon salt
1 tablespoon baking soda
A handful of raisins
2 beaten eggs
1 cup of buttermilk
1 tablespoon of canola oil
Preparation Time
20 mins for preparing, 45 minutes for baking and a few minutes for cooling
Method
Heat up the oven to 350 degrees Celcius. In a large bowl, take all-purpose flour, sugar, baking powder, salt, baking soda and mix.
Add the raisins and set aside 1 whole beaten egg while you combine another whole beaten egg with some canola oil and 1 cup of buttermilk. Take this and mix it with the flour mixture well. Move the contents over to a 9-inch rounded baking pan and grease the top with a spare beaten egg before you do that.
Bake for around 40 to 45 minutes and let it cool for 10 mins. Remove from the pan, cut it up into wedges and serve fresh.
Servings
This recipe makes for a whole loaf. It serves up to 12 wedged pieces and is simply delicious.
2. Dry Fruit Laddoos
A healthy recipe that involves no added sugar, it's the perfect one for kids and serves ideally as a tasty mid-morning snack.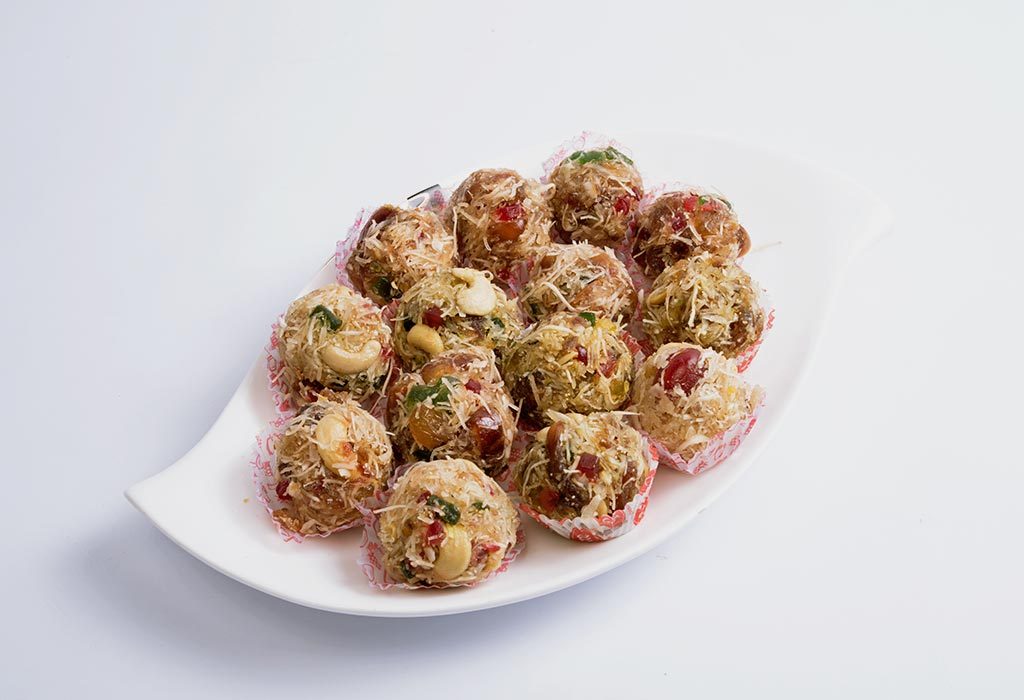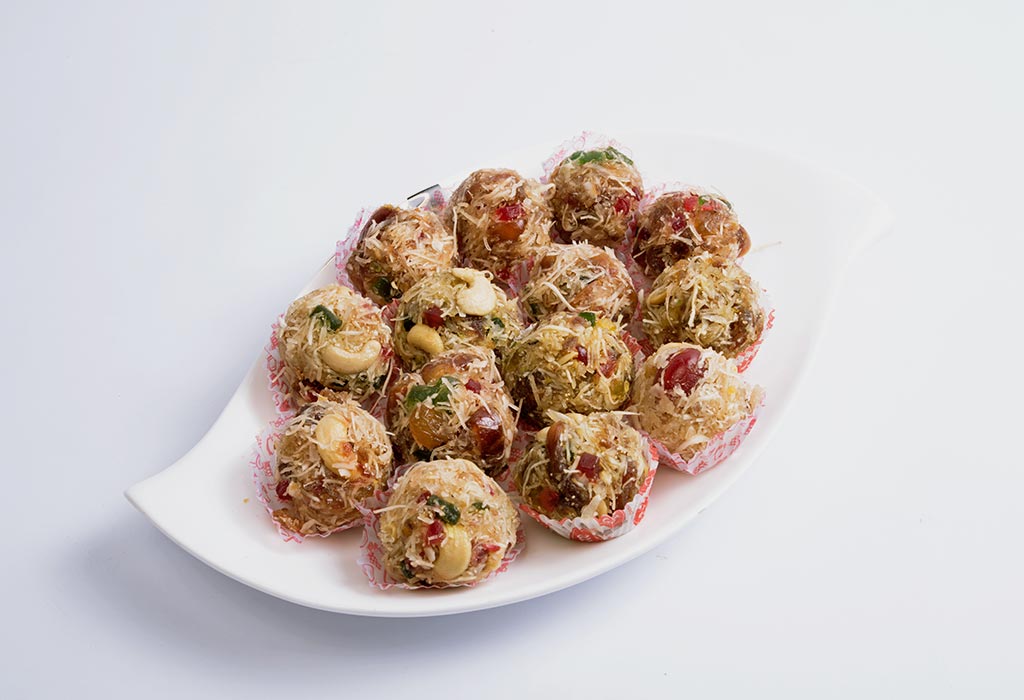 Ingredients
1/4 cup of cashews
1/4 cup of almonds
1/4 cup of walnuts
7 dates
6 dried apricots
4 dried figs
Dried coconut (optional)
Poppy seeds(optional)
Sesame Seeds(optional)
Preparation Time
Prep time takes 10 minutes while you'll need another 5 minutes to make the laddoos.
Method
For the prepping, you have to roast 1/4 cup almonds and 1/4 cup cashews on a medium flame for 2 minutes and dry roast the nuts in a microwave for 1 minute. Let them cool and roast seeds until you get the aroma. Heat 7 dates, 6 apricots, and 4 figs in a pan and after cooling, put them in a blender and keep it on until you notice the texture changing. You can add 1/4 cup walnuts to the mix and remove later, adding the cashews and almonds.
For these dry fruit laddu recipes, all you do is take your prepared ingredients and knead them well. Divide the mix into 6 to 8 portion sizes and shape em' into balls.
For the garnish, roll up the balls on dried coconut powder or sesame seeds and you're done.
Servings
You get about 6 to 8 laddoos which are fairly good for snack times. Just remember to store in a food grade airtight jar though.
3. Crazy Cranberry Dressing
Cranberries fall under dried fruits too and this crazy cranberry design will take your nonvegetarian dishes for a delectable spin.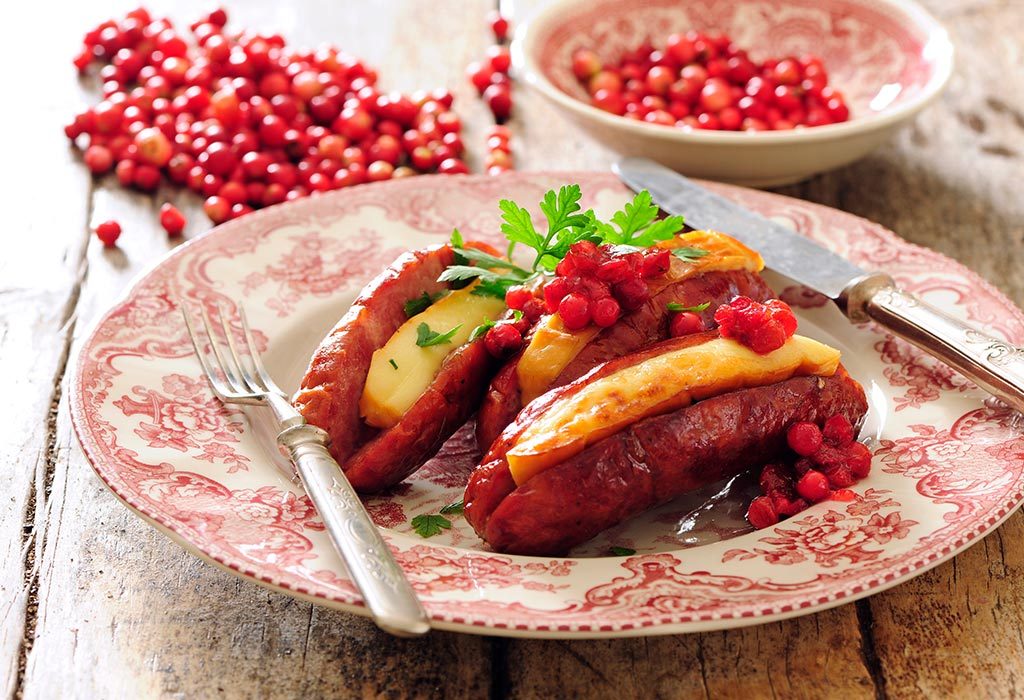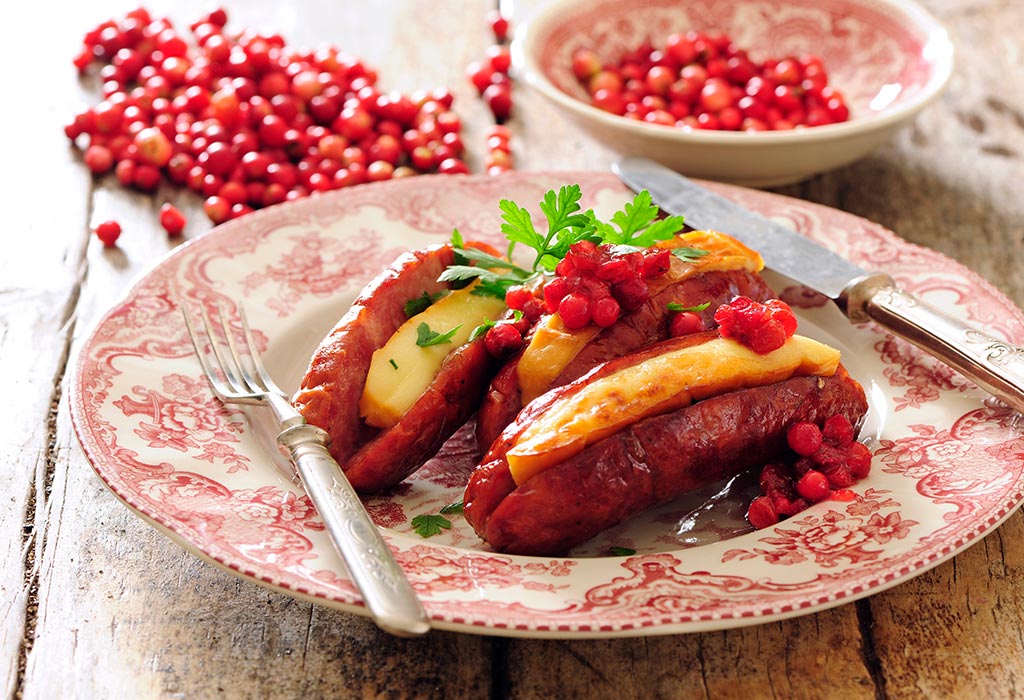 Ingredients
Low-salt chicken broth
Yellow cornmeal
Salt
White pepper
Italian Turkey Sausage with cases removed and links
1 large onion
1 large diced fennel bulb
1 garlic clove
1 egg yolk
French or Italian bread crumbs
Dried cranberries
Minced fresh parsley
Minced fresh sage
Balsamic vinegar
Minced fresh savory
A pinch of ground nutmeg
Preparation Time
It'll take 30 minutes to prep up and about 40 minutes to bake and get it ready for serving.
Method
Take a small bowl and whisk one cup broth, cornmeal, salt, and paper until the texture becomes consistent. Pour the remaining broth in a saucepan and boil it. Using the cornmeal and broth blend, keep cooking and stirring for 3 minutes until it becomes thicker. Turn off the flame and set this aside.
Grab a non-stick large skillet and crumble sausage links into it with the diced onions and fennel mixed in. On a medium flame, cook until the sausage changes colour. Garnish with garlic and cook for a minute. Empty out the contents and add egg yolks and the cornmeal blend. Mix in the breadcrumbs, cranberries and the rest of the ingredients.
Move the contents to a baking tray and bake for 40 to 45 minutes at 350 degrees. Serve hot.
Servings
It'll serve up to 8 people.
4. Dry Fruit and Nut Rolls
A great dry fruit recipe and an amazing sweet snack, this one is sure to hit the spot.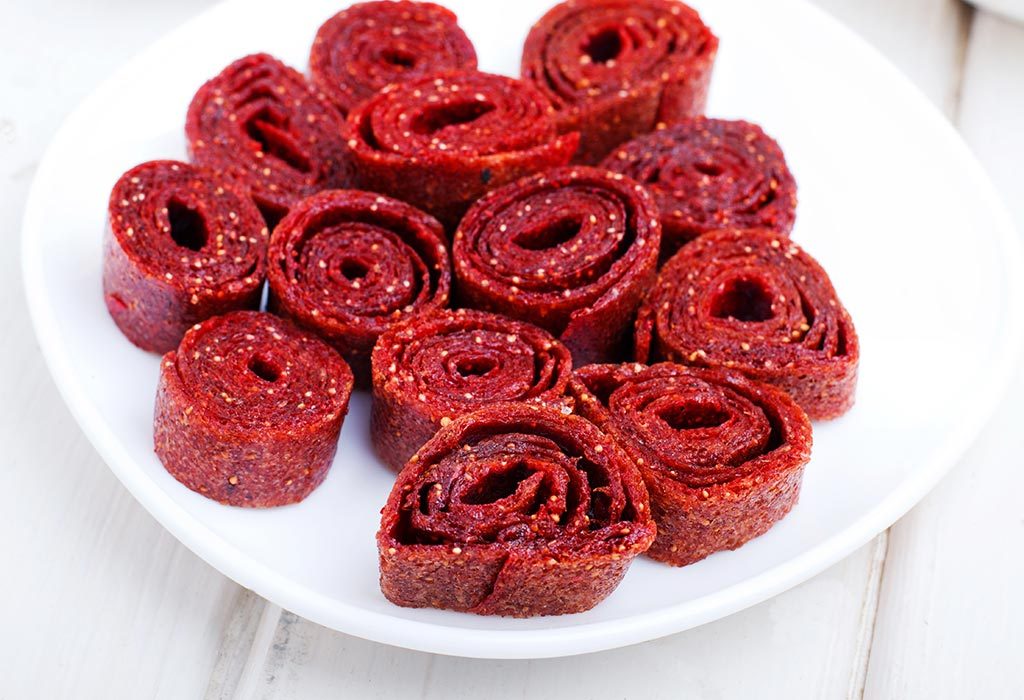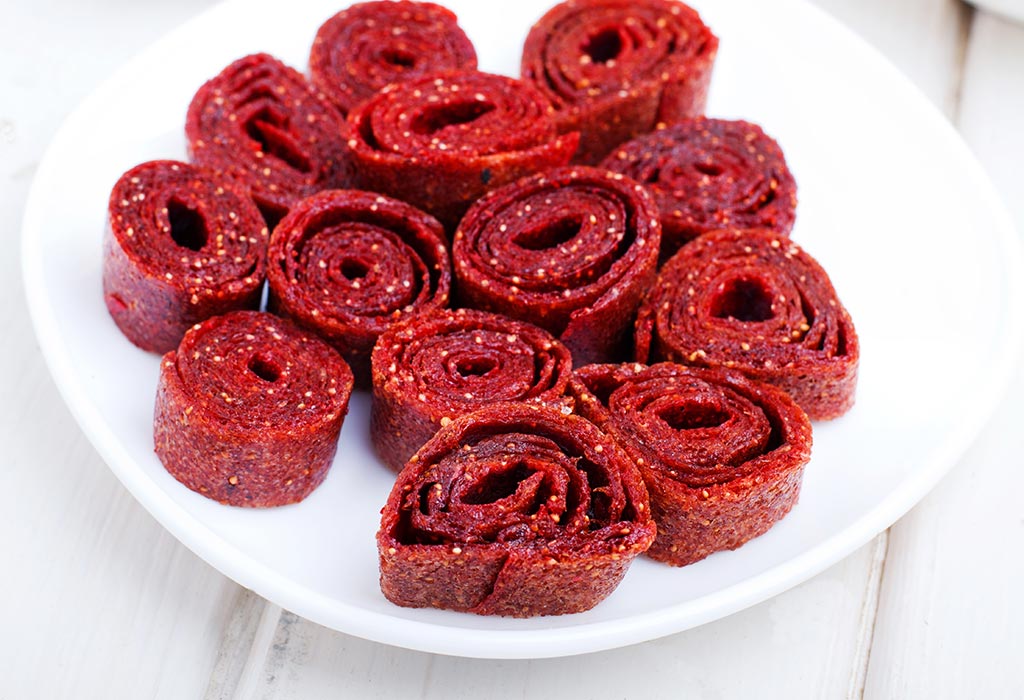 Ingredients
1 cup of dry dates
Unsalted pistachios
Raisins
1 cup of fresh grated coconut
Cardamom
Half a cup of sugar
1 cup of milk
2 teaspoons of ghee
A few almonds
A few cashew nuts
Preparation Time
It doesn't take a lot time to prepare the ingredients. Cooking time is about 15 to 20 minutes tops.
Method
Start by roasting the fresh coconut on a non-stick frying pan to dehydrate it. Turn off the stove and now, roast the almonds and the cashew nuts by pouring ghee on the saucepan.
Add in the pistachios after roasting and remove from the pan.
Pour in milk in the pan in low flame and stir the sugar.
Add the cardamom powder after the sugar is dissolved.
After a soft boil, add in the dates, raisins, and the roasted nuts to the mixture.
Keep cooking the nuts on a low flame, stirring gently as it cooks.
After the milk thickens a little, add the coconut powder and cook until the moisture evaporates and the mixture becomes thick.
Add ghee for flavour, turn off the stove and let the mixture cool down completely. Shape it into rolls and serve fresh.
Servings
Serves between 4 to 8 people.
5. Raisin and Cinnamon Puff Waffle Pastries
This one's quick to whip up and doesn't take long.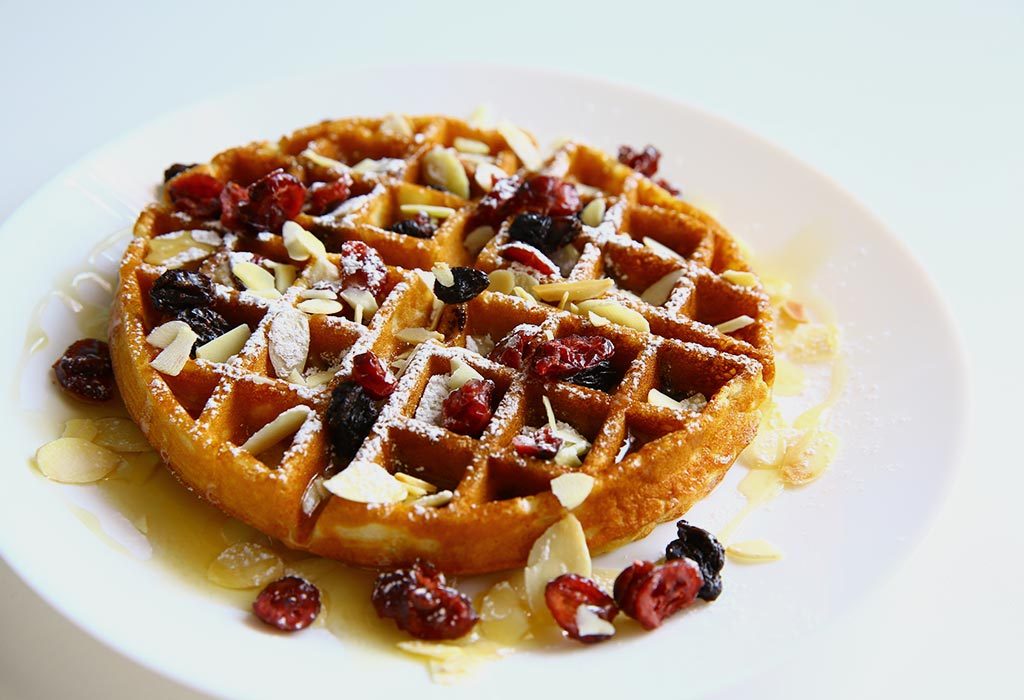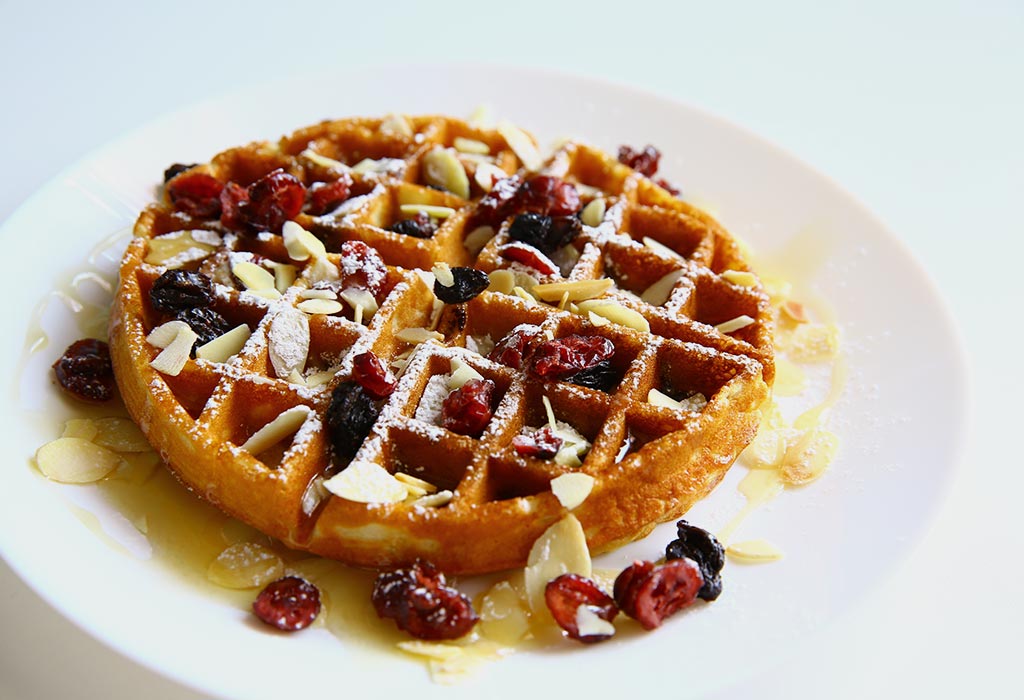 Ingredients
All-purpose flour
1 puff pastry sheet
1/2 cup cream cheese
1/4 of raisins
Cinnamon
Sugar
Preparation Time
Takes about 15 minutes to get it ready and cooked
Method
Fire up your Belgian iron waffle and set up the workspace by dusting with all-purpose flour. Lay out the puff pastry sheet and set it to 16-by-16 inch pieces. Layer the cream cheese on the middle, leaving a one-inch border for each piece.
Add raisins to the rest of the sections and dust the sheets with a dash of cinnamon and sugar.
Roll the sheets up into jelly rolls, pinch, and seal up the seams. It should look like cylinder-shaped spirals. Place these into the Belgian iron waffle and cook until the color goes brown on both sides. Keep cooking for 10 minutes such that the temperature reads 200 degrees Fahrenheit. Serve hot.
Servings
It serves around 4 to 8 people.
6. Oatmeal and Raisin Bars
What if we tell you that you can make a delicious snack with zero cooking? That's what this recipe is all about.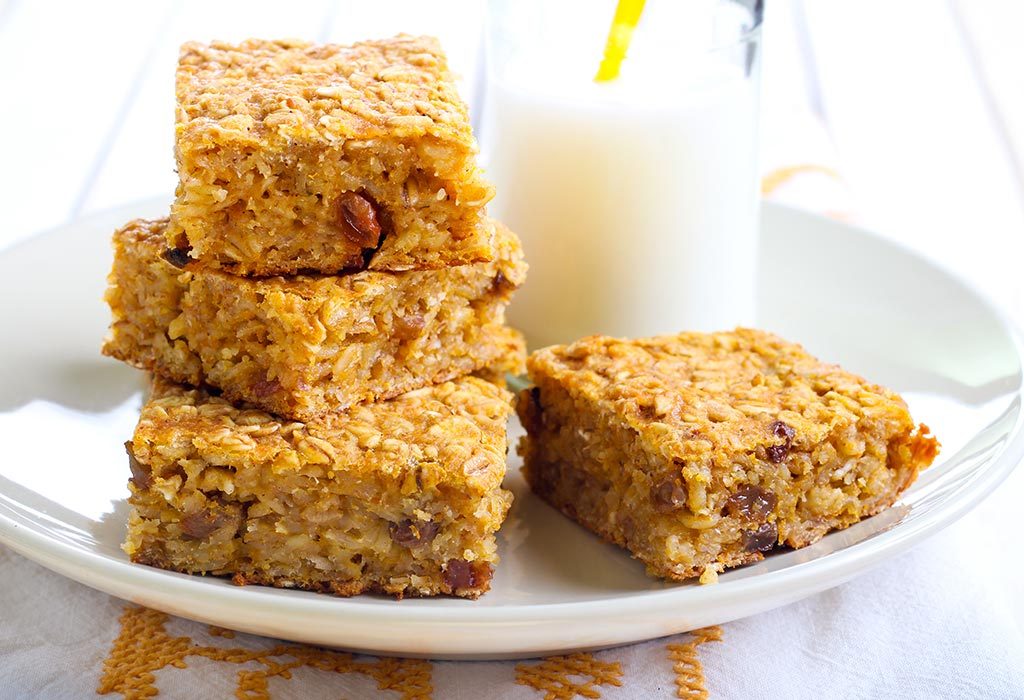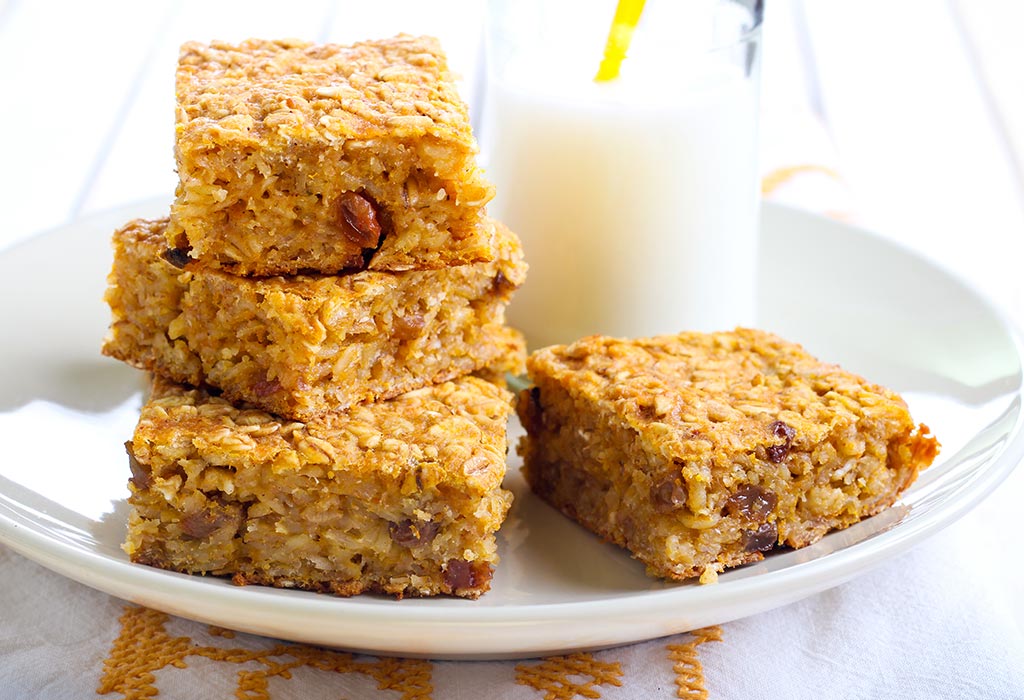 Ingredients
2 and a half cups of raisins
1 and a half cups of rolled oats
A cup of walnuts
1/2 cup coconut powder (shredded)
1/2 and 1/8 tsp salt
1 tsp vanilla extract
1/2 cup sunflower seeds
Preparation Time
10 minutes to prep and 1 hour to finish
Method
Take an 8 by 8 inch pan and line it up with parchment paper. Pour all the contents into a large bowl, except the sunflower seeds, and run it through a food processor or blender.
Make a mass out of the mix and transfer it to a large bowl.
Add sunflower seeds and press firmly with your hands, shaping the mass into clumps.
Allow these clumps to set for approximately an hour and remove them.
Cut them up into bars and serve fresh.
Servings
Serves an 8 by 8 inch yield which is enough snacks for 2 to 3 people
7. Dry Fruits Milkshake
This dry fruit milkshake recipe will hit the spot during summers and winters, giving you the ultimate health boost.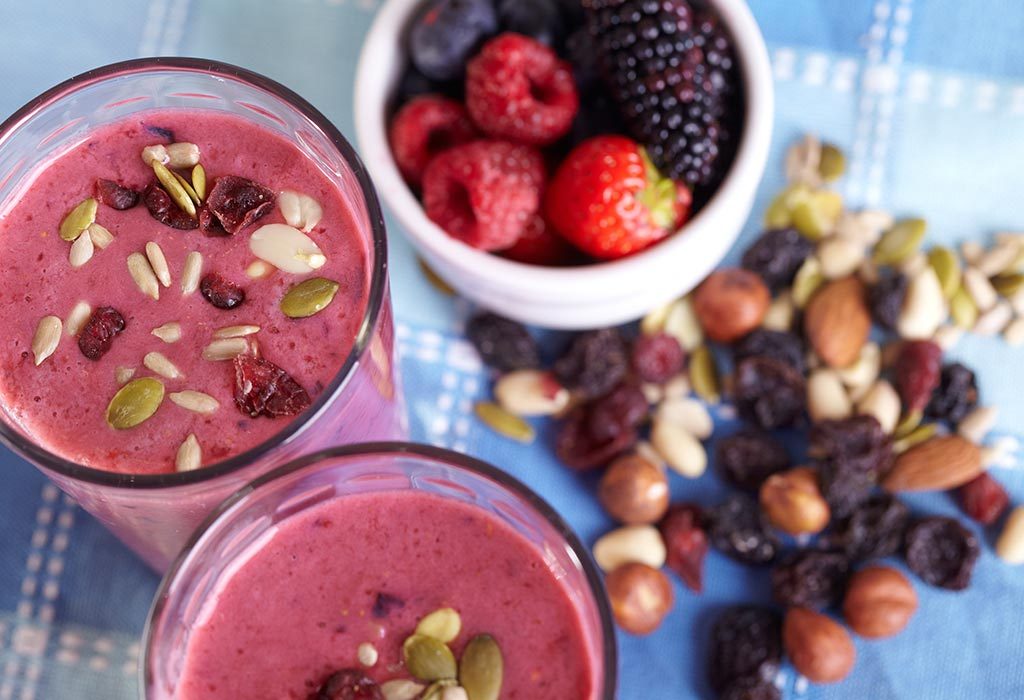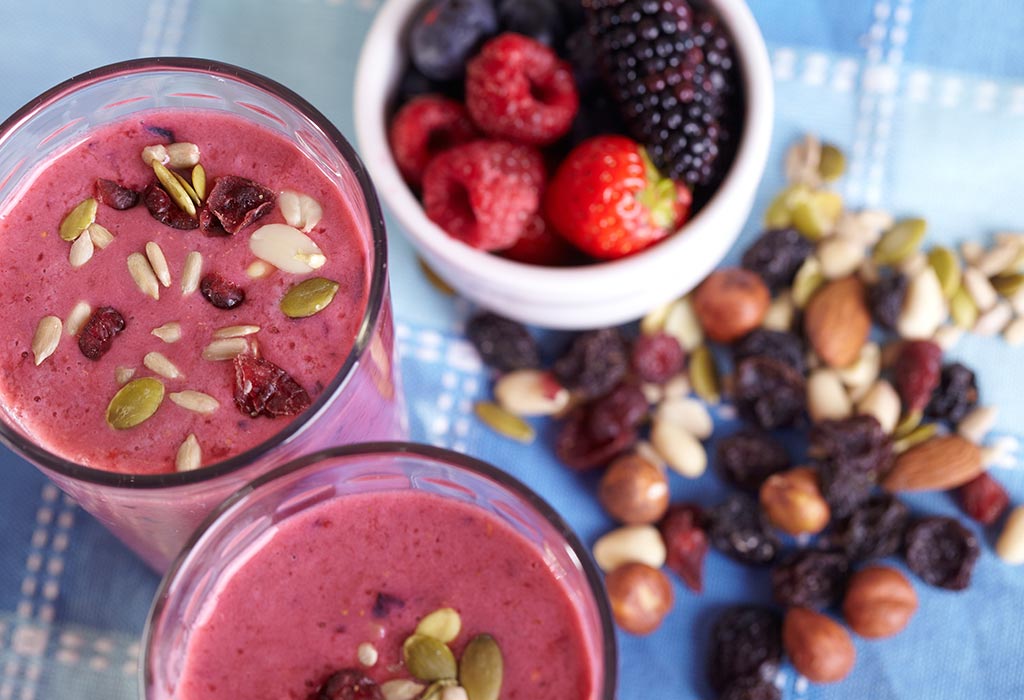 Ingredients
3 tablespoons of pistas
10 almonds
10 cashews
3 dried figs
3 chopped dates
1/2 teaspoon of cardamom powder
2 and 1/4 cups of milk
Preparation Time
Takes 45 minutes to prepare and finish this recipe
Method
Soak the dried fruits and nuts in water for about 45 minutes. Peel off the almond skins, drain water, and run the contents through the blender.
Mix in cardamom powder and dates.
Add milk and blend until the texture looks smooth.
Mix in more milk and continue to blend.
Garnish using nuts and serve fresh.
Servings
This makes for about 2 to 3 servings
8. Pineapple and Apricot Jam
How would you like some pineapple and apricot jam with that breakfast toast? Here's how to make it.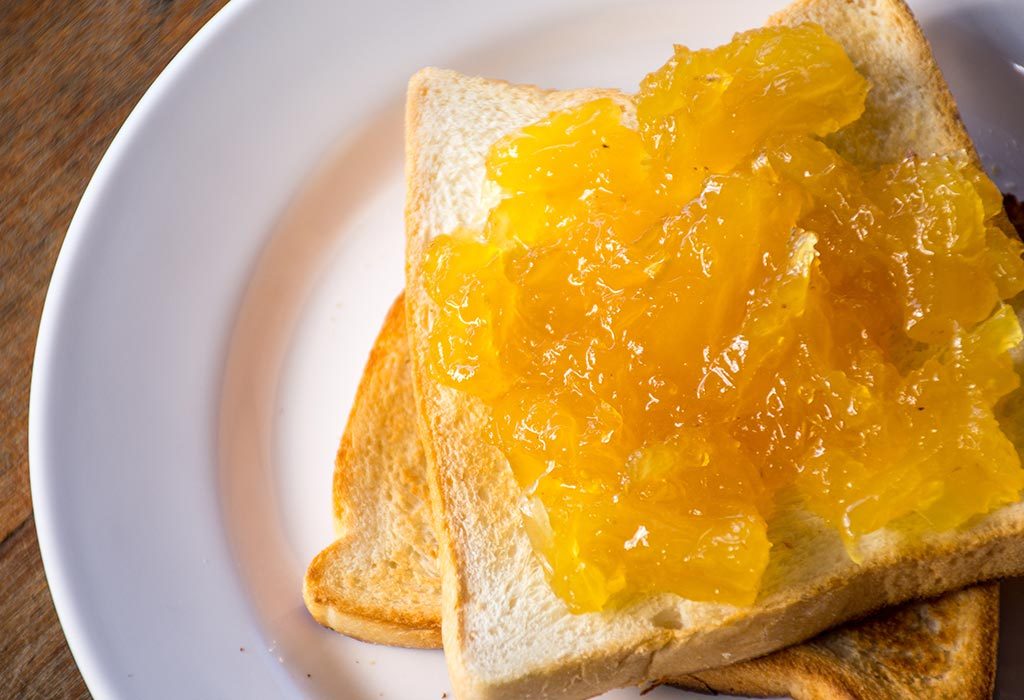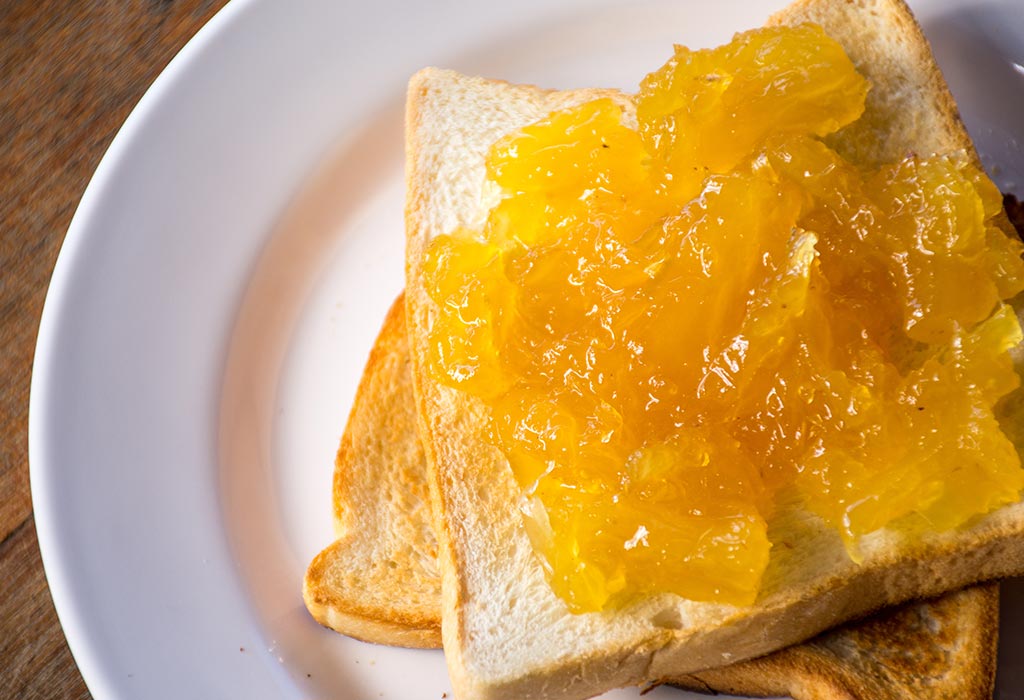 Ingredients
Dried apricots
1 pineapple (whole)
A pouch of liquid pectin
7 cups of sugar
1/4 cup of lemon juice
Preparation Time
Takes about 2 hours to prepare and a day to finish
Method
Soak the dried apricots overnight in a large bowl, the day before you plan to make the jam.
Drain the fluid in a colander and reserve 1/4 of soaking liquid.
Sterilize some half-pint jars to use them. Get a serrated knife and skin the whole pineapple and measure and cut into four diced cups.
In a pot, add apricots, soaking liquid, and the pineapple. Heat on medium flame and stir.
Lower the flame, cover and cook for 5 minutes until the mix softens.
Take out the mix and pour into an immersion blender to blend to the desired consistency. Mix in lemon juice, pectin, and sugar. Add the mix to the pot and boil for about 2 minutes. Switch off the flame and skim the foam using a spoon.
Pour your jam into the jars and place those on a canning kettle. Add water up to 1-inch less than the neck of the jars and boil for 10 minutes. Remove with a jar lifter and allow to cool, as long as it takes.
Store your jam in the refrigerator after the jars cool down and use the jam whenever you want on toasts, salads, and other dishes.
Servings
If you use 11 pint-sized jars, you get enough servings to last a few weeks!
9. Apricot and Yoghurt Smoothie
If you love smoothies, then you're in for a treat with this cool and classic recipe.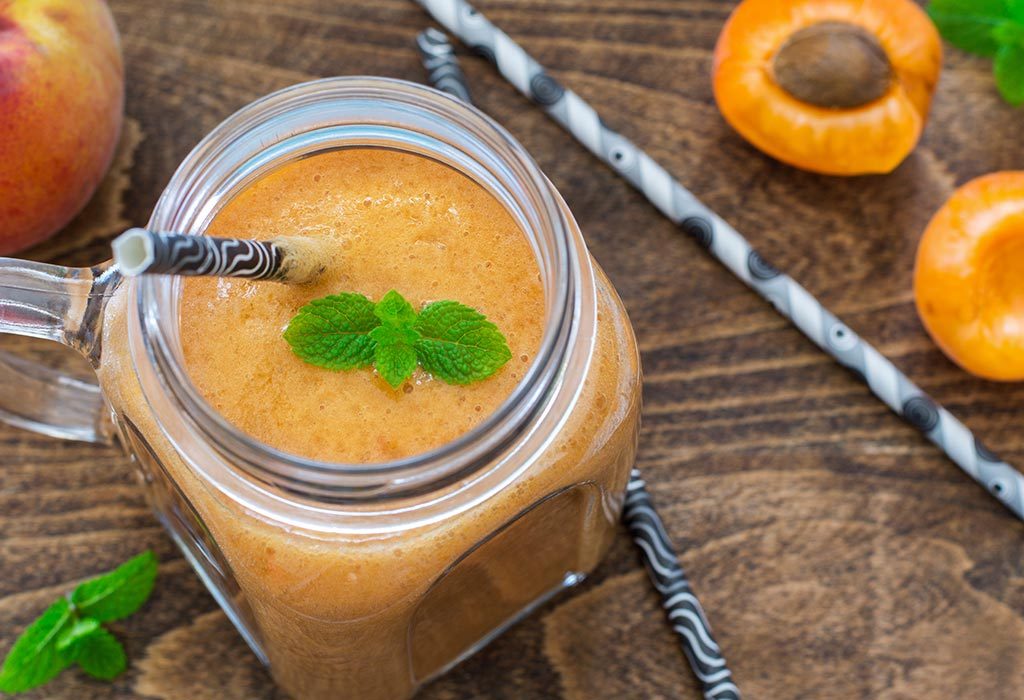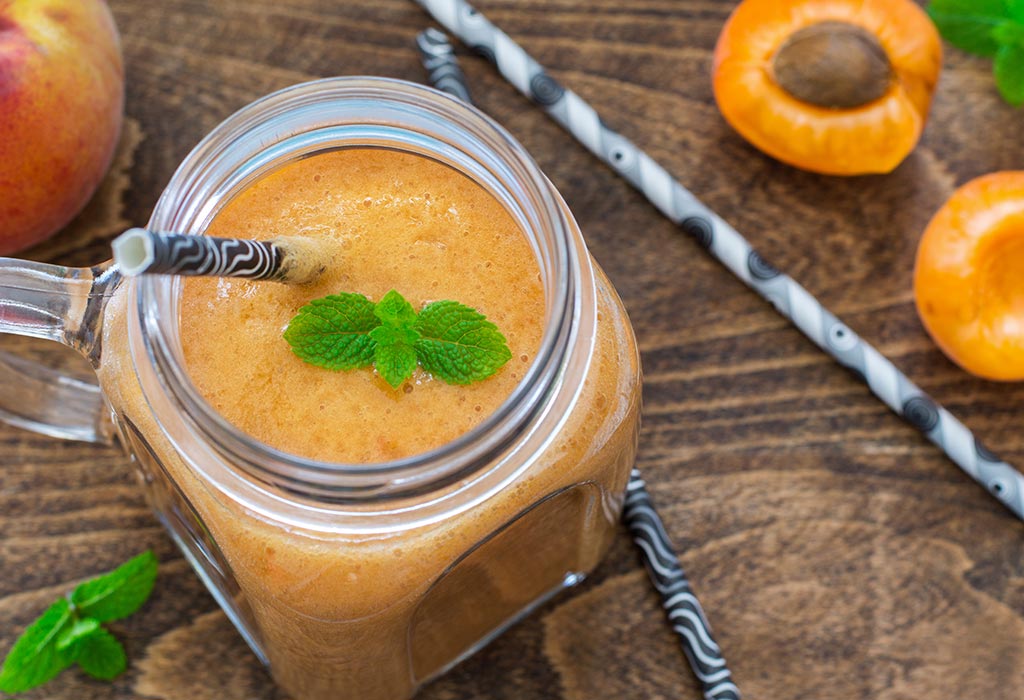 Ingredients
A cup of orange juice
A cup of plain yoghurt
7 ice cubes
Half a teaspoon of orange flower water
One to two teaspoons of sugar
A cup of dried apricots soaked overnight at room temperature
Preparation Time
It takes just 5 minutes to get it ready and that's the best part.
Method
Pour in the orange juice, yoghurt, ice and orange flower water into a food processor or blender.
Add sugar to taste and drain out the apricots. Add the apricots too and blend on high mode for about 30 seconds or until the texture looks smooth and consistent.
Pour into one to two glasses and serve fresh.
Servings
Serves about 1-2 people since it's an instant smoothie.
10. Dried Fruit Chikkis
Who doesn't love chikkis? Enough said, let's get down to the recipe.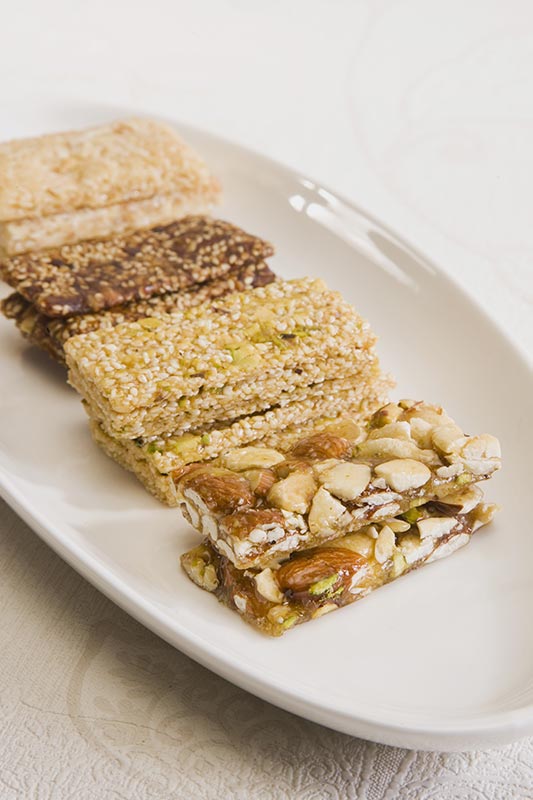 Ingredients
A cup of almonds
A cup of pistachios
A cup of cashews
A pinch of saffron (soaked)
2 tbsp pure ghee
2 tsp milk
4 and a quarter cups of jaggery powder
Preparation Time
For this recipe of dry fruit chikki, you will need about 10 minutes to prep the ingredients and a total of 25 minutes to make it.
Method
Take a large pan and drizzle it with ghee on a medium flame. Pour in jaggery powder and stir in until it turns into a consistent paste.
Add almonds, pistachios, cashews, and saffron and blend until the mix starts getting off the pan's sides.
Remove the mix from the flame and smear a bit of ghee on the tray, placing the dry fruit mix in an even way.
Cool down the mix, cut into several pieces and serve fresh.
Servings
It makes for about 8 full servings.
Eating dried fruits can be fun and these recipes show you exactly that. Besides getting your daily dose of iron and heart-healthy nutrients, it's a nutritious way to snack, get lean, and really bubble with energy throughout the day.
Also Read:
Homemade Fruit & Nut Bars Recipe
Quick Evening Snacks to Cheer Up Your Tea Time
Recipes You Can Make in Microwave