Methi Paranthas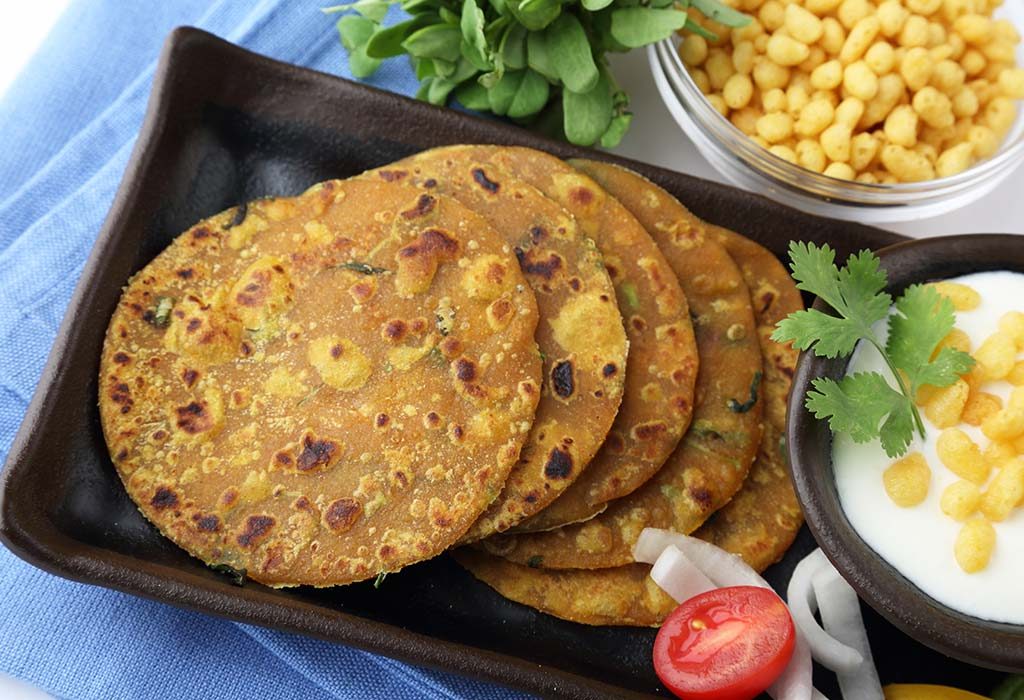 In this Article
Kids are often very fussy about eating the nutritious green leafy veggies. So, as a mother you are left with the option of incorporating them in their diet through disguise. Paranthas are very popular among kids and adults alike. So, we thought it is a great idea to add the not-so-popular-greens into this dish. If your kid turns his nose at the sight of methi/ fenugreek greens, serve him these 'Methi Paranthas' and watch him finish it no time.
| | | |
| --- | --- | --- |
| Serves | Preparation Time | Cooking Time |
| 4 People | 20-30 Minutes | 20-25 Minutes |
Ingredients
1½ cup wheat flour (atta)
1 cup fenugreek leaves, tightly packed, washed and chopped
1 green chilli, minced
½ fennel seeds
2 tsp white sesame seeds
1 tsp red chilli power
¼ tsp turmeric powder
2 tbsp oil
1½ tsp salt
¼ tsp asafetida
About ½ cup to ¾ cup water to make the dough
About 30 ml oil for pan frying the paranthas
½ cup wheat flour for rolling
Method
Step 1
To make the dough, add all the ingredients (except water) for the dough in a deep bowl. Combine with hands and keep adding water little by little.
Step 2
Knead well so that all the ingredients come together evenly in the dough. The dough should be smooth and pliable.
Step 3
Once the dough is ready, set it aside for about 15-20 minutes.
Step 4
Now, make 12 large lemon sized smooth balls of the dough. Keep them covered.
Step 5
Heat a tawa or pan. Once it is heated, turn the flame on medium.
Step 6
Roll each dough ball into a circle – just like you roll a chapati. Use the dry flour as needed.
Step 7
Cook the rolled dough circle on the heated pan/tawa. When one side is cooked, apply a little oil over it and flip over. Apply some more oil and press it slightly with a spatula. When it is cooked you can see some light brown spots on each side.
Step 8
Remove it from heat and keep it on a plate.
Step 9
Continue the process with the rest of the dough balls. Pile the cooked paranthas one over the other. It helps in keeping them soft.
Step 10
Serve warm with a dollop of butter if you like. Pair it with pickle and raita for a satisfying and filling brunch.
Nutritional Information
| | |
| --- | --- |
| Calories | 372 K cal |
| Proteins | 6.1 g, |
| Total Fat | 21.8 g |
| Total Carbohydrates | 37.6 g |
| Cholesterol | 50 mg |
| Sodium | 582 mg, |
| Potassium | 50 mg |
Tip: You can replace the fenugreek leaves with chopped spinach leaves for 'Spinach Paranthas'.