Palak Paneer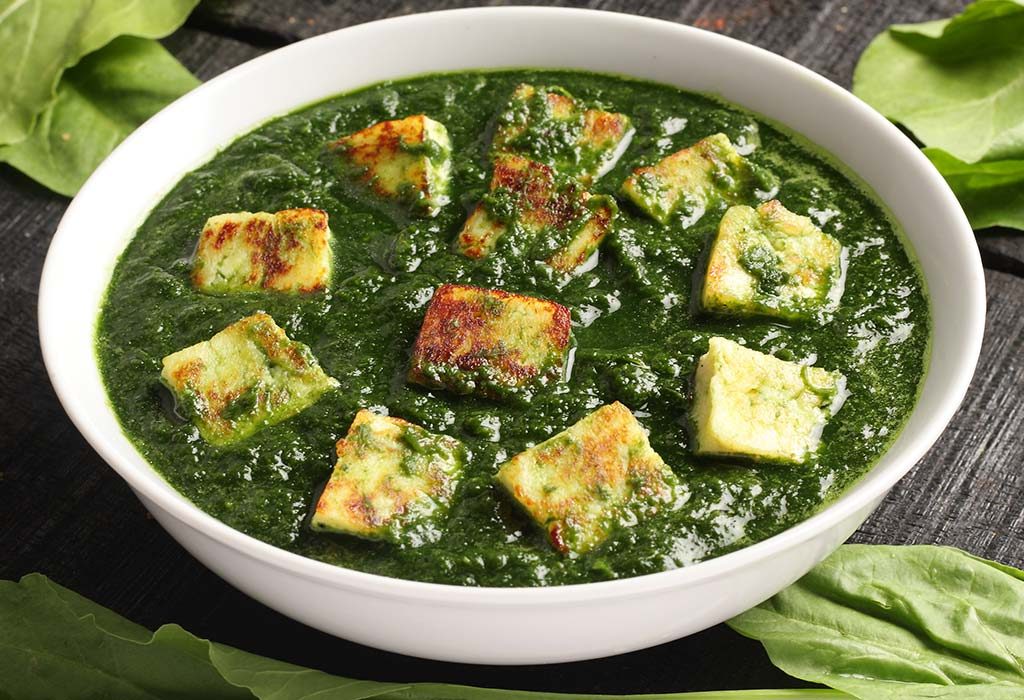 In this Article
The smooth and creamy curry, the delightful subtle sweet flavor and the velvety melt-in-the-mouth paneer cubes; a heavenly combination to keep you satiated. Gone are the days when moms of nit-picking teens needed to worry about getting them to eat spinach. They now can just serve this hearty dish, and it will vanish in minutes.
| | | |
| --- | --- | --- |
| Serves | Preparation Time | Cooking Time |
| 2 People | 10 – 15 Minutes | 20-25 Minutes |
Ingredients
300 g paneer cubes
500 g spinach leaves
1 tsp garlic paste
1 tsp ginger paste
1 tsp dried fenugreek leaves
1 tsp garam masala
1 tsp sugar
50 g fresh cream
40 g finely chopped tomatoes
1/4 tsp black salt
2 tsp oil
salt to taste
For the Gravy
3 sliced onions
3 tbsp cashew nuts
1 tbsp melon seeds
2 green chillies
Method
For the Gravy
Step 1
Drop in all the ingredients in 1 cup of water and let it simmer for about 10-15 minutes on low flame.
Step 2
Let it cool and blend to form a smooth paste. Keep aside.
For the Curry
Step 1
Bring 4 glasses of water to a boil. Add salt and cook the spinach leaves in it till tender. Take care not to lose colour of the leaves; maximum of 2 minutes.
Step 2
Remove from the flame, drain, and pulse to a smooth purée.
Step 3
Heat oil in a pan and add the ginger and garlic paste, followed by tomatoes.
Step 4
Keep sautéing till the oil starts leaving the mixture.
Step 5
Add the gravy mixture, spinach purée, black salt and salt. Stir constantly for about a minute.
Step 6
Add the paneer cubes, dried fenugreek leaves, garam masala, sugar and cream.
Step 7
Let this mixture boil for about 2-3 minutes.
Step 8
Serve hot with rotis, nans or steamed rice.
Nutritional Information
| | |
| --- | --- |
| Calories | 520 K cal |
| Proteins | 31.3 g |
| Fat | 26.9 g |
| Carbohydrates | 42.7 g |
| Cholesterol | 47 mg |
| Sodium | 1197 mg |
| Potassium | 1952 mg |