Pasta Salad with Veggies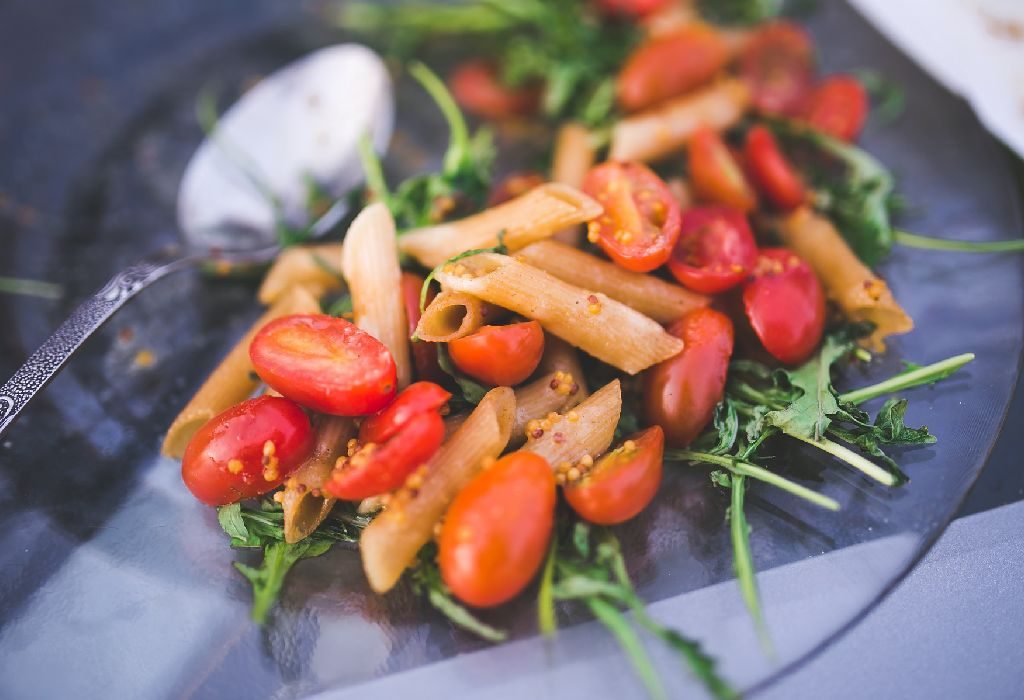 In this Article
This salad can be eaten as it is from the bowl as a stand-alone dish, or can work as a side dish along with the main course. It packs in a solid punch of nutrition because of the veggies in it and is especially high in manganese, selenium, vitamin A & C and low in cholesterol and sodium. It's tasty too! This makes it perfect for those picky pre-teens, who would otherwise never eat their daily fare of veggies.
| | | |
| --- | --- | --- |
| Serves | Preparation Time | Cooking Time |
| 4 People | 10-15 Minutes | 10-15 Minutes |
Ingredients
250 g uncooked whole-wheat pasta
150 g broccoli florets, coarsely chopped
50 ml olive oil
60 ml red wine vinegar
30 ml honey
5 g black pepper
2 small red bell pepper, diced small
80 ml black olives, sliced
Method
Step 1
Keep the pasta for cooking in a large pot of boiling water until al dente (just cooked). It will take around 5-6 mins.
Step 2
Next, drop the broccoli florets into the boiling pasta water about 2 minutes before the pasta is done cooking. This is done to soften them up slightly.
Step 3
Drain everything into a colander and set aside.
Step 4
In a large bowl, ask your kid to whisk together the olive oil, vinegar, honey, and pepper. Add the cooked pasta, olives, and peppers to the dressing. Toss the salad such that everything is properly mixed.
Step 5
Refrigerate the salad until cold and serve. This salad can also be served at room temperature. You can keep the salad in the refrigerator for up to 5 days.
Nutritional Information
| | |
| --- | --- |
| Calories | 255 Kcal |
| Proteins | 5.0 g |
| Total Fat | 13.6 g |
| Total Carbohydrates | 31.8 g |
| Cholesterol | 0 mg |
| Sodium | 117 mg |
| Potassium | 258 mg |