#ConsciousEating101 Veg Cauliflower Crust Pizza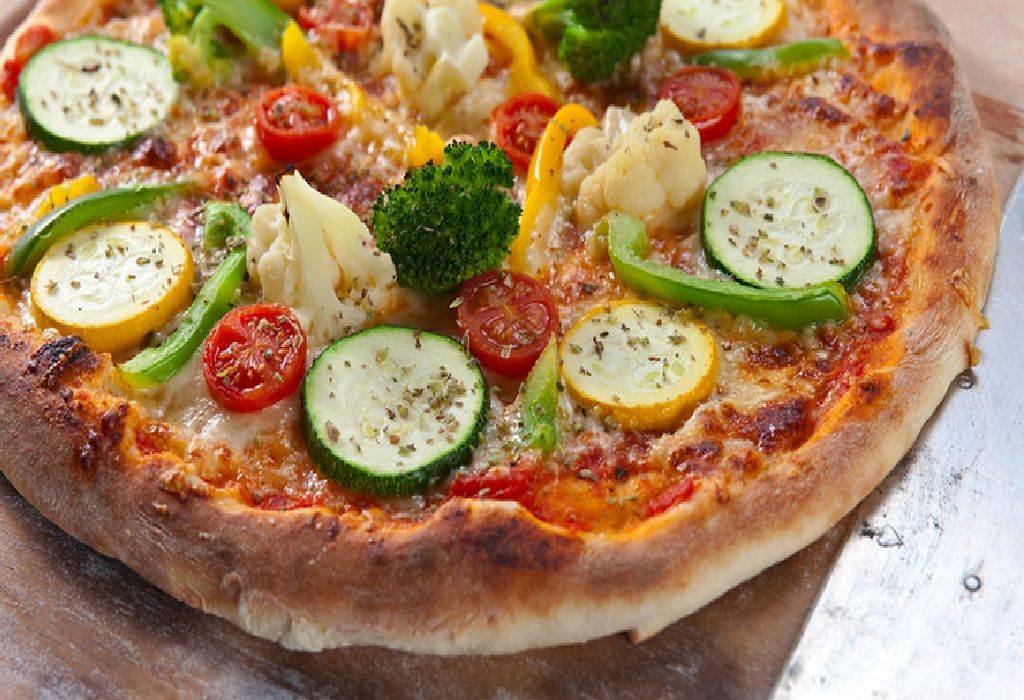 In this Article
Veg Cauliflower Crust Pizza – simply irresistible!
| | | |
| --- | --- | --- |
| Serves | Preparation Time | Cooking Time |
| 2 People | 35 Minutes | 25 Minutes |
Ingredients
1 cauliflower head, roughly chopped
Cooking spray
2 teaspoons olive oil, divided
1/2 cup presliced mushrooms
1/2 cup sliced red bell pepper
1/2 cup thinly sliced fresh basil, divided
1/4 teaspoon freshly ground black pepper, divided
1/8 teaspoon kosher salt
3 garlic cloves, minced
2.5 ounces shredded mozzarella cheese (about 2/3 cup), divided
2 large egg whites
0.5 ounces grated Parmesan cheese
1/2 cup thinly sliced seeded tomatoes
2/3 cup fresh baby spinach
Method
Step 1
Preheat oven to 375°.
Step 2
Place half of cauliflower in a food processor; pulse 10 to 15 times or until finely chopped (like rice). Transfer cauliflower to a baking sheet lined with parchment paper. Repeat procedure with remaining cauliflower. Coat cauliflower with cooking spray. Bake at 375° for 25 minutes, stirring once. Cool.
Step 3
Increase oven temp to 450°.
Step 4
Heat a large skillet over medium-high heat. Add 1 teaspoon oil to the skillet; swirl to coat. Add mushrooms and bell pepper; sauté 5 minutes or until tender. Set aside.
Step 5
Place cauliflower in a clean kitchen towel. Squeeze until very dry. Combine cauliflower with the remaining 1 tsp oil, 1/8 teaspoon black pepper, 1/4 cup basil, salt, garlic, egg whites, 2 ounces mozzarella cheese, and Parmesan cheese in a bowl. Press cauliflower mixture into 2 (8-inch) circles on a baking sheet lined with parchment paper. Coat crusts with cooking spray.
Step 6
Bake crusts at 450° for 22 minutes or until browned. Remove pan from oven; top crusts evenly with mushroom mixture, tomatoes, spinach, remaining 1/4 cup basil, remaining 1/8 teaspoon black pepper, and remaining mozzarella cheese. Bake for 7 more minutes or until cheese melts.