Arancini / Arancini di Riso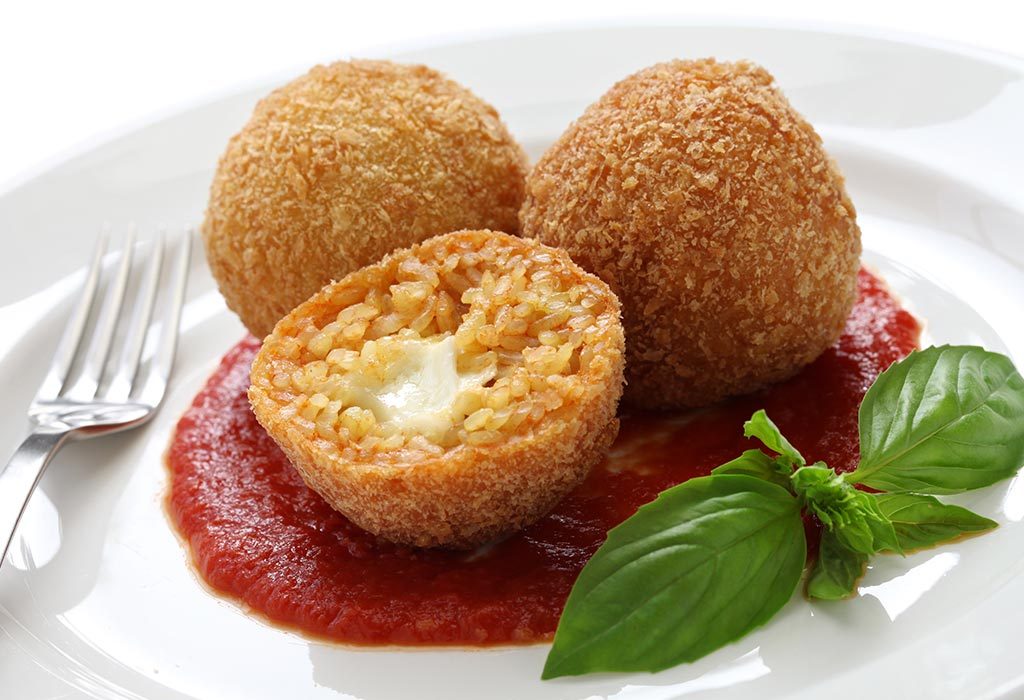 In this Article
Arancini is a dish of Italian origin. They are actually stuffed rice balls with a crisp outer covering that breaks open to reveal the soft and delicate rice grains suspended in rich, melted mozzarella cheese. They form a fabulous lunch or dinner in its own right or can be served as a mid-meal snack. You can also stuff vegetables and other ingredients to make it more healthy.
| | | |
| --- | --- | --- |
| Serves | Preparation Time | Cooking Time |
| 5 People | 75 – 80 Minutes | 35 – 40 Minutes |
Ingredients
1 cup arborio rice
3 cups chicken stock
2 tbsp oilve oil
1 onion, chopped
1/2 tsp turmeric powder
1/2 tsp chilli powder
1/2 tsp black pepper, ground
1 tbsp butter
1/2 cup cheddar cheese, shredded
4 oz mozzarella cheese, cut in cubes
2 eggs, beaten
2 tbsp parsley
3/4 cup dried bread crumbs
Oil for frying
Salt to taste
Method
Step 1
Heat oil in a saucepan. Add chopped onions and saute until it gets soft.
Step 2
Add rice and turmeric powder to the saucepan. Stir well for about 2 – 3 minutes.
Step 3
Add 3/4th of the stock and bring it to boil. Keep stirring until all the liquid is evaporated.
Step 4
Add chilli powder, black pepper and the leftover stock. Cook for about 10 – 15 minutes. Make sure that the liquid is absorbed and the rice has become tender.
Step 5
Switch off the flame. Now, add butter, cheese and parsley. Stir well.
Step 6
Once the rice cools, add the beaten eggs and mix well. Now, divide the mixture into equal portions.
Step 7
Take a mozzarella cheese cube and enclose it in a portion of the rice mixture to form a ball. Repeat the procedure with the remaining rice mixture and cheese cubes.
Step 8
Roll the balls in the bread crumbs. Place these balls on the parchment-lined baking sheet. Cover it loosely and place it in the refrigerator for around an hour.
Step 9
Heat oil for deep frying in a saucepan. Fry the rice balls for about 4 – 5 min or until it turns golden brown. Remove the ball and place it on paper towels to drain excess oil. Serve hot.
Nutritional Information
| | |
| --- | --- |
| Calories | 600 K cal |
| Proteins | 17.0 g |
| Fat | 39.0 g |
| Carbohydrates | 46.1 g |
| Cholesterol | 96 mg |
| Sodium | 861 mg |
| Potassium | 153 mg |