Falafel Sandwich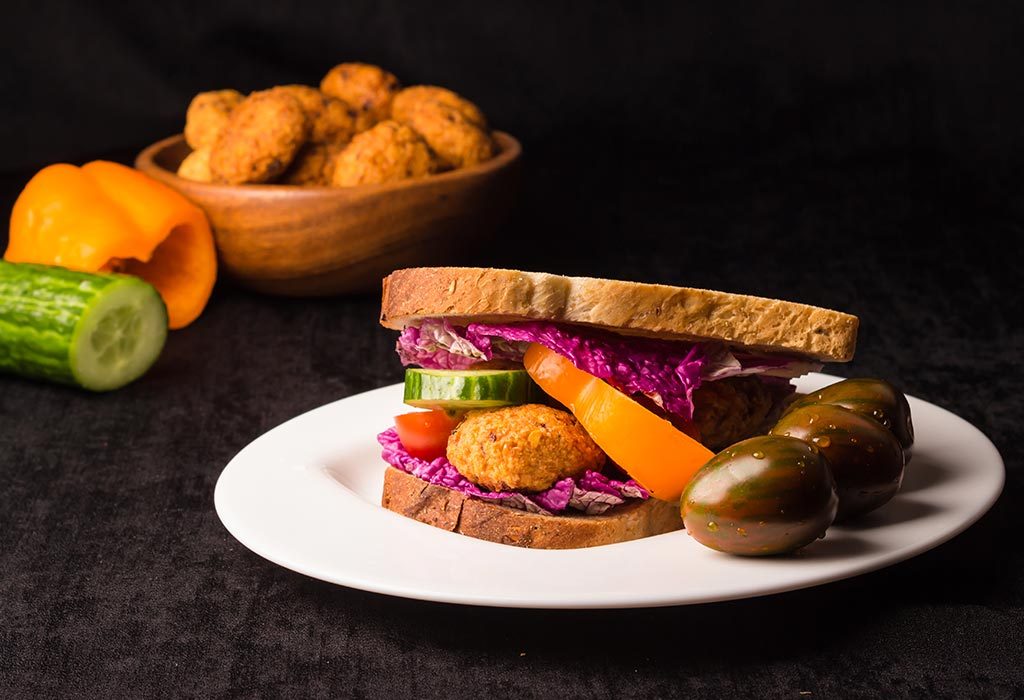 In this Article
Falafel is a popular Middle Eastern dish that is made of chick peas. Typically, a chick pea patty along with a few other additions is sandwiched between pita bread and served. We could turn the dish 'desi' by adding a hint of our typical green chutney instead of the tahini or red garlic chutney. How 'bout an Indo-Lebanese falafel fare!
| | | |
| --- | --- | --- |
| Serves | Preparation Time | Cooking Time |
| 4 people | 10 – 15 Minutes | 20 – 25 Minutes |
Ingredients
6 pita bread breads
1/2 cup tomatoes, thinly sliced
1 cup lettuce, shredded
4 tbsp tahini dip
2 tbsp ready made red garlic chutney / homemade green chutney
For The Patty
½ cup kabuli chana
¼ cup onions, chopped
1 tbsp garlic, chopped
2 tbsp parsley, finely chopped
½ tsp cumin seeds powder
1 tbsp coriander, finely chopped
Salt to taste
Oil for deep-frying
For The Dressing
1/3 cup curds, whisked
2 cloves of garlic, chopped
1/4 cup spring onions, chopped
A pinch of sugar
Salt to taste
For Salad
A handful shredded cabbage
1 carrot, shredded
1 capsicum, shredded
Method
For The Patties
Step 1
Soak kabuli chana in water overnight. In the morning, clean, wash and drain.
step 2
Blend in a mixer to get a coarse paste.
Step 3
Add all the remaining 'for the patty' ingredients and mix well.
Step 4
Divide this mixture into 30 equal portions and shape each portion in small balls.
Step 5
Heat oil in a kadhai and deep-fry the balls till they turn golden brown in colour. Keep them on an absorbent paper for drying.
For the Dressing
Blend all the 'for the dressing' ingredients in a mixer to a smooth sauce. Keep aside.
For Salad
Mix the shredded carrot, cabbage and capsicum together. Put salt, red chilli powder and chaat masala. Mix well and keep aside.
How to Proceed
Step 1
Cut each pita bread into two and warm the halves a little on a hot tava.
Step 2
Fill each pita bread half with a little tahini dip, little red garlic chutney, some tomato slices and shredded lettuce. Place a few patties and a spoonful of the dressing on top.
Step 3
Repeat for the remaining pita bread halves and other ingredients.
Step 4
Serve immediately. You could roast it a little on tawa with butter and serve with the salad.
Nutritional Information
| | |
| --- | --- |
| Calories | 167 K cal |
| Fats | 3.7 g |
| Cholesterol | 11 mg |
| Potassium | 761 g |
| Protein | 12.2 g |
| Carbohydrates | 23.3 g |
| Sodium | 655 mg |
Tip: All weight-watchers can shallow fry the falafels on a tawa or even bake it in the oven; thus reducing the calories from fat used for deep-frying.