Gulab Jamun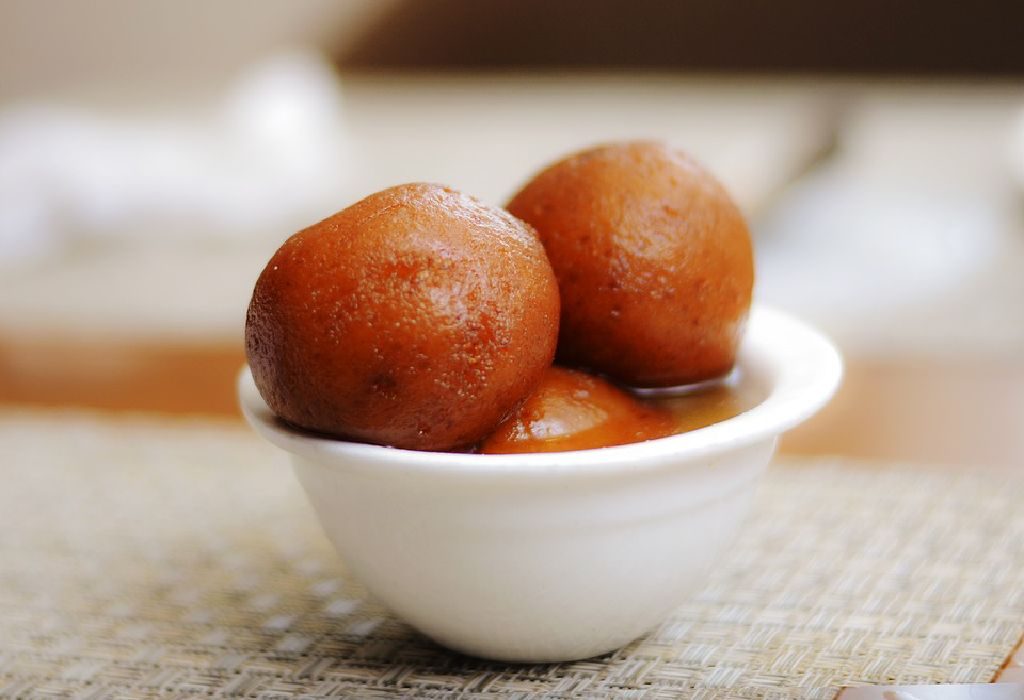 In this Article
Gulab jamun, one of India's favourite sweets, made with ingredients available easily in the kitchen is a toothsome sweet course dish to relish. The trick to make succulent gulab jamuns lies in the getting the dough right. If you get it right, making gulab jamuns is a piece of cake and you won't ever feel the need to buy gulab jamuns from outside ever again.
| | | |
| --- | --- | --- |
| Serves | Preparation Time | Cooking Time |
| 6 People | 15-20 Minutes | 20-25 Minutes |
Ingrediants
200 gms khoya
3 tbsp refined flour / maida
1/2 tsp baking soda
2 ½ cups sugar
2 ½ cups water
2 tbsp milk
4 green cardamoms, slightly crushed
Oil for frying
Method
Step 1
In a heavy-bottom pan, mix sugar and water. Add crushed cardamom to it. Mix it properly and keep it on low flame.
Step 2
Don't let the syrup boil on high heat. Just keep the flame enough to keep the syrup simmering.
Step 3
Add 2 tbsps of milk to the syrup and stir.
Step 4
Keep for 15-20 mins and switch off the gas.
Step 5
After the syrup cools, check for the consistency of the syrup by taking a drop of it on your finger. It should have a one thread consistency when tested between two fingers.
Step 6
Next, for the jamuns, take khoya in a bowl and mash it so that there are no grains remaining in it.
Step 7
Add the flour, baking soda and knead it into a firm dough.
Step 8
Make sure the dough is pliable enough and does not feel dry.
Step 9
Remove lemon sized parts from the dough and shape into round balls.
Step 10
Keep oil for heating in a kadhai. Once the oil is hot, add the jamuns one at a time till the time they fit in without touching each other.
Step 11
Keep the heat low and fry the jamuns, till they turn golden-brown in colour.
Step 12
Remove and drop the fried jamuns in the sugar syrup. Let them soak for at least 30 min before serving.
Step 13
If you want, you can keep the jamuns in the fridge for 15-20 mins before serving.
Nutritional Information
| | |
| --- | --- |
| Calories | 440 K cal |
| Proteins | 3.2 g |
| Fats | 2.7 g |
| Carbohydrates | 106.2 g |
| Cholesterol | 9 mg |
| Sodium | 144 mg |
| Potassium | 10 mg |