Indian vegetable roll or frankie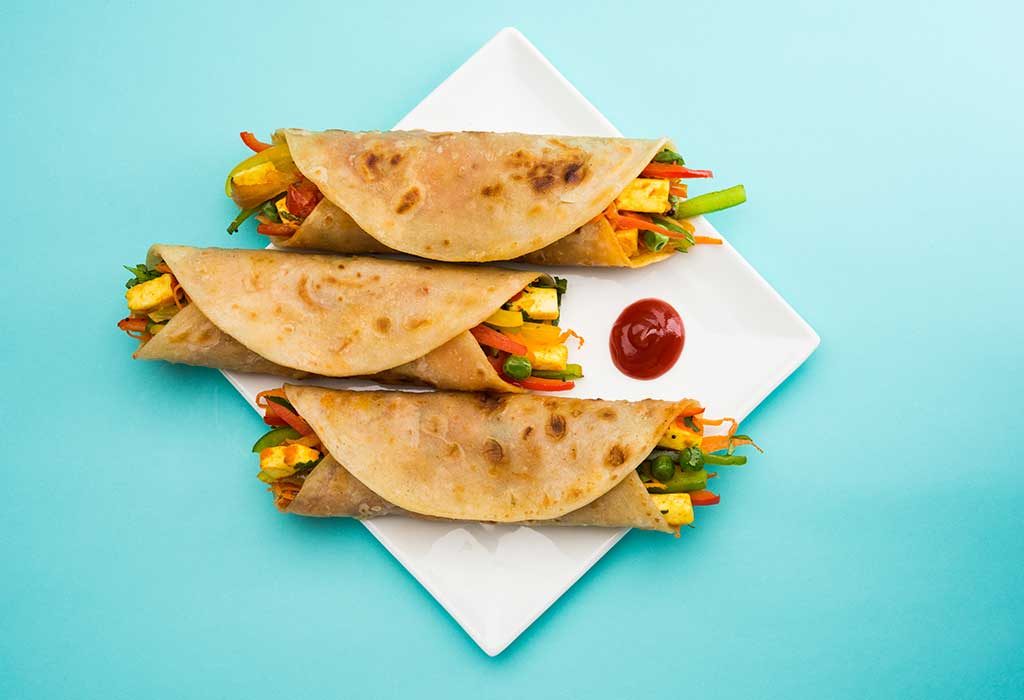 In this Article
This Frankie includes vegetables rolled in the Indian flat bread or chapati with the Indian type of flavorings or spices. You may call it a roll or a wrap or a Frankie or a Kathi roll- they all mean the same. It is a popular Mumbai street food just made healthy by making it at home with whole wheat flour and by adding all the healthy vegetables. Frankie's are a perfect meal to eat anytime, or on the go and are great vegan treats too.
| | | |
| --- | --- | --- |
| Serves | Preparation Time | Cooking Time |
| 6 People | 15 Minutes | 15 Minutes |
Ingredients
For Roti
1 cup whole wheat flour
1/4 tsp(teaspoon) salt
Approx. 1/3 cup of water
1/4 cup wheat flour for rolling
1 tbsp(tablespoon) oil for brushing Frankie's
For Filling
2 cups cabbage thinly sliced
1 cup carrot shredded
1/2 cup french beans, lengthwise pieces
3/4 cup tofu pieces, lengthwise cut
1/2 red bell pepper thinly sliced
½ cup capsicum thinly sliced
¼ cup onion, thinly sliced
1 cup tomato chopped
1 tsp finely shredded ginger
1 green chili finely chopped
2 tbsp cilantro or coriander, chopped
2 tbsp oil
1 tsp cumin seed
1 tsp salt
1/2 tsp garam masala
Method
For Filling
Step 1
Heat oil in a saucepan over medium-high heat.
Step 2
Test the heat by adding one cumin seed to the oil; if the seed cracks right away, the oil is ready.
Step 3
Then add cumin seeds.
Step 4
As seeds crack, add ginger and green chili, stir for few seconds.
Step 5
Add tomatoes and salt, cook until tomatoes are tender for about 3-4 minutes.
Step 6
Reduce the heat to medium.
Step 7
Add cabbage, carrot, french beans, capsicum, and red bell pepper
Step 8
Cook with the lid on until vegetables are tender, not mushy, occasionally stirring for about 5-6 minutes.
Step 9
Add tofu and coriander to the vegetables.
Step 10
Mix it well.
Step 11
Turn off the heat and mix the garam masala.
Step 12
You filling is ready. Set it aside for use.
For Roti
Step 1
In a mixing bowl, mix whole wheat flour and salt.
Step 2
Add water to make a firm and smooth dough, adjust the water as needed.
Step 3
Knead the dough on a lightly oiled surface. It should not stick to your fingers.
Step 4
Cover the dough and let it rest for about 10-15 minutes.
Step 5
Knead the dough again.
Step 6
Take a small part of the dough and press it both sides in dry wheat flour to help while rolling.
Step 7
Roll it thin into about 9" diameter. Lightly sprinkle the dry flour, if the dough sticks to the rolling pin or rolling surface.
Step 8
Heat the skillet/tawa over medium high.
Step 9
To check if the skillet is hot enough, sprinkle few drops of water over the skillet, water should sizzle. Skillet should not be smoking.
Step 10
Place the roti over skillet for about half a minute. The roti develops light brown spots and puff at different places.
Step 11
Flip the roti over, and lightly press, flip it again. Roti should have light golden color on both sides.
Step 12
Remove the roti from the skillet. It is ready for use.
Assembling the Frankie
Step 1
Take one roti and put it over a flat surface.
Step 2
Add about ¼ cup of vegetable filling lengthwise leaving about 1-1/2 inch from the top and fold it tightly like a burrito.
Step 3
Lightly brush oil on both sides of the wrap.
Step 4
Heat the skillet over medium heat.
Step 5
Place Frankie over the skillet and lightly brown both sides till crispy.
Step 6
Serve with a dip of your choice -a mint-coriander chutney or any other.
Step 7
Repeat the procedure other rolls. Enjoy!
Nutritional Information
Calories
236
Sodium
59 mg
Total Fat
17 g
Potassium
0 mg
Saturated
4 g
Total Carbs
10 g
Polyunsaturated
0 g
Dietary Fiber
2 g
Monounsaturated
0 g
Sugars
4 g
Trans
0 g
Protein
13 g
Cholesterol
46 mg
Vitamin A
0%
Calcium
0%
Vitamin C
0%
Iron
0%
*Percent Daily Values are based on a 2000 calorie diet. Your daily values may be higher or lower depending on your calorie needs.
Tip :Prepare the roti and filling in advance; prepare the Frankies when ready to serve.