Malabar Pathiri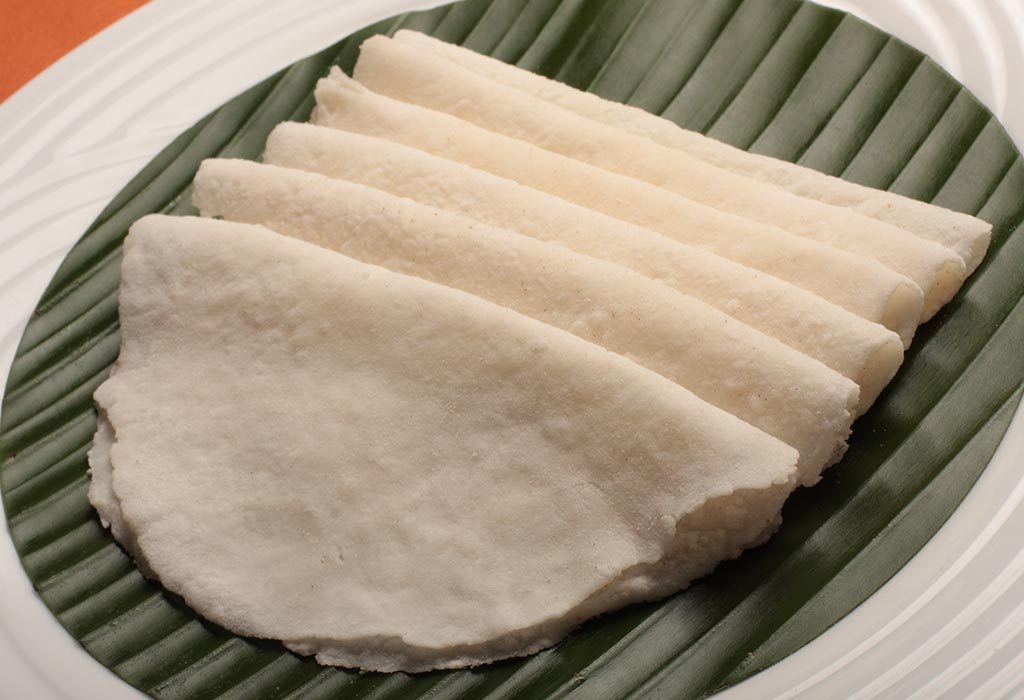 In this Article
Pathiri is a classic and traditional dish of the Muslims in Kerala and also an imminent part of the Malabar cuisine. It is considered as the perfect dish for breaking the fast during Ramadan. It is also known as Ari pathiri (rice pancake) and there are many other variants to it. The combination of pathiri and chicken curry is irresistible and can be served for breakfast as well as dinner.
| | | |
| --- | --- | --- |
| Serves | Preparation Time | Cooking Time |
| 4 People | 5 – 10 Minutes | 30 – 35 Minutes |
Ingredients
3 cups rice flour
3 cups water
2 tbsp oil
1/2 cup coconut milk (optional)
Salt to taste
Method
Step 1
Roast the rice flour on low heat until the colour changes from white to creamish. While roasting, keeping mixing constantly or the flour might get burnt.
Step 2
Once the flour cools, sieve it using a fine mesh.
Step 3
In a pan, boil water with salt and 1 tbsp of oil.
Step 4
When the water boils, lower the flame and add rice flour little by little. Stir continuously or else the flour may stick to the bottom. Keep stirring for 10- 15 seconds.
Step 5
Switch off the flame. Allow it to cool a bit and start kneading the dough. The pathiri would be softer if you knead the dough when its hot.
Step 6
Once the dough gets soft, start making small lemon-shaped balls from the dough.
Step 7
Flatten these balls with a chapathi roller to make thin pathiris, similar to chapathi.
Step 8
You can apply little oil on both the sides to avoid sticking or you can also dust some rice flour over the pathiris.
Step 9
Heat tawa, and place the rolled pathiri over it.
Step 10
Turn over the pathiri after 15 – 20 seconds. Keep pressing it with a flat spoon else, the pathiris will start puffing. Cook for another 30 – 40 seconds and flip over. The pathiris should remain white in colour.
Step 11
Transfer the cooked pathiri to a plate and repeat the same for the remaining dough.
Step 12
You can soak these pathiris in coconut milk for few minutes before serving.
Step 13
Pathiri serves best with non-vegetarian curries like chicken, mutton or fish.
Nutritional Information
| | |
| --- | --- |
| Calories | 563 K cal |
| Proteins | 7.7 g |
| Fats | 15.6 g |
| Carbohydrates | 96.6 g |
| Cholesterol | 0 mg |
| Sodium | 49 mg |
| Potassium | 171 mg |