Chocolate Almonds Turtles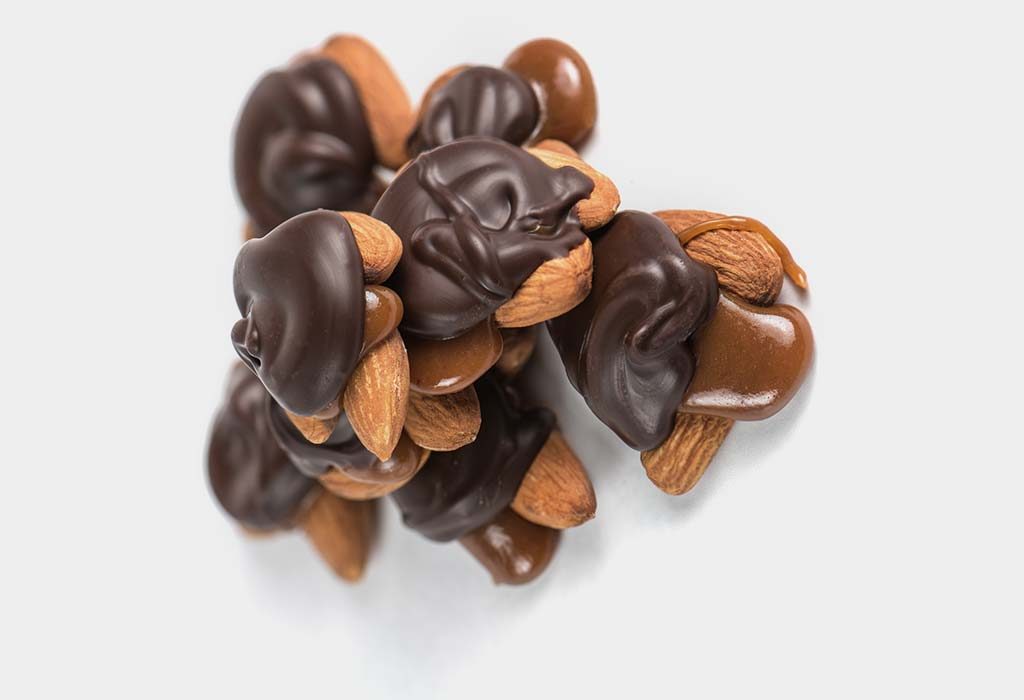 In this Article
These tiny turtles look cute and seem to be too complicated to make. But, the fact is they are quite easy to make. They are good for your health as they pack the goodness of dark chocolate, dates and almonds. So, its cuteness, deliciousness and health in just one bite.
| | | |
| --- | --- | --- |
| Serves | Preparation Time | Cooking Time |
| 24 People | 10 – 15 Minutes | 5 -10 Minutes |
Ingredients
125 gm dark chocolate, chopped and divided in half
1/2 cup almonds, chopped
5-6 dates, chopped finely
Important: Chopped almonds will make the head and legs of the turtles, so chop accordingly.
Method
Step 1
Line a baking sheet with a piece of parchment paper.
Step 2
Melt half of the chopped chocolate and fill it into a piping bag. Let it sit for 5 minutes. You do not want the melted chocolate to be too runny.
Step 3
Now drip about a teaspoon of the chocolate onto the parchment paper, making circles.
Step 4
For each chocolate circle, place 6 almond pieces such that it makes the head, legs, and tail. Fill in the rest of the chocolate circle with chopped dates. Place the baking sheet in the freezer for 5-10 minutes so that chocolate sets.
Step 5
Melt the rest of the chopped chocolate.
Step 6
Pipe the remaining chocolate on top of the dates. Smooth out with the back of a spoon once if needed. Draw the lines on the shell of the turtles.
Step 7
Transfer the sheet to the fridge to allow the turtles to fully set.
Step 8
When set, they are ready to be enjoyed. For storing them, keep them in an airtight container and keep in the fridge.
Nutritional Information
| | |
| --- | --- |
| Calories | 108 K cal |
| Proteins | 2.1 g |
| Total Fat | 6.1 g |
| Total Carbohydrates | 12.2 g |
| Cholesterol | 3 mg |
| Sodium | 10 mg |
| Potassium | 114 mg |
?>