Parmesan Potatoes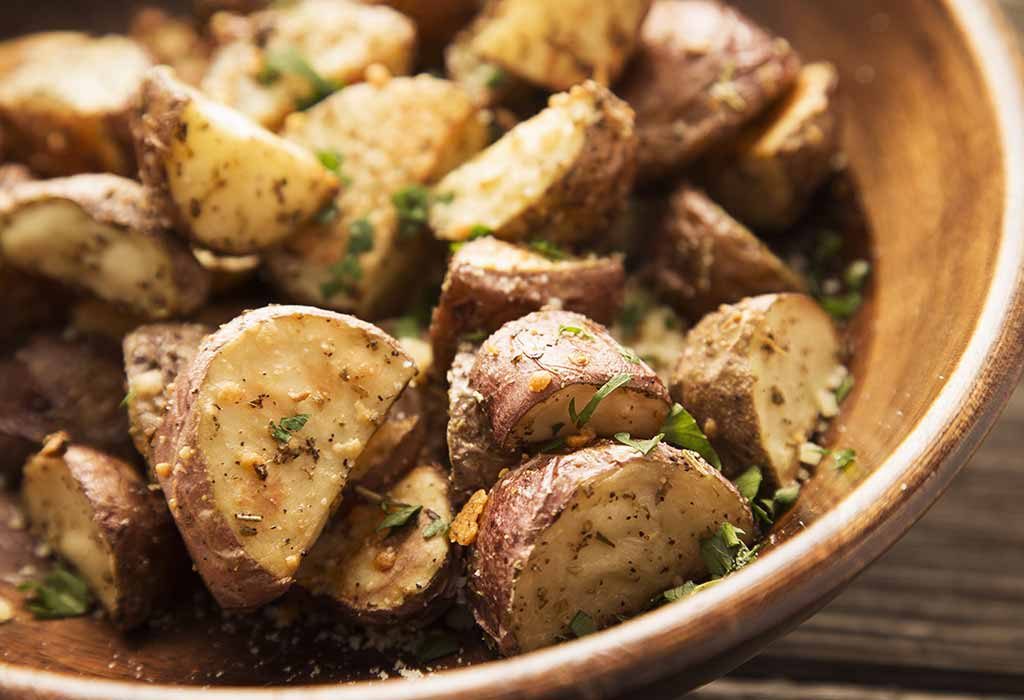 In this Article
This dish has the potential to become a family's favourite snack instantly. The potatoes are baked till tender and crispy, and the hint of cheese makes it all the more luscious. We would say that this dish is like candy. 100% addictive! One health secret here is to keep the skins of potatoes intact. They'll be a source of some key vitamins and extra fiber.
| | | |
| --- | --- | --- |
| Serves | Preparation Time | Cooking Time |
| 6 People | 10 – 15 Minutes | 20 – 25 Minutes |
Ingredients
500 g potatoes, cut in half, or quarters if the potatoes are large
4 tbsp olive oil
3 tsp all purpose flour
150 g Parmesan cheese, finely grated
A handful of parsley, finely chopped
4 sprigs rosemary leaves, finely chopped
A pinch of grated nutmeg
Method
Step 1
Dip the cut potato pieces in a pan of salted water and bring to a boil.
Step 2
Simmer for 2 – 3 mins.
Step 3
Remove, drain and toss a little in olive oil to coat the potato pieces.
Step 4
Stir all-purpose flour, Parmesan, herbs and nutmeg together in a dish with a little salt and toss in the potatoes.
Step 5
Mix until the potato pieces get evenly coated.
Step 6
Heat two tsps of oil in a shallow, non-stick heavy-bottomed griddle.
Step 7
Keep turning the potatoes such that they get coated in oil completely.
Step 8
Roast for around 30-40 mins, turning once or twice.
Step 9
If you feel the pieces are sticking to the pan, lower the heat but don't move them.
Step 10
Just leave them there on low heat for the full time.
Step 11
Roast them until golden brown. Remove onto a dish and serve straight away.
Step 12
If you are using the oven, preheat the oven to 400 degrees Fahrenheit.
Step 13
Place potatoes seasoned with all the spices on a wire rack and let it cook for 30-35 minutes.
Step 14
Cool and serve with pudina chutney.
Nutritional Information
| | |
| --- | --- |
| Calories | 291 K cal |
| Proteins | 11.6 g |
| Fats | 15.0 g |
| Carbohydrates | 31.6 g |
| Cholesterol | 18 mg |
| Sodium | 249 mg |
| Potassium | 706 mg |