Appam (Lace Hoppers)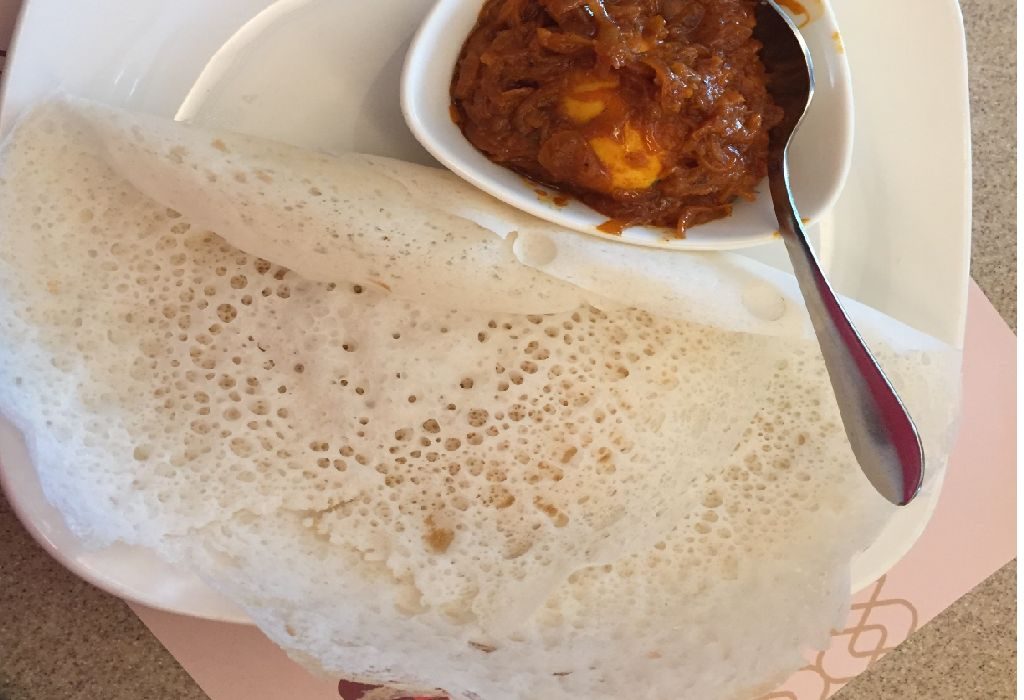 In this Article
Appam, also known as palappam, is a favourite breakfast of Keralites. This easily digestible dish, made of rice, tastes luscious, but is a bit tedious to prepare. There are different methods of preparing it and here, we are presenting the method which uses yeast to enhance the process of fermentation. This dish can be a perfect Sunday breakfast when served in accompaniment with a veg or non veg stew.
| | | |
| --- | --- | --- |
| Serves | Preparation Time | Cooking Time |
| 5 People | 3 – 4 Hours (soaking time) | 25-30 Minutes |
Ingredients
2 cups raw rice
1 cup grated coconut
1 cup of cooked rice
1 tsp sugar (optional)
1/2 tsp instant yeast
1 cup milk (optional)
Salt to taste
Water as required
Method
Step 1
Soak raw rice in water for 3 – 4 hrs. Drain the water.
Step 2
Add soaked rice, grated coconut and cooked rice into a blender. Grind it to a smooth paste by adding enough water.
Step 3
Add instant yeast and grind it further.
Step 4
Pour the batter into a separate bowl and allow it to ferment overnight.
Step 5
On the next day, before cooking the appam, add sugar, salt and mix well.
Step 6
If the batter is too thick, you can add water or milk to get the right consistency.
Step 7
Place appam chatti (kadhai) over medium heat. Grease the kadhai with oil.
Step 8
Pour a ladle full of batter into the kadhai and immediately swirl the kadhai by holding the sides, so that the batter spreads evenly in circles.
Step 9
Cover it with a lid and let it cook for 2 minutes. Open the lid and see if the sides have turned crisp, remove and serve hot with potato stew, chana curry or chicken curry. Note that appam doesn't need to be turned around to cook the other side like doshas.
Nutritional Information
| | |
| --- | --- |
| Calories | 466 Kcal |
| Proteins | 8.6 g |
| Fat | 6.1 g |
| Carbohydrates | 92.1 g |
| Cholesterol | 0 mg |
| Sodium | 40 mg |
| Potassium | 193 mg |