Paneer Bhurji Grilled Sandwich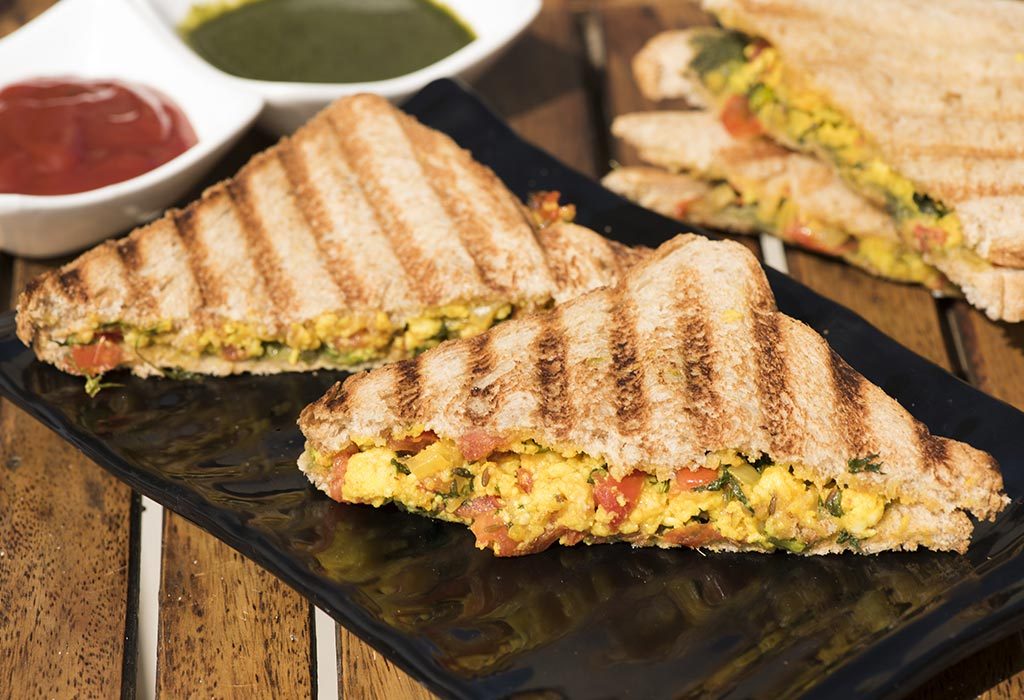 In this Article
This is pick-me-up-on-the-go snack is filled with loads of calcium and proteins from paneer. To make the sandwich healthier, use whole wheat bread and we reckon that the whole wheat variant will taste better than the white bread one. We have added a whimsical twist to the dish, to make it kid friendly, by giving the sandwich the shape of a teddy bear. You can give it any shape you like or can simply cut the square sandwich in triangular halves.
| | | |
| --- | --- | --- |
| Serves | Preparation Time | Cooking Time |
| 4 People | 10 – 15 Minutes | 20 – 25 Minutes |
Ingredients
8 slices of white / brown bread
1 cup paneer, mashed
2 tbsp oil
2 tbsp butter
1 tsp cumin seeds
1/2 cup onions, finely chopped
1/2 cup tomatoes, chopped
1/2 tsp pav bhaji masala
1/4 tsp turmeric powder
1/2 tsp chilli powder
1 tsp green chillies, finely chopped
1 tbsp coriander, finely chopped
Salt to taste
Method
For Paneer Stuffing
Step 1
Heat oil and add cumin seeds. When the seeds start crackling, add onions and sauté on a medium – high flame for a minute.
Step 2
Next, add tomatoes and half cup of water, mix well. Cook on a low flame for a while and keep stirring it continuously.
Step 3
Now you have to add the pav bhaji masala, turmeric powder, chilli powder, green chillies and a little water. Give it a nice stir and let it cook on a medium flame for a minute or two. Stir continuously.
Step 4
Add paneer, salt and coriander and a tbsp of water and mix well. Cook on medium flame for a few minutes. Stir occasionally.
Step 5
Let this mixture cool completely.
For the Sandwich
Step 1
Apply butter on one side of each bread slice.
Step 2
Place the stuffing, cover with another slice and make a sandwich. If you have different cutters, you can use those to make different shapes of sandwiches. We have used teddy bear shaped cutter.
Step 3
After you have the desired shape cut, put the sandwich in the griller. You can also roast your sandwich on a tawa, till crisp.
Step 4
Serve hot with tomato ketchup.
Nutritional Information
| | |
| --- | --- |
| Calories | 499 K cal |
| Proteins | 2.3 g |
| Fats | 51.3 g |
| Carbohydrates | 10.9 g |
| Cholesterol | 61 mg |
| Sodium | 329 mg |
| Potassium | 347 mg |