Bread Pakora with Potato Filling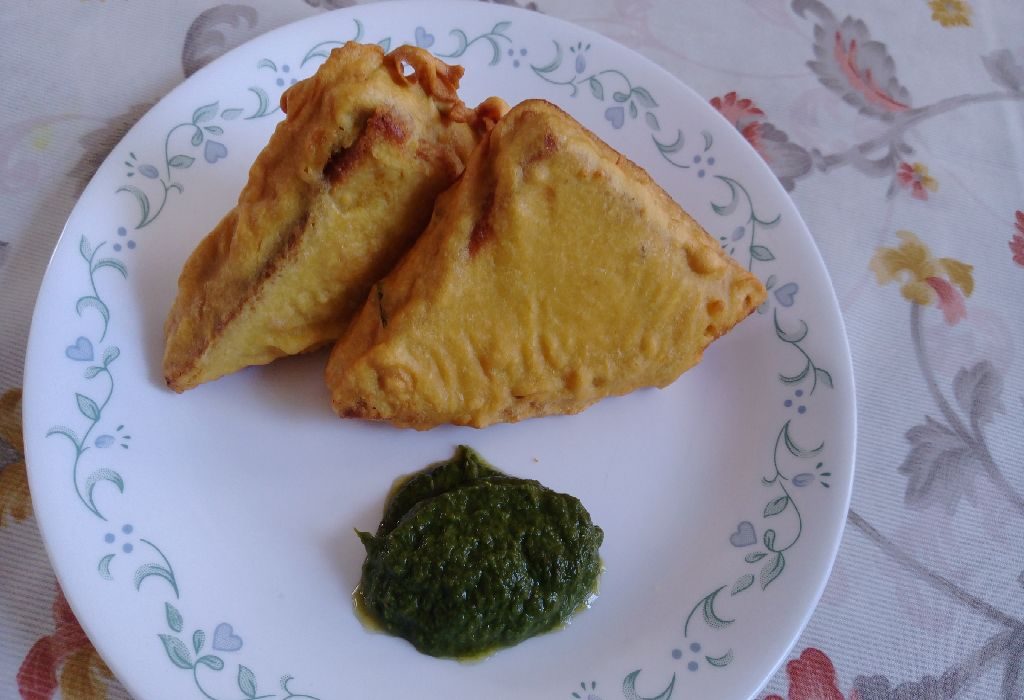 In this Article
Bread pakora is the perfect breakfast and tea time snack for dull and rainy days. The best part about this stuffed warm potato bread pakora, is its versatility with garnishes. You can pair it with a sweet sauce, a tangy chutney, spicy fried chillies, or even a cup of hot masala chai.
| | | |
| --- | --- | --- |
| Serves | Preparation Time | Cooking Time |
| 3 People | 25-30 Minutes | 40-45 Minutes |
Ingredients
For the potato filling
4-5 medium size boiled potatoes
¼ tsp or ½ tsp red chili powder
2 tbsp cilantro/coriander leaves, finely chopped
1 green chilli, finely chopped
1 tsp amchur powder
1 tbsp mint leaves, chopped
Salt to taste
For the outer crisp coating
3 cups besan (chick pea flour/gram flour)
½ tsp red chili powder/lal mirch powder
½ tsp garam masala powder
½ tsp ajwain/carom seeds
A pinch of hing
6 slices of Bread
Water
Cooking oil for frying
Salt to taste
Method
For the potato filling
Step 1
Peel the boiled potatoes, and mash while they are still warm.
Step 2
Mix the coriander leaves, green chili, red chili powder, amchur powder, salt with the mashed potatoes.
Step 3
Mix these with the mashed potatoes.
Step 4
Check and adjust the seasonings according to your preference.
Preparing the besan batter
Step 1
Take the besan in a bowl and mix it with the ajwain, red chili powder, garam masala powder, asafoetida and salt.
Step 2
Add around ½ cup water and mix till the batter is neither very thick nor too thin.
Step 3
Add a few drops of oil to the batter and mix well.
Assembling and Frying the Aloo Bread Pakora
Step 1
Put your cooking oil on low heat to get it ready for deep frying the pakoras.
Step 2
Slice the bread into triangular slices on a cutting board.
Step 3
Take around 2 tbsp of the mashed potato mixture and apply it on a slice of bread evenly.
Step 4
Cover this potato stuffed slice with another slice, creating a triangular bread sandwich.
Step 5
Take the triangular sandwich in your hand and dip it in the besan batter.
Step 6
Coat the stuffed bread sandwich evenly with the besan batter, taking care not to soak it for too long.
Step 7
Slide the besan batter coated bread sandwich in the now-hot oil gently.
Step 8
Deep fry the bread pakoras on a medium flame till they are crisp and golden brown.
Step 9
Drain the excess oil on a tissue.
Step 10
Serve them hot or warm with tomato sauce or chutney of your choice.
Nutritional Information
| | |
| --- | --- |
| Calories | 1118 K cal |
| Proteins | 63.3 g |
| Fats | 8.8 g |
| Carbohydrates | 187 g |
| Cholesterol | 24 mg, |
| Sodium | 60 mg |
| Potassium | 1165 mg |
*For frying, add approximately 10 grams of fat per serving, at 9 Kcal/gram of fat.
?>