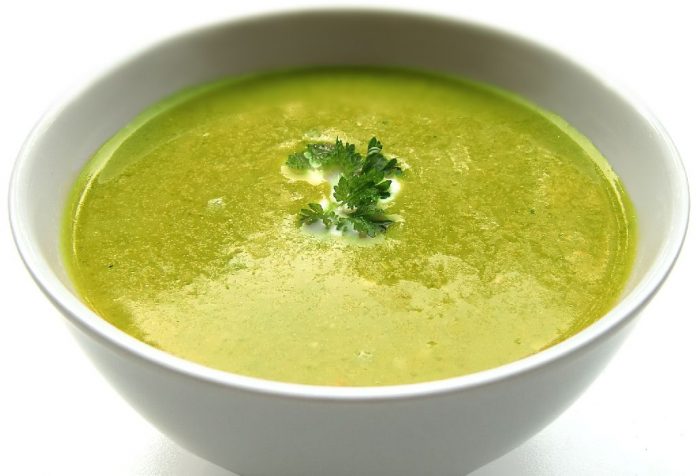 Last Updated on
Bottle gourd is one such veggie that kids or adults usually don't like. But the advantages of bottle gourd are just a lot to disregard this healthy vegetable. Bottle gourd provides more of the healthy nutrients than calories and fats. A ladleful of this soup and you are sure to feel light, warm and comforting. All the weight loss seekers, here's a soup of bottle gourd packed with the goodness of peas.
| | | |
| --- | --- | --- |
| Serves | Preparation Time | Cooking Time |
| 2 People | 15 Minutes | 15 Minutes |
Ingredients
1 small bottle gourd (diced)
1 cup green peas
1 small onion (diced)
2 small pieces garlic
1 green chilly
1/2 cup yellow moong dal (yellow lentils)
1 lemon juice
2 tbsp (tablespoon) fresh coriander
1tbsp salt & pepper
1 tbsp oil
a pinch of jeera/cumin
a pinch of turmeric powder
2 cups water
Method
Step 1
In a pressure cooker, add all ingredients and water.
Step 2
To 1 tbsp oil, add jeera, allow it to crackle. Add this to the ingredients in pressure cooker.
Step 3
Pressure cook all the ingredients, till around three whistles. Allow to cool.
Step 4
Blend the cooked mixture with a hand blender to form a soup-like consistency.
Step 5
Add some water if required and boil for 3 minutes.
Step 6
Serve with some fresh coriander to top it.
Nutritional Information
Calories
97
Sodium
213 mg
Total Fat
1.5 g
Potassium
0 mg
Saturated
0 g
Total Carbs
7 g
Polyunsaturated
0 g
Dietary Fiber
2 g
Monounsaturated
0 g
Sugars
2 g
Trans
0 g
Protein
2 g
Cholesterol
0 mg
Vitamin A
0%
Calcium
4%
Vitamin C
4%
Iron
5%
*Percent Daily Values are based on a 2000 calorie diet. Your daily values may be higher or lower depending on your calorie needs.