Baked Apples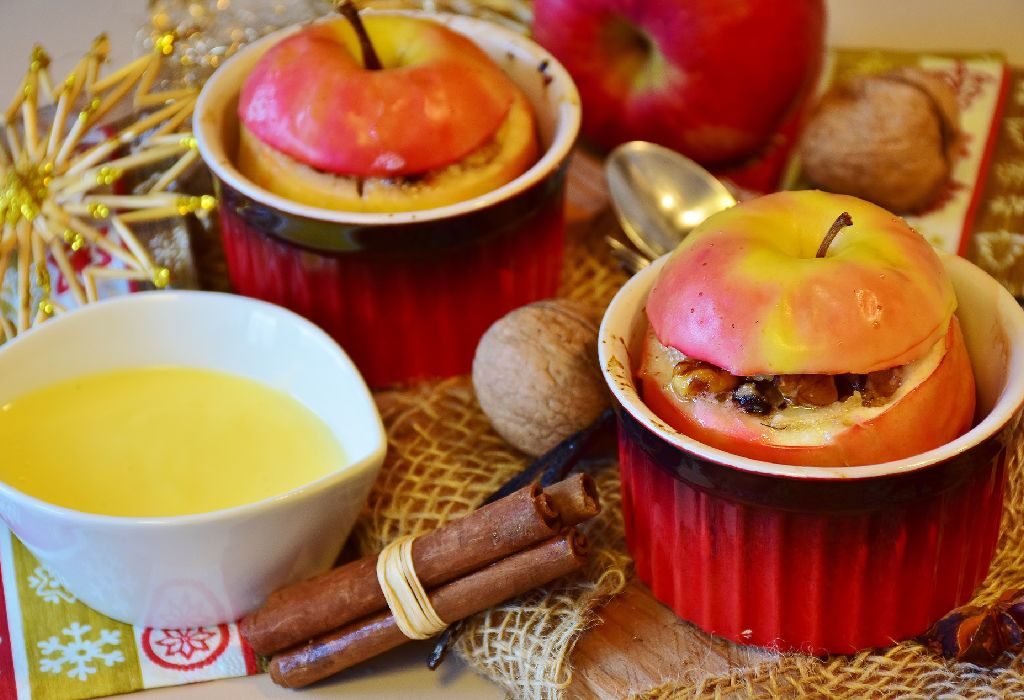 In this Article
There's really something very comforting about this sweet and juicy delicacy. It's a great winter dessert that tastes heavenly with a side of vanilla ice-cream or custard. Besides, they are so easy to prepare that you can get the youngsters to prepare these sweet treats.
| | | |
| --- | --- | --- |
| Serves | Preparation Time | Cooking Time |
| 4 People | 10-15 Minutes | 30-40 Minutes |
Ingredients
4 large apples
1/4 cup brown sugar
1 teaspoon cinnamon
1/4 cup chopped walnut
1/4 cup currants or chopped raisins
1 Tbsp butter
3/4 cup boiling water
Method
Step 1
Keep the oven for pre-heating to 1900c. Wash the apples and dry it thoroughly.
Step 2
Cut the top 1/3rd layer off. Next, using a sharp knife or an apple corer, cut out the middle portion of the apple, while making sure that the bottom ½ inch remains intact.
Step 3
Take a small bowl and combine brown sugar, cinnamon, currants and chopped raisins.
Step 4
Place the apples in a baking dish and stuff each of them with the above mixture.
Step 5
Place a small dollop of butter on the top and place the previously cut layer on top.
Step 6
Pour a glass of water of boiling water into the bottom of the baking dish and keep the dish in the oven.
Step 7
Bake at 1900C for around 30-45 minutes, until the apples are tender. Make sure you don't overbake them, otherwise they might turn mushy.
Step 8
Serve them as is or with a side of vanilla or chocolate ice-cream.
Nutritional Information
| | |
| --- | --- |
| Calories | 243 Kcal |
| Proteins | 3.1 g |
| Total Fat | 9.2 g |
| Total Carbohydrates | 42.1 g |
| Cholesterol | 8 mg |
| Sodium | 25 mg |
| Potassium | 326 mg |