Last Updated on
If you think of summers, you would be thinking of Blue Ocean, gazing up in the sunny sky, dipping your toes in warm water, enjoying summer fruits and many more. If you are all set to welcome your bundle of joy during the summer months, you might want to give your child a name that signifies summer. So we have listed some baby names that go with summer, and these are names means summer one way or other
Summer Baby Girl Names With Meaning
We have mentioned unique and beautiful 25 summer names for girls. Let us have a look at the same:
Arpina is a word of Armenian origin. This name represents a fresh early morning. It also means "rising of the sun" or "sunrise".
Adena is a Hebrew word, and it means "fire". This is a beautiful word that would be perfect girl names that mean summer as it gives its tribute to the scorching heat of the sun in the summer season.
It is a simple English word which means "water". However, this name is a perfect summer name as water is so essential during this season.
4. Chasca
Chasca could be a suitable choice for a baby born in the warm, early hours of a summer day. It is an Incan name meaning goddess of the dawn.
This name would be perfect for your little princess. Daisy comes from the word "day's eye," because the petals of the flower are open at dawn, or the beginning of a day.
A Hebrew word which means "a pleasure place". It is a unique and serene name for your baby girl.
If you are major sea and beach fans, consider naming your future Princess Genevieve. This name perfectly conjures up the image of a warm, summer day by the sea, meaning 'whitewash'.
It is an elegant name from ancient times. A classy name of Greek origin for your little girl which also evokes summer feelings, meaning "sunray or shining light."
It is quite sweet, and a unique Spanish name means "Island." This name denotes a breezy and summery feeling that fits your little girl who was born in summer.
It's an English classic summer scent. So call your beautiful princess Jasmine and see the fragrance it spreads in your life. This name has recently become quite famous.
June is a trendy English name for baby girls. An attractive and royal name for your summer baby girl. June is, without a doubt, the hottest month of the year. This sweet name has English roots and is also influenced by the popular "Juno" Roman Goddess.
An attractive, charming name that means "Shinning" or "Glittery". It is a perfect name that signifies summer where the sun shines.
This is a royal name for your baby doll. This word has a different meaning in different languages. In Persian, it means 'Sun', and in Greek, this word means the noble one.
A variant of the Latin name Lucius, or "bringer of light," this baby name has become very popular in the US and Europe, with celebrities like Colin Firth, Hillary Duff and Rebecca Minkoff choosing the name for their baby girl.
This word is a Hebrew word which is a combination of both Sea and Sun. Marisol is a very beautiful name for the summer doll and is widely used nowadays.
There's something unique about the beach, carefree and fun. So if you want the same attitude on your girl, give her a beachy name, something like Oceana. Oceana also has a unique sound and femininity that has made it popular off late, besides evoking the feeling of summer.
The word Ondine has its origin in Latin, and it means 'Little Wave'. This is an ocean-inspired name for ocean lovers. This name has a royal touch to it, making it sound incredibly attractive.
A serene name is taken from the June month's birthstone. Gem names are very trendy and this one is just waiting for the right girl. It has a vintage vibe which makes it feel timeless but at the same time accessible. We love to have a connection to the ocean too.
Ruby is a lovely summery name for baby girls. Ruby is a July's birthstone and a serene name for your baby with a vibrant personality.
An Arabic word which means 'Dawn'. It is a name inspired by the Sahara desert, and it's Summer inspired name for baby girls.
This beautiful Spanish name has the sense of "sunshine," and is a bright and warm name for your summer baby girl.
Summer is a simple English name that directly represents the hot and dry season. An apt name for a baby girl born during the Summer season.
A unique and adorable American name which means "Hot Spring".
If your little one arrives towards the end of the summer, who might end up with a Virgo, making the name Virginia particularly suitable.
A sweet and cute name for your princess who blooms like a flower. Zinnia is a summer flower.
Summer Baby Names For Boys With Meanings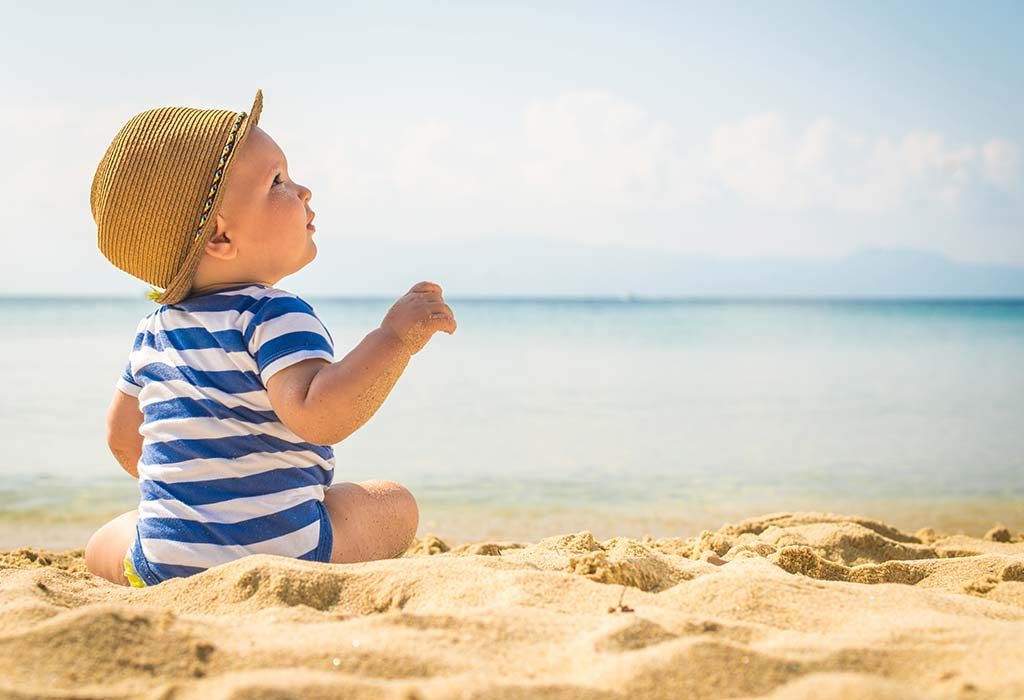 Now comes the turn to read out 25 unique summer boy names along with their meaning. Here are the names:
1. Aelius
A beautiful Greek name which means "sun" and is an excellent choice for your son. Aelius was the Roman emperor's family name "Hadrian"
A beautiful English name that means "bee cottage." It is a summer theme name your little boy who has a lovely link to the beautiful summer season
Birch word indicates a strong and powerful barked tree that stands tall and graceful. It is your baby's unique name inspired by summer.
Another classic baby boy names associated with summer which means "Clean and Clearwater". This is a Welsh originated word.
An ideal choice for your little Prince as Cyrus word is a popular name of Persian origin which means "the light".
This lively and attractive baby boy's name is trendy and fun summer name. It has the sense of "spring" and is a perfect pick for your summer-born baby boy. It is also a name for a region in France.
A name related to the sea in Welsh. This famous name for a baby boy who has a poetic feel to it means "son of the sea".
Eden is the name of a place and it means a place of relaxation and pleasure.
Elio comes from the Greek mythology of the god of the light, Helios.
The English baby boy has a real summer feeling with a very literal meaning "gardener."
This is a fun summer name that evokes the feelings of summer's warm and bright days. It is a popular choice for your baby boy born during the summer seasons.
A Sanskrit word which means 'The Sun'. This is quite a popular name in India but it can be a unique and attractive English name.
A youthful and pleasant name for your baby boy he is born in July.
A fiery name for your charming baby boy which means "fire".
This name means "lion" and it is the astrological sign for babies born from July 23 to August 22, short for the German baby boy names Leon or Leopold.
This baby boy's name is an English name which means Lyndon.
A pleasant name but might seems to be a little old-fashioned, but his "warm shore" sense is eternally adolescent.
A beautiful name of Japanese origin meaning "daylight".
A Spanish name that shows you the stunning and serene Pacific Ocean during warm weather.
Ray is an ideal name of a child that means "wise guardian". It can be the perfect name for the baby boy who came as a ray in your life.
This name means "sun boy" or "bright sun."
A passionate English name that means "the summer settlers".
A happy and vibrant English name for the baby boy who loves the summer season and is an excellent choice for your bundle of sunshine.
We have clearer skies for longer hours during the summer, and this is a beautiful name for your charming Prince.
25. Theoros
An elegant and powerful name of Greek origin meaning "summer" making it a fitting choice for your little boy.
So we have listed all unique baby names that go with summer along with their meanings. So, as parents, select a perfect name for your baby to make them feel good and proud. Wishing you luck in this exciting quest to find the ideal name for your little one.