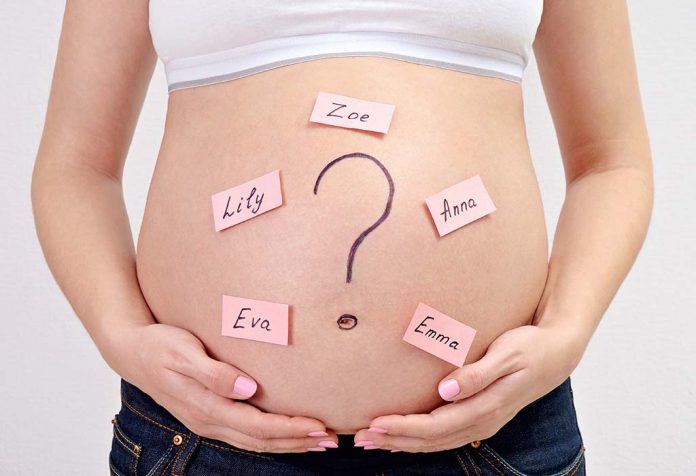 Last Updated on
Every name has a story to tell; of birth, miracle, faith, tradition, history, family and more. Even before the baby is born and the gender is known, parents are busy searching a perfect name for the apple of their eye who will bring immense joy to their life. Choosing a perfect name is important, as your little one will answer to it all their life – an association that will last forever! Whether you choose an unusual and unique name, or a traditional and popular name, make sure that it's meaningful to you.
50 Best European Names with Meanings for Baby Girls
European names have been popular with parents in every era. This list includes popular old European names that remain timeless and classic, as well as modern and Eastern European names. Roll the dice to pick randomly, sort through each of these 50 adorable names for the perfect one for your little one!
Name

Meaning

Ava

Ava (or Eve) is the first lady of the Earth and means 'living one' or 'life'.
It is also short for Avis which means 'bird' in Latin and represents freedom.

Abigail

The wife of David (in the Bible), Abigail is the all-powerful beauty known for her wisdom, and her name means 'father's joy'.

Autumn

The Latin name denotes the blissful 'Season of Autumn' between hot summers and cold winters.

Ariana

This pretty name has its origins in many cultures around the world, and it means 'pure'.

Aurora

Aurora is the Roman 'Goddess of Dawn'. The name with biblical origins is shared by Princess Aurora in popular fairytale 'The Sleeping Beauty'.

Brisa

Brisa is a popular name in Portugal and Spain and means 'breeze'.

Belia

Belia is a Spanish name meaning 'God is my oath'.

Boyana

Boyana is a name with Bulgarian and Slavic origin and means 'warrior'. It is pronounced 'BoJana'.

Caroline

The name Caroline finds its origins in French, German, English, Scandinavian and other cultures. The name means 'free man'.

Celestina

The beautiful name means 'heavenly'.

Diane

Diane or Diana finds its origins in The 'Roman Goddess of childbirth and fertility, the moon and the hunting'. It means 'messenger of wellness' in Persian.

Dasha

Dasha is a Russian name and many meanings, which are 'God's Gift', 'kingly', and 'the sea'.

Emma

The feminine name means 'universal', 'all-embracing' or 'whole'.

Emily

Derived from Amelia or Amelius, the Latin name Emily means 'industrious' or 'striving'.

Esmeralda

Esmeralda means 'emerald' in Spanish.

Finola

Finola is the name with Irish origins and means the 'fair one' or 'white shoulder'.

Flavia

Flavia finds its origins in the ancient Roman family name Flavius. It means 'golden' or 'blonde'.

Gabriella

One of the 'seven archangels' and bearer of the good news of Christ's arrival, Gabriella means 'woman of God' or 'God is my strength'.

Galena

Galena is the 'Greek Goddess of Calm Sea', It has many meanings, like 'serenity', 'heals', 'calm'.

Hilda

Hilda is old Norse for 'battle'. The name with German origins means 'glorious', 'warfare', 'fighter' and more.

Hannah

It simply means 'grace' or 'God favored'.

Ingrid

Ingrid is an old Norse, German and Danish word, which means 'peace', 'fertility', and 'beauty'.

Irina

The name Irina, Arina or Erina is popular since ancient times in many cultures. It means the personification of 'peace'.

Isla

Isla in Spanish means 'island', and it is also the name of a Scottish river.

Isabella

The name Isabella means 'God's promise', 'God is my oath' or 'God is perfection'.

Jules

The name with Latin origin means 'soft', 'youthful.

June

The Latin name June is derived from Roman Goddess Juno, the protector of marriage and woman. It also means 'young'.

Katherine

The name Katherine or Catherine is derived from the Greek word Katharos and means 'pure' or 'clean'.

Keren

The name with Hebrew origins, Keren means 'ray of light' or 'glorious dignity'. The Biblical name also means 'strength' or 'power'.

Lily

Lily is simply the flower that represents innocence', 'beauty', and 'purity'.

Lisa

Lisa is derived from Elizabeth and means 'devoted or pledged to God'.

Mia

Mia means 'mine' in Italian and Spanish.

Michaela

The name Michaela means 'like God'. The Spanish and Irish variation would be Michelina and Makayla.

Maya

In Spanish, Greek and Hebrew, the name means 'water', in Sanskrit it means 'illusion', and in Arabic it means 'graciousness'.

Natalya

Natalya or Natalie means 'the birthday of Christ'.

Nora

Nora is short for Honora and means 'honor' in Latin. In Greek, it means 'light'. In The Bible, it means 'awe-inspiring' or 'awesome'.

Olivia

The name Olivia means the 'olive tree' or 'extending and olive branch' or 'offer of peace'.

Oceana

Oceana finds its origin in Greek mythology and means 'ocean'.

Penelope

This pretty name finds its origins in Greek Mythology. aver'. It means 'weaver'.

Patricia

Patricia means 'noblewoman' or 'noble'.

Robin

Robin means 'bright fame' and 'shining'. It is also a tiny bird that symbolizes 'joy', 'pleasure', 'rejuvenation', and 'happiness'.

Sophia

Sophia or Sofia simply means 'wisdom'.

Samantha

Samantha is a name that means 'Lord has heard' or 'listener'. In Greek, it means 'flower'.

Sarah

Sarah means 'princess'. In Arabic, it means 'untainted' and 'pure'. It can be written as Sara as well.

Solana

Solana is Spanish for 'sunshine'.

Tamara

Tamara is a popular name across many cultures. It means 'palm tree' or 'date tree' and symbolizes 'fruitfulness' and 'beauty'.

Violet

Violet is one of the colors of the rainbow, it's also a flower and stands for 'love', 'purity', 'affection', 'modesty' and 'faithfulness'.

Veronica

Veronica is a Biblical name and means 'true image' or 'bringer of victory'.

Yvette

Yvette is a name with French origins and means 'yew tree' or 'archer'.

Zoe

Zoe is a name with Greek origins and means 'life'. Zoey, Zoya or Zooey are the variations with same meaning.
Make picking out a baby name a fun experience for your family, and your little one will love what you choose for her!